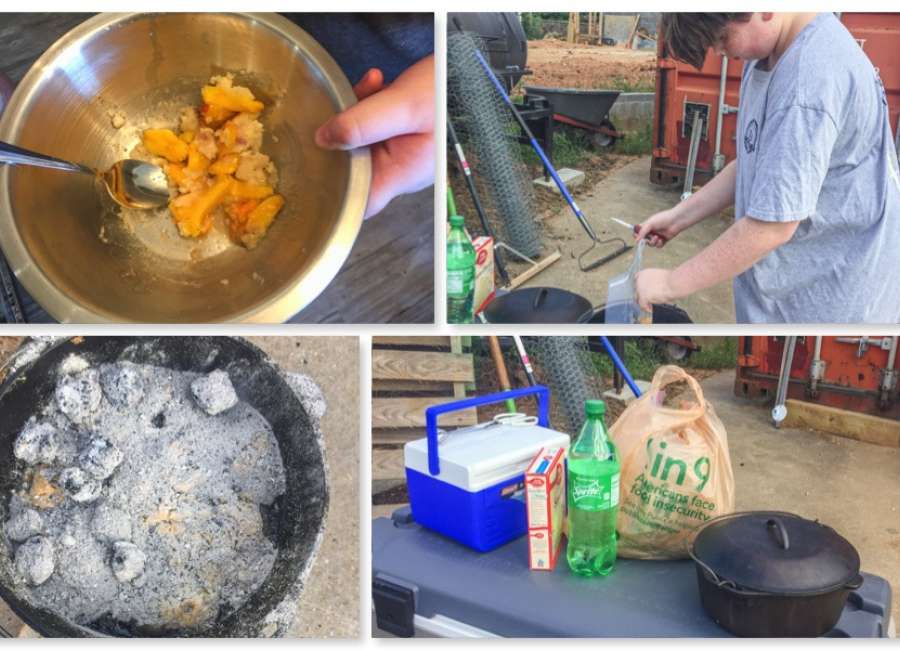 By Susie Berta
It seems we are living in an era of interminable waiting. Waiting to finish what we start. Waiting for things to change. Seasons, pandemics, minds, hearts. Mail delivery.

I'm waiting. Waiting to sit outside and eat dinner on our porch. I'm also waiting for our new porch chairs to be delivered, which feels a lot like waiting for Godot. Not gonna happen unless somebody changes the script and straightens out the cosmic mystery of the black hole in Austell where packages go to die these days.
Rick and I have worked hard to re-hab our covered back porch so it will be in shape for cooler weather; for sitting outside on a pressure-washed, freshly painted porch under string lights on a clear, nippy night; for enjoying outdoor meals and tailgating as we watch SEC football on a spare TV, newly installed in a gorgeous, $100 miracle-flea-market-find armoire on the porch. Gorgeous notwithstanding, this thing is a behemoth requiring many hard-won steps to fruition.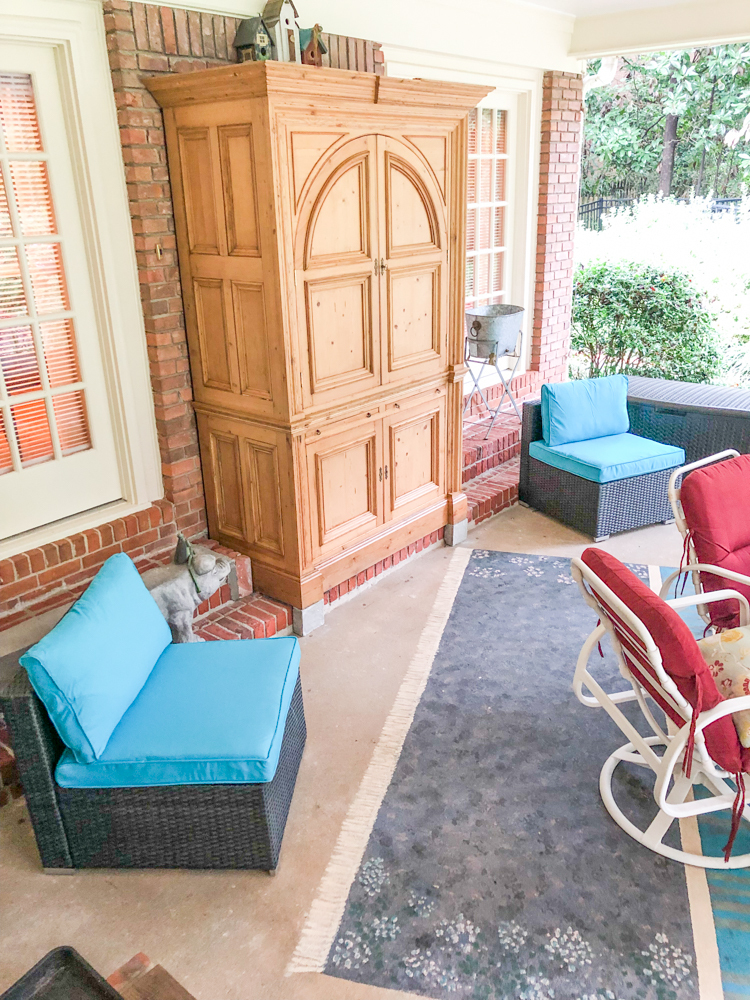 There was the matter of fetching it, preparing it to protect it from the outside elements, and rehabbing the space it would inhabit. This whole project was a family affair, requiring help from our son, Scott and his lovely partner, Val, who gamely met us in Atlanta and helped lug it onto his flatbed trailer and then into our garage. This thing is impossibly heavy. They all ate their spinach that day, for sure.
I painted the piece with a coat of Marine varnish while Rick removed some brick steps that were impeding the spot where we wanted to place the armoire. First, he tried chipping away with a hammer and small chisel—dink-dink-dink. It would be the twelfth of never before that worked. Then he wised up and went with the big guns, renting a big cement saw. Eureka! He then poured a new cement slab where the useless steps once sat in the way. With a revisit from our son we lugged our behemoth baby up the back steps and into its final resting place at the back of the porch. Perfect fit! It's marvelous! Someone call Good Housekeeping! Bring on the tailgate!
Rick likes to joke about how this $100 miracle find got more expensive by the day. I say it wasn't that much more and it was entirely worth it. Our porch is spiffed up now, so we feel like we're actually visiting some really nice place we've never been before when we go out there. Consider it a pandemic travel strategy. Soon we'll be sipping adult beverages, tailgating, and roasting chocolate-filled marshmallows (at Kroger, you're welcome) in the chiminea with the grandchildren.
We all wait. We wait to live better while life around us is chaotic and disparate, even dangerous. Pretending things aren't that way is no solution. Dealing with things as they actually are, shows promise. Who's to say how, and at what cost? Will we ever agree, or just keep kicking the conundrum can down the road and wait some more? We wait.
I'm waiting for my Editor to deliver her high developmental edit of my book, "The Veterinarian's Wife" before it goes to the final edit and then the publisher. It's agony, this waiting. My Editor tortured and delighted me with her initial email after receiving my manuscript:
"Hi, Susie, I'm letting you know that I'm getting into your book! Goodness, I love your sass and the way your smart sentence structure prompts me to smile and also continue reading!"
I'll be honest. My first thought was, "Oh wow! Awesome! Now, this is probably a fluke, so when you get past paragraph one, tell me what you really think. I'll try not to despair over the bad news." I'm not a fatalist as much as I am just overtly insecure and self-deprecating. I'm waiting.
So we are all waiting these days. Waiting on some level for answers, inspiration, hope, and/or resolution. Waiting for good things to happen, or for an unnamed sadness to leave us. I just learned of another person I know who died of Covid. I am waiting for the shock, grief, and anger to subside. It's gotten very old. Everyone can relate right now.
We can all do ourselves a favor, though. Engage. Do something while we wait. Something good. Read or write a book. Rehab your porch. Send a handwritten love note. Make a cobbler. Garden. Wear a mask. Get vaccinations. Volunteer. Smile. Donate some stuff. Yes, you know you have too much stuff. Give it away to someone who needs it. Be kind. Cultivate gratitude. Say so.
Do not engage in comparisons; glide past social media posts that bring you down. You know the ones. Angry posts, perfection photos, and vacation brags that invite us to sit at our pity tables and drink that Kool-Aid made from red dye #2 and the salty tears of toxic envy.
Here's a thought: adjust your response. Choose outright, vicarious pleasure from others who are having more fun than you are right now, and pray they survive it. Cheer them on. Then redefine "fun" or "productive" or "engaged" and go make your own brand of it. Make it positive. And safe. Choose empathy for others if you're the one with it all. Frankly, no one has it all, anyway. Everything's relative. If you are sick, or grieving, or alone, try to remember the people who love you and let it give you comfort.
Recently, we waited for the final shoe to drop in a spectacular mashup of those two venerated canons, Superstition, and Immutable Fact: "Bad news/things come in threes," and "No good deed goes unpunished."
ONE: Working on our porch improvement task two weeks ago, Rick dropped a granite slab on his big toe. Sweet Mother of Bob Vila, that hurt. He's okay. Miraculously nothing was broken (his toe or the granite) and he's walking, but his toe may look like a catcher's mitt for a good, long time.
TWO: Yesterday, billows of smoke filled the house and set off the fire alarm as Rick was "seasoning" an oiled cast iron pot in the oven at 400 degrees for what turned out to be just a tad too long.
THREE: Also yesterday, Rick was helping our grandson and boy scout, Harper, make "camp out cobbler" in the newly seasoned cast iron pot of recent fire-drill calamity. See number two above. This entailed the first use of an outdoor, metal cooking stove Harper had proudly created in his welding class at boy scout camp this summer. Which in turn involved red-hot coals and fire inside said gizmo, the pot sitting on top, and more red-hot coals piled on the lid of the pot, heating the cast iron pot and the cobbler ingredients clear through, top to bottom.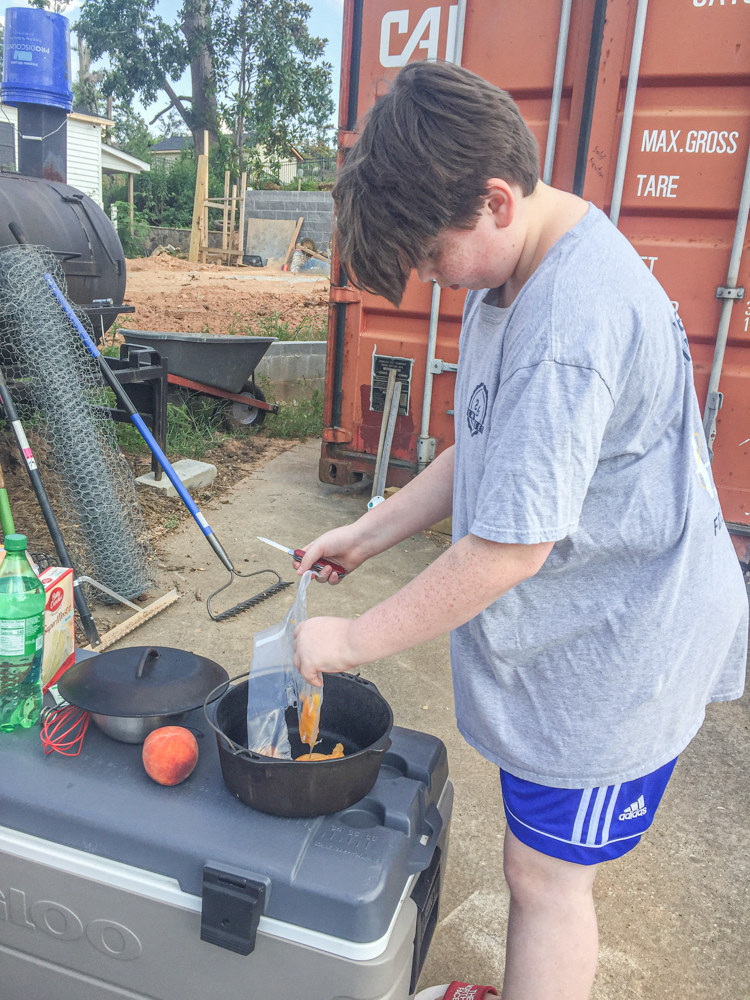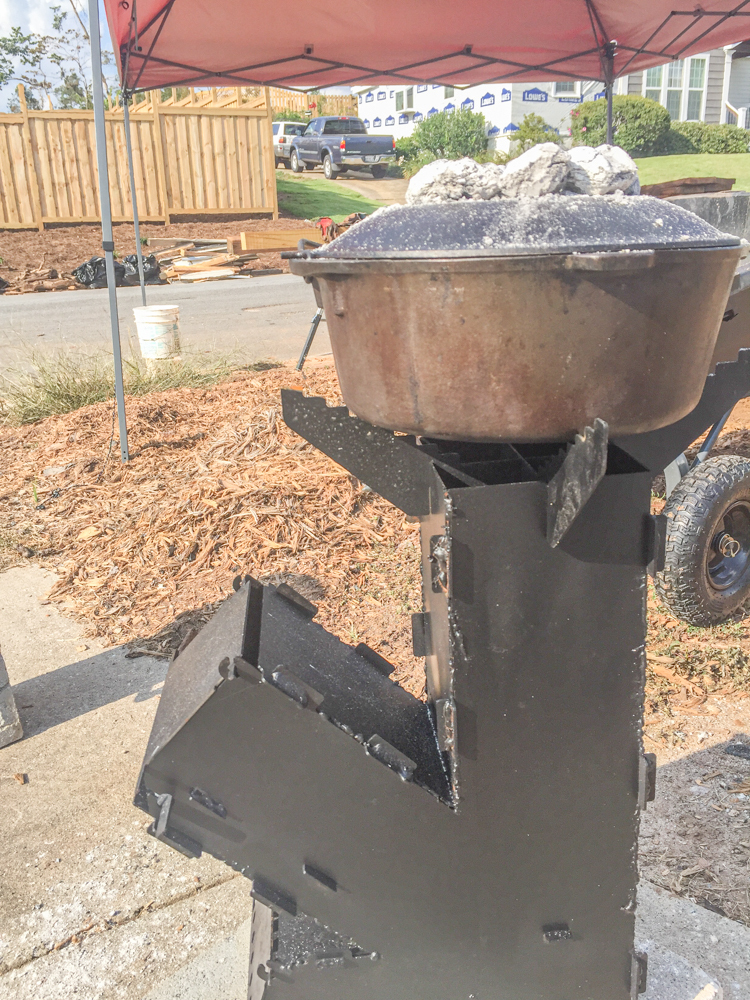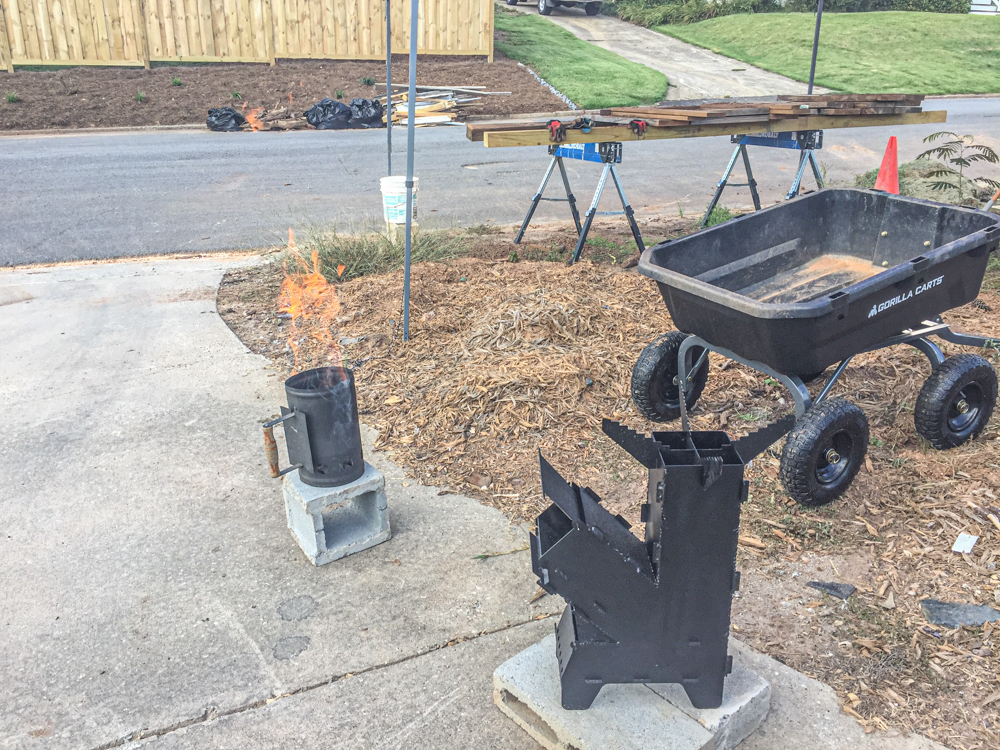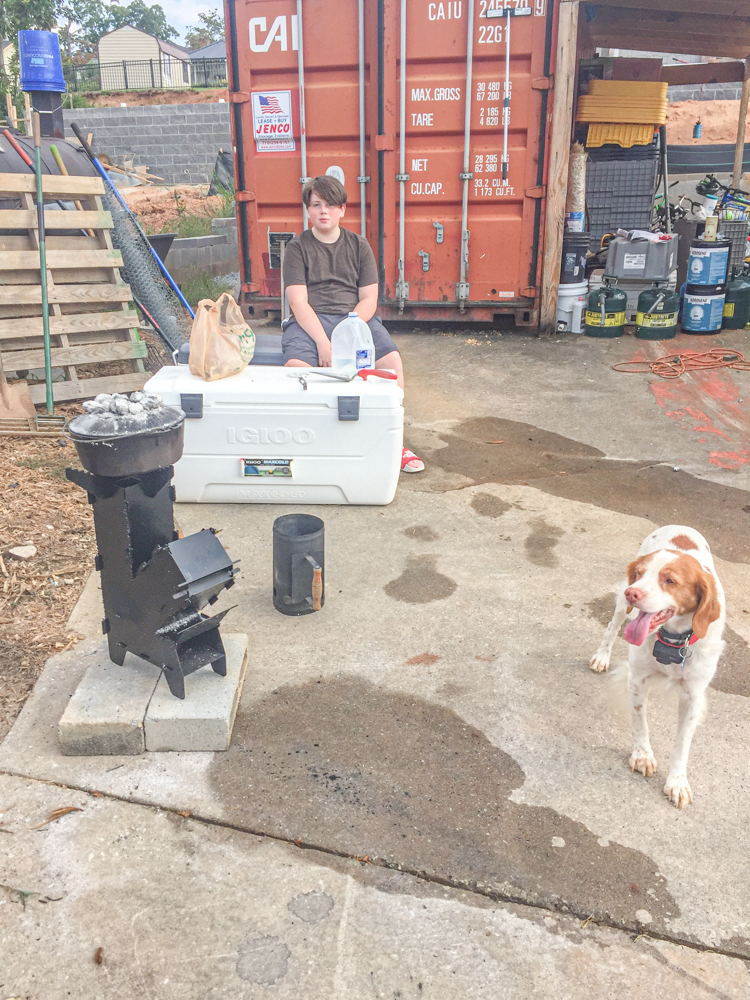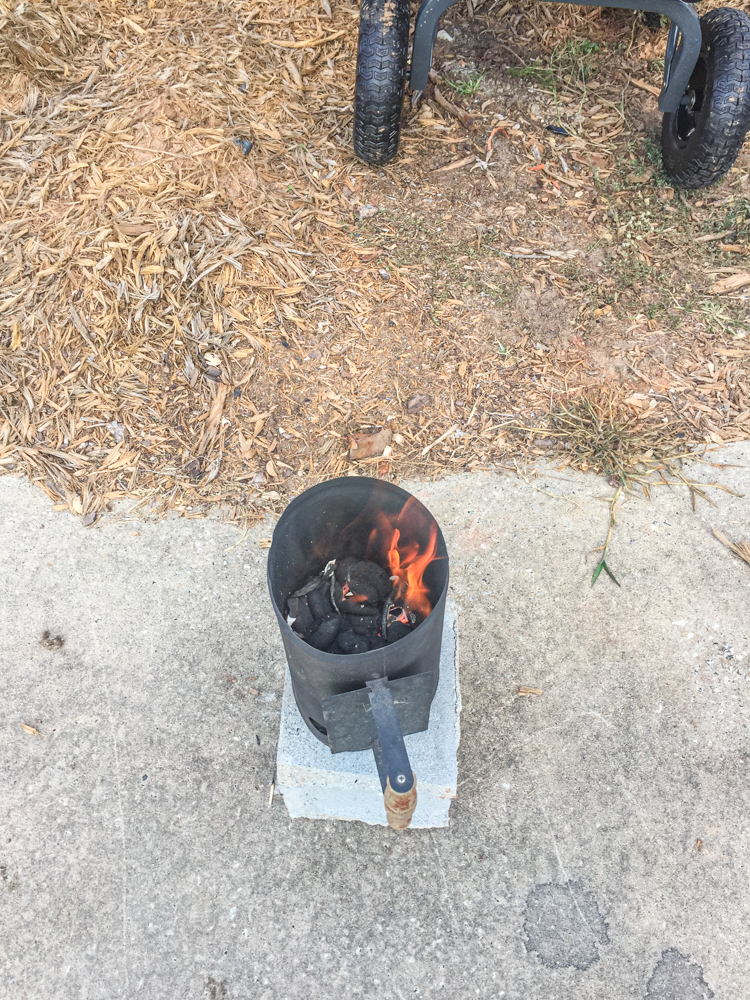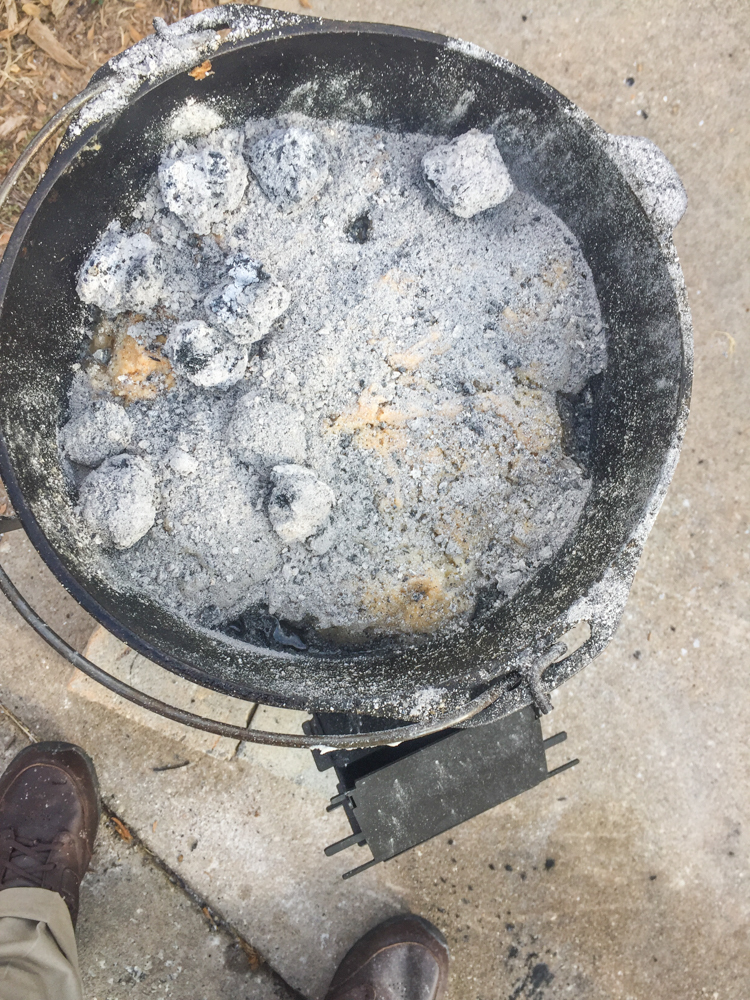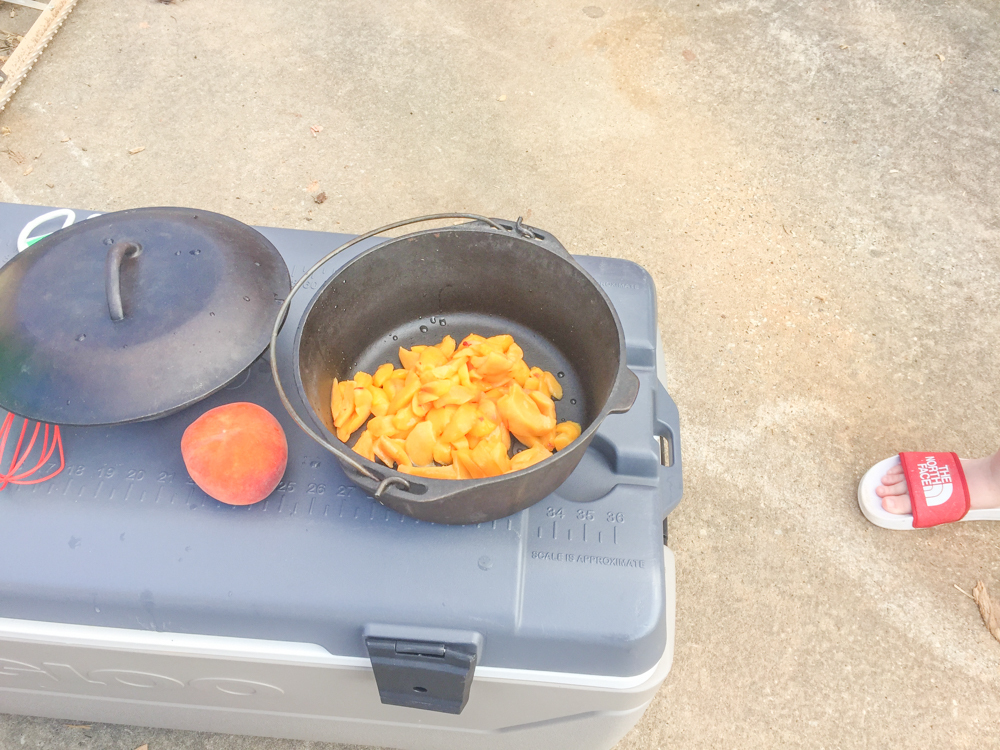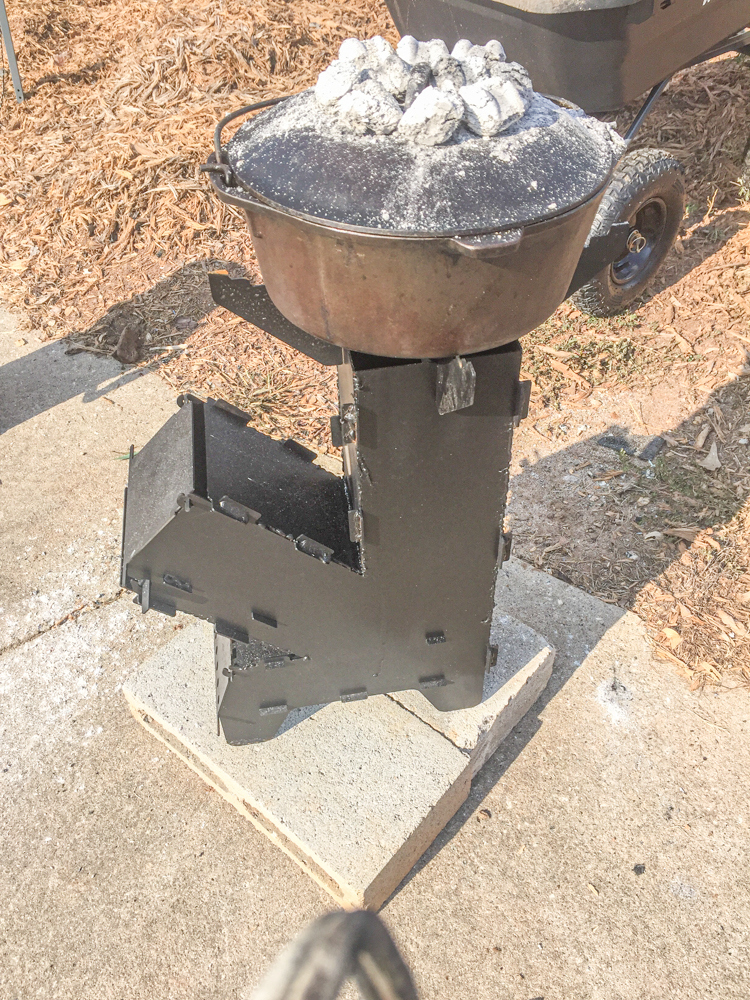 Then, it was time for the big reveal: perfect peach cobbler! Little did they know Bad Thing Number Three was waiting in the wings for just the right moment to pounce. With long tongs Rick grasped the handle of the red-hot lid to safely lift it off the pot. Cue Number Three! Aaaand Action! The cast iron lid full of hot coals and ash tipped to one side, dropping its volcanic load directly into that pot full of beautiful, outdoor-oven-baked boy scout cobbler. Yep. Stunned silence. A few expletives. And the joke: "Care for a plate of hot coal-ash with a soupçon of cobbler?" This whole endeavor had become a sad country music song, just without a pickup truck, or dog dyin' the day mama got outta prison. No, this was just a simple cuss it and cry in yer beer song (root beer for the kids). BUT WAIT. There's that "wait," again.
If bad news comes in threes, so can good news:
ONE: Rick dug underneath the inedible, hot mess and found one tiny pocket of pristine cobbler deep down inside.
TWO: Harper judged it delicious.
THREE: This was only a trial run. We have more ingredients, and more coal, along with a cleaned pot, and Harper's welded gizmo. The campout is this weekend, where Harper will shine. Lessons were learned. And the three bad things are fulfilled and over. (Until next time. Shhh. Don't jinx it.)
So while we wait, we live; we can become sick of the vicissitudes of life, and all the waiting, waiting, waiting, or we do something, if we can, to make life better. Not just for ourselves, but for others, too. And if we can't make a life better, if it's not in the cards, we say "thanks be" for it, bow our heads in reverence, and we bless it just the same.
Make some cobbler. You've waited long enough for the recipe. Here it is, our version anyway.
And guess what!! My chairs just arrived!! There IS a Godot!
Campout Cobbler
Ingredients:
1 box of yellow cake mix
(2) 30 oz cans of peaches, or fruit of choice. Drained.
1 can of Sprite
1 stick of butter
Instructions:
Tip: Use a foil Dutch oven liner (try finding one at camp-supply stores) for easier clean up.
1. Spread fruit in the bottom of a lined Dutch oven and then sprinkle cake mix over the top. We used some of our frozen peaches from Fitzgerald Fruit Farms. Stellar!
2. Pour can of Sprite over the peaches and cake mix and stir until all powder is moist.
3. Cut butter into small pats and drop them evenly over the top. This will give the cobbler a nice, golden brown.
4. Cover with lid, place pot on the heat using hot coals on the bottom and apply more hot coals on the lid of the Dutch oven. Cook for about 45 minutes (or if you aren't doing this outside with charcoals, just bake in a 350-degree oven for 45 minutes.)
5. Serve warm with ice cream or whipped cream.
6. Celebrate!
Susie Berta has many creative pursuits, including music, art, writing, cooking, gardening, entertaining and decorating. She has lived in Newnan with her husband, Rick, since 1977. They have raised two boys and have two grandchildren. She is retired from a long career as a vocalist/performer, having sung for many years in the Atlanta Symphony Orchestra Chorus and Chamber Chorus, as a staff singer at St. Mark UMC in Atlanta, and in many other venues, in addition to her one-woman show, "All Grown Up," at the Rialto Theater in Atlanta. As an empty nester, she returned to school in 2003 and earned a BFA in art at Atlanta College of Art and SCAD Atlanta. She is now pursuing her passion for writing and is currently working on her memoir, The Veterinarian's Wife.