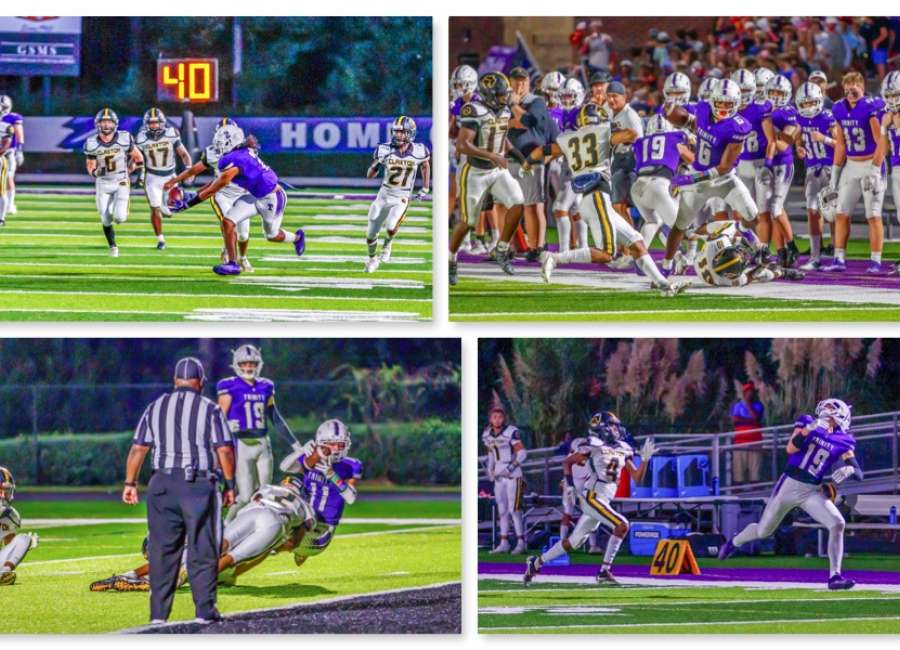 What a difference a year makes.
In 2020, the Trinity Christian Lions traveled 200 miles to play the Claxton Tigers. The Lions never got on track offensively that night; a Bryce Wilcox kickoff return for a touchdown accounted for their only points in a 6-3 victory.

On Friday night, the Lions scored more in the first three minutes. They ended up with 56 before halftime and made that stand for a 56-14 victory.
It was Trinity Christian's fourth consecutive game of 50 or more points. It is the first time the Lions have been 4-0 to start the season in team history.
After a special team's miscue at the start by Claxton, David Dallas found Javan Harrison for a 17-yard touchdown pass to start the scoring spree.
Dominick Cosper scored two over the next nine minutes remaining in the first quarter, and Aaron Gates added one on a fantastic play by quarterback David Dallas. The stat sheet says it was a 5-yard touch pass to Gates, but it was so much more.
As David Dallas dropped back to pass, he was flushed out of the pocket by Claxton's Jamil Hills and Johnofer Carter. By the time the quarterback was able to out-maneuver the rush, he was back on the 21-yard line and saw Gates coming free in the back right corner of the endzone.
The second quarter was much the same; four more Lion touchdowns. Cosper added two for a total of four in the game, while Josh and David Dallas each added one.
With the damage done, Head Coach Kenny Dallas went with reserves in the second half. The big margins are allowing him to create the depth needed for years to come.
The Lions play Coach Dallas' former team, the Landmark Christian War Eagles, this week. They will attempt to score 50 or more points for the fifth game in a row. The last time was in Coach Dallas' first season at Trinity Christian in 2017, while they still competed in Georgia Independent School Association (GISA).
David Dallas continued to add to his statistics for the year. He finished 15-for-19 for 273 yards and four touchdowns.
Harrison had four of those catches for 92 yards and a touchdown; he was just a foot short from a second score on the night, but the official marked him just short.
Tyson Wall, the very definition of a team player, led the defense with ten tackles, while Zion Marseille had two tackles for loss.
The Lions held a plus-four advantage in the turnover battle. Austin Morrow had an interception while Wilcox, Brian Pearce, and Ryan Earl recovered fumbles.
Photos by Chris Martin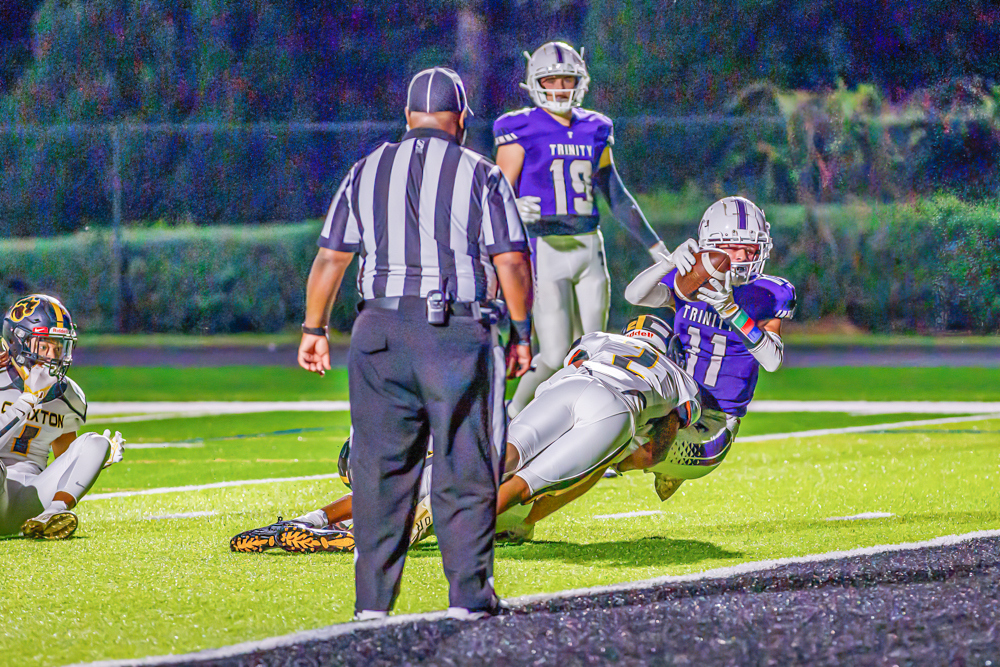 Javan Harrison comes up a foot short of getting his second touchdown catch of the game.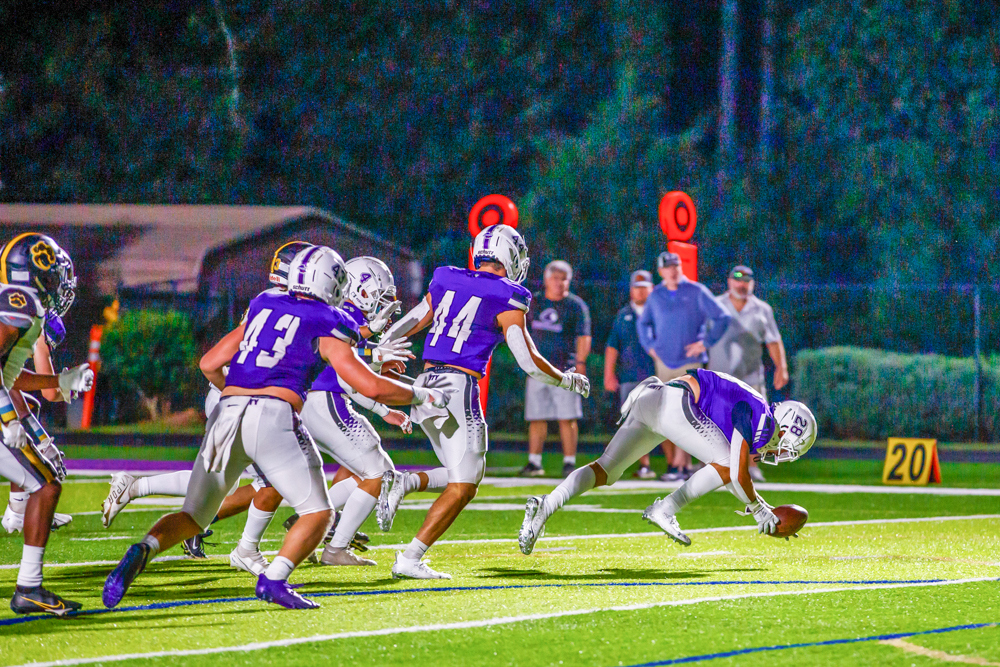 Brian Pierce (#28) scoops up a fumble as Christian Hanson (#43) and Ryan Earl (#44) look on.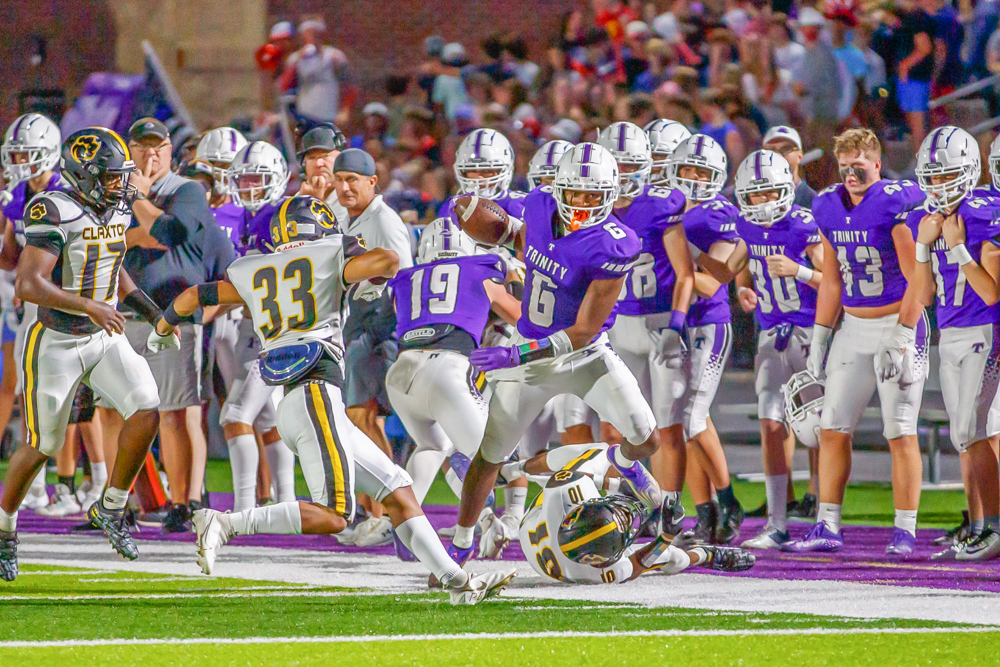 Aaron Gates (#6) eludes tacklers along a busy Trinity Christian sideline.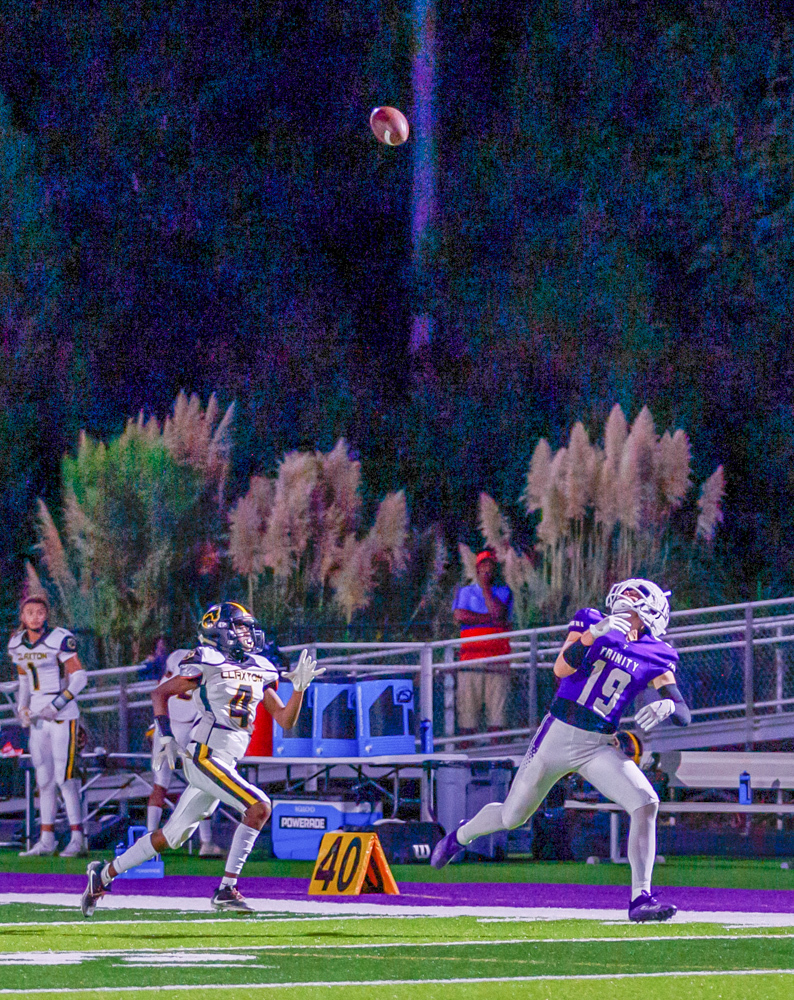 Josh Dallas tracks in a touchdown pass from his brother, David.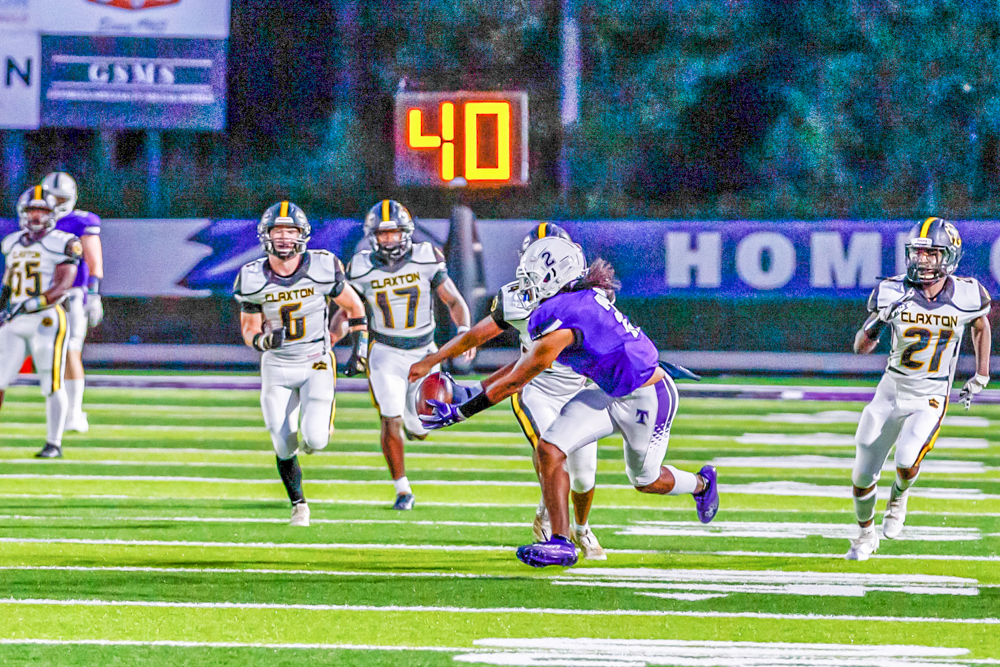 Dominick Cosper catches a David Dallas pass with his fingertips to score a 79-yard touchdown.