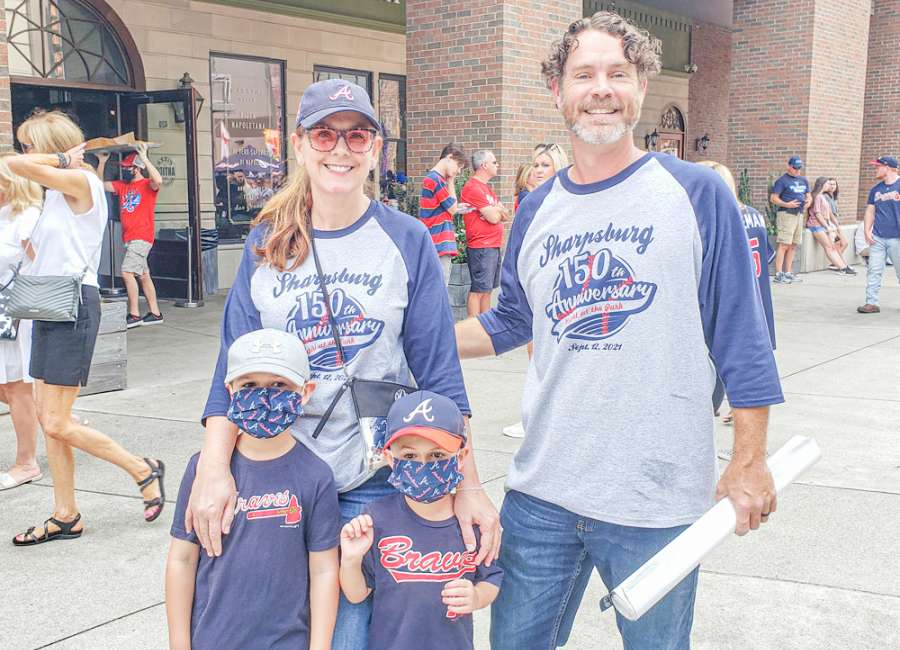 The city of Sharpsburg celebrated its 150th anniversary on Sunday at Truist Park in Cobb County as they watched the Atlanta Braves pull ahead of the Miami Marlins, 5-3.
As part of the celebrations, Sharpsburg city officials, residents and business leaders sat in a section in left field, many of whom donned shirts honoring the city's 150th anniversary.
The city set the date so it would be as near to the 150th game of the season as possible, said Sharpsburg Mayor Blue Cole.
Cole, a fan of the Braves since the days of Dale Murphy and Bob Horner back in the 1980s, said he got the idea back in May when he and his family went to a Braves game to celebrate his birthday, when they found out the Braves, like the city of Sharpsburg, were celebrating its 150th anniversary.
"When I put those things together, I thought, wouldn't it be cool if …," Cole said. "I reached out to the Braves, and we figured out how close we could get to the 150th game of the year in the middle of their 150th season to celebrate the 150th anniversary since the incorporation of Sharpsburg."
Cole said the game of baseball is a natural fit with the city of Sharpsburg due to the community involvement with both the game and the city.
"We were really pleased to pull it off with them," Cole said. "For me, it's about community. Baseball itself is about community, and it's a community game. Sharpsburg has a proud history starting from the 1800s until the 1900s and even to the present day. We had two baseball coaches inducted to the Dugout Hall of Fame, so baseball's important to Sharpsburg, and this is a great way to show it."
Cole said businesses, restaurants stepped up to support the city for its anniversary, as well as civic and nonprofit groups.
"It's been a great response," he said.
Through the sale of commemorative T-shirts and ticket sales, the city of Sharpsburg was able to raise almost $500 for the town's library and other community organizations.
Scoring from the Braves was provided in a large part by a two-run home run from Eddie Rosario, a solo home run from Ozzie Albies that put the Braves in front and another solo home run from Freddie Freeman that provided insurance for the Braves to take their 76th win of the year and put them 4.5 games ahead of the Philadelphia Phillies in the NL East.