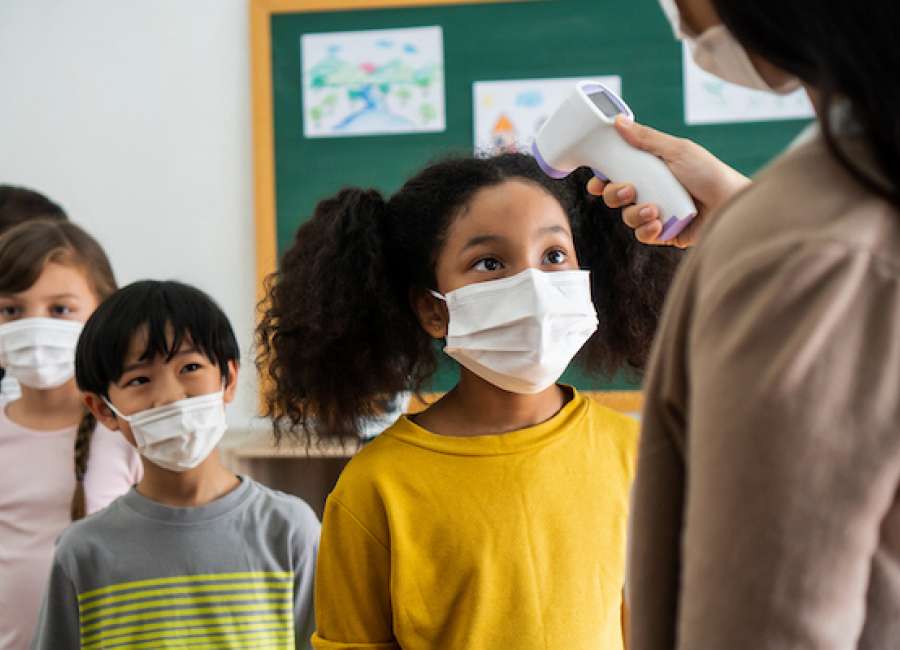 A three-tier system based on the percentage of COVID-19 cases reported at each Coweta County school is now being implemented by the school system.
Since Aug. 20, the Coweta County School System has implemented a system of "incremental interventions" in response to increases in COVID-19 cases – both in the community and among students and staff. Numbers have been tracked since the new school year began on Aug. 5.
All 33 schools are subject to baseline mitigative measures, and those precautions are considered Tier 1 of the school system's approach. That includes encouraging all individuals to follow the Centers for Disease Control and Prevention guidance to wear a mask while in a school; requiring masks on school buses per an ongoing federal order; social distancing where practicable; recommending self-health checks for students and staff; and cleaning and hygiene measures.
The Coweta County School System works with the Georgia Department of Public Health to perform close contact investigations where needed, and the DPH makes final determinations of quarantine in those cases.
Tier 2 interventions are typically activated when cases reach 1 percent of students and staff at a school. That means restriction of visitors and volunteers in schools, as well as increased social distancing and limitation of group gatherings during the school day.
Tier 3 is usually activated when cases reach 2 percent of students and staff at a school. At that point, a face mask requirement is added to Tier 1 and Tier 2 interventions for at least two weeks, or until cases decline.
Assessment of daily data determines the response on a school-by-school basis, and the tiered system is aimed at reducing or halting transmission and close-contact quarantine in schools when there is evidence of an increase.
"The goal is to keep our schools open," Superintendent Evan Horton said. "We are following our data school by school and letting that determine where we need increased measures. We feel that this approach provides us with the information needed to make strategic, data-driven decisions. And when the data indicates that conditions have improved, we lessen those measures to those of our baseline plan."
Many of the schools requiring Tier 2 or Tier 3 precautions since Aug. 20 have since been able to relax the additional measures as case rates improved. Across the system, the seven-day COVID-19 case rate has dropped from 1.73 percent three weeks ago to a .55 percent rate of new cases last week.
"Our community, like most communities around the state, is experiencing a surge in COVID cases," said Horton. "That may not impact every school, or impact them all the same way. But when it does, and we see increasing cases among our students and staff, we need to act to attempt to lessen that impact.
"If we don't act when we see rising COVID cases, then those increasing cases – and the quarantines of students and staff from exposure – severely threatens our ability to operate schools and keep our schools open for face-to-face instruction," Horton added. "We are taking these steps to avoid that."
The tiered system was developed in partnership with the DPH. The school system tracks daily reports of confirmed COVID-19 cases in schools. When the percentage of cases hits 1 percent or higher of the total school population during a seven-day period, additional mitigating measures are enacted for at least a two-week period.
If cases decrease during that period, then those additional measures may be lifted at the end of two weeks. But if cases continue to rise significantly during that period, then an additional tier of mitigative measures may be activated at each affected school until cases show evidence of decreasing.
Officials say School Health Services began seeing rises in new COVID-19 cases by the second week of school, as cases began surging throughout Coweta County. School health worked with the DPH to improve quarantine procedures by Aug. 19 – as the system rate was rising above 1 percent – and the school system began the school-level, tiered response on Aug. 20.
The Coweta County School System hit its highest seven-day positivity rate for students and staff on Aug. 27, when 1.73 percent of students and staff reported testing positive for the disease. By Sept. 2, the system-wide rate had dropped to 1.47 percent. As of Thursday, the system-wide rate had dropped to 0.55 percent.
"We have some schools going up in some cases, but a greater number of our schools are coming down as interventions are applied," Horton said. "I am sure there will be more ups and downs to come, but I am hopeful current trends will continue."
Horton said school health officials are continuing to monitor COVID-19 activity on a daily basis, and that the school system is ready to ramp up intervention when case numbers spike and lift additional protections as the numbers allow.
"When we see them decrease, we will come off of those measures where we can, all with the goal of maintaining in-person instruction in the least restrictive manner possible," he said. "As case transmission continues to stay high in our community and impact different parts of our community at different times, we could see some of these measures go back and forth at our schools as the data indicates."
As of Friday, 14 Coweta schools remained on the baseline Tier 1 protocol.
Ten schools are currently on Tier 2 interventions, which restrict visitors, volunteers and gatherings and increase distancing. They include Canongate, Elm Street, Glanton, Newnan Crossing, Welch and Willis Road elementary schools, along with Arnall, East Coweta, Madras and Smokey Road middle schools.
Nine schools are currently on Tier 3 interventions, which add a mask requirement. They include Arbor Springs, Moreland, Northside and Thomas Crossroads elementary schools; Evans Middle School; Newnan and Northgate high schools; Burwell-Westside; and Winston Dowdell Academy.
For more information and school data, visit the School Health Program COVID-19 Resource Page.