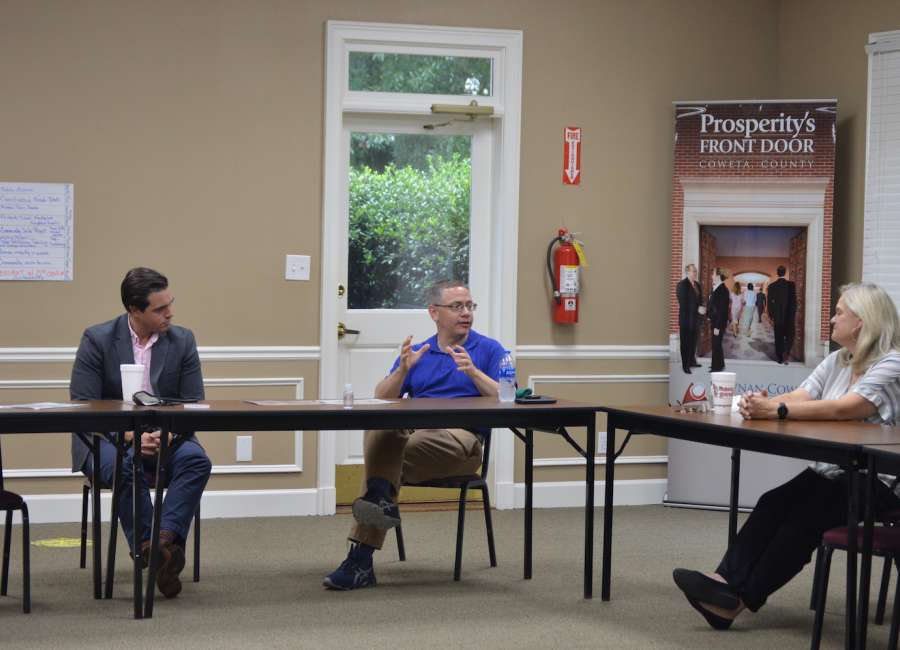 Sept. 20 is the deadline for Cowetans impacted by the March 26 tornado to apply for low-interest loans from the Small Business Administration.
Local officials are hoping that the federal government will extend that deadline, but as of now, it stands.
Homeowners, renters and business owners can apply for loans to help pay for physical damage to buildings and for the loss of personal property.
While getting a loan from the SBA is intended to be easier than getting funding from a bank or other traditional lending institution, for many Cowetans the process has been just another devastating blow.
As of Thursday, 174 Coweta applications had been submitted, and only 43 have been approved.
A small handful of those applications are still being processed, but 66 percent have been declined, according to Kelli Yeager-Nelson, executive director of Bridging the Gap and chair of the Coweta tornado Long Term Recovery Group.
And nobody really knows why, because SBA doesn't provide many details.
Members of the Long Term Recovery Group met with staff from Sen. Raphael Warnock's office Thursday. Staff members committed to work to get the deadline extended, and to try and get help in determining why so many applications are being denied.
The group encourages anyone who might need the help to apply for the loans. Those denials can provide the data needed for local officials to search for other funding sources.
But when those loans are denied, "the emotional toll that it takes is significant for people who were already emotionally spent from the pandemic and the tornado," said Coweta Long Term Recovery Director Rich DeWees.
The total number of applications includes some businesses, said Yeager-Nelson.
People are still not understanding why they are being declined, and Yeager-Nelson said they keep encouraging people to appeal and reapply.
Mark Libell, Warnock's chief of staff, asked how responsive SBA has been with information.
At first, it was like pulling teeth, said Yeager-Nelson. Now, SBA is giving weekly updates on applications, but the percent of approvals isn't changing.
And SBA is only providing the group with numbers, not reasons. Yeager-Nelson said they are talking to the individuals who have been declined to try and get more information.
Some are older and/or low income and might not have the ability to repay.
"But we have plenty of others who live in places like Hollis Heights and more upscale neighborhoods," she said. "There are people we know who own homes, who are insured, who have great credit and everything else but they were denied access to an SBA loan."
Even though it is almost six months since the tornado, many tornado victims are still negotiating with their insurance.
Some people haven't entered the case management system or applied for loans, because they are waiting to see what their insurance will pay, said Jason Walton of Foundation Church.
But those people could miss the deadline for the SBA loans. "The SBA piece is over before we get people through the process," Walton said.
"Knowing people are waiting – why can't SBA extend their deadline from Sept. 20 to maybe Nov. 20 ?" asked Cynthia Bennett with the Coweta Community Foundation. Even better would be closing it out at the end of the year, she said.
Some damage has been caused since the tornado. Many roofs are still damaged and covered with tarps, and heavy rains and winds can rip those tarps right off and cause rain to pour in.
Bennett said there are some homes that originally got "yellow cards" meaning they were damaged but still livable that now have red cards because of damage that was caused after the tornado.
Bennett said she has a friend who had a bit of damage but thought things were fine. Three weeks later, his bedroom ceiling collapsed.
Delays in repairs can cause a project that cost $10,000 to cost $20,000 or more because of increased damage, said Walton.
CCF Executive Director Kristin Webb said there were originally 99 red tags.
"Within two months it's probably closer to 200 homes, because they are sitting there, with more damage, because of delays in insurance and delays in labor and delays in supplies," Webb said. "People are having to make really hard decisions – are they going to stay there, are they going to leave, are they going to walk away from these homes?"
Andrew Heaton, northwest Georgia outreach director for Warnock, said the office will be reaching out to its contact at the SBA to see why the Sept. 20 deadline was set and if there is any potential to get it extended.
Part of that will be helping to explain to SBA why the deadline extension is needed. "I think that it is sometimes hard – if you're not here – to understand that this far out there are still people just now trickling into the system," Heaton said. "But there absolutely are."
For more information about SBA disaster loan assistance, and to apply, visit disasterloanassistance.sba.gov.