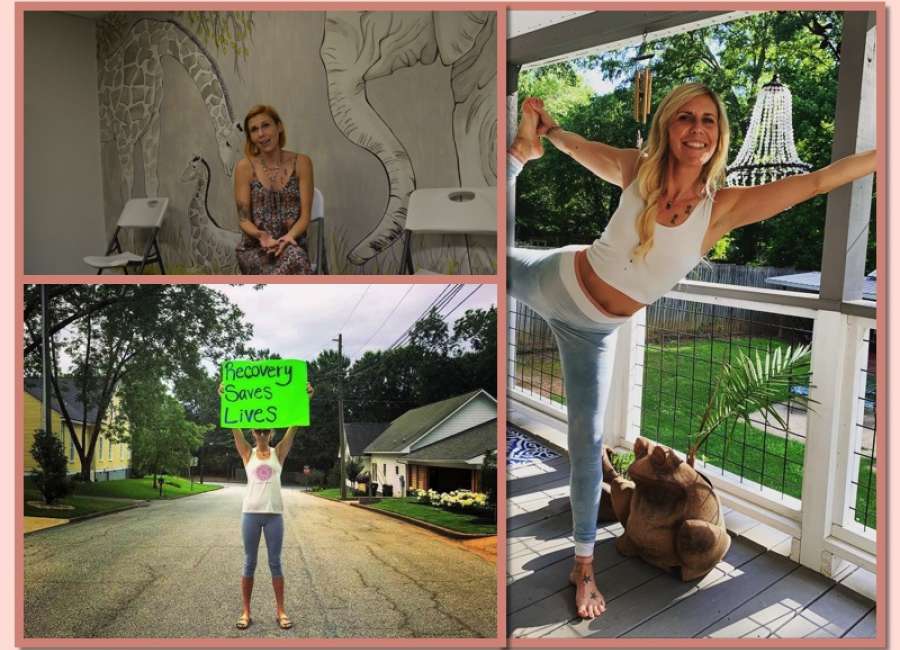 Zoe Powell went to her first drug rehab facility when she was just 17. It wouldn't be the last.
"For the next 10 years, I was in and out of jail and in and out of rehabs, struggling," she said. "And I made it. I think there is this perception that: I'm never going to make it. I always mess up."
People who are in the darkness of addiction sometimes have that perception. And so do people on the outside looking in.
"People on the outside may see someone struggling with addiction and think they're just always going to be a f***up," Powell said. "I'm here to tell you people do change."
The last time Powell got clean, she was living in Asheville, North Carolina. By this time, "I had burned all my bridges," she said.
Her parents, who had saved her many times before, were done. "That was the game changer for me," she said.
She knew that this time, she had to do it.
Someone to believe in her
One person would still help her, a cousin in Boone, North Carolina. Powell moved in with her.
"She's just a saint. She believed in me," Powell said.
Her cousin ran a screen printing company out of her basement, and Powell worked there. Her cousin took her to recovery meetings and kept her on a very short leash.
After a few weeks of living there and getting clean, she realized something felt strange.
Powell was pregnant.
"I didn't know who the dad was," she said. "I had a lot of shame surrounding it."
She'd been using a lot of drugs before she'd gotten clean, and worried there might be something wrong with the baby.
Her cousin believed in her, but a lot of people didn't want her to keep the baby.
She went so far as to attempt to schedule an abortion. But "I just couldn't do it."
"Instead, I made the decision I was going to be the best mom I could be. I made the decision I was going to get clean for this baby," Powell said.
She moved home to Newnan. It took her mom a few months to trust her again. "I think she saw I really meant business this time, so she allowed me to move back home," Powell said.
She did everything she was supposed to. She went to meetings every day. She hung out with other people in recovery.
"My only friends were people that were in recovery. I just protected that. I knew my recovery had to be the most important thing – or I would lose everything that I put ahead of it," she said.
These days, Powell's life is wonderful. Her daughter is perfect, she has a home, and she recently got married.
Believing in others
Powell said she thinks it took somebody believing in her before she could believe in herself. But she knows a lot of people don't have that, "because we've messed up so many times.
"I want to be that to other people who are in the darkness," she said.
A few years into her recovery, she met Hank Arnold with Coweta FORCE. She'd been very open and vocal about her recovery. It helps keep her accountable. "It was like I was telling on myself in a way," she said.
She learned about Coweta FORCE and knew she wanted to be a part of it. She started attending the recovery yoga classes.
While life in recovery was great, she still felt like she was reaching for something more.
She'd first tried yoga at 17, in that rehab facility in Utah. As she got back into it, "I found that yoga was the more that I was reaching for in recovery. It checks all the boxes," she said.
It helps her physically, spiritually and mentally. It helps her to be in the present moment.
It helped with all those things that she thought drugs and alcohol were going to help with, but instead only made worse.
Yoga "helps me deal with life on life's terms," she said.
She started helping with the yoga classes at the Coweta County Jail, and when yoga instructor Dara Wells decided to move on, Powell took over teaching.
She also works as a peer recovery coach and marketing and outreach coordinator for Coweta FORCE.
You are worth it
When she teaches yoga in the jail, she often meets women from her days of active addiction.
"I'm able to tell them: I was in this jail, and you can change your life," Powell said.
People often tell their children that they can be anything when they grow up.
But it can be true for adults as well.
"I've found that through recovery I have dreams and goals again, and I accomplish those goals. I feel like a child, that anything is possible," Powell said.
It's hard to make someone understand those possibilities when they are in the darkness.
"They have to experience it within themselves," she said. "I just want to be able to be that beacon of light for them and for them to experience who they are supposed to be … the best version of themselves that is going to come out of all of this," she said.
"I just want them to know that they are worth it, that it's worth it."
The most beautiful thing
There are fliers and banners for Coweta FORCE at the jail, and the flier even has a map to show people how to get there. Powell loves it when someone shows up, fresh from the jail, with one of those fliers.
And then she will see someone she met in the jail who comes back and tells her they have nine months in recovery or a year.
"There is nothing better than that feeling, knowing you were part of this person changing their life," she said.
While finding out she was going to be a mom was what made Powell take her recovery seriously, "the reality is kids don't keep you sober," she said. "I think, for me, God knew what I needed, and that gave me enough time to really experience the beauty of recovery."
There seems to be a perception that once people enter recovery that life won't be fun anymore; it will be boring, and they won't have friends.
But the truth is, life in her addiction wasn't fun anymore. Now she has real friends, goals, a home, a husband, a bonus kid.
"I don't keep my mom up at night anymore. Now she calls me for advice," Powell said.
It's not like life is all rainbows and butterflies, of course. It's real life, after all. "I cry and I laugh. I get to feel all the feelings, the good and the bad," she said.
"Recovery is the most beautiful thing I've ever experienced."