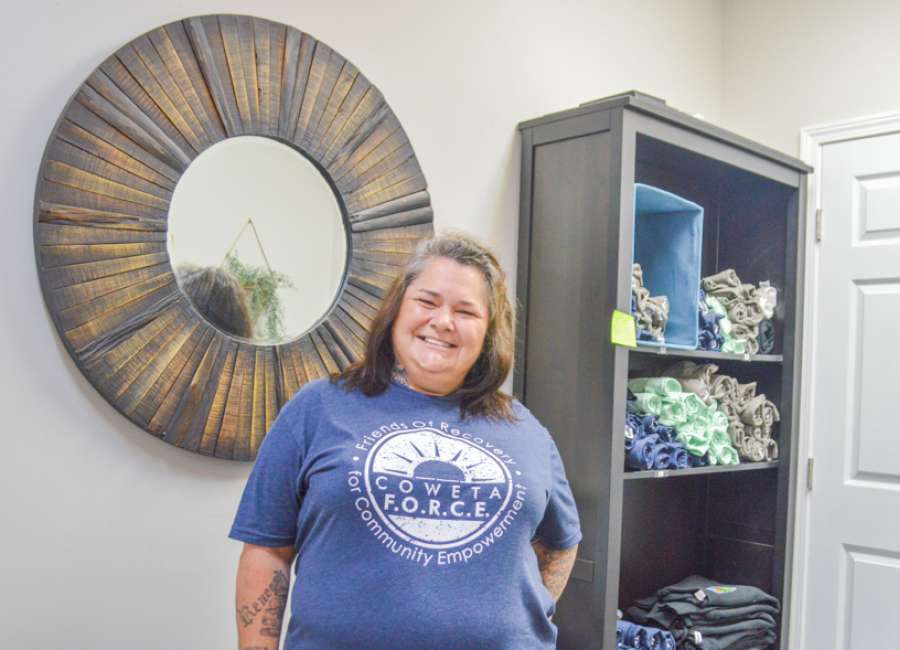 Susan Drew's journey through addiction to recovery started when she was 12 years old. She began drinking to cope with the pain of years of abuse. As an adult, she spent 25 years homeless on the streets of Atlanta.
But Drew found recovery and is now helping others on their journey as a peer recovery coach at Coweta FORCE.
Drew recently started the newest recovery meeting at the local community recovery organization, which is for those dealing with substance use disorder as well as a mental health diagnosis.
In most 12-step recovery meetings, mental health is considered an "outside issue." But at Double Trouble In Recovery meetings people can talk about their moods, doctors appointments, mental health struggles and medication.
"I suffered with extreme panic attacks in early recovery, and if I had had this meeting to go and talk about it, it could have helped me," Drew said. "I just white knuckled through it the whole time.
"That's why I thought having this meeting was so important."
Trying to fit in
When Drew found alcohol at 12 years old, it gave her the strength to stand up to her abuser and make it stop. But it began a life of a new kind of abuse, of abusing herself with alcohol and other drugs.
Growing up in Peachtree City, Drew was bullied in school and had a hard time fitting in. "But when I drank, I fit in – or that is what my disease told me," she said.
But something deep down made her feel she would never fit in, Drew said.
In high school, she was introduced to marijuana and ecstasy. She thought that would make her fit in. She quit school and met her future husband.
"I thought, well, maybe if I get married, everything in my life will fall into place, I will become normal, I will want the house with the white picket fence and the kids," she said.
But things only got worse from there. Her husband introduced her to crack cocaine. They had two children together. Drew would stop using drugs during the pregnancies "but the minute I had the babies, I was back to smoking crack," she said.
Choosing a life on the streets
Her husband ended up in prison, and after that happened, Drew said she was tired of trying to fit in and live a normal life. She left her kids with her parents and went to Cleveland Avenue in Atlanta. And there she lived on the streets for 25 years, homeless and involved in sex trafficking.
"I felt like, because of the abuse, I felt like this is what I deserved, and I couldn't find the way out," she said. "I decided to give up trying."
At times over the years, she was raped and beaten. She once jumped out of a car on the interstate to get away from the person inside. She also recalls other cars with removed interior door handles to keep people from getting out.
In the mid 1990s, several Atlanta prostitutes were found strangled to death. The police were searching for a serial killer.
"The APD were coming around warning us to get off Cleveland and Stewart (Metropolitan) Avenue," Drew said. "Of course nobody left because that's where the money making was."
She recalled one 18-year-old who was found murdered. She was wearing a Mickey Mouse watch.
"She was a child. A lot of the girls start as children out there. Their parents introduce them to it," Drew said. "I've seen mother-daughter teams out there. I've seen so much garbage in that area."
Drew was attacked by a man, who she believes was a possible suspect in the killings.
He slammed her to the ground and had his hands around her throat. She thought she was about to die. The next thing she knew, cops were coming from all directions and arresting the man.
Several arrests were made, but it didn't stop the killings. Drew never thought she would leave the streets alive.
"I wanted a way out. I welcomed death," she said. But when she was actually facing death at the hands of this man, "I was begging for my life," she said.
Drew's parents never gave up on her. Sometimes they would drive up and look for her. Her dad would drive through the area often, hoping to find his daughter.
Something so wrong with me
As the years went on, Drew tried going to drug detox centers and mental institutions, and she was diagnosed with bipolar disorder. "I've probably been in every rehab in Georgia, just trying to do something different," she said.
But that "something different" didn't work, either. She would go home and stay with her parents for a while, but would always end back up on the streets.
"I honestly thought recovery was not for me," she said. "I thought there was something so wrong with me that I was never going to see the other side of addiction."
In 2015, her son Jacob committed suicide. His death sent Drew into a deeper despair and off the deep end.
The last time Drew left her parents' home and went back to the streets, she realized she just couldn't do it any more.
"I didn't have it in me," she said.
She ended up in the detox program at Riverwoods Behavioral Health in Riverdale. After the two-week detox, she did the 28-day outpatient program.
This was nothing new. She'd done the program many times before.
Something changes
But this time, something was different. Drew was back home and clean. Then a friend called and wanted to take her to a recovery meeting.
At that meeting, she heard something that made her want to really give recovery a shot. She can't remember what it was, but it changed her life.
She started going to meetings every day. That first year, Drew said she missed a total of four meetings.
11 Alive News has done a series on Atlanta's hidden serial killers and cold cases, called "The Hunt." The first year of her recovery, Drew was interviewed about her experiences.
She remembered sitting in the living room and watching the segment.
"I was really nervous because I was putting it out there for the world to see," Drew said. "I did it for all those girls who died on those streets. When you get murdered on the streets of Atlanta, they don't try to search for your family … you get a pauper's grave at most."
According to "The Hunt," more than 130 women were strangled or asphyxiated to death in the Atlanta area over 40 years. Nearly 100 of those cases remain unsolved.
The series was nominated for a regional Emmy, and Drew was invited to go to the ceremony. It made a big impact. "I was able to put that part of my life behind me," she said.
She got a job at a gas station in Senoia. She learned to be an employee, to get to work on time, and she learned how to be honest.
She started going back to Riverwoods to tell her story, and she started talking to the clinical director about working there.
"He said – get a year and we'll talk," she said.
So she did, and they created a position for her. The clinical director told her if she ever felt like her recovery was threatened by working with the people there to not come to work that day.
"That whole hospital, the people that were working there at the time, loved me. They believed in me, which I never had. I started to believe in myself after a while," she said.
She was promoted twice. Drew said she learned so much at Riverwoods.
She was paying her taxes, paying off debt, building up credit, buying a brand new car.
Drew loved working at Riverwoods but wanted more. She wanted to help people get their driver's license and other documents, to help them get started in a new life.
'I love my life'
Drew was going to Coweta FORCE to support her recovery, and learned about the Certified Addiction Recovery Empowerment Specialist. She took the training and now works with other people in recovery.
She's living with her parents, but now she's able to give back to them.
"They would have done anything to save my life. It is an honor to be able to be the daughter I was supposed to be," Drew said. "I pay them rent, I pay my bills on time, I love my life."
Her relationship with her sister was damaged, but she's made amends and it has been restored. In her addiction, she hurt her children. But now she's there for her kids and they respect her.
"I have a grandbaby that has never seen me use," she said. "I never thought I could see past Cleveland Avenue. I literally thought that it was going to take me out. And it should have."
Her son Jacob never got to see her recovery. Anytime she goes to tell her story, she takes a picture of him with her.
"I can make amends to him by staying clean and helping somebody else. I can help somebody else in his name," she said.
When she tells her story, she tells others the truth about how far down addiction can take you. "If I can stop one young girl from going down the path I went, then everything I went through was worth it," she said.
These days, "I'm doing everything that I thought I could not do," she said.
And then she gets to come to Coweta FORCE and help others.
One of the best parts is Executive Director Hank Arnold hands her a sheet of paper to take to the jail so she can pick up someone who is being released and drive them to rehab.
"It's the best feeling in the world," Drew said.