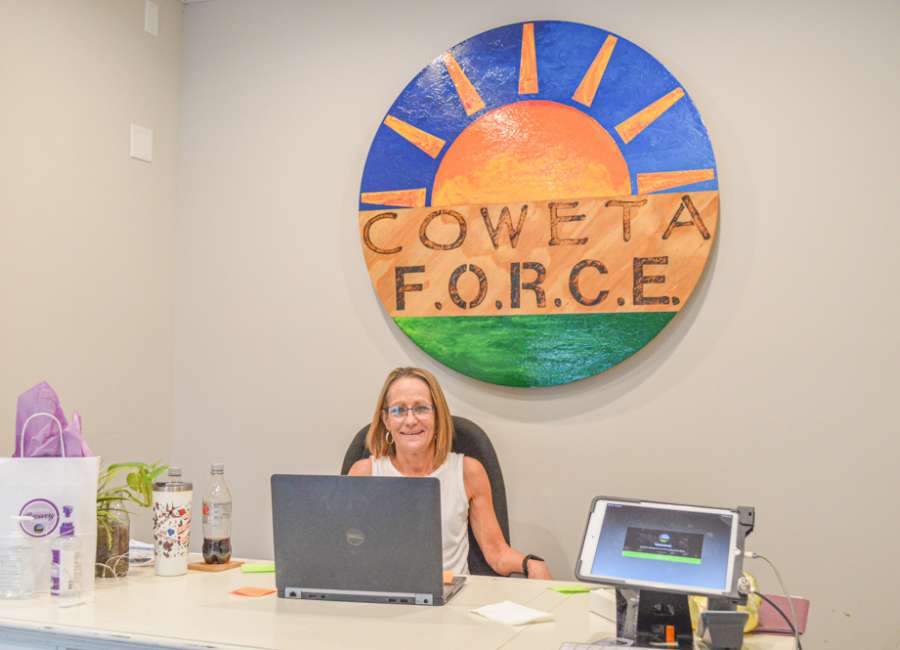 If you visit Coweta FORCE, the first face you're likely to see is Billie Jane Gossage.

A certified peer counselor, Gossage also staffs the front desk at the community recovery organization.
As a peer counselor, she works with people in recovery and their family members. Each week she's part of a team at Coweta FORCE that visits the Coweta County Jail and teaches a yoga class to female inmates.
It's a far cry from her life a decade ago. She was drinking heavily, using other drugs, and her relationship with her daughter was suffering. Over the years, Gossage had gotten four DUIs. She decided the solution was to stop driving all together.
Gossage grew up in a loving family and went to church most of her life. "But it still didn't stop me from doing the things I did," she said.
Doing something different
"My life wasn't bad and horrible, but it continued to get worse," she said.
After her daughter started college, life got very lonely. On the Monday after Mother's Day eight years ago, her daughter saw a drug dealer dropping off drugs in the mailbox, and she had had enough.
"She said she was done with me until I did something different. She said she didn't want to be around me."
That day, Gossage decided to do something different – go to a treatment center.
Gossage's sister had been in recovery for years, and when Gossage asked for help, her sister sprang into action. By Wednesday morning, Gossage was headed to the Women's Extension treatment center in Marietta.
Initially, Gossage only went to treatment to get people off her back. She had no plans to stop drinking or change anything about herself.
She'd been completely smashed when she said "yes" to treatment and even drank on the way to the treatment center.
"I did what every lady I ever knew that went to rehab did – I drank all the way up there," she recalled.
But once she got there, something clicked.
"It was the best thing I ever did in my life," she said. "It was my 'Eat, Pray, Love.'"
Gossage said she was never taught to take care of herself. She grew up in a religious family, but never had a personal relationship with a higher power. Once at the facility, she began to form one.
Gossage said her biggest fear was that something would happen to her mother, who suffered from poor health.
Three months into her rehab stay, her mother was hospitalized and died a few days later. Gossage was allowed to leave the facility to go spend a week with her mom.
Through it all, she stayed sober.
By then, she had been sober long enough to "play the tape through" – to know what taking a drink would lead to. And she knew there would never be enough alcohol to drown her pain. The thought of not going back to the treatment center did cross her mind, but "I knew I wouldn't be OK," she said.
She'd experience plenty of losses in her life, but never really grieved them. After her mother's death, she truly grieved for the first time.
It's OK to be not OK
"Recovery taught me it's OK to be sad. It's OK to be scared. It's OK to not be OK," she said.
After completing the one-year treatment program, she was scared to go home. A weekend visit only confirmed she wasn't ready.
"Everybody I ever knew that came back home – they relapsed … they came and hung out with me," she said.
So she stayed another year through the center's alumni program.
When she did come back home, she got a job as a cashier at a local grocery store; three months later she was a key holder and front end manager.
One day she was standing outside and saw Hank Arnold on the front page of The Newnan Times-Herald, talking about starting what would become Coweta FORCE.
"I stepped out of my comfort zone, and I sent him an email," she said.
Arnold asked if she'd be interested in taking the Certified Addiction Recovery Empowerment Specialist training.
Gossage said she'd never really talked about her recovery. She took the class, and it was life changing. Not long after, Arnold hired her as a peer recovery coach.
Planting seeds, leading with love
When Gossage visits female inmates in the jail, she gives them a bit of her story. And tells them: "You don't ever have to come back to jail again.
"That is pretty powerful, being able to go in there and just give some hope," Gossage said.
As a peer counselor, she works to build relationships with people coming into Coweta FORCE and help them decide what their next steps are.
Instead of asking people what is wrong with them; she asks what is right – "because a lot of people don't know how to tell you what is right with them."
Gossage said not everyone who comes in is seeking recovery. They're looking for something different, but they don't know exactly what they need.
"It's about sitting down and sharing my life experience with someone and helping them navigate what their next steps are and what they want to do," she said. "A lot of times it is about meeting people right where they are.
"I'm not here to tell you what you've got to do, but to find out what it is you want to do, figure out what the next steps look like and the best way to do that."
Sometimes it's helping people with basics like obtaining a birth certificate and ID. And it's being supportive and walking beside someone in what they are going through.
"Recovery has taught me that it is OK to make mistakes, but I learn from my mistakes and what I can do differently," she said.
These days, Gossage has a great relationship with her daughter – and her grandson. In the height of her addiction, she remembers her daughter telling her if she ever had a child, she would never let her mom babysit.
These days, she keeps him all the time.
Gossage said working at Coweta FORCE helps keep her sober.
"I wouldn't change anything about my life today. I get to share my life experience and story with others, to let them know that there is hope. We get well. We do recover. Now it's not always easy, but I don't have to do it alone."
Gossafe said as a peer counselor, "sometimes I think my job is to plant seeds. If that is all I do, then I've done my part. How I do it is by showing up every day and being available. I call it leading with love."