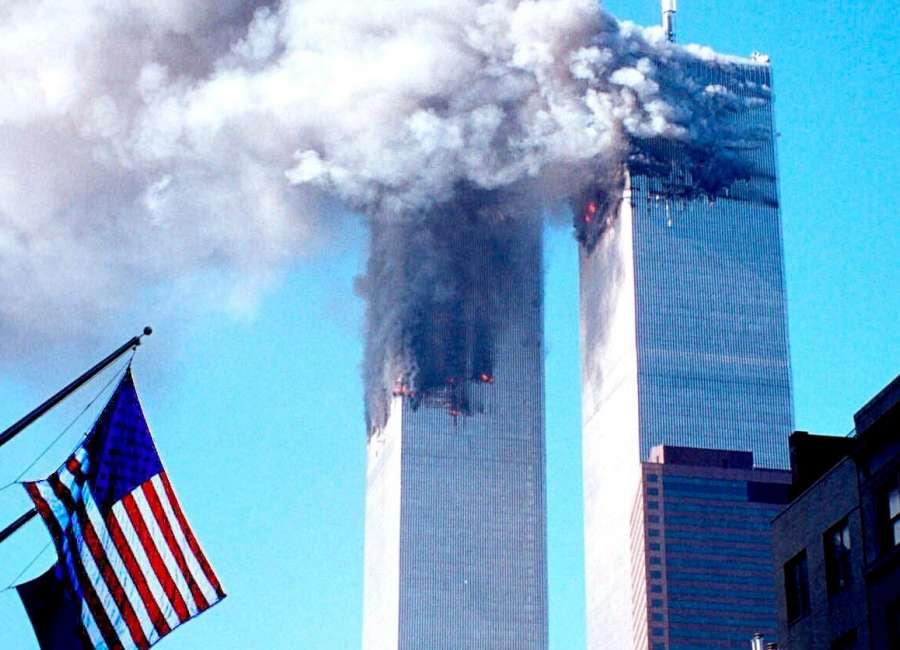 The Sept. 11 attacks, which occurred 20 years ago now, are a moment in history unlike many others.

Those that remember it remember more than just the attacks. They remember where they were and what they were doing when four jetliners, in coordinated attacks, struck the World Trade Center towers and the Pentagon.
For a generation of Americans, the attacks represented a moment like previous generations experienced with the assassinations of President John F. Kennedy and Dr. Martin Luther King Jr., and the Japanese bombing of Pearl Harbor.
Earlier this month, The Newnan Times-Herald asked the question of our readers, where they were 20 years ago when terrorism struck this country. A number of readers took to Facebook to share their experiences. Below are some of those responses.
In school — "A day I'll never be able to forget"
A number of readers were in school at the time, but they still remember that day like it was yesterday, and they remember where they were.
"I was in Mrs. Eaker's seventh grade classroom at Madras Middle School," said McCall Hearn. "A gifted teacher from across (the) hall came running over crying, telling her to come watch. We all walked in and stared in astonishment at the TV (on a rolling cart), with tears streaming down our faces. The rest of the day was pretty terrifying; as kids, we didn't know what would happen next."
"I was in third grade at Poplar Road Elementary School in Newnan," said Heather Alldredge. "A day I'll never be able to forget. I think it's the first time I realized, in my eight years of life at the time, that there are lots of evil people in the world. Heartbreaking."
"I was in my news writing and reporting class at UGA," said Ashley Soeder. "Our professor came to class that morning obviously not knowing about the planes hitting yet. He held class and got mad at us for looking at the news in the computer lab. When he let us out an hour and a half later, we learned the University had shut down, and no one came to tell us in the lab. It was horrible and eerie. UGA is usually so alive and hyped up at the beginning of the semester, especially during football season. But, not that day, not that week. The memorial made at the Arch was significant. Candles, signs and so much love."
"I was in Coach Davis' class, eighth grade, O.P Evans (Middle School)," said Tiffany Mceachern. "I remember very specifically the looks on his and other teachers' faces. They all turned on the televisions but the classroom was eerily quiet. I remember parents showing up left and right to pick up their kids. We were all, mostly, checked out fairly soon after. There was fear for hours and then days that there would be more attacks. The days and months following almost every single home I saw had an American flag."
One local resident, Justin Moore, was at Macon State College at the time. He had a long break between two of his classes, a break long enough for him to go home.
"As soon as I got in the car, I heard that the first plane hit," Moore said. "When I got home as soon as I opened the door, my dad, a firefighter, pointed at the couch and said sit down, look at this. We watched as the second plane hit. When it did, my dad said that the towers were going to collapse. I asked him how he knew that and he told me that the steel couldn't handle the heat from a jet fuel fire. We watched for the rest of the day. The next day he was at the firehouse."
Moore said within two weeks, his father had shirts made up to sell, with all of the proceeds going to the Fire Department of New York.
"The fire department got behind it, and they ended up raising over $17,000," Moore said. "My dad flew to New York, on a ticket he paid for since he didn't want to take a dime away from the donation, a few months later to hand deliver the check directly to a fire house. Although I was in no way directly involved, as the son of a firefighter, it really hit home just how much they risk every day. I'll never forget that day, and I'll never forget what my dad accomplished for his brotherhood in New York."
A number of teachers also remembered that day, remembering different feelings from panic to a desire to stay strong to not telling their students, letting their parents break the news to them.
Jennifer West Gordon was an English teacher at East Coweta High School on Sept. 11, 2001.
"I scrambled to find a coaxial cable to get the classroom TV to work," Gordon said. "I'll never forget the panic some of my kids felt, because their parents worked for the airlines and they didn't know if they were OK."
"I was out in my trailer with my fourth graders at Thomas Crossroads," said Vicki Sewell. "Carol Gable came in quietly and told me what was happening. The school decided to not mention it to the students at that time and let the parents handle it the best way for their child. I watched the news reports while my class was at lunch. So heartbreaking."
"I was in the lunch line with my kindergarteners at Poplar Road Elementary when I found out," said Kimberley Watson. "I couldn't wait to get my boys and go home at the end of the school day. It was nerve racking because we had to act like nothing happened to not upset the kids."
At work — "All I could do was cry and pray"
Others were at their jobs, going through what started out as a normal Tuesday morning, just like any other Tuesday.
"I was at work in a federal building here near (the) Atlanta Airport," said Lynn McDowell Pearcy. "Once the realization set in and they knew there were probably more targets, we were sent home. Driving home and listening to WSB, all I could do was cry and pray for everyone affected by this horrible act. I also wondered what kind of world we would be raising our kids in, and it made me question having more kids as we were trying for another at the time."
Another person was working for Delta Airlines at the time, an airline that, like other airlines across America, coordinated the emergency landings for every plane in the country that day as air travel was suspended.
"I was working in IT at Delta," said Vicki Wilhoite. "I was working on a computer in the radio department, and after watching the first plane go into the building, I told them it was no small plane and I had to go back to my office and wait for instructions. Within 60 minutes, all Delta planes were identified, located and sent to a safe landing. It was an amazing feat coordinated by Delta."
Frank Stripling was a pilot recruiter for Delta Airlines on Sept. 11, 2001 and also remembered every plane being ordered to land in the aftermath of the attacks.
"I was asked to come down to the Employment Office main floor and hook up a television as there were reports of what was then thought to be a small plane crashing into the World Trade Center," Stripling said. "Much to our horror, we watched as a second commercial aircraft smashed into the other tower. My heart sank realizing this was a coordinated attack on U.S. soil and innocent people had died. All aircraft were ordered to land and shortly after that the world's busiest airport fell silent. It was so strange not hearing the sound of large planes taking off every couple of minutes. We had been hiring 100 pilots per month and realized this had suddenly come to a halt and would affect our lives."
Wilhoite said it was a sad day in history, but she was "so proud of how it was handled by Delta."
Carrie Zeiger and Karen Wrighter were at the Newnan-Coweta Public Library that day. Zeiger, the director of the library at the time, said they had just started replacing the carpet in the facility.
"We watched the towers go down on the computers," Zeiger said.
"I was in my office in Alpharetta doing business over the phone with a colleague in Chicago," said local businessman J. Scott Taylor. "We both listened to the reports coming in from New York, the Pentagon and Pennsylvania. It was a moment that was shared and will never ever be forgotten."
Michelle Hayes was in New York that day, on the way to work.
"I was riding into the Port Authority on the bus when I saw the second plane hit," Hayes said. "I wasn't able to get a hold of anyone, and was stuck on the island for the next 36 hours. I remember the man that got onto the path train the next day, covered in ash and blood all over his grey suit. That moment changed the rest of my life, drastically."
Rebecca Reisinger was also in New York that day.
"I lived in New York and worked in a building on Fifth Avenue and 42nd Street," Reisinger said. "When we first walked into the office and first heard reports of an airplane hitting the towers, we all pictured a small Cessna who wandered off course. As the morning went on, we realized the horror of what was truly happening. The city basically stopped and crowds gathered in the middle of the streets watching the smoke build from the downtown buildings. As the first tower fell, we watched in disbelief, and as a young 25-year-old, I truly thought the world was ending. To this day, I still cannot watch the images on TV. That day changed my life, not only mentally but probably brought me here to Georgia. Those images never fade away."