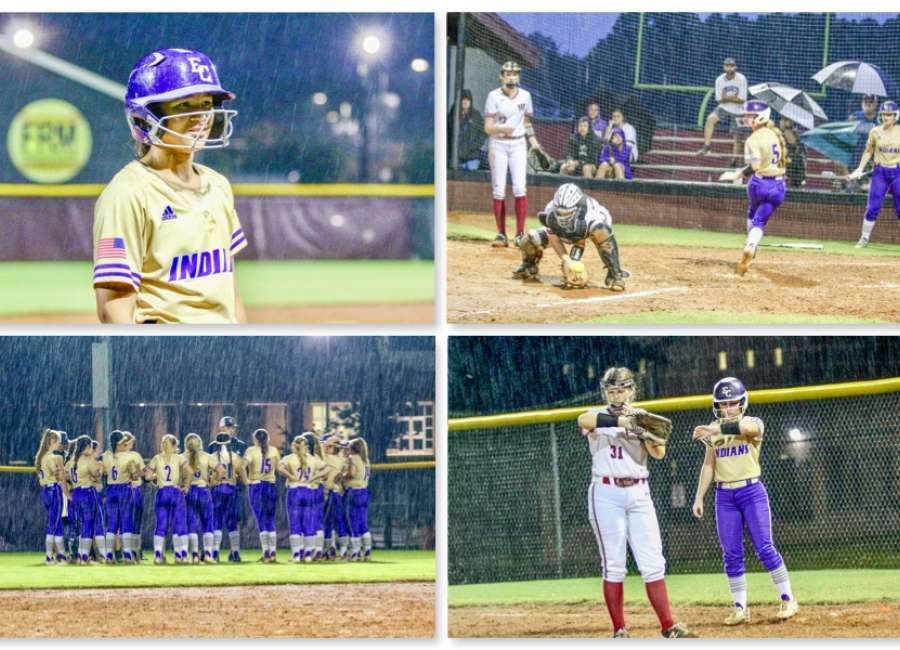 (Fayetteville, Ga.) — For the second time this season, Jaliyah Holmes and the East Coweta Lady Indians faced the Whitewater Wildcats along with some raindrops on Wednesday night.

Holmes battled the rain and the Lady Wildcats to secure a 9-0 run-ruled game for East Coweta. The win improves their record to 13-1 on the year.
Lady Wildcats starting pitcher Emma Friedel held the Lady Indians offense in check for the first two innings, but East Coweta soon found their swing in the top of the third, and the lower part of the order got it all started.
Mallory Lumpkins led off with a four-pitch walk and promptly stole second, but she wasn't there long; Madison Duffel brought her home with a double to left and then scored on a Kip Heggood single.
Karlie Gutierrez and Madisyn Weathers both followed with RBIs, and the Lady Indians were up 4-0.
They were not finished. The bottom of the order struck once again.
Ava Brooks Strickland led off with a double, Lumpkins reached on a fielder's choice while Strickland held third. Duffel came up again and delivered a double to center field, scoring both runs.
Holmes and Gutierrez added two singles to make it a 9-0 game.
From the circle, Holmes only needed 74 pitches to shut out the Lady Wildcats. She finished with seven strikeouts.
Bailee Echols also had a hit in the winning effort.
For East Coweta Head Coach Franklin DeLoach, it was his second game in a row against a team coached by a former player.
On Friday night, the Lady Indians defeated Trinity Christian, who is under the leadership of EC alumni Katey Lynch. Former East Coweta player Krista Wilson coaches Whitewater.
Next Tuesday, the Lady Indians return to action when they travel to play Newnan and then return home on Wednesday to face Pike County.

Photos by Phyllis Tsarnas - Valadao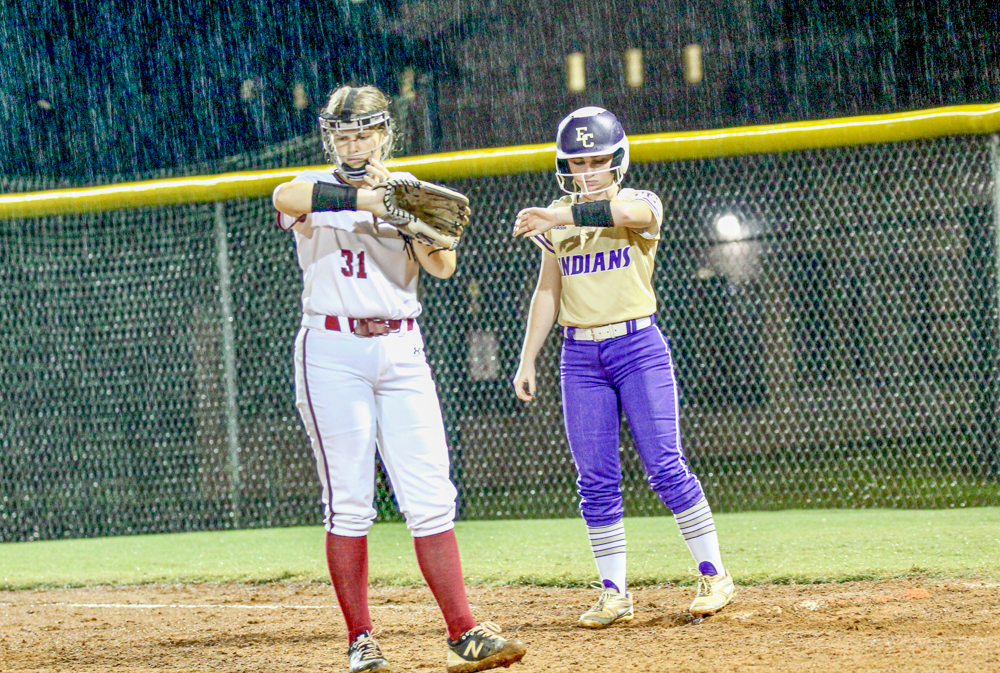 A strategy check – Whitewater's Breaden Hale and Lady Indian Maggie Stubbs check their armbands.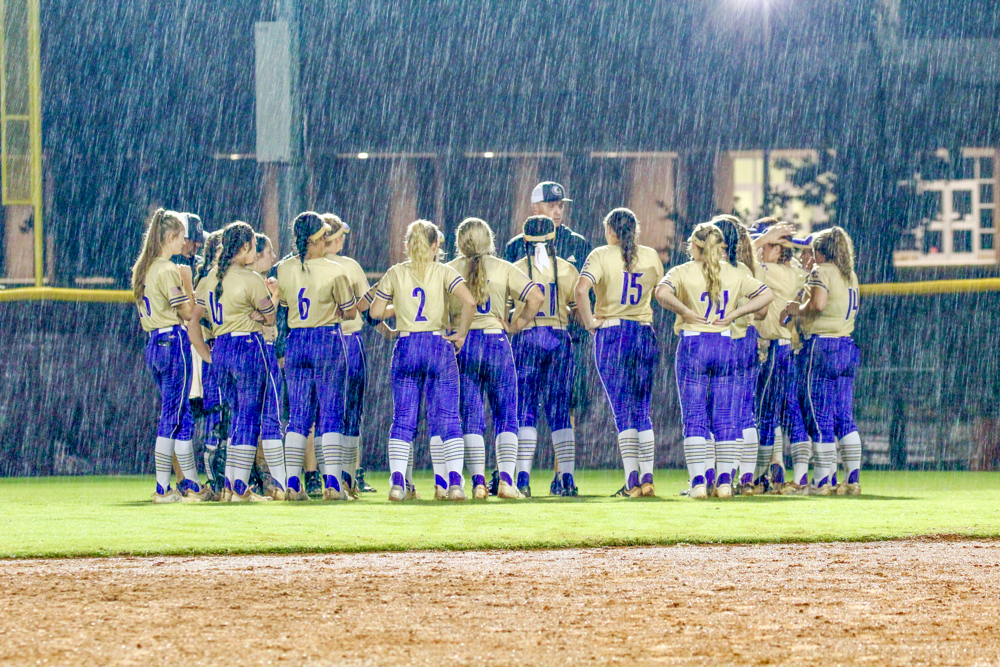 The Lady Indians improved to 13-1 on the rain-soaked evening.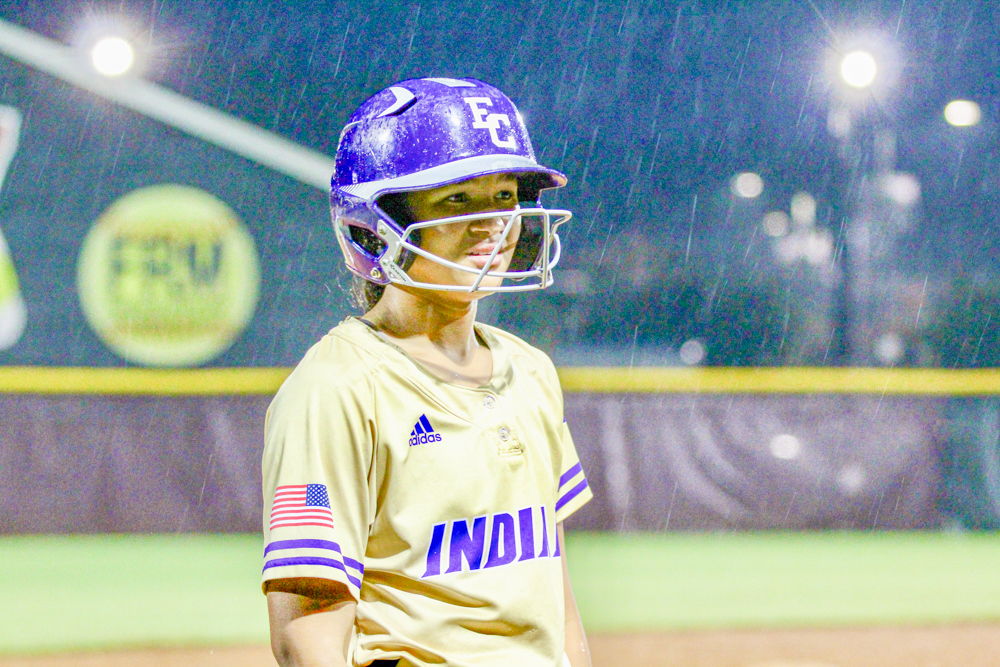 Ava Brook Strickland started the fourth inning with a double.
Emma Elrod scores a run ahead of the throw home.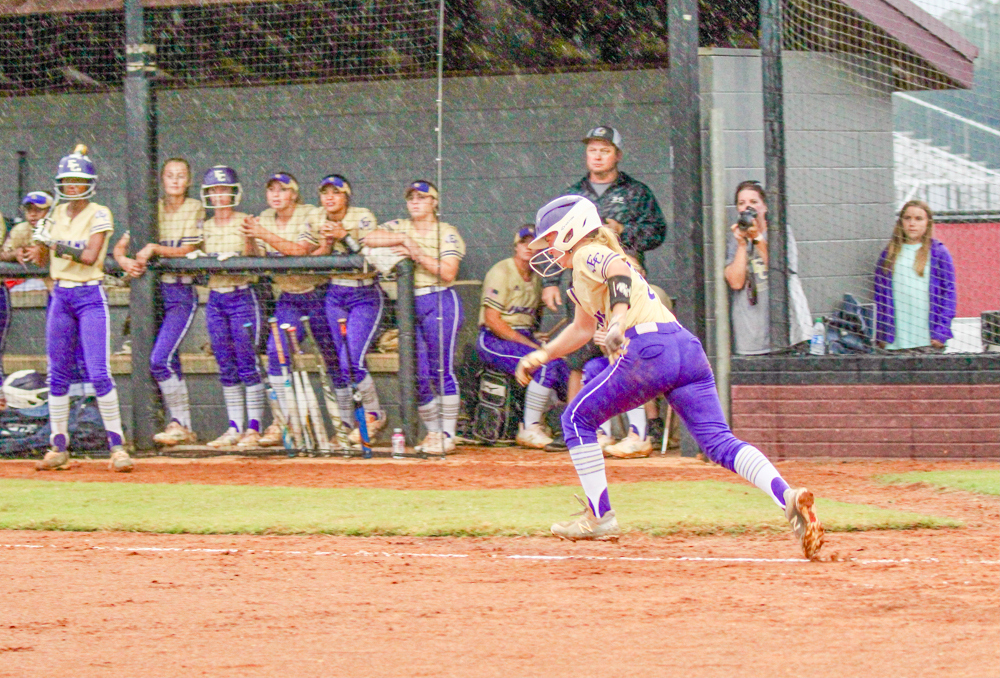 Lady Indians shortstop Madison Duffel finished 2-for-4 with three RBIs.