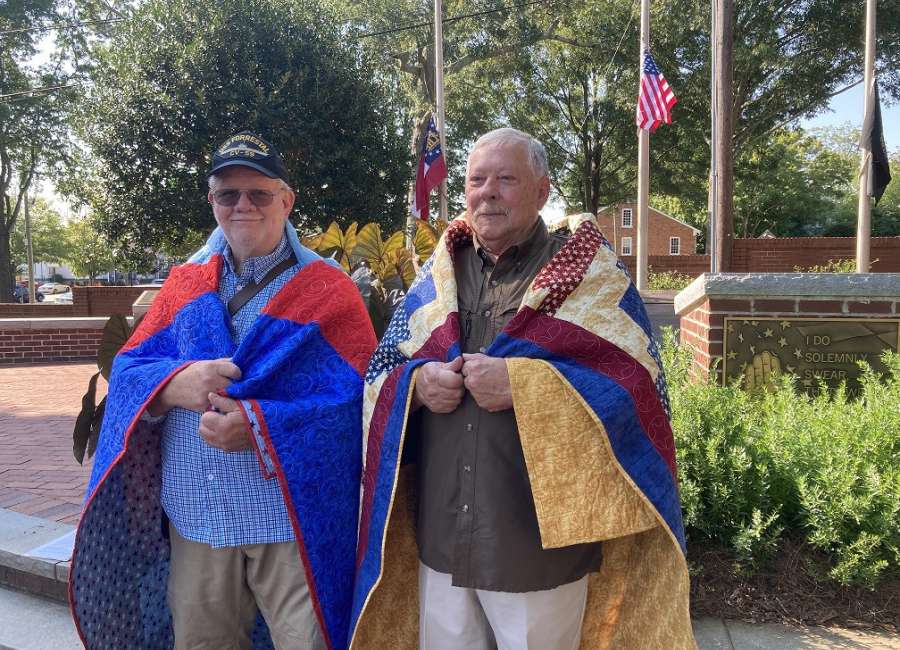 Two Coweta veterans were presented with quilts of Valor at a ceremony at Veterans Memorial Park on Saturday, Sept. 11.
The Quilts were awarded to Robert Awbrey and James Anthony McGee. Awbrey served in the U.S. Army from 1961-64. McGee served in the U.S. Navy from 1964-68.
Robert Awbrey
Awbrey was a part of the artillery unit when he was stationed in Fort Hood, Texas.
He was also stationed in Babenhausen, Germany, where he served as a Unit Police.
Awbrey's quilt was pieced and bound by Colleen Foley and Janet Allen and was quilted by Judy Windham.
James Anthony McGee
McGee joined the United States Navy on Oct. 30, 1964. He was assigned to the
aircraft carrier U.S.S. Forrestal. He was an Aircraft Mechanic and achieved the rank of Petty Officer Second Class.
McGee received the following medals while serving: Republic of Vietnam Campaign Medal with Device, Vietnam Service Medal with Bronze Star, National Defense Medal and the Navy Unit Commendation Ribbon awarded for "outstanding heroism in action against the enemy or extremely meritorious service in support of combat operations."
Currently, McGee is a priest-in-residence at Christ the King Church.
He and his wife Jeanie have three adult sons. The McGees have 11 grandchildren.
McGee's quilt was pieced and bound by Louise Sinclair and quilted by Jean Raines.
Quilts of Valor are handmade quilts that are machine or hand quilted by volunteers and awarded to service members or veterans who have been touched by war, according to the Quilts of Valor foundation. The quilts are made to a specific size requirement, labeled, awarded and recorded.
The Quilts of Valor Foundation was founded in 2003 by Catherine Roberts, whose son Nat was deployed in Iraq at the time. Roberts' vision was of volunteer teams who would donate their time, materials and expertise to comfort and thank service members and veterans for their service.
Approximately 276,000 Quilts of Valor have been presented since 2003, with more than 13,500 awarded in 2021. For more information on the Quilts of Valor Foundation, visit www.qovf.org .