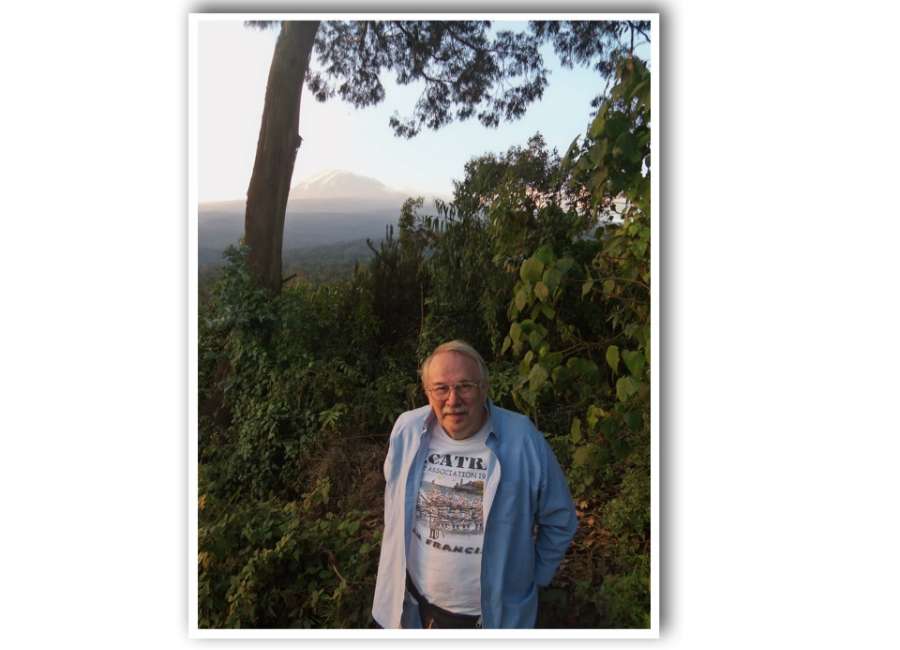 BY WATSON E. MILLS , Special to the NTH

Several years ago, when I arrived at the Mount Everest base camp in Tibet, I was afforded a clear view of the world's highest mountain. Earlier travels had enabled me to enjoy breath-taking views of the snowy peaks of Mount Denali (aka Mount McKinley) and of Europe's famous Mount Blanc–the highest mountains in the U.S. and Europe. I was also able to see the signature peak of Mount Fiji during a trip to Japan. But it was not until the trip that I write about today that I was able to experience unobstructed views of the tallest mountain in Africa. With its surrounding plain and signature snow-capped peaks, this mountain is indeed something to behold.

"In terms of actually getting there, what is the most difficult place you have ever visited?" That question, in one form or the other, is one that I am frequently asked. For years I would typically answer "Antarctica," but I have updated my answer after finally visiting Mount Kilimanjaro! My particular route to Africa's highest mountain was a daunting task by any measure. Sure, I could have taken a more direct route but that was not an option for me given my financial resources. My circuitous route resulted from my utilizing a combination of "buddy passes" and frequent flier awards!
After flying from Atlanta to Rome on an overnight flight, I flew on to Istanbul where I waited nine hours for yet another overnight flight to the Mount Kilimanjaro airport. When I finally arrived there the following morning at about 3 a.m. local time, more than 42 hours had passed without my having had any proper sleep! Anyone willing to undergo this degree of travel "torture" obviously has a deep-seated desire to see this famed mountain.
When I exited the tiny airport near the tourist town of Moshi, Tanzania, I was met by a driver from the lodge where I would be staying and we were off in the dead of night. The first part of the drive was over a paved road and it went fairly quickly considering the incessant speed bumps, the numerous roundabouts, and the absence of white stripes on either side of the road. Almost none of the oncoming traffic bothered to dim their headlights! Soon, the paved road gave way to a very rough dirt track, and then further along "potholes" seemed to become bottomless making it necessary for me to hold on just to stay in my seat!
My accommodation was situated on the slope of a hill that looked out across the Savannah directly towards the face of Mount Kilimanjaro. This family-run business is called "The Mount Kilimanjaro View Lodge." It is a small, traditional lodge nestled against a tropical rainforest high above the tourist town of Moshi. It is situated on the rolling slopes above a plain that runs between the lodge and Mount Kilimanjaro. The lodge claims to be "an authentic African lodge reflecting the culture of the Tanzanian peoples." Its location is five degrees below the equator. It is one of the closest outposts to this world-famous mountain's southern slope. All around are varieties of colorful plants, rare birds, and wildlife–even a waterfall.
It was still dark when I arrived at the lodge but thankfully a couple of young baggage handlers met me with flashlights at the ready because the lodge's generator was not operating at this hour. These young men escorted me to my hut. The pathway down the slope to my hut included at least 75 rough-hewn, uneven steps. In my sleep-deprived state, I could have never successfully navigated this challenging trek without their flashlights. Mercifully, there were wooden railings along most of the way.
Of course, I was anxious to see the mountain I had traveled so far to be near. The one young man who had a tiny bit of English told me that "Kili sleeps" until around 8 a.m. I later learned that "Kili sleeps" is a euphemism for "the clouds and/or smog that obscures the mountain." I went to bed after securing a promise from this young lad to knock on my door just a few hours from now.
Experienced travelers know what I later found out, i.e., the best time to view Mount Kilimanjaro is early in the morning and late in the afternoon. It turns out that I was able to see this majestic sight many times during my five-day stay. Rising majestically above the African plains, this mountain has been a challenge to climbers since the first recorded instance of someone reaching its summit 120 years ago. It is the tallest mountain on the African continent and the highest free-standing mountain in the world. "Free-standing" means it stands alone and is not part of a mountain range like, say, Mount Everest. Also, "free-standing" often refers to volcanic mountains like Mount Kilimanjaro.
One morning at the lodge, just before daybreak, I took up a position facing the mountain. As the sun began to rise I saw the shape of the top of the mountain emerge from the darkness. Its snow-capped peaks were the first to reflect the sun's beam. It was truly an amazing sight. In the stillness of that moment, with this famous mountain's peaks emerging from the darkness before my very eyes, I was reminded of a quotation I once read: "Heaven is under our feet as well as over our heads."
No one knows the exact origins of the name "Kilimanjaro." Some say that the name means "Mountain of Light" or "Mountain of Greatness" or "Mountain of Caravans." Some of the local people do not even have a name for the whole mountain but only a name for its familiar snowy peaks that sit atop this imperious, overseer of the continent. It is rightly known as "the summit of Africa." But by any name, Kilimanjaro is really a metaphor for the compelling beauty of East Africa. The mountain rises in breathtaking isolation from the surrounding plains. This intriguing mountain sits in northern Tanzania, near its border with Kenya. It rises 19,340 feet above sea level.
The next morning when I walked out of my hut I was above the clouds! There, reflecting the rays of a golden sun, were the snow-capped peaks of "Kili." This was one of the most incredible sights I have ever seen!
After breakfast, the manager of the lodge drove me to the nearby village of Shimbwe Juu. This small village literally hangs onto the side of a mountain nestled deep in the rainforest. It is situated among lush, green fields of bananas and coffee. When we pulled into the town's tiny square, I met the village matriarch who was a mere 102 years old! Her husband had died the previous year at the young age of 106. A village guide took me to a coffee tree where he picked some brownish beans. Then he ran them through a hand-cranked machine to peel away the outer cover as the actual bean dropped out into a collection pan below. Then he roasted the beans over an open fire before crushing them with a mallet to remove the husks. Finally, the roasted bean was ground into a fine powder and placed in a cup of hot water. I barely had the heart to tell this guy that "I DON'T DRINK COFFEE!"
Next came a lunch of freshly baked bread and hot banana soup which was, surprisingly, very pleasant to the taste. Then several of the villagers began to sing traditional songs of their culture while about ten women began to perform native dances. The whole experience allowed me to come face to face with an authentic, isolated, indigenous tribe tucked away in the wilds of Tanzania. In the course of a single day, I was able to witness some of their traditions, customs, stories, songs, and dances as well as some of their beliefs and daily practices. I actually met and interacted with people who continue to exhibit a lifestyle characterized by its modesty, its simplicity, and its harmony with nature.
Almost everyone has at least some general idea, even if a bit vague, about Tanzania. Many know that it is the home of Africa's tallest mountain. Others may know it as the inspirational land of the Lion King (the Serengeti National Park), while a few others may know it as having one of the most well-known indigenous groups in the world–the Maasai. Tragically, however, despite these romanticized notions, Tanzania is an extremely poor nation with an ineffective and often corrupt government. It is a nation that is steeped in an ancient culture that resists the advances taken for granted by almost all western cultures. For example, in 2017 a law was adopted that prohibits young girls from going to school if they become pregnant. Among many communities in the north, the illegal practice of female genital mutilation is still commonplace. One study suggests that around 200 people a day are infected with HIV. So despite the overwhelming natural beauty of this country, the scars from colonial days and the tribal resistance to the cultural advances made by science take a human toll that is plain to see even by the most casual observer. So this far-away land, as beautiful and enchanting as it truly is, remains tragically stuck in a cycle of poverty, superstition, and ignorance that will not soon be broken.
Watson E. Mills is pastor-emeritus at Sharpsburg Baptist Church and professor-emeritus at Mercer University.