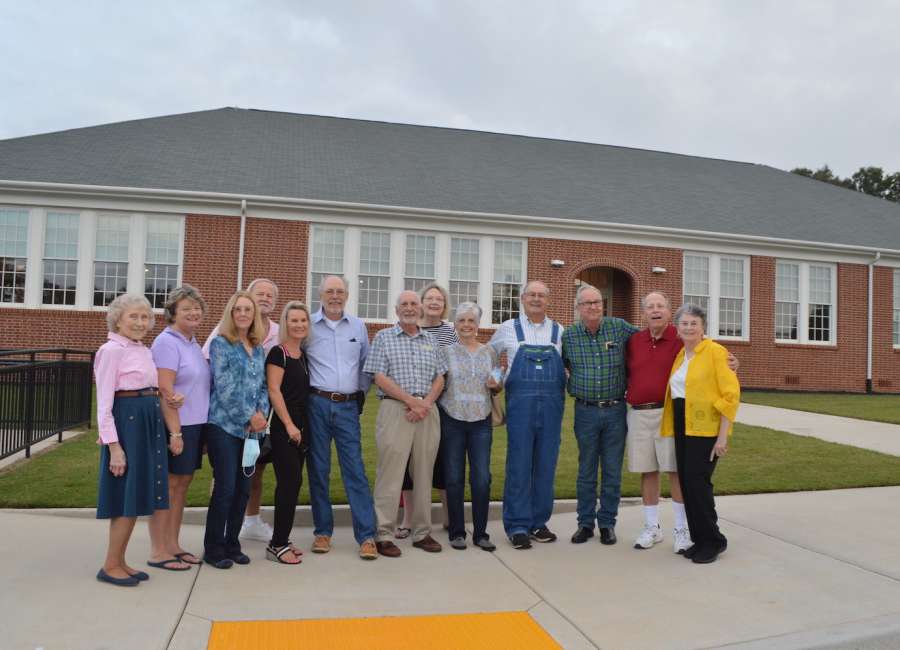 Last Friday, former students of Madras School filled the historic building's former cafeteria for an open house and ceremony and toured the renovated school house, which is now the county's largest community center.

It's a day that never would have happened if not for the efforts of those who loved the little schoolhouse and were determined to save it and the work of the Coweta County School System and Coweta County.
In 2014, the school was headed for demolition. Originally built in 1935 by the Works Progress Administration of the New Deal, the school closed after the 1987-88 school year. The grades ranged from first through eighth over the years.
For many years after it closed, Madras School was used as offices and for storage, but the school building had been unused and deteriorating for several years by the time the Board of Education was set to approve a demolition contract in October of 2014. Then-Superintendent Steve Barker asked to delay the vote to get new bids that didn't include demolition of the gym, which was still being used for storage.
An icon – not an eyesore
Madras alumni planned a quick gathering at the school to get together and take some photos before the demolition. There was a huge turnout, and it became a reunion. That day, the talk turned to possibly saving the old school.
"It's a historic site, and it's worth saving," former teacher Barbara Proctor said that day in October 2014.
Proctor taught for four years at Madras, and her mother taught there as well.
"So many people have so many good connections," Proctor said. "It has such a historic significance. There should be something that could be done to save the original building."
Former student Michael Robards said that for many of those who went there, Madras was not just a school, it was a community.
"Many of us alumni view the structure as an icon of sorts," Robards said at the reunion. "I don't understand the reason behind its demolition – it is far from being an eyesore."
The Save Madras School Committee was quickly formed and went to work, speaking before the school board and the Coweta County Commissioners. The original members were Proctor, Robards, Joan Martin, Johnny Minix, Susan Smith and Cathy Lee Phillips.
Phillips made an impassioned plea to the school board in December of 2014. And on Friday, she spoke again, telling stories of her childhood as a student of Madras.
The school is saved
It took several years, but the school was saved. Coweta County owned land adjacent to Madras Middle School that the school system wanted for future expansion, and the county and school system agreed to swap that land for the Madras School property. Plans began to create the Madras Community Center, and funding for the $2.6 million project was allocated through the Special Purpose Local Option Sales Tax.
The school had been expanded over the years, with multiple buildings. Those additions were demolished, but the original main structure and the gym are now restored.
The gym has been open since early 2020, and is being used for multiple recreational purposes, including open gym, volleyball leagues and basketball leagues. It's also now the voting precinct for the Madras community.
The Coweta County Recreation Department operates the gym and, because of COVID-19, temporarily moved the youth basketball leagues from the Clay-Wood Center to Madras because Madras has more extensive bleachers and more room for everyone to spread out.
The playground, pavilion and walking trail on the school grounds have proven quite popular, said Recreation Director Jim Gay. The walking trail includes several fitness stations.
The community center includes the former cafeteria as a large gathering room, with a stage. There is an adjacent kitchen and multiple classrooms that can be used for many purposes. Gay expects the large room to get a lot of use.
Gay said the department has already been contacted by several people interested in teaching classes there. Most rooms are carpeted, but one has a hard floor and sink for arts and crafts that might get messy. The gym also has a stage, which is significantly larger than the cafeteria stage.
The original floor of the cafeteria stage was able to be saved, though most of the other flooring in the school wasn't salvageable. The original floors were pine, and they used pine for the replacement flooring in the hallway, said Associate Coweta County Administrator Eddie Whitlock.
Paint colors were inspired by paint layers found during the restoration. Much of the gym remains original, except for a small section of the gym floor that was too damaged to be saved, said Gay.
A wonderful thing for the entire community
Former Principal John Sides spoke at the open house. Sides recalled standing at nearly the same spot in 1970 for his first PTA meeting. The place was packed. He was surprised to see such a big crowd for a PTA meeting.
"But as time went by, I came to understand it was because the people cared. They cared about their children, they cared about their school, they cared about the community," he said. "And what I am seeing today is an extension and a continuation of that care and this beautiful facility will now be available for so many people, it's just amazing. As a former physical education and recreation teacher, I can say this place is great.
"It's going to be a wonderful thing for the entire community, and I could not be happier," he said.
Phillips shared stories about her time at Madras, including cheerleading, riding the "yellow duck bus," the rolls and pizza in the lunchroom, and the day President Kennedy was shot – and her teacher had to be carried away.
It was the Cold War, and they went through the Cuban Missile Crisis with duck and cover drills. They didn't know much about the Cold War, because they were little kids.
"But we did learn something very important. If we crouched in the hall right next to each other and put our arithmetic books over our heads, we were protected from the pulse of a nuclear blast," Phillips said to laughter. "Those arithmetic workbooks did the job. You might want to go get an arithmetic workbook when this program is over."
And of course, there was the Halloween Carnival. At one time, it was so big it moved to the fairgrounds, Phillips said.
One of the visitors to the open house was Margaret Coggin, who was the school secretary for many years under Principal Donald Teal.
"She was a momma to everyone here," said Susan Smith.
"We really had a good time here. It was a great school," Coggin said. "I know the children were very well educated here; we always had a good principal. It was just a wonderful place to work. I don't know of any other place I would have rather been."
She recalled hearing that the school might be torn down. "I was so afraid; I didn't know what they were going to do with it," she said.
She was thrilled to find out it would be saved.
"Madras school has meant so much to so many," she said.
Save Madras School Committee member Joan Martin said that "to see the realization of what began as a dream to a small group of people, who believed in and fought for that dream, makes my heart overflow with joy!
"To see something so precious to so many saved from demolition and instead used to benefit the citizens is absolutely a great feeling," Martin said. "I am proud to have been a part of something that is and will be a blessing to others, young and old alike, in Coweta County for years to come."