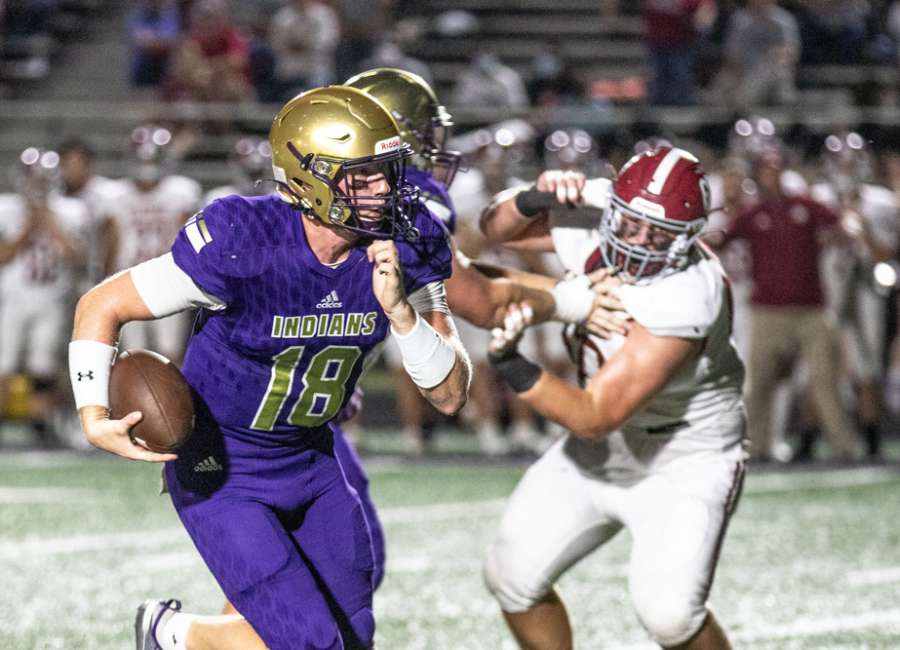 By Chris Girouard

A lot was going on Friday night at East Coweta High School.
It was Homecoming. There were major festivities involving the school's marching band, the Silver Wings Parachute Demonstration Team from Fort Benning.
Oh, and the East Coweta football team played Northgate on the field at Garland Shoemake Memorial Stadium.

On top of all that, the game saw East Coweta senior running back D.J. Reid, a transfer from Northgate, faced his former teammates for the first time.
Topping off all the festivities, the Indians pulled off a 36-0 win over the Vikings to improve to 5-0 on the season.
Reid said that despite everything going on pregame and playing against his former teammates, he and the Indians had just one thing on their minds. A victory.
"It was like a big family reunion," Reid said. "Those are my guys. I love them, but we had to come out and get a win."
The first half saw the Indians have the ball five times, and on all five drives, they reached the end zone with their version of shock and awe… "Shoch and Bowles." Senior quarterback Daniel Shoch showed poise in the pocket and accuracy with his passes, while the East Coweta offensive line played a solid first half. Martravion "Trey" Bowles returned from injury to add a spark to the running game.
Shoch came out firing, as his first pass on the first play of the game was a completion to his classmate, receiver Zander Simmons for a 36-yard gain. The Indians' opening drive was a quick one. It lasted 2:40 but covered a total of 80-yards. Shoch completed four of his five passes for 61 yards on the drive. Bowles also had a couple of carries in the drive, totaling 22 yards.
It was Shoch's 4-yard strike to Amaryion Moss that found the endzone, and after a missed PAT the score was 6-0 early.
"We were not really satisfied with the way we played on offense last week," Indians' coach John Small said. "Our kids took it to heart this week and had a great week of practice. They got really locked in. We talked about coming out fast and we had guys make plays."
Shoch only played the first half. He finished 13 for 16 for 194 yards and the one touchdown. He said the plan was to go with the game's flow and not necessarily to come out firing.
"That wasn't part of the plan, but obviously, we are going to play to what the defense gives us," Shoch said. "That's what they gave us, and we are going to throw it out there every time they give that to us, and were going to adjust as the game goes on."
For a moment, it looked like the Vikings might just be up to the challenge. Their first drive opened at the 16. They tried to get their ground game rolling first, and junior running back Daylon Milam responded with a modest one-yard gain. The Vikings tried a little trickery on the next play and caught the Indians' defense off guard.
Milam threw the half-back pass deep and found receiver Tyon Williams for a 40-yard gain to the Indians' 43-yard line to electrify the visiting fan base. However, the drive stalled there after a pair of runs by sophomore Evan Garrett netted only three yards.
The Indians defense also managed a sack of quarterback Ishan Metts on 4th and 7 to give the ball back to the Indians' offense at the Northgate 49.
On this drive, the passing game was still working, but Bowles also saw more action. A 10-yard burst by Bowels followed a nine-yard hook-up from Shock to Moss. After nine plays and one 15-yard personal foul against the Indians, Bowles burst through the Vikings' d-line for a seven-yard touchdown and a 12-0 lead after the two-point try failed.
Bowles finished the game with 82 yards on 12 carries and two touchdowns.
"Getting Trey Bowles back, he's a spark plug, "Small said. "Seeing him have fun again. He sat out last week, probably could have played last week, but we said let's hold you out and get you back to 100 percent or as close as we can, because nobody is 100 percent this time of year. His ankle was a little (injured) but he's fine now."
After the ensuing drive by the Vikings went three-and-out, East Coweta got the ball on their own 31. Once again, Shoch and Bowles were big parts of the game plan. Bowles got a couple of carries for gains, while Shoch connected on long passes with Simmons, who finished with 76 receiving yards, for 25 yards, and Reid for 17. Reid's reception brought the ball to the Northgate four. He carried the ball into the endzone on the next play for a 19-0 advantage for East Coweta after Lucca Labattaglio's extra point.
Small credited the Indians' offensive line for allowing Shoch to have a big game,
"The offensive line did a great job blocking for us, giving him time," Small said. "The running game was going so they complimented each other well."
The Indians' final two drives of the half were capped with a one-yard touchdown run by Bowles and a two-yard run by Reid for his second score against his former mates.
Reid did not sit the second half. He became one of the featured backs. He finished the game with ten carries for 24 yards and two touchdowns. He said getting the win was motivation enough to want to play well in the game.
"It was just another game," Reid said. "You have to come out and play like you're playing any other team. You can't take any opponent for granted."
Shoch said Reid and Bowles are a great tandem to have taken handoffs from him.
"D.J. and Trey, they compliment each other so well," Shoch said. "They run a little bit different, and having two backs that can run at that speed and level is just deadly because when one of them gets tired, the other one comes in, and they are ready to roll."
The only scoring in the second half was Labattaglio's 42-yard field goal which bounced off the crossbar and through the uprights to make the final 36-0.
Northgate was led by the running of junior Mason Hart, who had five carries and 30 yards against a strong Indians' defense.
"The kids do a good job," Small said. "They play so hard. It's just a great bunch of dudes that love each other and play so hard together. They take a lot of pride in what they're doing. I can't say enough about those guys."
With the win, the 5-0 Indians move on to play top-ranked Collins Hill on the road. The 1-4 Vikings have an off week before traveling to Peachtree City to play Starr's Mill.
Photos by Michael Clifton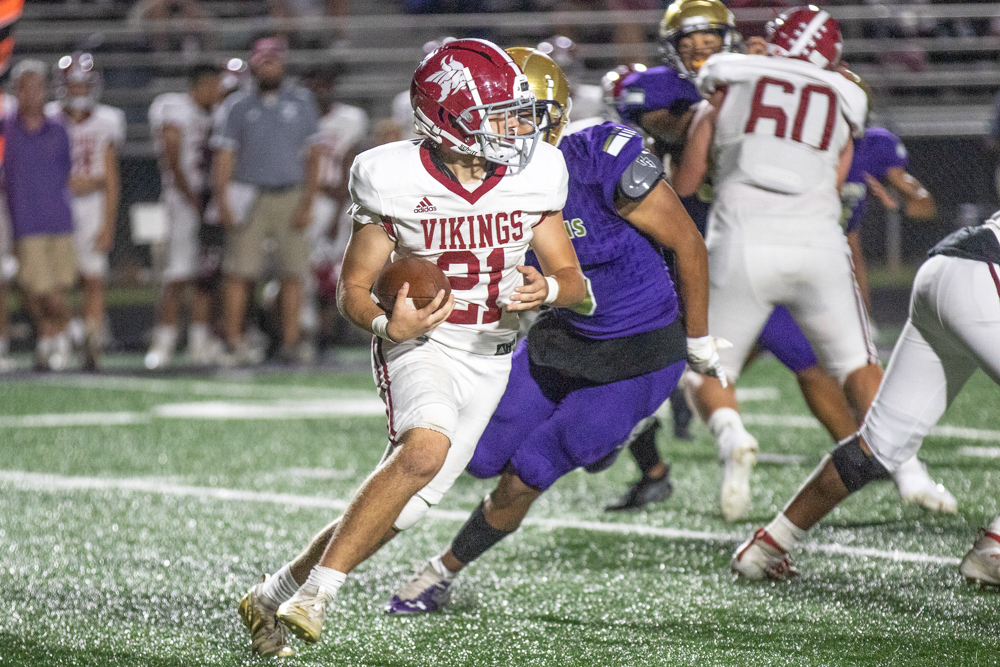 Clayton Cowart (#21) looks for some running room on the outside. Bradley Smith (#60) secures his block in the background.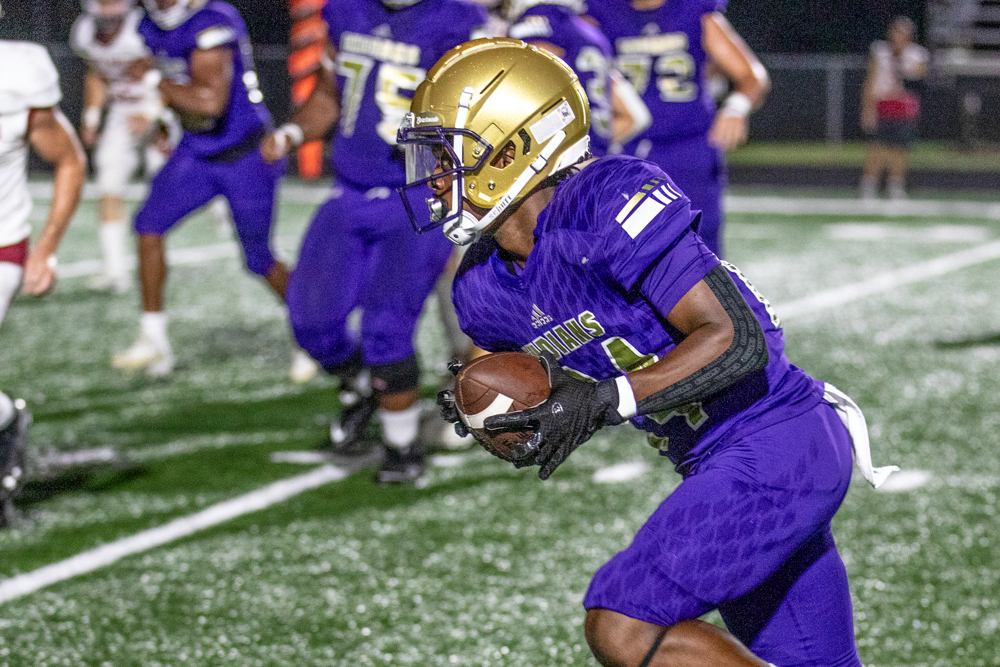 DJ Reid scored two touchdowns against his former teammates.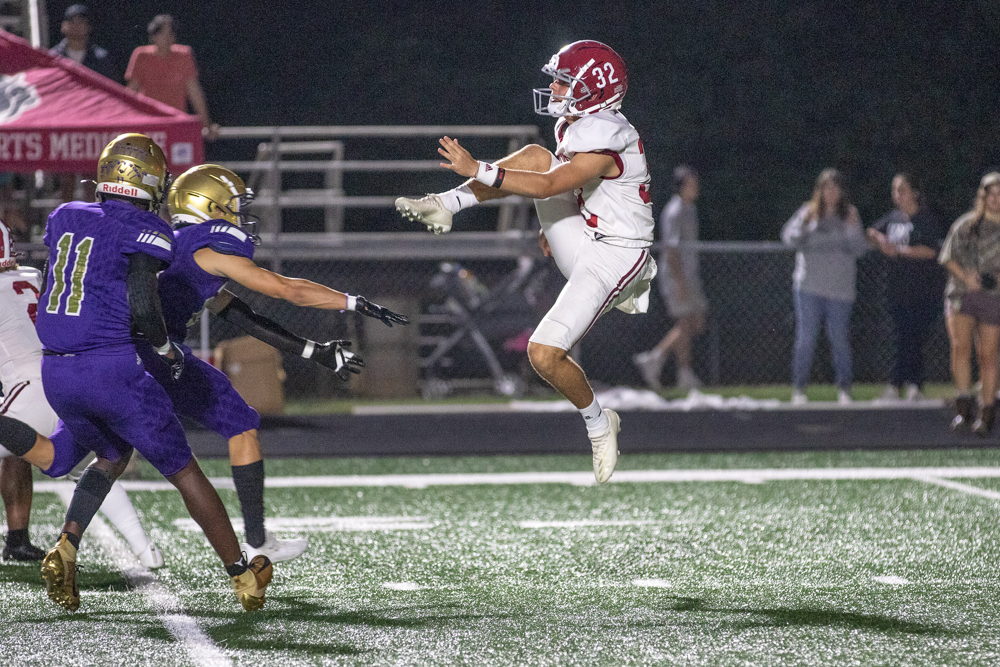 Nick Troemel (#32) extends on a scrimmage kick just ahead of the East Coweta punt block team.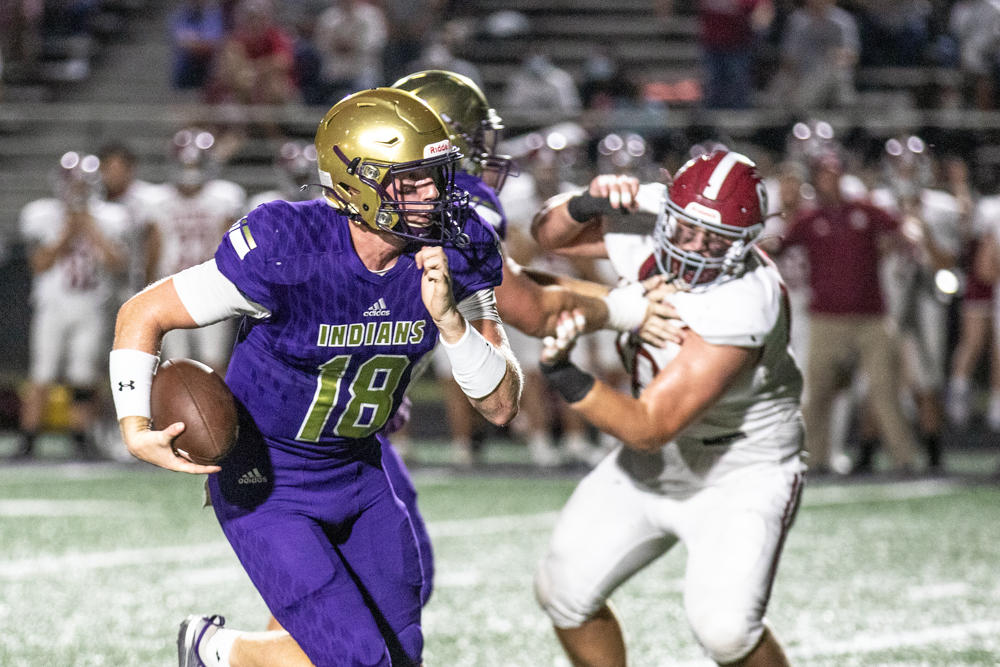 Indians quarterback Daniel Shoch scrambles for yardage. He finished the game completing 12-0f-16 for 187 yards and a touchdown.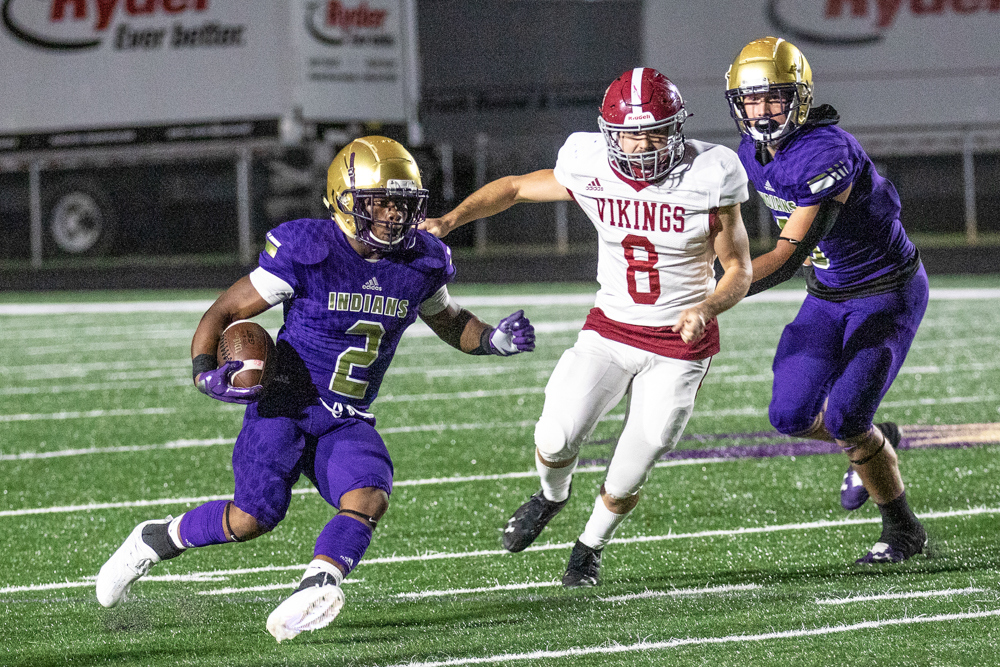 Trey Bowles led the Indian's offense with 82 yards rushing on 12 carries and two touchdowns.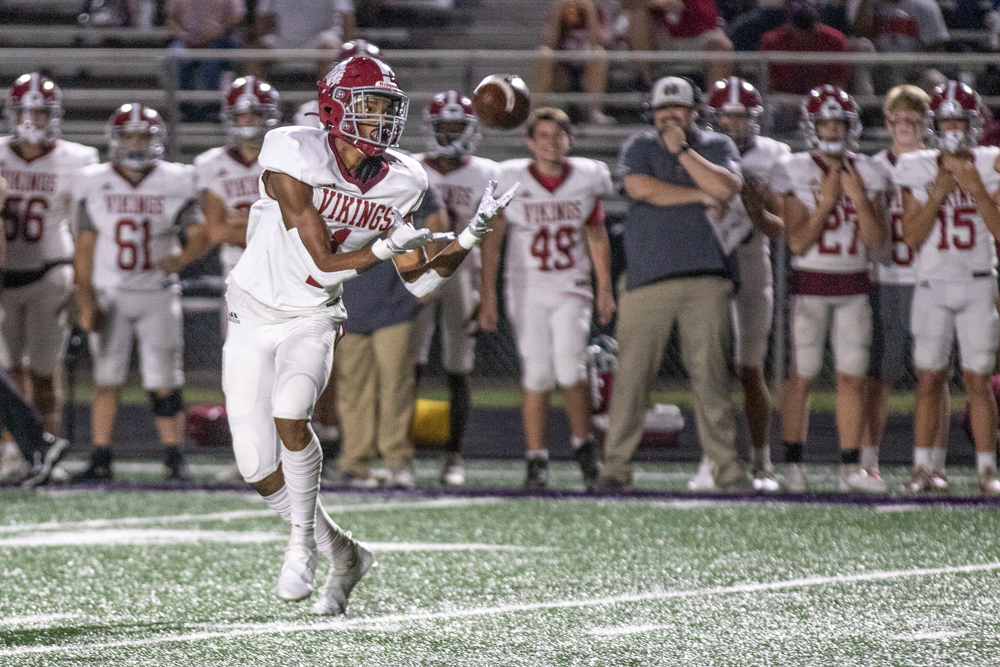 Northgate's Tyon Williams completes a catch in the open field.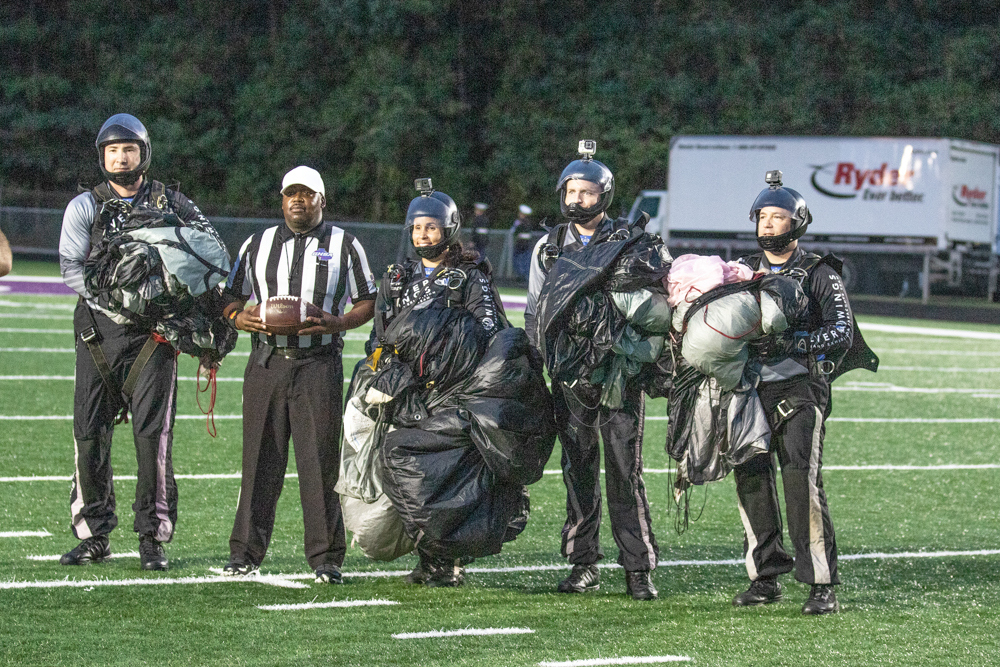 The game ball was delivered to the head game official by the Silver Wings Parachute Demonstration Team.