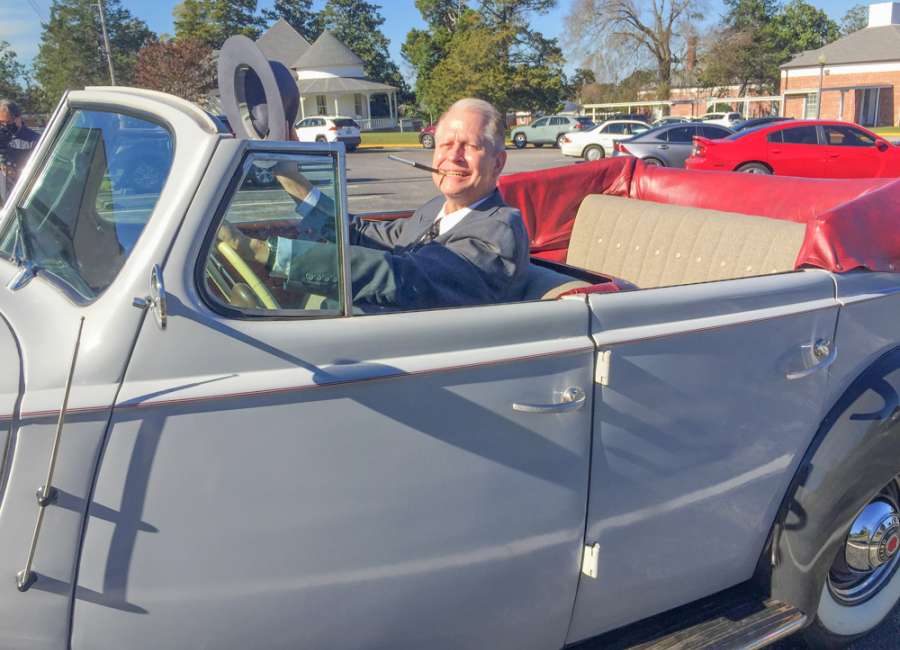 By: Jonathan W. Hickman and Jeffrey Cullen-Dean

James Fowler does his best to get into the head of President Franklin Roosevelt.
Since 2009, Fowler said he has performed reenactments of Roosevelt at the Little White House in Warm Springs. He's recreated Roosevelt's D-Day prayer and Pearl Harbor speech.
Now, Fowler has taken his reenactments to the screen. On Sept. 21, Fowler appeared as Roosevelt in reenacted scenes in the documentary "A President in Our Midst: Franklin Delano Roosevelt in Georgia," which aired on Georgia Public Broadcasting.
"They needed an FDR reenactor," said the retired Coweta High School, recalling his big break in show business. "I had plenty of experience as a history teacher, plus I had worked as an extra in a few films, including the HBO production of 'Warm Springs.'"
Fowler's interest in Roosevelt and the time period of the Great Depression and World War II was sparked by his parents. He said both of them grew up in the 1930s, and he often heard stories of the depression and war era.
"I just fell in love with this time period of the war years, especially because of the emphasis and faith in God," he said.
But Fowler isn't a stranger to studying history. For 27 years, he taught the subject at East Coweta High School until he retired in 2009.
Before performing historical reenactments, Fowler said he first worked at the Little White House in the summer of 1982. After a visit and seeing various guides educate the public on history, Fowler said he wanted to do the same thing.
He applied and got a position as a guide, which lasted until October of that year, when he left to teach at ECHS.
"But I was always curious about trying to return to the Little White House in some capacity," he said. "I just loved the work."
In 2008, Fowler stopped at the Little White House to inquire about full-time positions. He said he was told nothing was available, but they occasionally needed a Roosevelt actor.
After 38 years of teaching history, he was now reenacting it.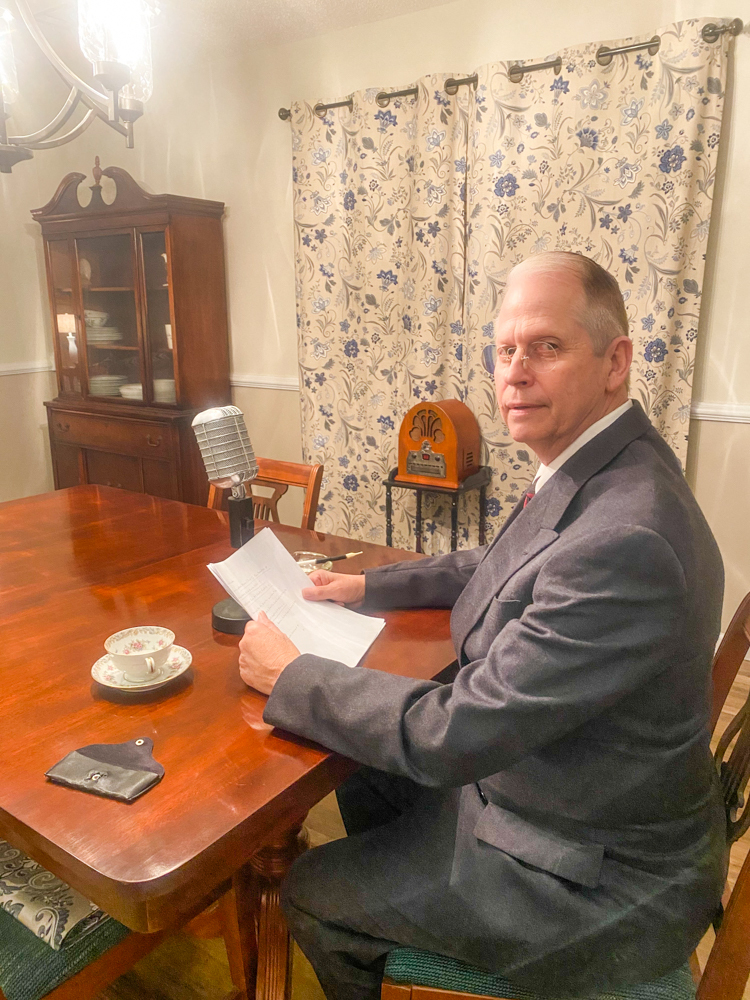 Fowler said he has some minor physical resemblances to the president because they both have little bags under their eyes. He cut his hair shorter, combed it back and added some gray to it. Then he started listening to Roosevelt's speeches on YouTube so he could learn how to imitate the president's speech patterns.
He slipped easily into the work because of his previous career as a history teacher, Fowler said. The public speaking aspect of teaching kept him sharp, and he said he regularly imitated world leaders in class already.
"A lightbulb went off in my head, and I thought, 'I could do this,'" Fowler said. "With my hair cut short, and a few bags under my eyes like Roosevelt, I knew I could act the part.
"My first big break was performing the D-Day Prayer in June of 2009. I was nervous but pulled it off without a hitch. I got positive feedback from my new bosses and the visitors. From there, the invitations to return started pouring in."
He was asked to perform the Pearl Harbor Speech at the Little White House, he performed for President's Day, and various electrical organizations wanted him to perform, too.
The Rural Electrification Act was signed by Roosevelt in 1936, and it provided funding to electrical coops in rural sections of the country. As a result, Fowler said when many electric companies had celebrity anniversaries, he was asked for private performances in 2015.
"It can be said that rural electrification can be traced to a little cottage in Georgia," Fowler said since Roosevelt first noticed the lack of rural electricity during a visit to Warm Springs.
Fowler said he's enjoyed the work, but he's also appreciated the kindness of the staff at the Little White House.
"It doesn't matter how difficult your week was, when you get to the Little White House and you walk into the museum building, you open the door and see the park ranger behind the desk and he or she looks at you and cheerfully says, 'Good morning, Mr. President.' No matter how tough your week was, your worries disappear," he said. "People have treated me with so much kindness and affection at the Little White House. It's a blessing."
In "Warm Springs," Oscar-nominated actor Kenneth Branagh played Franklin D. Roosevelt. That 2005 film was partially shot in Warm Springs, Georgia. To battle polio, the future leader of the free world sought the healing waters in the Pine Mountain area.
For the project, Fowler worked with author and screenwriter Kaye L. Minchew. The film is based on her book. Roosevelt, a native New Yorker, called Georgia his "other state." Minchew detailed his relationship with Georgians in her book, but the movie offered her a chance to vividly convey his ties to the community more intimately.
"I was pleased when we found historic film footage we could use to show one of his trips to the Pine Mountain Valley school," Minchew said. "We also had an oral history from a woman who had been a student at the school. Our reenactor, Carol Cain, did a great voice-over of Mrs. Pearl Riley's comments. I thought this scene ended up working great as it showed the enthusiasm of local people, especially school children when they got to see Roosevelt."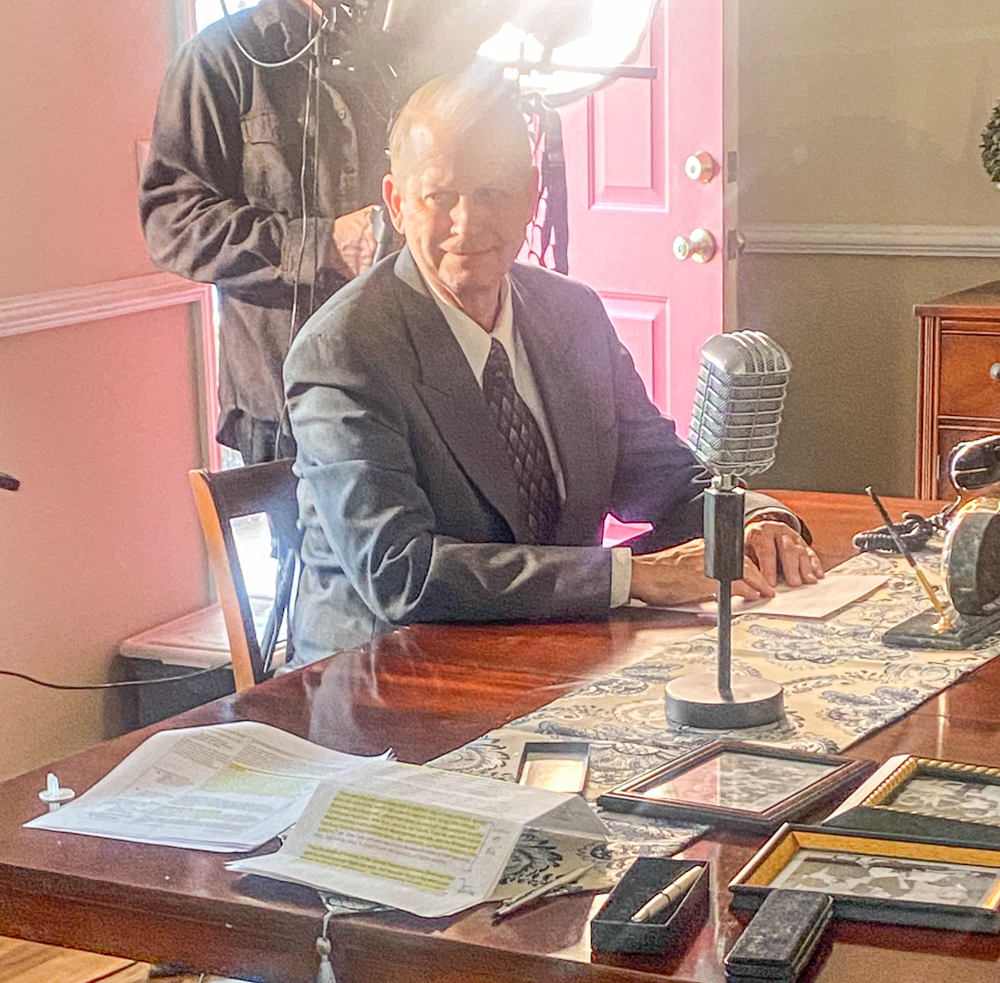 And Minchew's book turned movie explains that Georgians may have first mentioned Roosevelt as a possible presidential contender. The archived footage shows the future leader interacting very closely with local citizens. One sequence has him sitting with a group of rural musicians who play for him, several picking on banjos, and they even shared some local moonshine as well.
Dan White, the film's executive producer, served on the Roosevelt Warm Springs Advisory Committee in the past. Even though he knew of Roosevelt's time in Georgia, the filming process proved to be educational, exposing him to the entire history of FDR in the state.
"Roosevelt's connection to rural Georgia was most surprising and covered a wide spectrum." White, who grew up in West Central Georgia, said. The documentary offered a chance for White to "retell the story for a new generation of Georgians."
The production was a thrill for Fowler, who has now been performing as FDR for 13 years. He enjoyed the filming, saying it was "just a lot of happy confusion getting the camera set up, the furniture and props in place, and making sure my hair has the right amount of grey in it."
Even though Georgia has become the Hollywood of the South, and we've become accustomed to seeing film crews on our streets, becoming a part of the action became an exceptional reward.
"The thing about filmmaking is you can take an ordinary room, put the right objects in it, and it becomes a time machine." Fowler reflects on the experience. "Just wish I could do this every day!"
A President in Our Midst: Franklin Delano Roosevelt in Georgia can be viewed online under the history section of the Georgia Public Television website (gpb.org).