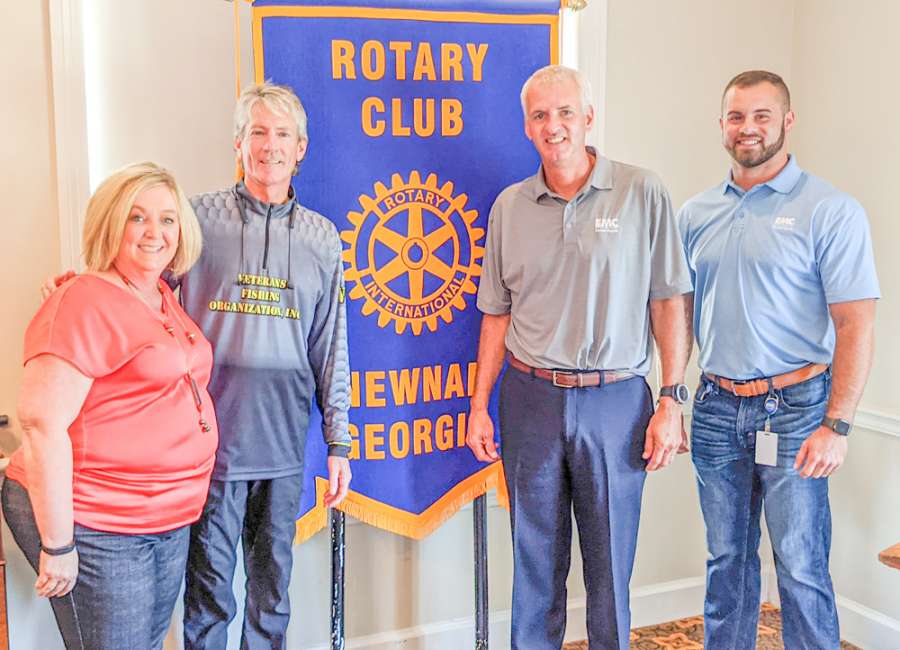 Ken Bearden, founder of Veterans Fishing Organization Inc., spoke to the Newnan Rotary Club about the role his organization plays in getting veterans the opportunity to go fishing.

The VFO exists to provide military veterans, including but not limited to those with physical disabilities and Post-Traumatic Stress Disorder, with an opportunity for recreation and renewal through guided freshwater fishing and wildlife observation on lakes in Georgia and its bordering states.
VFO provides a one-day experience of guided freshwater fishing and observation of wildlife on lakes in East Alabama and West Georgia at no cost to veterans.
All equipment and tackle will be provided. Veterans can bring one guest with them for the experience.
Bearden said what makes the VFO special is the effect fishing has on those suffering from PTSD.
"Nature experiences have been proven to have positive effects on veterans," Bearden said. "Time spent in the natural environment, especially on the water, is peaceful and calming."
Bearden said Georgia has the second highest concentration of wartime veterans in the five-state region of Alabama, Georgia, Florida, Tennessee and South Carolina.
Georgia and its bordering states are home to 3.7 million veterans. Of those, 2.7 million are wartime veterans, the target group for VFO.
Also, while many states have seen a decline in vets in the last 15 years, Georgia has had an increase in the number of veteran residents. South Carolina has experienced an increase as well.
The southeastern U.S. is home to many active military bases. In Georgia and its bordering states, there are 10 Air Force Bases, 11 Army bases, 16 Navy bases, four Coast Guard bases, and four Marine bases.
These installations typically provide the springboard for the target group of combat veterans, Bearden said.
Bearden was also a recent recipient of a Coweta-Fayette EMC "Operation Round Up" Grant, where EMC members round up their monthly bill to the next dollar.

Bearden has 25 years of competitive fishing experience all over the U.S. and has been a fishing guide on West Point Lake for 16 years. He holds titles such as Georgia State Champion and West Point Lake Coalition Fisherman of the Year.
For more information on VFO, contact kenwithvfo@gmail.com or call 706-884-0494.