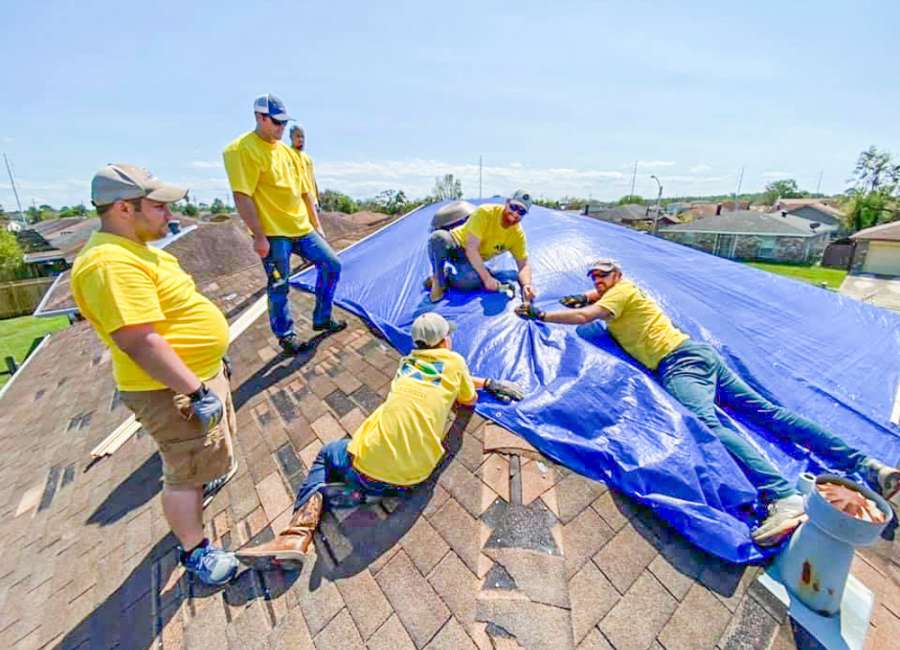 Members from The Church of Jesus Christ of Latter Day Saints recently traveled to Louisiana to assist with Hurricane Ida clean up and two volunteers said their traveling to help was an act of faith.

Hurricane Ida landed in Louisiana from the Gulf of Mexico as a powerful category 4 storm on Sunday, leaving at least one million Louisiana homes and businesses without electricity.
Ida crashed against the coast with 150-mph winds, torrential downpours and pounding surf that submerged much of the shoreline under several feet of water, with flash flooding reported by the National Hurricane Center across southeastern Louisiana.
Grateful to serve
Steffen Lewis was the group leader for those who went to Louisiana to volunteer. Lewis said he loved to serve his community.
"In this case, the community of New Orleans needed help," Lewis said.
Lewis said he expected to see many volunteers there helping one another.
Lewis said his team of volunteers arrived in Louisiana on a Friday night.
"As soon as my team got down there on Friday night, we set up our tents in John Slidell Park, where other volunteers were sleeping," Lewis said. "We stayed from Friday night to Sunday afternoon."
Lewis said the damage was worse than they expected in some areas.
"However, it was a great sight seeing FEMA representatives working alongside all of the volunteers," Lewis said. "FEMA was actually there at some of the houses we were at."
Lewis said he felt great going to help out with the cleanup process.
"I am very lucky to have the full support and resources of the Church of Jesus Christ of Latter Day Saints and small businesses like C.L. Services, who donated the materials and supplies to make it possible for me to serve the community," Lewis said.
He said going to serve in Louisiana also made him more grateful for the home and community he has. He said he would even go back to volunteer.
"It feels good to help serve and give back to those in need," Lewis said.
Faith in action
Eric Amitoelau is also a member of The Church of Jesus Christ of Latter Day Saints in Newnan. He said caring for the poor and needy is important to him and an "integral part of his faith" and church.
"It's this same faith in Jesus Christ as well as the simple interest in the well-being of others that has motivated people from all different parts of the country to help out with Hurricane Ida," Amitoelau said. "The same is true of people all around the world helping to provide relief from suffering."
Amitoelau said when he arrived in Louisiana, he expected to see great damage. He said he saw property loss and lots of debris. He said while in Louisiana, the team's time was spent primarily mucking homes and tarping roofs.
"The damage was significant, and more pronounced among structures in low income communities," Amitoelau said. "Seeing people who probably were already acquainted with struggle have this calamity added to their plate was sobering. One work order sent us to a home where the entire facade was torn away from the house. The open face revealed that termites had caused the second floor of the home to sag to almost a foot below where it should have been."
Amitoelau said volunteering left a lasting impression on him.
"It had less to do with the destruction and more to do with the sense of humility and gratitude that was openly expressed by the people we were helping," Amitoelau said.
"One family had been trying to inter their mother who had passed several weeks prior due to COVID-19, but the overrun at the mortuary delayed the interment by two weeks," Amitoelau continued. "When they arrived at the scheduled date to lay their mother's remains to rest, the urn did not fit in the crypt, pushing their mother's services to yet another date in the future. While devastated, they returned home to find our team pulling up to their house ready to work."
Amitoelau said the family wept once they realized the team was there to assist them.
"They assured us that we were sent to them by their angel mother to let them know everything was going to be okay," he said.
Amitoelau said he believes in miracles, "and to me, nothing is more miraculous than seeing what can be accomplished when people lock arms to help those in need," he said.
Amitoelau returning to continue to help clean up is definitely a possibility.
"I saw a digital dashboard online of the work orders that were completed by the volunteers since the hurricane hit," he said. "There were more than 2,000 by the time we left. There were 8,000 open work orders left to complete with more being added every day. I am absolutely going back."