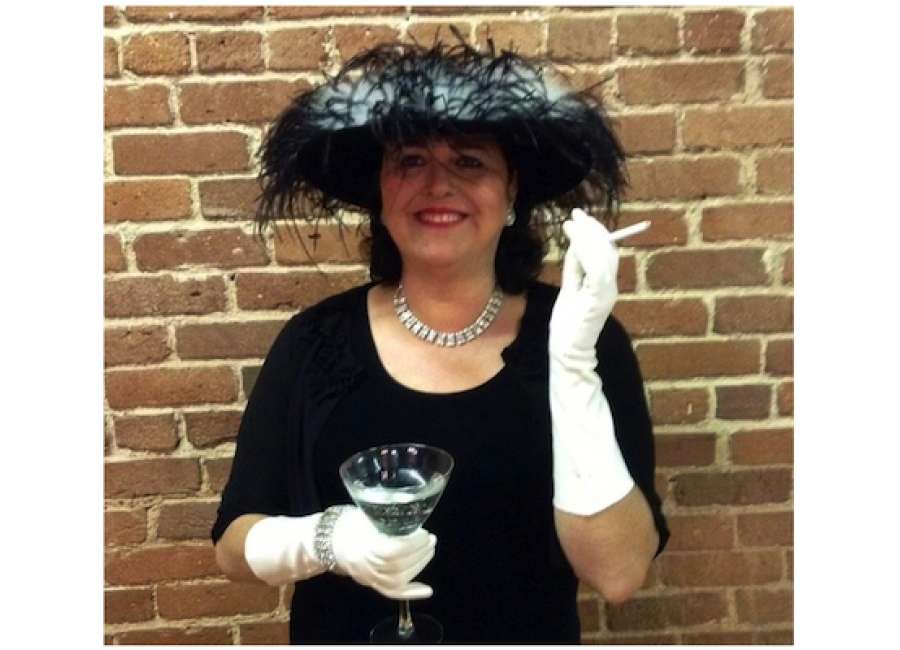 What better place to hold the late Julie Marchese's estate sale than the community theatre she loved?

And who better to benefit from her enormous collection of clothing, shoes, bags and boots than the Newnan Theatre Company?
She may have preferred to stay behind the scenes in the theatre, but friends and family say the lifelong Cowetan lived and breathed fashion and style, always standing out from the crowd. When Julie passed away last spring, she left behind so many beautiful, fun and funky things that her husband, Mike, decided to share the wealth.
"We love that theatre, so I gave it all to them," he said. "NTC, like every nonprofit, runs on a shoestring. They've done very well and have been in the community more than 40 years, and they always need support. I thought it was a little bit we could do to help, so why not?"
Julie and Mike, both born into families with deep roots in Coweta County, graduated from Newnan High School. As a couple, they were longtime patrons of NTC, and Mike even served on the theatre's board of directors for years.
"I can count on one hand the number of productions we missed during that time," Mike said. "We liked to bring friends and make a night of it."
Julie was a master cosmetologist for 40 years and owned the Julie Hunter Marchese Salon until her retirement in 2019. She was a graduate of Arnold-Padrick's University of Cosmetology and received advanced training from Jingles of London.
But her interest in fashion and beauty began long before that. In the 1980s, she would curl up with her mom to watch "Style with Elsa Klensch." And whether she was wearing her yellow overalls with a Miss Piggy pin or a classic pumps-and-pearls outfit, she rocked it, Mike said.
"She could be as funky as she wanted, and I'd say, 'You know, nobody could pull that off but you,'" Mike said.
Longtime friend Dora Hayes recalled one summer day when Julie was decked out in sequined Ugg boots, black Nike shorts and a neon pink Blind Pig BBQ T-shirt. She had a sequined scarf around her neck and an animal-themed ushanka-style cap on her head.
"We stopped at a pizza restaurant in Dothan, Alabama, and there was a surveying crew there," Hayes said.
One crew member was struck dumb at the sight of her, his equipment slipping from his hands and landing with a loud clang.
"He just let go of it," Hayes said. "And then of course he tried to ask her out. Because she could dress that way and be the most beautiful woman in the room."
Mike said Julie treated her shoes, clothes, boots and purses like children – and she had a house full, he said.
Readying the sale items in NTC's lobby, Mike estimated more than 100 pairs of jeans, 500 pairs of shoes ranging from flip flops to Birkenstocks to stilettos, 40 pairs of cowboy and other boots and at least a dozen pairs of Uggs will be available for purchase.
Then there are the Converses. Mike said Julie became obsessed with the classic sneakers after realizing NTC's improv troupe, the NITWITS, use the shoes as part of their costumes.
"She said, 'I need some of those!'" Mike said.
When Julie lost her hair and eyebrows to chemotherapy, she simply had her brows tattooed on, Mike said. As for her hair, well – it gave the brunette beauty a chance to go blonde for the first time in her life. And pink. And purple, green and platinum silver, too.
"She was not one to go out with a bald head," Mike said. "She was definitely a wig person."
As for jewelry, "She had more than most retailers," Mike said, and much of it will be available for purchase to benefit the theatre.
Mary Caroline Moore, NTC's managing director, said the organization is grateful for the support.
"Julie and Mike Marchese have supported Newnan Theatre Company in so many ways for so many years," she said. "We are all touched that Mike has arranged for 100 percent of this estate sale to benefit our performing arts mission for youth and adults in Coweta County."
The sale will officially be ongoing from 9 a.m. to 4 p.m. Saturday. Because all proceeds will go directly to NTC, sales will be handled through the box office. Purchases can be made with cash, checks payable to the theatre or credit/debit cards.