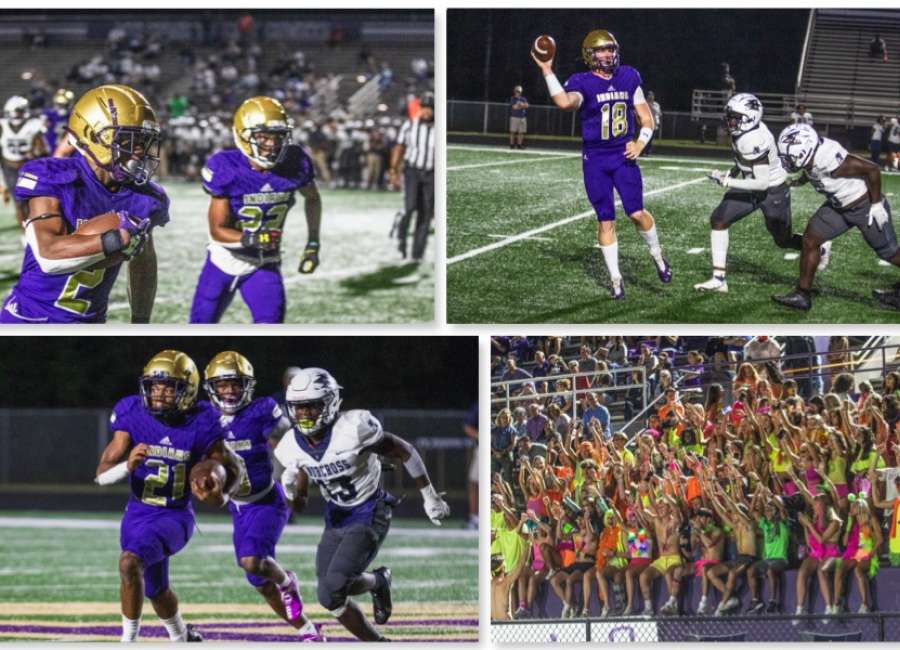 East Coweta Head Football Coach John Small spoke in the offseason about how the loss to Norcross last year helped define the 2020 region championship team.

This year, they used a dominant win to give more definition to the 2021 Indians. The Indian defense suffocated Norcross in a 24-0 victory to improve to 3-0 on the season.
For the second week in a row, East Coweta welcomed an opponent into Garland Shoemake Memorial Stadium and sent them home without allowing a point. The last time East Coweta posted back-to-back shutouts was in 2008 against Westlake and Lovejoy.
After stopping Norcross on their opening drive, quarterback Danny Shoch led the Indian offense on an 80-yard drive that concluded with a Shoch two-yard plunge on a fourth down.
During the drive, the Indians converted a first-and 38 situation after an Indian personal foul infraction.
East Coweta also scored on its second drive; this one culminated in a Trey Bowles two-yard touchdown run.
While the Indian offense put points on the board, East Coweta punter Lucca Labattaglia kept putting the Norcross offense pinned deep in their own territory. He boomed a 71-yard punt that pinned the Blue Devils inside their five-yard line and had three other kicks inside the twenty.
Norcross had its best drive going just before halftime, but a Kaleb Harris pick-6 for East Coweta changed the game's complexion. Instead of going into halftime up 14-7, it was a commanding 21-0 lead.
When asked about the defensive secondary, Coach Small gave credit to his coaching staff. "These guys are good, man. Defensive coaches do a heck of a job with Andy Washington, Mark Barfield, and Sam Honeyman. Our offensive staff, Coach Dean leading the way over there with Coach Edwards, Coach Johnson, Coach Stein, and Coach Jordan. They do a great job. They overcome the head coach a lot. So, they get it done. I just stay out of the way."
The Indian offense played ball control and ran the clock in the second half.
Coach Small praised the work of the offensive line. "Aaron Fennimore sets the tone. Josh Strong too, a guy that moved over from the defensive line last spring. He is just a spark plug for us and Prince Seymour. We're doing a great job, and Zach Clayton's a sophomore; he's doing a really nice job too. And all those guys do a good job complementing each other. Then CJ Stubbs is the smallest one of the bunch, but he plays with the most fire out of all of them. He just gets after it and has come out of his shell. Really proud of all these guys."
On Friday, East Coweta will welcome Meadowcreek, another 7A opponent from Gwinnett County to Garland Shoemake with a chance to improve to 4-0.
The last time the Indians won their first four games was in 2016.
Photos by Michael Clifton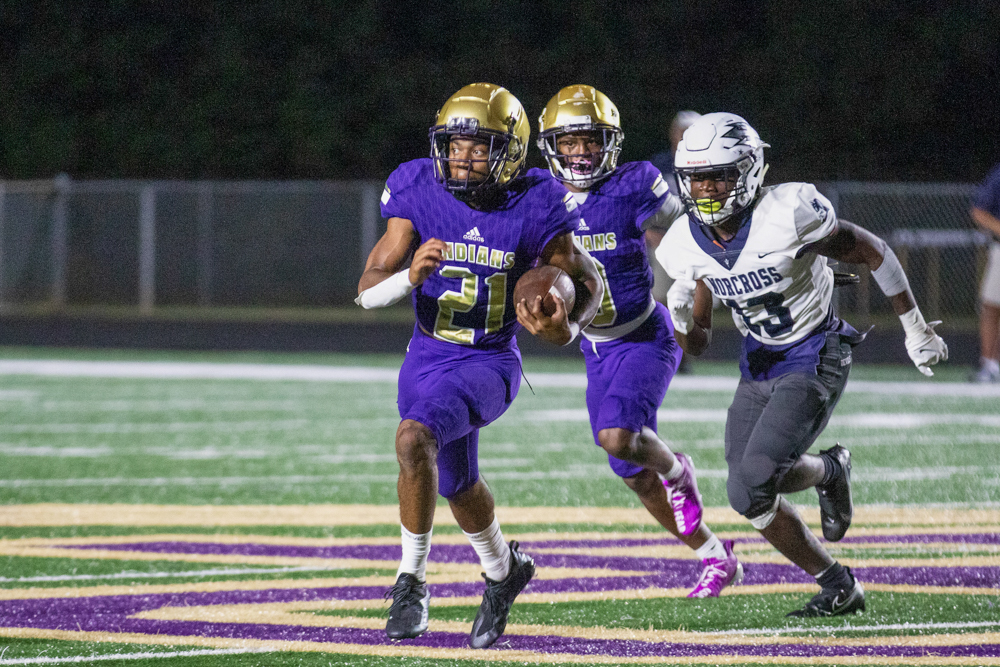 Kaleb Harris with the pick-6 to give the Indians a 21-0 lead before halftime.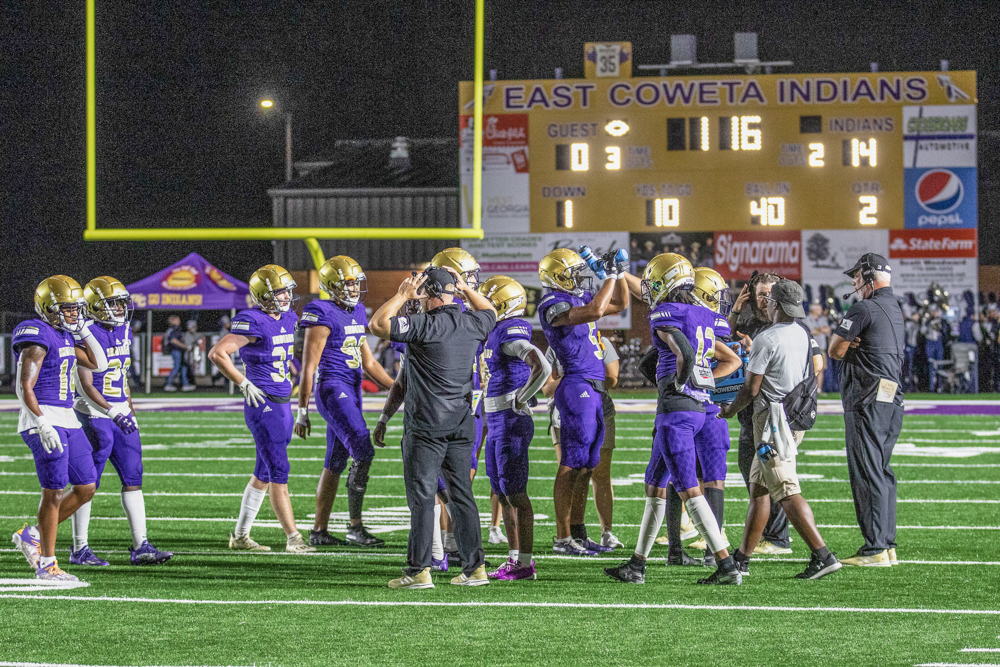 Coach John Small's defense had their second shutout in a row.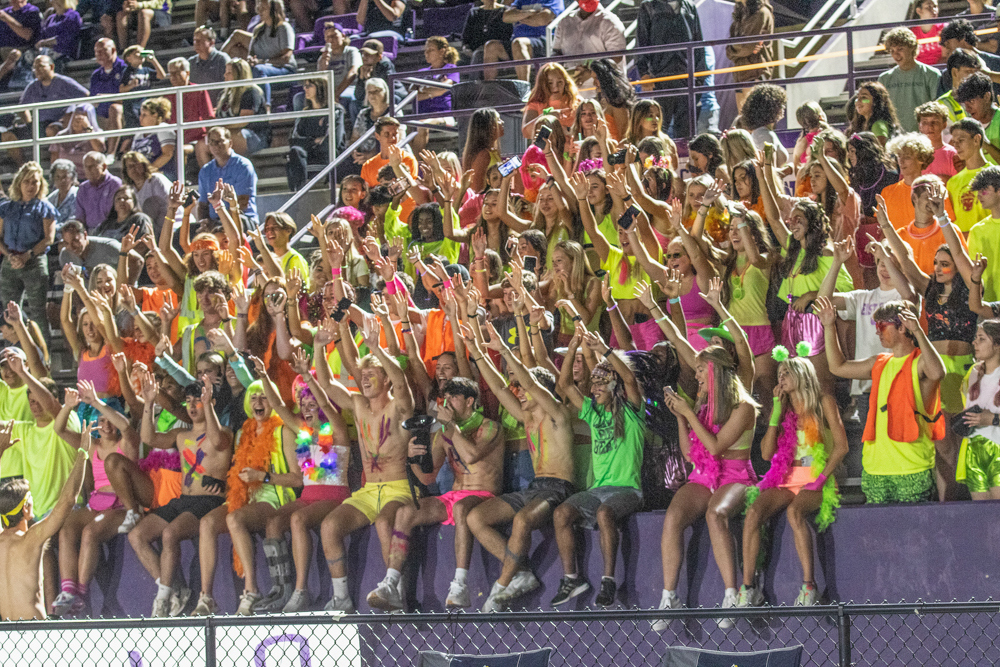 The East Coweta student section all turned up.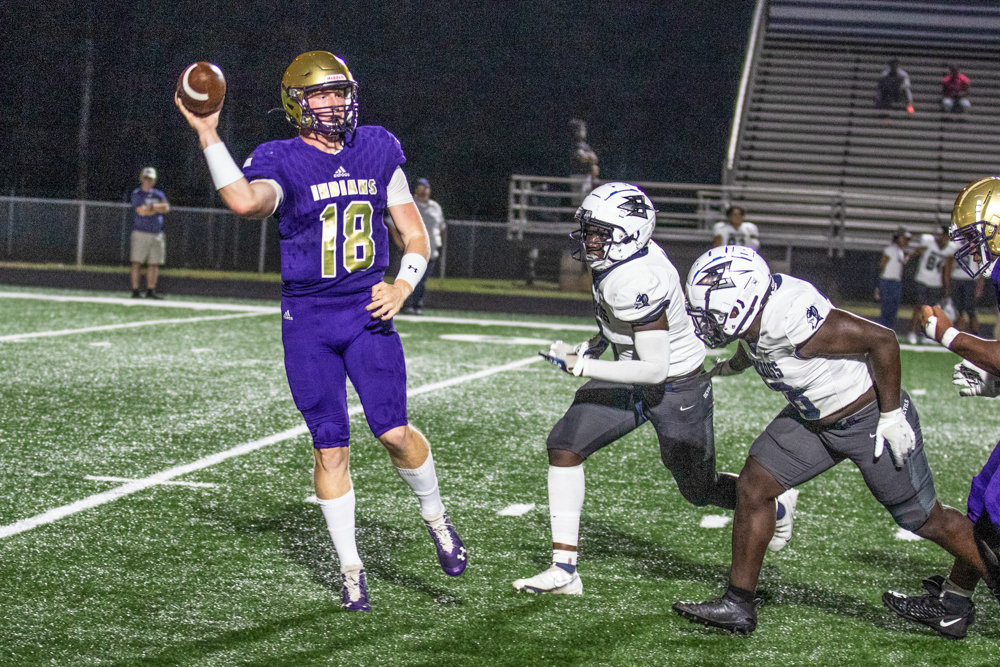 Quarterback Danny Shoch flips a ball to the outside.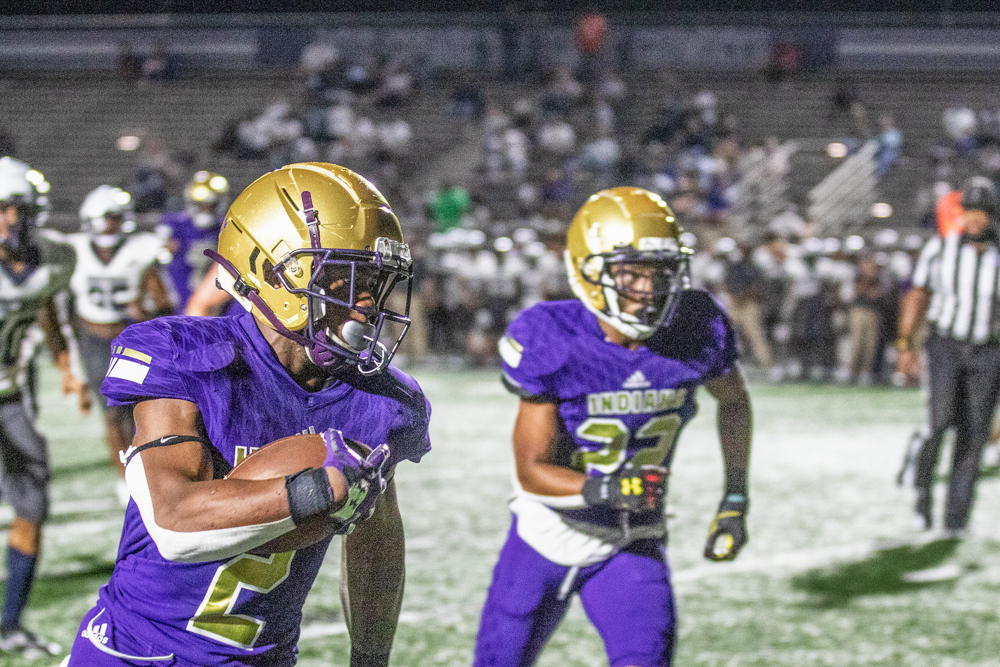 Trey Bowles (#2) cuts to the outside as Brady Tillman (#22) looks for someone to block.