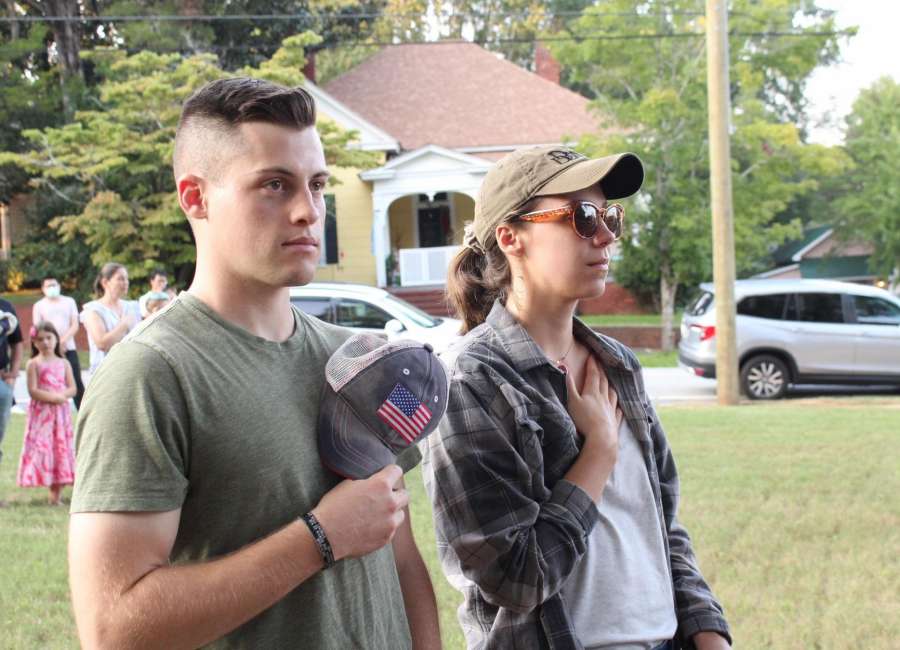 Cowetans gathered for a solemn ceremony to mourn the victims of the Sept. 11 terror attacks on the event's 20th anniversary on Saturday.
A remembrance ceremony was held on the court square Saturday morning and a candlelight vigil was held in the evening at Veterans Memorial Park.
After the morning ceremony, a breakfast was served by VFW and VFW Auxiliary Post 2667 and American Legion Post 57 for first responders in the basement of the Redneck Gourmet.
According to Vena Funk, patriotic instructor for the VFW Auxiliary and coordinator of the ceremonies, food deliveries were made to the Coweta County Prison and the Senoia Police Department.
The evening ceremony was filled with prayer and song as attendees reflected on the attacks.
The Northgate Color Guard began the ceremony with the placing of flags and leading the Pledge of Allegiance.
After the pledge, Tim Camp, a chaplain, led a hopeful prayer in remembrance of the police officers and firefighters who were victims of the attacks.
"After Sept. 11, we were a wounded people. We shared loss and pain, anger and fear, shock and determination in the face of these attacks on our nation and all humanity," he said in his prayer. "We also honored the selflessness of firefighters, police, chaplains and other brave individuals who gave their lives in the service of others. They are true heroes and heroines."
Later during the ceremony, Camp returned to the microphone and sang "Where Were You (When the World Stopped Turning)" by Alan Jackson in segments. When he stopped, participants stepped up to the mic and shared where they were during the attacks.
Doni Holcombe, a member of the American Legion, narrated the events of the attacks — when one of the planes struck the towers and when the towers fell — as torches and candles were lit.
Attendees left the park silently as Peter Ochabauer played "Taps."