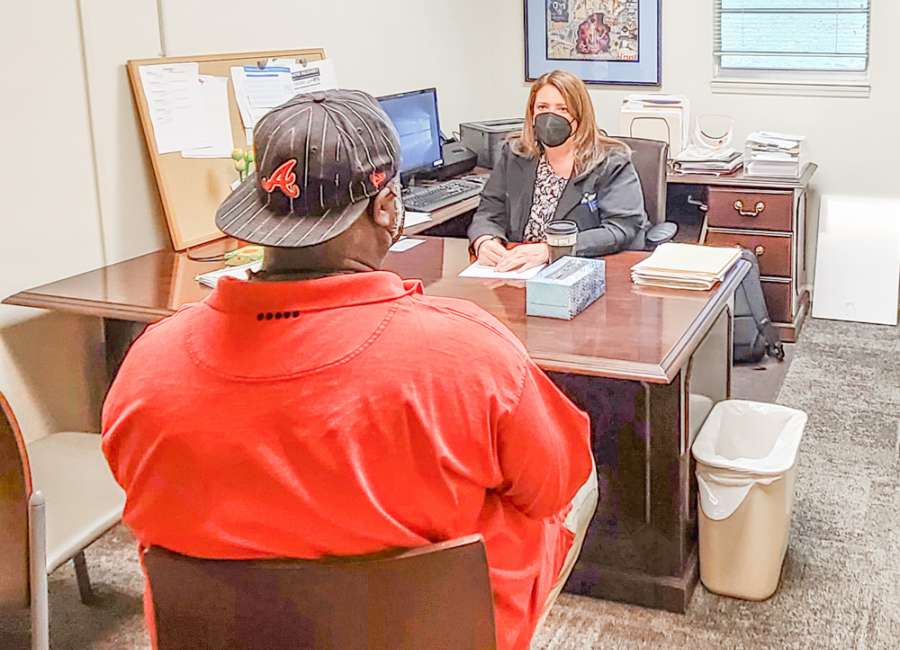 By Jill Whitley

As the winds died down from the EF-4 tornado that struck Newnan just after midnight on Mar 26, 2021, Tony Young dragged his broken body into the bathroom of the home he shares with his sister and called out for help.
Hours later, however, as his cries went unanswered and pain and fear set in, he began to pray for death.
"Honestly," Young said, speaking about the complex leg fracture he suffered after a tree limb crashed through the roof of the bedroom where he slept, "after the first few hours, when my sister didn't answer, and I could see the blood and the bone sticking out of my leg, I was begging the Lord to take me."
Fortunately, after removing the large trees that stood between Young and medical care, first responders were able to reach him. However, he immediately encountered another barrier to the care he so desperately needed: The 55-year-old flooring installer didn't have any medical insurance.
"I didn't have insurance, and I couldn't afford doctor's visits, so I was taking my sister's blood pressure medication already," Young explained, "and then this happened. I was so scared of the hospital, between the money and catching COVID that the first time, I asked them to take me home."
According to Amy Kelly, Coweta Samaritan Clinic's Social Work Case Manager, Young is not alone. Finances and fear are just two of several barriers to health care access for large numbers of Cowetans. A lack of insurance, transportation or even knowledge of the health care system are among the many reasons patients are apprehensive to seek care for even the most severe injuries or illnesses.
Young was eventually sent to Grady Hospital in Atlanta for surgical stabilization, where he says he received "incredible" care, but was also saddled with insurmountable medical bills. "My surgery alone was $129,000."
Fortunately, however, that's where he ended up on the Clinic's radar, and the road to healing began.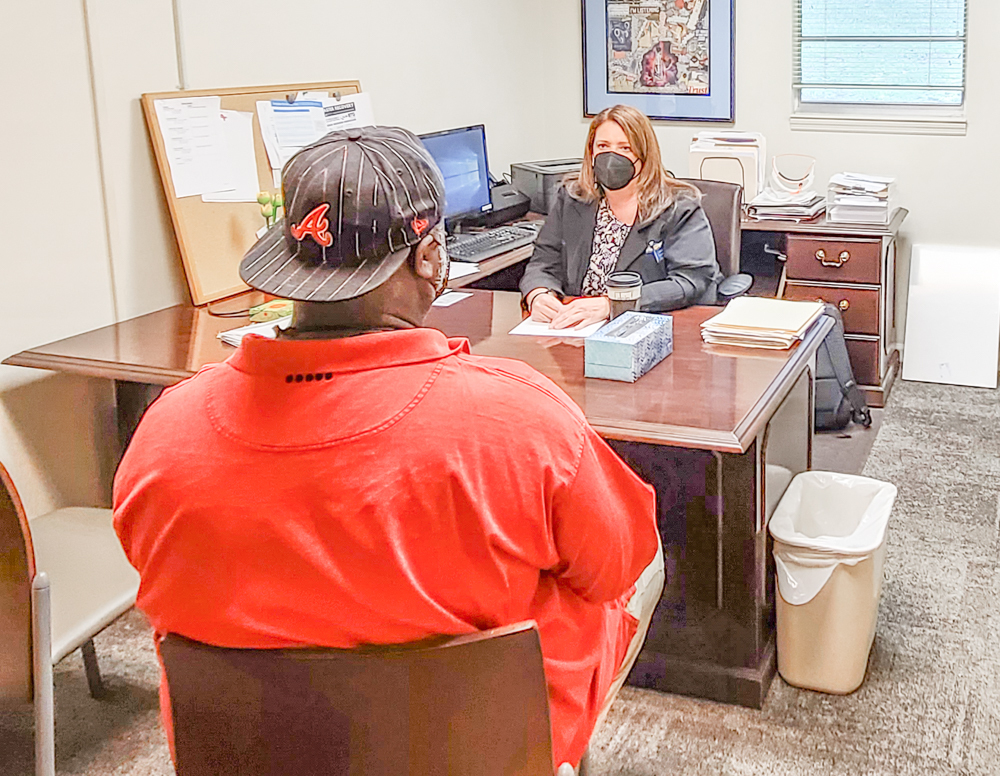 Amy Kelly meets with clinic patient Tony Young as part of his case management plan.

Kelly explained, "I first learned about Tony after his surgery when Grady was looking for a place to discharge him to. We reached out to Encompass Health, one of our partners, and a local church, which enabled us to get him first into a rehabilitation facility and then into temporary lodging. From there, we were able to serve his primary care needs and connect him to a disaster recovery case manager from Bridging the Gap to assist with his financial and housing needs."
Coweta Samaritan Clinic's Executive Director, Kelly Hines, explained that, while Young's case was unusual due to the circumstances surrounding the tornado, the clinic is well-versed in providing a case-management approach to patient care. The clinic's goal is to provide uninsured Cowetans "a medical home," Hines says.
Kelly concurs. "We want this to be a warm, welcoming, patient-centered practice — a place they actually want to visit. We want them to feel just as worthy of quality medical care as anyone should, whether they're insured or not."
Kelly says while they try to stay mission-focused on providing access to comprehensive health care for those who need it most, referring them out to other nonprofits for any other needs, they "love on" their patients by providing them with donated toiletry bags, warm coats, gently used books and a listening ear.
Led by Dr. Kay Crosby, Coweta Samaritan Clinic offers free primary medical care to uninsured Coweta County residents ages 19 and older with an annual household income below 200 percent of the federal poverty level. Although they have a few paid employees, Crosby said, many of the practitioners and administrative staff are volunteers. All told, clinic practitioners had 2,835 patient visits with 496 unique patients this year, which brings the total number of patient visits to nearly 22,000 since the clinic opened its doors in 2011.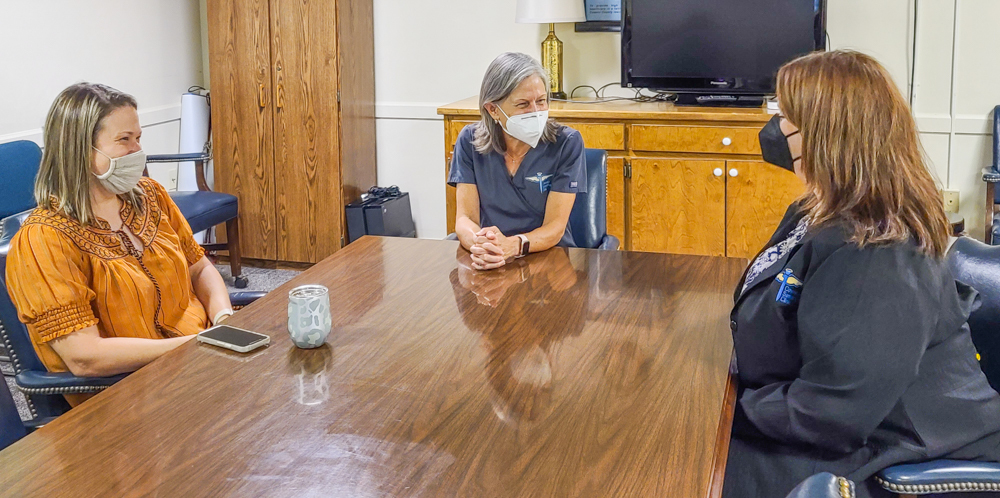 Coweta Samaritan Clinic Executive Director Kelly Hines, Medical Director Kay Crosby, and Social Work Case Manager Amy Kelly meet to discuss patient care.

The clinic is funded largely by grants but is still dependent on community support to survive. "We have many generous donors, and our annual fundraisers are essential to our operating budget," said Hines. "Our biggest fundraiser is the Bluegrass and Barbecue event. Because of the pandemic we had to turn it into a giant tailgate party in 2020, and that format was so popular that we'll do the same thing again."
The 2021 Bluegrass and Barbecue Dinner is scheduled for Sunday, Oct. 3, at 4:30 p.m. Plates start at $25, and clinic supporters will enjoy barbecue from Dunc's with "all the fixin's" and an adult beverage. They can choose to pick up their plates to-go or stay and enjoy live music with their picnic dinner. There will also be T-shirts and yard signs available for an additional donation.
Hines makes it clear that even if supporters can't make it out to the event, there are many ways to help the clinic. "Our patients are always in need of warm coats and toiletries like toothbrushes, soap, shampoo and deodorant, and we welcome those donations. Also, one of our big needs right now is landscaping. We'd love to have a group come out to trim the hedges or lay pine straw to keep the clinic as inviting and welcoming as possible."
"It's not something many people think about, but so many of our patients truly feel like they aren't deserving of nice things, and we want them to have a beautiful, peaceful place to come where they are loved and seen as worthy of care and kindness."
For Tony Young, who, despite making a full recovery, still meets with Kelly each week as part of his case management, the care and kindness he receives from the Samaritan Clinic staff restores not just his health but his sense of hope.
"I can't go back to laying floors after my injury, but Amy Kelly and I talked about what I could do in my condition, and I'm excited to get into commercial driving. I don't have my CDL yet, but I'm hopeful there is training out there. Seven months after the injury, I'm walking again without assistance, and I'm ready to get back to work."
For more information on the 2021 Bluegrass and Barbecue Dinner, contact info@cowetasamaritanclinic.org, or go to https://www.cowetasamaritancli... to purchase tickets.