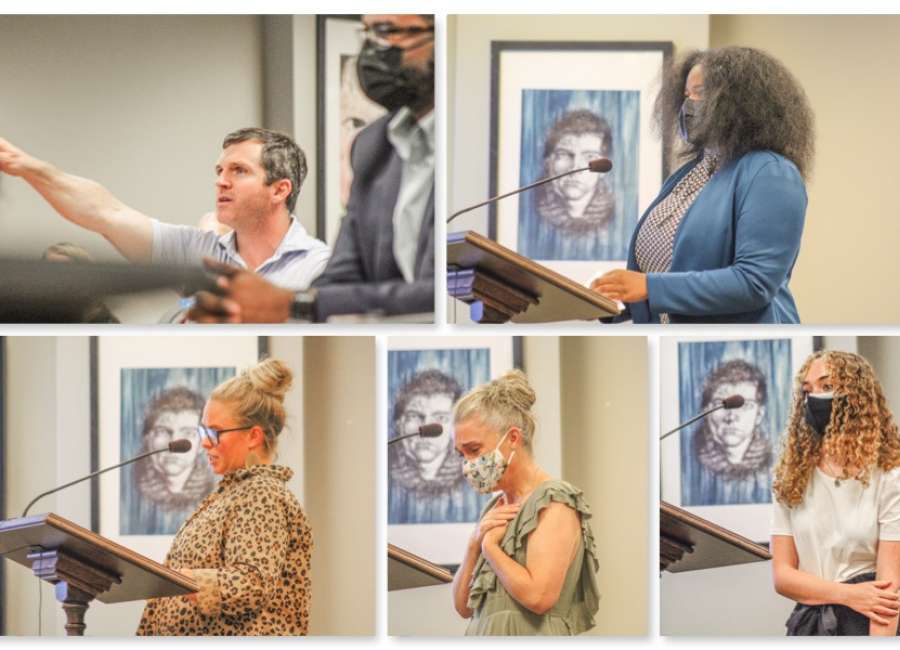 Members of the public came out to speak about possible mask mandates during the Coweta County Board of Education's meeting Tuesday, but school officials said Tuesday evening that any mask mandate would be by school and by a data-based approach.

A total of nine speakers were signed up to speak during Tuesday night's meeting, and the meeting got heated at times, with one speaker ejected for attempting to instigate some sort of situation during another speaker's time.
In total, four speakers asked for no mask mandate, three requested a mask mandate, one asked for everyone in the school to be tested, and a ninth speaker walked up to the podium and announced he would be declining to speak.
The first speaker, Jasmine Mehan, said she did her research on mask and vaccine mandates, and alleged that people are being "lied to."
"I am encouraging you to remove all mask mandates," Mehan said. "There is no science that supports that masks work. They are unhealthy, psychologically harmful, they prevent children from reading facial expressions, which is crucial at this time in their lives. They cause acne and other skin problems including staph infections, they prevent children from focusing, and they reduce oxygen intake by up to 20 percent.
"Masks on the children is child abuse," Mehan said. "And for many other intellectual people I have been speaking to, I am not alone in this. If anyone has verified scientific peer-reviewed studies with proof that masks work, I would love to see that work. As of yet, no one has been able to provide that documentation."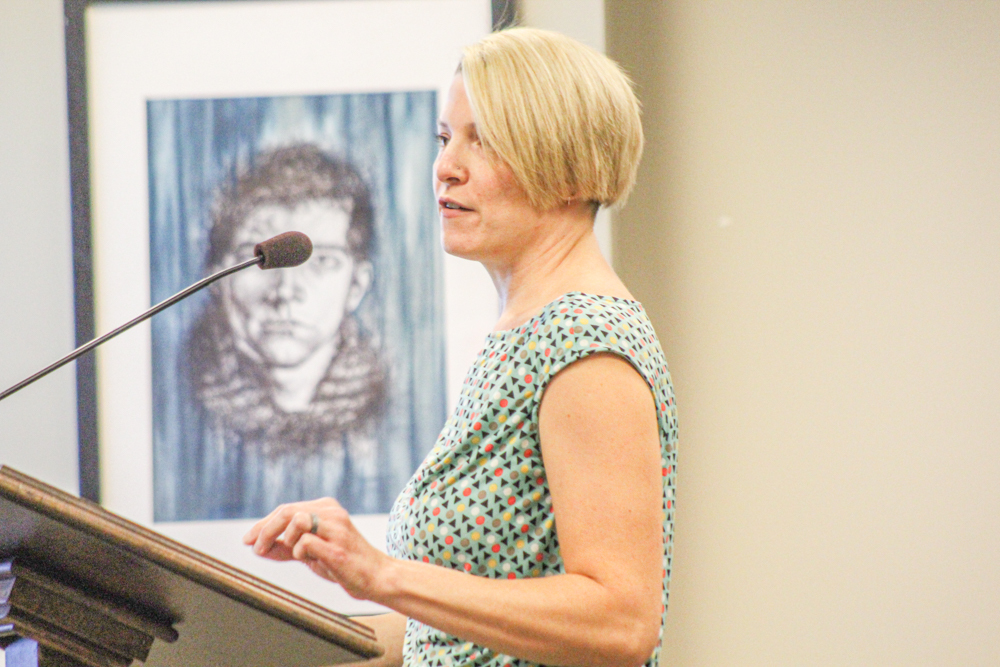 Mehan said that decisions regarding childrens' health should be "our choice, plain and simple."
The second speaker, Megan Winters, a student at Northgate High School, said she feared for the health and well-being of her classmates, and asked for a county-wide mask mandate on buses, on school grounds, in class and at events.
"For the past two months, cases of COVID have been skyrocketing, with an average of 112 cases and two deaths per seven days, as of today," Winters said. "I, myself, have been part of the cases, just two weeks ago. I'm fully vaccinated and wear my mask today. Just today, Northgate sent a letter regarding COVID-19 and how they will not continue the 10-day mask mandate, even though we've seen a huge decrease of COVID cases."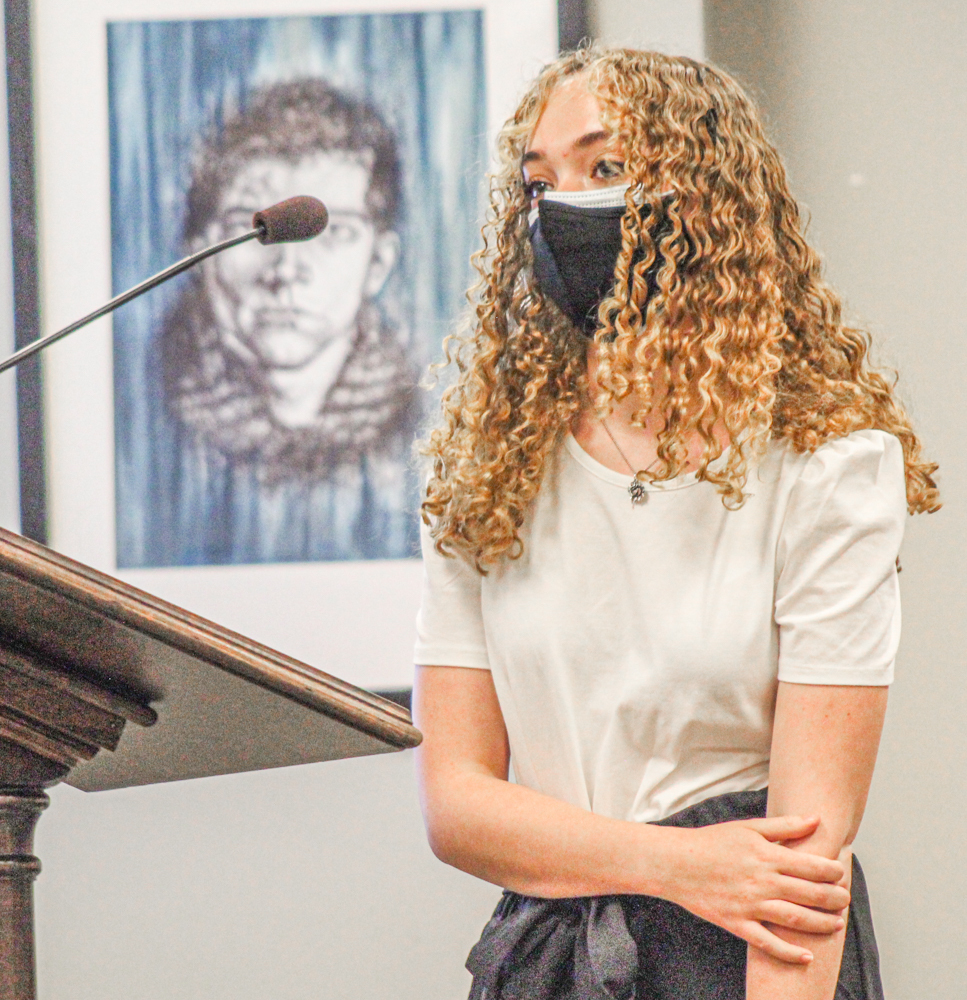 Winters said she acknowledged she would face harassment online and in person "as there already has been."
Winters said people have "directly" coughed on her "while making eye contact," called her names on social media and a teacher told her it wasn't his job to protect her.
"I am not the only one affected by this pandemic," Winters said. "I could go on and tell you how I've lost three people in the past month due to this pandemic. My family is not the only one to suffer losses due to COVID. Children are dying in hospitals. Perfectly healthy people are dying in the ICU beds that are available. Others are dying alone in their houses. This isn't a matter of your freedom, this is a matter of coming together as a community to protect each other. We were there for each other when a tornado tore people's homes apart, now we need to be there for each other when people's families are being torn apart."
The third speaker, Paula Plonk, asked for individuals to be able to make their own choices.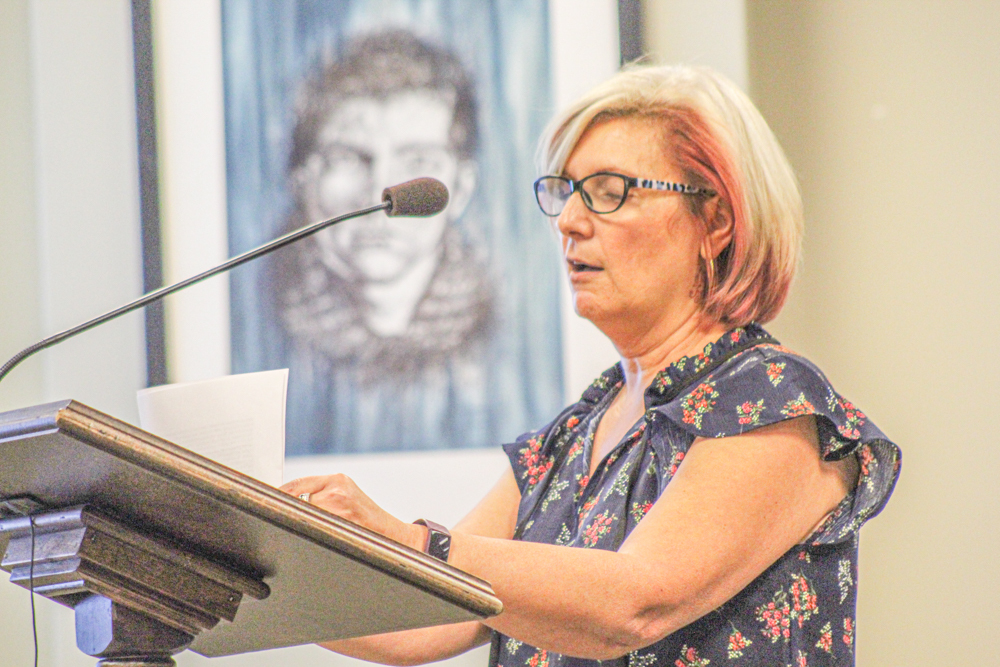 "I know that the past year has been hard on everyone, and I imagine it has been particularly hard on y'all. I am sure you all have had to put in a fair bit of extra time dealing with this unprecedented time we find ourselves in and trying to figure out how to navigate it best for everyone's interest, most particularly our children, and I sincerely thank you for it."
Plonk said she was not there to say one side was right or one side was wrong.
"I am here to suggest we are still in new territory, ever-changing, and therefore, everybody needs to be allowed to navigate this situation how they deem best for themselves and their children. Every parent deserves the right to protect their children how they deem best. I do not hold the school system responsible for the health of my child. It's mine, my child's, and our family doctor's responsibility, and ours alone, to keep my child healthy."
Mask opponent ejected for causing disturbance
The fourth speaker, Michael Dorminey, stated that masks did not work and that he pulled his daughter out of kindergarten rather than have her wear a mask.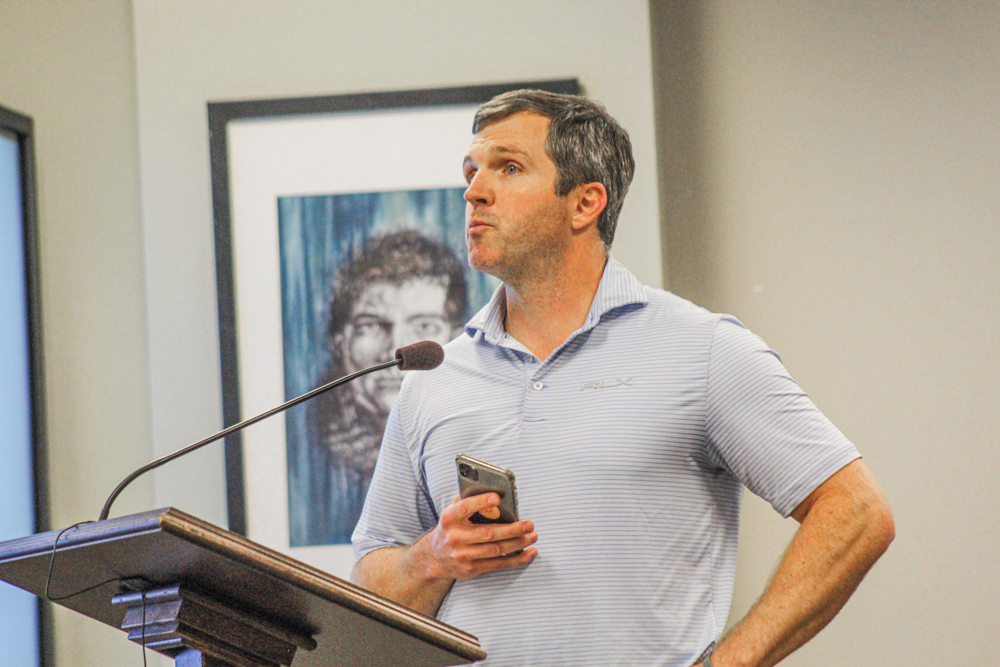 "Couple things I wanted to point out, Israel and Singapore, two of the most vaccinated countries in the world, Israel is number one with a mask mandate for 18 months, with a record number of cases of coronavirus. Same with Singapore. It's obvious masks don't work."
"I look around and half of you guys have a mask on, half of you don't. You allow all of us here to choose whether or not to wear masks, why can't you do that for our children? Just like the first speaker said, they're our children. My daughter was going to start kindergarten this year. Thank God I pulled her out. She's not gonna wear a mask."
Dorminey asked for a show of hands to see if anyone on the BOE supported "school choice." One board member, Linda Menk, raised her hand.
"One person has the courage to raise their hand? Wow. See, they don't want school choice, because then they control the money. They control how it's spent," Dorminey said. "All of you here, you see we have work to do. It looks like six of these need to go."
The fifth speaker, Russell Campbell, spoke in response to comments made by previous speakers.
"I spoke in favor of mitigation techniques last month, and I had something different to talk about this month, but since there's still a lot of hooey going around, I'm going to speak off the cuff about things that I've just heard and continue to hear," Campbell said. "First of all, masks do work, second of all, they don't drop your oxygen levels by 20 percent. I always wonder about the politicization of this, because so many people are vaccinated, I certainly have a vaccine scar on my arm and my kids have been vaccinated to go to school, but yet this vaccine is suddenly not acceptable.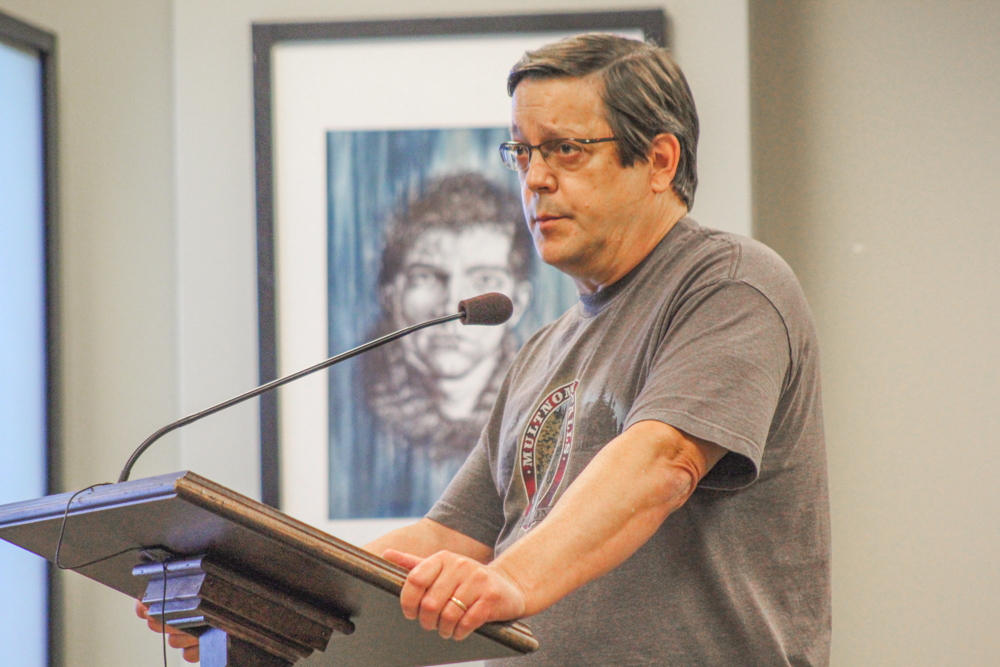 "Well, what's not acceptable is risking other people's lives by not doing the right thing in this community and any other community in trying to protect us as a nation," Campbell continued. "People want to get back to work, they want things to get back to normal, but they're too selfish and too ignorant to do the right things to get us back to the normal: wear the masks, social distance, get the very safe and effective vaccines, and quit claiming this is about fear.
"Go to the hospitals, talk to the nurses and the doctors who are treating these people who are dying - 666,553 Americans is the number I saw just today," he continued. "Fear didn't kill these people. What killed these people is a deadly virus that has mutated into a more deadly virus and has become more deadly to younger people including kids under 18 and under 12, which now, there's no vaccine for…"
During Campbell's time to talk, Dorminey interrupted him by claiming that more black youths had been shot in the city of Chicago, before he was informed he was out of order.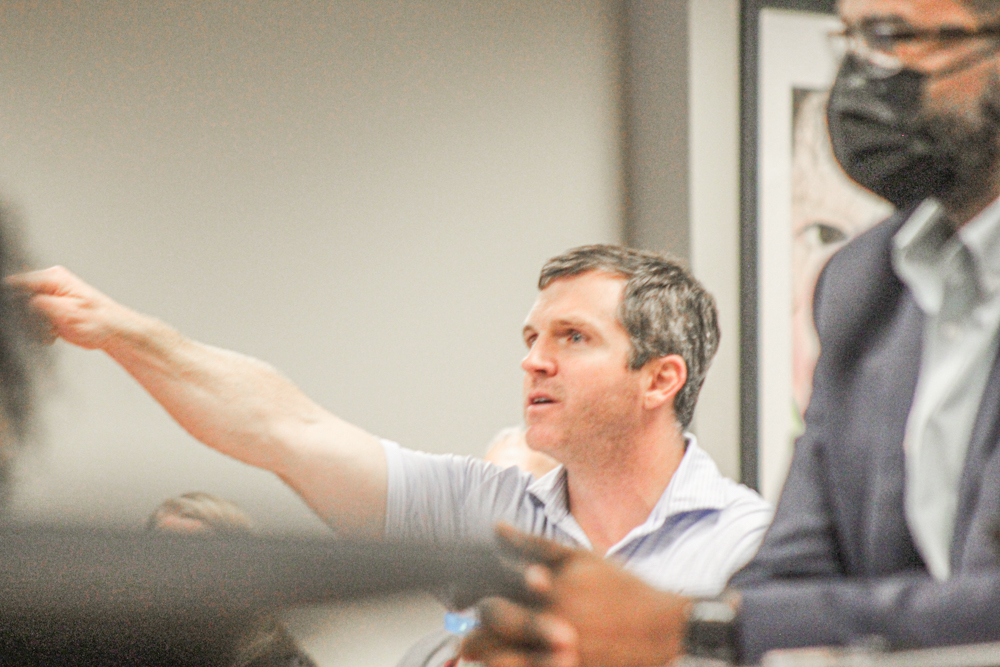 "More black people have been shot in the city of Chicago, aged 17 and under than…"
When told that he was out of order, Dorminey shouted that Campbell was out of order, then declared he was leaving.
"Y'all are going to let him sit up here and tell lies?" Dorminey shouted.
"The truth?" another person responded. "You're gonna let him tell the truth?"
"Hey, your paranoia does not justify…" Dorminey started talking to that person.
"I'm not paranoid." the other person replied.
"Yeah, you are!" Dorminey snapped before police officers escorted him out of the building.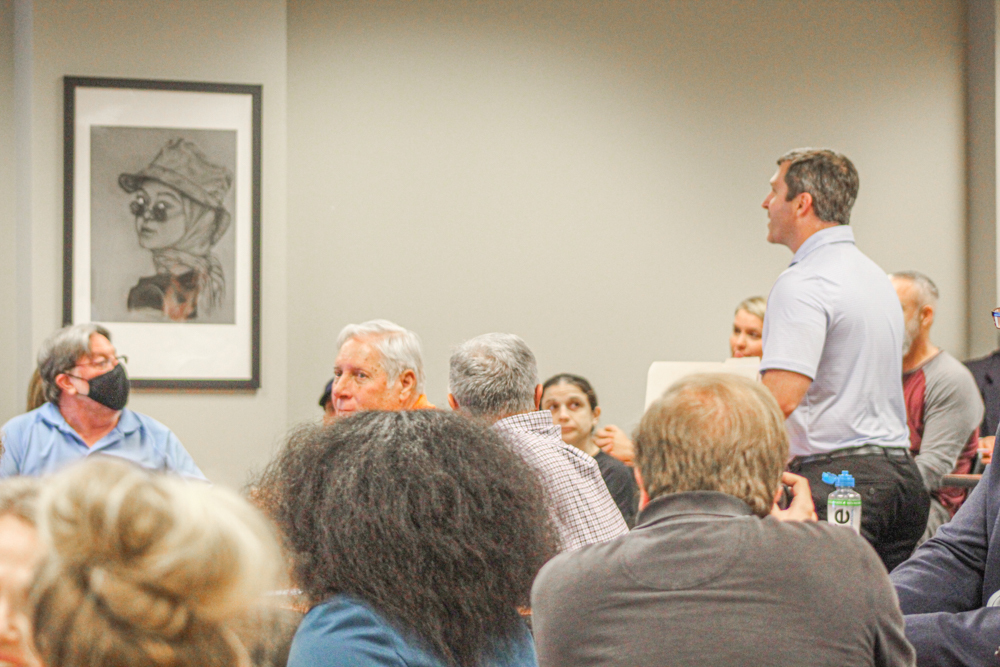 Parent of student calls for testing, not mandates
Stacey Odum spoke next, and spoke of how her daughter tested positive for COVID. The experience was visibly difficult for Odum to remember, as she emotionally recalled what her daughter went through.
"My six-year old child got COVID in class, and she is immunocompromised. She suffered a lot. She was very scared. It was very hard for her to breathe. She asked me multiple times if she was going to die. She wore her mask at school. She didn't at lunch. When the school contacted me that my child had been exposed to the virus, the three other children that I have, and one shares a bed with this child, were told to be sent back to school. So my child was put on school COVID quarantine because she had been exposed, but my (other) children, especially the one that shared a bed with this child, were told to go back to school."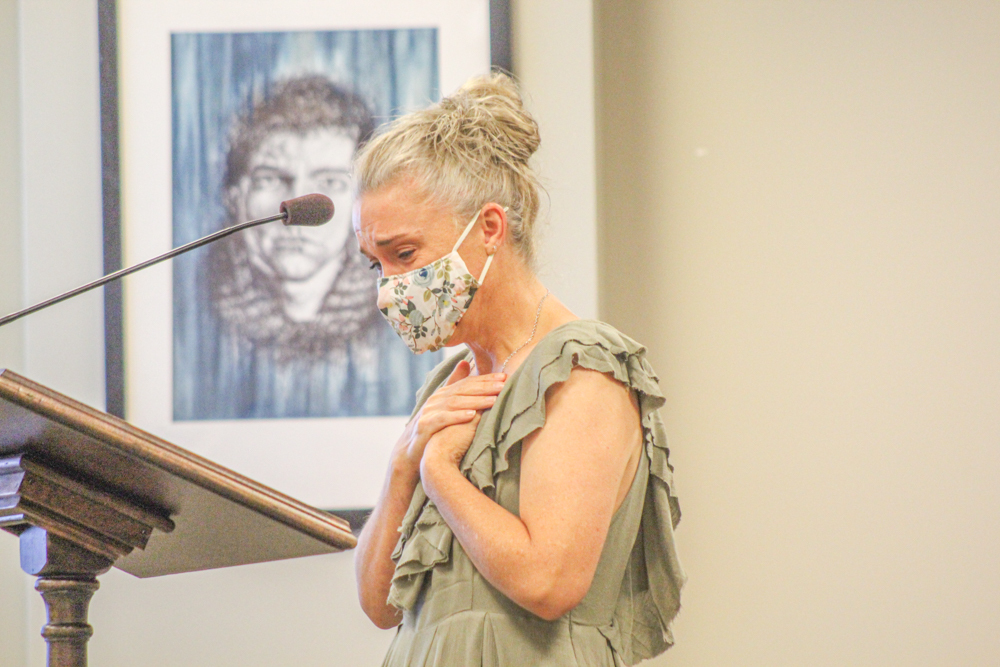 Odum said she did not do that, "because I am not a parent that sends my kid to school to make other kids sick."
"I had to fight for all of my kids to stay home, and my high schooler, she sleeps with her, they're connected all the time, we're a very close family, she was still marked absent for last week, even though we were on COVID quarantine. So I'm being punished for keeping my kid at home until 10 days were up and they had a negative test."
Odum said they can not force masks, vaccines and the like, but begged and pleaded for testing every three days.
London Martin, another student, demanded that masks be made mandatory to help her get the education she needed.
"I want to go to school in person," Martin said. "I want to keep going to school in person. I want my friends and classmates to go to school in person. I want my friends and classmates to go to school in person. I want my teachers to be able to come to school and teach us in person. I want to maximize best-case scenarios that will result in me and my classmates being highly-educated critical thinkers that are being developed into tomorrow's leaders and problem solvers.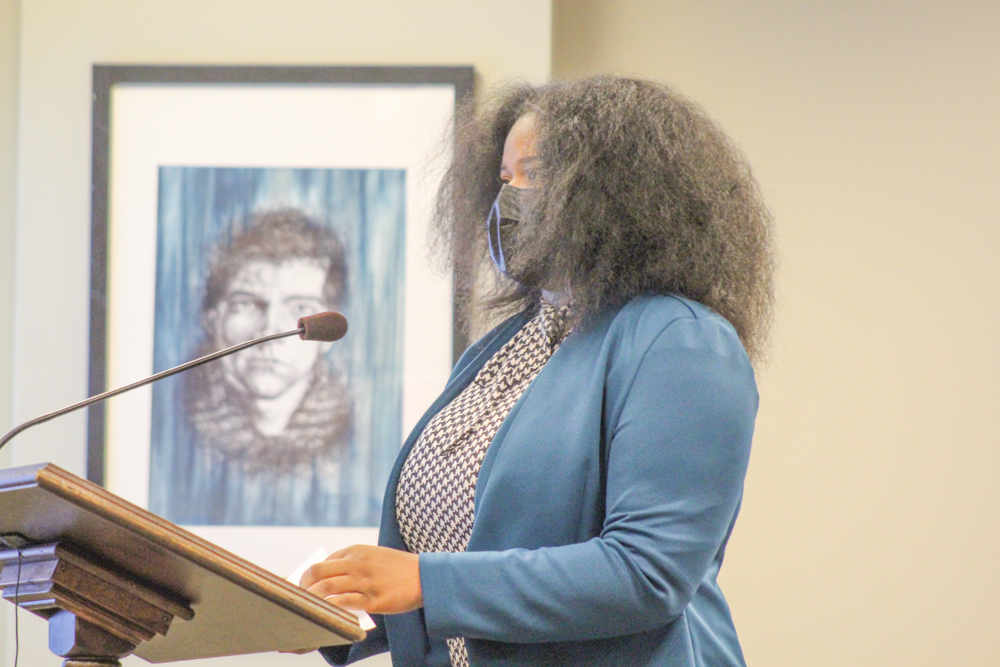 "But how are we going to maximize our learning if we keep having to sit out of school for 10 days at a time because of quarantine?" Martin said. "How are we supposed to learn how to think and master the curriculum if our teachers are out? How are we going to do a set of worksheets, review old material, watch tutorial videos or teach ourselves? This is not how this is supposed to work. I have to compete with students from China, India, Africa and a host of other places that are turning out honors graduates faster and in more volume than we are regularly graduating. They are putting people into the workforce that are hungry for success and ready to take their places in this global economy. Did any of you have to compete under these conditions when you grew up? How am I supposed to compete with them when our teachers are forced to give out packets of worksheets to keep us busy when they are out and I am forced to teach myself when I am out."
Martin said this was largely avoidable, and said a district-wide mask mandate would be needed.
"Would a police officer or soldier be sent into the streets or onto the battlefield without everything necessary to ensure he has the best chance of returning home alive? Would a doctor see sick people, give advice or perform surgeries without the tools necessary to do well? Then why in the world are you sending me, my classmates and my teachers to school in the middle of a worldwide pandemic and not ensuring that all virus mitigation techniques are being used?"
Martin said COVID was not a hoax.
"There is no worldwide conspiracy to brainwash people and control the masses through mask wearing," she said. "No one is trying to destroy personal freedoms. We just want the science to be followed, and that science points to the needs for social distancing when possible, washing our hands, staying home when experiencing COVID symptoms and wearing a mask."
The last person to speak, Amanda Hensel, said she sent medical research studies to members of the Board of Education backing up her claims.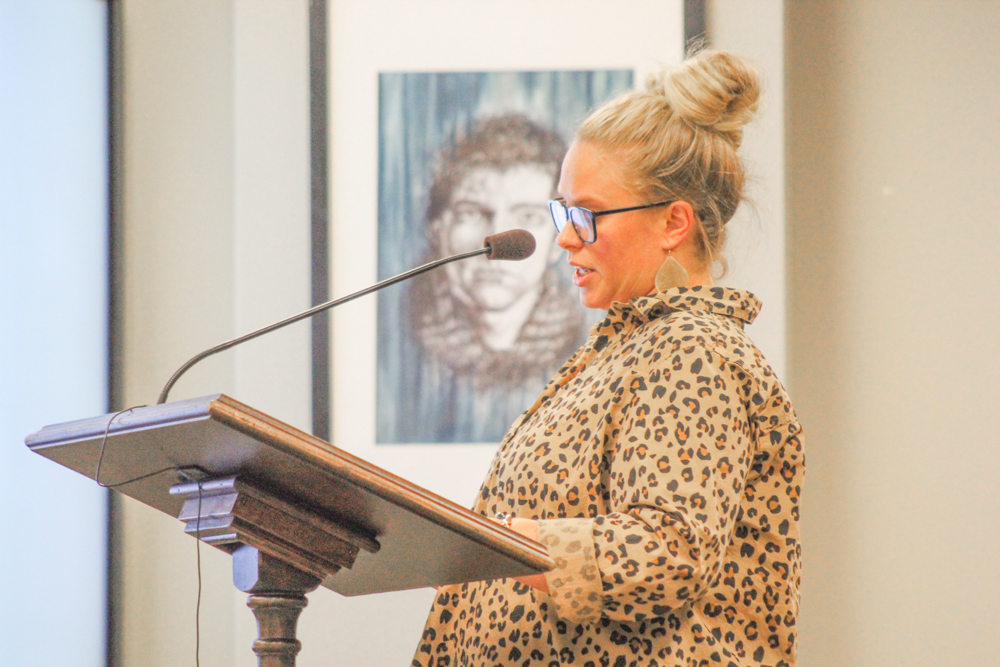 "Facial cues and linguistic skills, along with emotion recognition hit adult levels by 11 years old," Hensel said. "This means that our 4-to-11 year olds are in the most important phase of their development. A study surveyed parents of 26,000 children where 68 percent reported the children complained of headaches, concentration problems, irritability, impaired learning and more after four and a half hours in a mask. There's physical, mental and spiritual well-being challenges as well."
Hensel also said that ER visits linked to mental health problems increased 25 percent from April to October 2020 in children from ages 5-11.
"By telling a child you have to wear a mask or they will get sick, you are causing undue and unjust fear to settle into their little minds," she said. "They are not developed enough to reason or differentiate between what sickness or percentage of sickness or death by sickness. You are now forcing parents who do not agree to now tell their child that the people at the school are wrong. We've been teaching our children since pre-school to respect and learn from their teachers. Meanwhile, most of the teachers are running around after school because they disagree with this as well."
Hensel said she understood mitigating procedures, like lessening visitors to schools, assigning seating for contact tracing purposes, "but to single-handedly force something on our kids without parent consent is wrong."
Horton: No universal mask mandate in Coweta schools
While the entirety of the public comment portion of the meeting centered around mask mandates, Superintendent Evan Horton indicated that the school system would not institute a universal mask mandate.
Instead, any mask mandate that would be instituted would be based on data gathered from the schools.
Horton said the school, essentially, had three options - no mask mandates, a universal mask mandate and a school-by-school approach. Those first two options, Horton said, were not feasible due to the reactions from people seen at Tuesday night's meeting.
Instead, Coweta County operates on a three-tiered approach to COVID mitigation procedures.
Since Aug. 20, the Coweta County School System has implemented a system of "incremental interventions" in response to increases in COVID-19 cases – both in the community and among students and staff. Numbers have been tracked since the new school year began on Aug. 5.
All 33 schools are subject to baseline mitigative measures, and those precautions are considered Tier 1 of the school system's approach. That includes encouraging all individuals to follow the Centers for Disease Control and Prevention guidance to wear a mask while in a school; requiring masks on school buses per an ongoing federal order; social distancing where practicable; recommending self-health checks for students and staff; and cleaning and hygiene measures.
The Coweta County School System works with the Georgia Department of Public Health to perform close contact investigations where needed, and the DPH makes final determinations of quarantine in those cases.
Tier 2 interventions are typically activated when cases reach one percent of students and staff at a school. That means restriction of visitors and volunteers in schools, as well as increased social distancing and limitation of group gatherings during the school day.
Tier 3 is usually activated when cases reach two percent of students and staff at a school. At that point, a face mask requirement is added to Tier 1 and Tier 2 interventions for at least two weeks, or until cases decline.
Assessment of daily data determines the response on a school-by-school basis, and the tiered system is aimed at reducing or halting transmission and close-contact quarantine in schools when there is evidence of an increase.