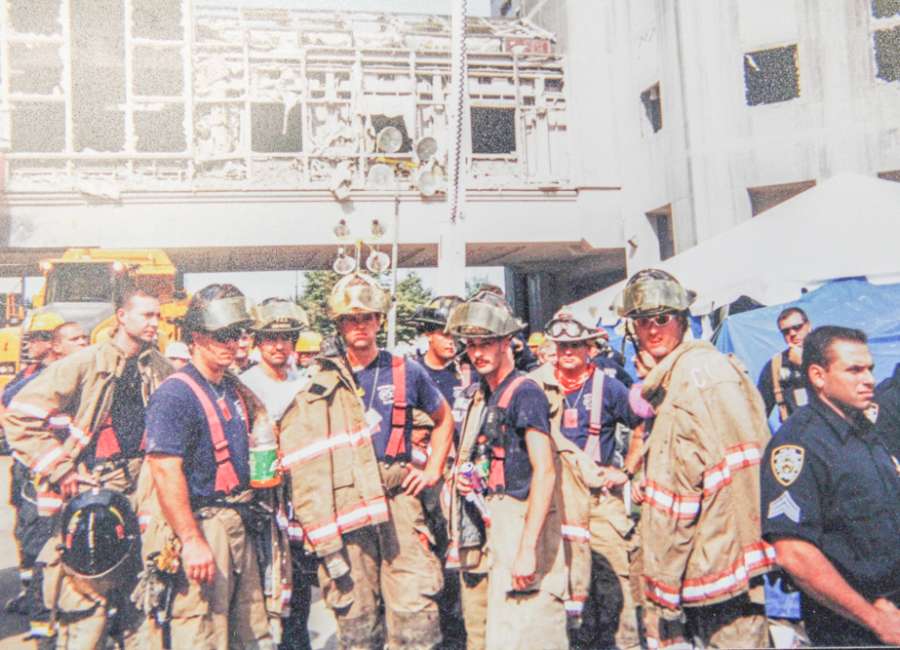 Two days after the 9/11 attacks, a group of Coweta County firefighters arrived at Ground Zero to help with rescue and recovery efforts. Three days after that, a second group arrived.
Coweta County Fire Rescue Chief Robby Flanagan, Battalion Commander Mark Griffin and Shift Commander Don Pickford were among the 11 local firefighters that went to New York in the wake of the Sept. 11 attacks.
At the time, they were just firefighters, EMTs and paramedics.
On the day of the attacks, the firefighters had already started making plans to go to New York. Pickford's contact at the city's port authority ensured they were able to get in and provide assistance.
The volunteers arranged for their shifts to be covered, then threw the gear they needed in the back of a pickup truck and took off.
"Let's say our groups didn't go," Flanagan said. "Everybody else that was here would have gone, too. There wasn't a person here that didn't want to help."
Flanagan said the interstate was empty, so they were able to drive as fast as they wanted to get to New York.
As they drove into the city, Griffin said they passed through a cloud of dust — pulverized glass, wood, concrete and anything that was in the towers. It smelled like chalky, burned plastic.
"The dust covered everything," Griffin said. "It was four or five inches thick, and our steps sunk into it."
Pickford said when they arrived, the firefighters walked past rows of smashed and mangled firetrucks and the sound of firefighters' PASS — personal alert safety system — alarms shrieked in the rubble.
If a firefighter remains motionless for 45 seconds, the device starts an alarm to alert others to the firefighter's distress.
"You're supposed to hear it under debris. You can hear it a long way off. When you hear one go off, even now I get chills thinking about it," Griffin said. "(Pickford) probably heard a hundred of them. It's an eerie sound to hear coming from somewhere you can't even dig to find."
The sound of the many PASS alarms going off is something that will "forever be etched in my mind," Pickford said.
According to Pickford, shortly after the first group of Coweta firefighters arrived in New York, a local fire commissioner pulled them aside. He didn't recognize them and asked where they came from.
"It was like we were from a foreign country, and all he could say was thank you," Pickford said.
When they got on the ground, Flanagan said the firefighters worked almost nonstop for days. They cleared through rubble with their hands and often worked in bucket brigades to move debris as they searched for any survivors.
Flanagan said if any of the volunteers needed a specific tool, it was readily available because equipment was brought in and donated.
While the firefighters are proud of what they did, Flanagan said they were selfish to go. With glass and damaged steel still falling off of the buildings, they could have easily been hurt, Griffin said.
"What happens if we get hurt? How would our insurance cover us while we were up there? It wasn't a sanctioned event. We were on our own," he said. "What if our family needed to have the mortgage paid for if we died? The company could say, 'You weren't supposed to go up there because you weren't asked to come.'"
However, at no point, Griffin said, did he ever not want to go.
Today, the three men are at the age where they can see side effects from breathing in the toxins at Ground Zero, Griffin said.
Though they all used respirators, Griffin and Pickford said they are on the World Trade Center Health Registry for research on possible illnesses and effects.
"If I develop cancer, it might be related to the asbestos and the toxic dust," Griffin said. "Even glass was floating in particulates in the air."
None of the firefighters said they were concerned about possible health effects for themselves.
However, Pickford said he was concerned for the first responders and volunteers who are currently affected by their experience at Ground Zero and are unable to afford health care.
"There's still a lot of people out there fighting from what took place that day," Pickford said. "There are still illnesses going on and people on their deathbed from illnesses from what they contracted at Ground Zero. They have to fight for their rights to be taken care of as far as insurance costs."
Outside of Coweta County Fire Rescue's Turkey Creek Road location is a piece of rusted metal.
Griffin said the steel is debris from one of the Twin Towers. It's unknown where in the buildings the metal came from, but it's believed that it was a part of the South Tower.
After determining some of the debris couldn't be recycled, pieces of the towers were made available to citizens who wanted to erect them as memorials around the country, a year after the attacks.
Firefighters at CCFR received a piece, driving up and back to New York in one day, in one of the same pickup trucks they used in 2001.