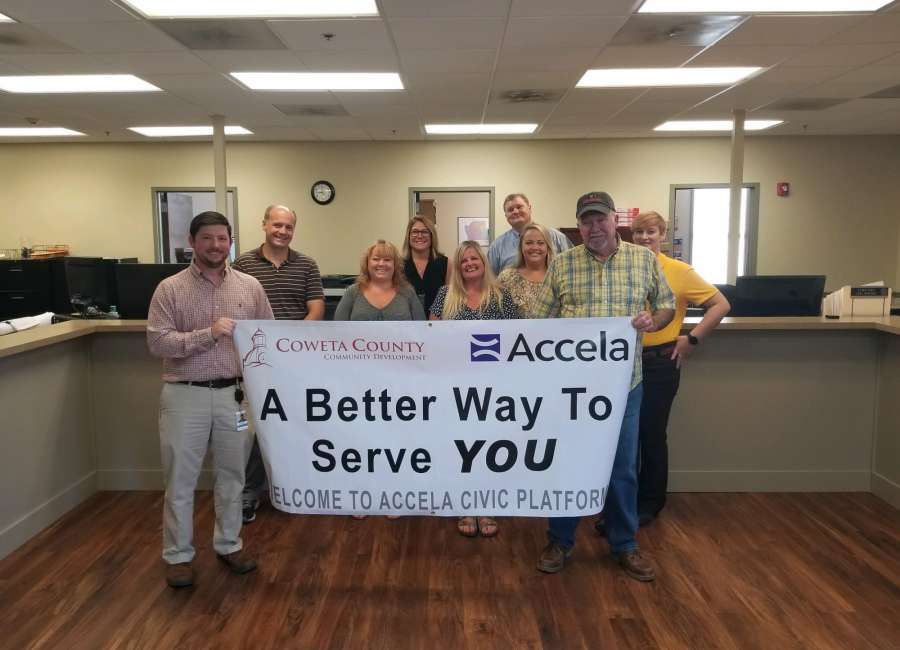 A new software system, which launches Sept. 13, will completely change the way that customers interact with the Coweta Community Development Department.
The new Accela Civic Platform will be the system for all interactions with the planning and zoning department, building department, business license department and code enforcement.
It will offer, for the first time, the ability to pay for permits and other fees online, and will give users the ability to track the status of their plans, permits and applications.
With the new system, "our citizens and our business customers will be able to get information and take care of business 24/7," said Angela White, Coweta assistant director of community development and project manager for the online program launch.
With the new system, Community Development and other county staff "will be able to work smarter and share information," White said.
Over the past few weeks, the department has been holding training sessions for local contractors, engineers, architects, developers and surveyors.
Once it launches, the online platform will be the only way to file applications for permits, variances, rezoning and the like.
The system is fairly simple to figure out. However, Cowetans who need a little help with the system can come into the Community Development office like always, and staff can help walk them through the process of setting up an account and submitting their information on a computer or tablets that are set up in the lobby for that purpose.
Those in the development community, as well as homeowners and business owners, will be able to track a project from filing for the initial rezoning through plan review, inspection and all the way to a certificate of occupancy and business license. By logging onto your account, you'll be able to see the status of your permit or application, see who is working on it, what has been approved and what, if anything, is missing. The system will send out notifications if things are missing.
Instead of having to contact county staff during business hours to get an update or see why something wasn't approved, applicants can check anytime, day or night.
Applicants will no longer have to bring multiple copies of plans to the office. Everything is simply uploaded into the Accela system.
It's a project that began in October of 2019.
A company called Red Mark Technologies "worked with us to take our way of doing business and our way of serving" and integrate it into the Accela system, White said. Red Mark met with the different staff involved in handling community development projects to learn more about how all the systems work.
"My goal was to have everybody engaged in it from the beginning – because it's all of our system, it's not just one person's," she said.
The system also works with e-Permit Hub to allow plans to be uploaded and used electronically. Different departments will review the plans online and make their comments electronically, and applicants can then see those comments when logging into their accounts.
The new system will also allow the current staff to be able to handle more – something that is greatly needed as growth and development shows no signs of slowing down. Members of other departments, such as the fire marshal or public works, will no longer need to come by and pick up plans – then head back over to drop them off. Instead, everything is accessed through the online system.
"I think we're excited, because you can just do so much more with it," White said.
Staff will be working this week getting the lobby set up to help people navigate the system, and the technology switch will take place this weekend.
Once it goes live, the software can be accessed through the county's website, www.coweta.ga.us by clicking on a "Community Development" icon.
White said she wanted to make sure to thank everyone who has been involved in the creation of the new system and the transition.
"It's been a team effort," she said. "Not just Community Development, but everybody from public works, environmental health, the fire department, SAFEbuilt, finance – all of the partners coming together to make it work."
For more information contact White at awhite@coweta.ga.us or call the Community Development Department at 770-254-2635.