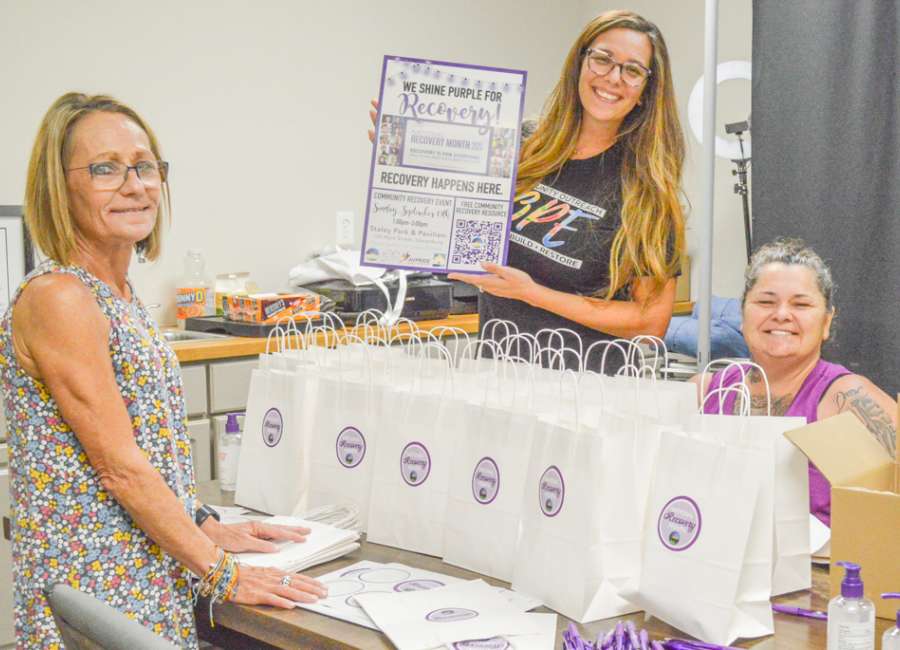 September is National Recovery Month, and Coweta FORCE is working to raise awareness throughout the month about the reality of recovery from substance abuse.
The local community recovery organization has been passing out gift bags to local businesses with information about recovery month, and a purple lightbulb. Purple is the color for Recovery Month, and hopes are that businesses will use that purple light to raise awareness and show support. The bags include information that businesses can put out for their customers, and posters include a QR code that leads to a Recovery Month page on the Coweta FORCE website.
It's a way to raise awareness for people who might not be familiar with recovery. Or who might be familiar with the problems of addiction but don't really see the recovery part, said Shelly Arnold of Coweta FORCE – Friends of Recovery for Community Empowerment.
Because the problem of substance abuse and addiction is so widespread, most people know somebody who has dealt with it, though they might not know that person's story – or even have any idea they are in recovery or ever struggled with substances.
"It's really important for us, as an organization, to be able to provide the education and be a resource in our community," Shelly said.
The perception of recovery from addiction is changing, said Hank Arnold, executive director of Coweta FORCE.
"That is part of our purpose and passion as an organization," he said. "Part of our mission is advocacy – putting a face and a voice on recovery, telling our stories with power."
By telling those stories, those in recovery show that recovery is possible. "I was in the grip of a seemingly hopeless predicament," said Hank. "And now I have a life greater than I could ever imagine."
Coweta FORCE employs five people who are in recovery, who work to help others gain recovery and keep it.
While addiction and all the destruction it can bring with it can be very obvious and open to those around someone struggling with it, recovery isn't so visible. It often just looks like people going about their lives, so others may not see it.
"It is very easy to see and identify someone who is struggling – you can identify them pretty quickly," said Shelly. "If someone isn't introducing themselves as a person in recovery, you wouldn't know.
"It's easier to see the addiction than it is the recovery – unless people stand up and say they are in recovery," she said.
For Hank, it took 11 years of addiction and struggle. "The message is that recovery takes time. You have to meet people where they are; you have to give people an opportunity to reintegrate into a community," he said.
"But it takes time to figure out: How do I incorporate this and make it real for me in my own life?" he said. The person he was would have never become the person he is, if people hadn't taken time to work with him, Hank added.
But people in a community don't usually want to work with the person struggling, he said.
A Recovery Month celebration will be held Sunday, Sept. 19 at Staley Park in downtown Sharpsburg. Coweta FORCE is partnering with Drug Free Coweta/AV Pride, Pathway Home, and In Ryan's Name to put on the event. It will be from 1 to 3 p.m.
The event is for those in recovery and their friends and family, and there will also be recovery professionals. There will be food, games, and fun, as well as personal stories. There will be awards given out to recognize some people in recovery who go above and beyond the call of duty. You can nominate someone in recovery who is encouraging and inspiring to others. Nominations must be submitted by Sept. 4. To nominate someone, and for more information about the event, including sponsorship opportunities, visit cowetaforce.org/recoverymonth and scroll down to "Community Recovery Event."
Recovery Month has been celebrated for the last 32 years.
The theme of National Recovery Month 2021 is Recovery is for Everyone: Every Person, Every Family, Every Community.
"It's not about a specific class of people," said Hank. "There's no socioeconomic barrier to addiction. There is no racial divide to addiction. It doesn't discriminate. It destroys lives and families."
And like addiction, recovery doesn't just impact an individual; it can lead to the restoration of families and communities.
Often, though certainly not always, people with substance addictions end up in jail for crimes related to their addiction. But simply being in jail doesn't tend to address the root cause of their issues.
Accountability courts began several years ago as a way to help those with drug-related crimes get the kind of intensive treatment and counseling that can help address those problems and secure recovery. Coweta's Drug Court is only for those facing felonies.
Coweta FORCE works with the Coweta County Jail to visit multiple times a week. Hank does an education and support group and offers peer check ins. Female staffers visit with female inmates, give a yoga class and do check-ins. The organization also works to help people connect with treatment.
During the education portion of his group, Hank talks about the internal and external factors that can cause addiction and inhibit recovery. Internal factors can be genetic predisposition and life circumstances. But external factors can also make things more difficult – especially for people getting out of jail.
External factors can include living with a family that supports wellness, and having a safe and sober place to live.
"Do I have to walk out of my bedroom and walk past the biggest trigger possible when I'm trying to remain sober? Do I have access to drugs and alcohol?" Hank said.
"Most people that leave the jail are going back to the same environment," he said. That doesn't make recovery impossible, but it can make it much more difficult.
For those with a felony on their record, finding good housing can be tough. Many landlords won't rent to someone with a felony.
Hank recalled trying to get an apartment after he was in recovery. His felonies were old by this time, but they still showed up on a background check. Even with a good tenant history and the ability to pay, he nearly wasn't able to get the apartment, he said. He had to get referral letters to convince the complex to rent to him.
Having a supportive community can mean things like having safe and sober housing for people with felonies and companies willing to give people with felony records a job.
For more information about National Recovery Month and recovery in general, visit nationalrecoverymonth.org or cowetaforce.org/recoverymonth .
For more information about Coweta FORCE visit Cowetaforce.org or call 678-633-5688.