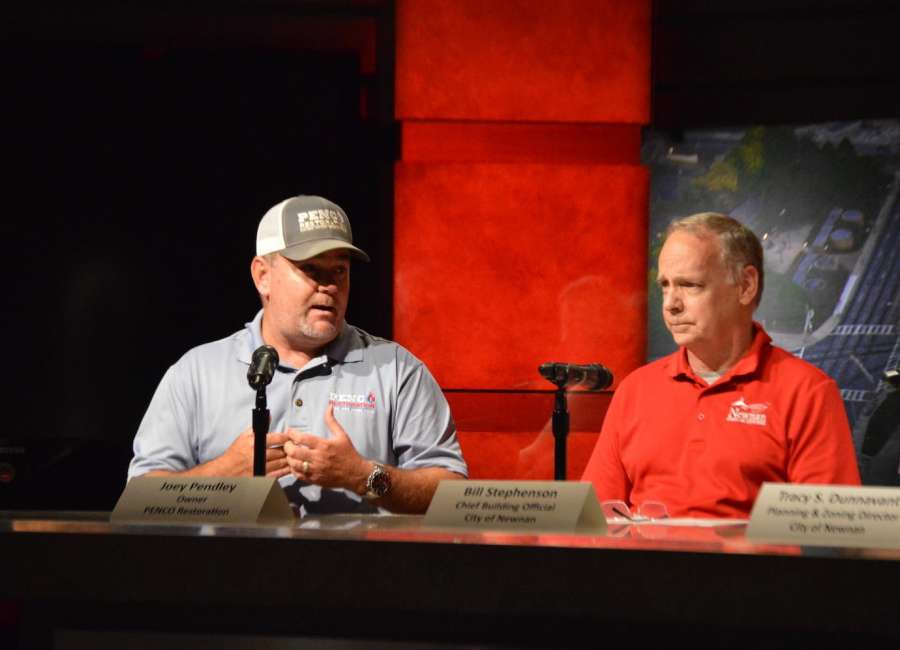 Home repairs and rebuilding after a natural disaster can be a drawn out and frustrating task – especially when building material costs are high and insurance companies and building contractors are stretched thin.
City of Newnan officials and a property restoration specialist spoke about the rebuilding process at last week's Coweta Community Foundation forum on rebuilding.
We are here to help
The city of Newnan, and Coweta County, are working with homeowners to help make the rebuilding process easier.
Building permits are free, and some of the processes regarding rebuilding properties that don't meet current rules have been streamlined to make the process easier and quicker. Some requirements have been waived.
"Our job is to make this transition as easy as possible," said Newnan Planning Director Tracy Dunnavant.
A common question is: what can I build back?
The answer is – several things. And it depends on who you are. If you are the owner of a property that is damaged, and you want to rebuild, you can build back exactly what you had before.
Or you can build something smaller, as long as it meets the minimum house size in your zoning district. The home doesn't necessarily have to have the same footprint as the previous house.
The dimensions of the lot and its setbacks can limit how a house can be laid out, but the city and county are working with homeowners on those issues.
However, if you've bought a damaged house or property where a house was demolished, the house will have to meet current requirements, according to Dunnavant. If there are issues with setbacks and other distances, a property owner can apply for a variance from the city, though that variance may not be granted.
Homeowners can rebuild storage buildings on the same footprint. Fences can be rebuilt where they were, or possibly in a different location if desired. Fences require a permit.
The best thing to do, Dunnavant said, is to call her department and ask about your particular situation.
"We are here to help. We can walk you through it so you don't waste your time and so you can build a house that is going to be approved," she said.
Coweta County has also streamlined the process for building back homes that don't meet current zoning standards. A homeowner can build back a house the same size as what was there before, either the exact footprint or something a bit different.
Homes don't have to be exactly the same as long as the home is the same square footage as the previous home, or larger. It can even be smaller, but must meet the county's minimum square footage of 1,725 square feet.
The county Community Development Department can work with homeowners on setbacks.
Codes, inspections and permits
City Building Official Bill Stephenson spoke about inspections as well as code upgrade requirements.
To help with the rebuilding process, the city has hired a third-party inspection company to handle all the inspections for new construction, so that city staff can concentrate on tornado rebuilding. City staff will also continue to handle commercial inspections.
"We are staying in the tornado area, so when we're called, we're right there. We are in the neighborhoods," he said. Most inspections can be scheduled for the next day, and the city can usually offer same-day roofing inspections.
Stephenson said one issue he is seeing is dealing with code upgrades and insurance companies, particularly cloth-wrapped black electrical wire. Most insurance companies will pay for that upgrade, if people have the code upgrade option on their policy, he said.
Anytime an electrician is doing work that requires a permit, smoke alarms have to be brought up to code, tied into the house's wiring system and connected together. "That is required for every rehab," Stephenson said.
For other codes, if more than 50 percent of the floor area of a house is damaged, the whole house has to be brought up to code.
Georgia law requires general contractors to be licensed, including contractors building decks.
However, Georgia allows homeowners to act as their own general contractor, which includes pulling permits, calling for inspections, and being responsible for any failed inspections.
Decks are projects many homeowners prefer to tackle on their own, so the city has a "deck guide" document for homeowners. "We'll email it right to you and if you build according to that guide, you'll have no problems with the inspector," Stephenson said.
Rebuilding taking longer
Joey Pendley of Penco Restoration said people often get frustrated when homes are being built quickly, while their construction process lags. But new construction and restoration are very different.
"I can build a new house a lot faster than I can renovate yours," Pendley said. "There are a lot of steps involved."
Pendley says the rebuilding process is taking longer due to the quantity of homes that need to be repaired along with a shortage of building materials.
"What normally would have taken 45 days two years ago is a six or eight month project," Pendley said.
Insurance companies are overwhelmed, so it's taking longer to get approvals.
Normally, Pendley gets a claim settled in about 30 days, but some claims from the tornado still haven't been approved.
"When I told the people to plan for six months, I wasn't planning on it taking five months to get approval," Pendley said. "There is already a lot to the process … when you compound it with everybody on the street having the same problem, things take even longer.
Lumber prices are going down, but wait times remain long. Windows and siding can take 12 to 13 weeks.
Material issues aren't limited to Coweta County. "Everybody in the country is talking about it," Pendley said. Part of it is labor shortages.
The panel took questions from the audience and several were about making sure you have a good contractor.
General contractors must have a state license, often referred to by building officials as a "state card." Anyone doing work should have a business license and proof of insurance.
Pendley recommended staying local and getting referrals. And if you're worried about a contractor you're looking at, just ask on social media.
"Put their name out there, and you'll find out about it real quick," he said.
Another way to know whether you have a good contractor or not is how long the wait is.
"If he tells you he can start your job tomorrow – you may want to check that out," Pendley said.
There are two more community education forums planned. This Thursday's focuses on the SBA disaster loan process.
Forums start at 6 p.m. at the Central Educational Center. Tornado survivors can get information about case management from 5:30 to 6 p.m. You can also sign up for case management online at https://tinyurl.com/ek68rxzh .
The final forum will be Sept. 2 and is "next steps and moving forward." Forums are live-streamed on the Coweta Community Foundation Facebook page.