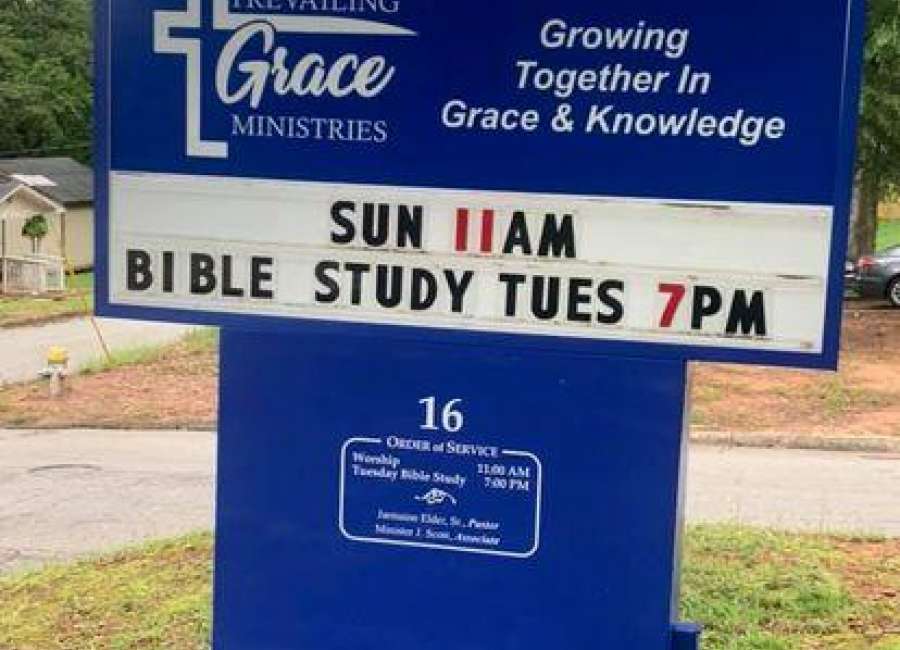 Pastor Jarmaine Elder Sr. says teamwork and prayer are essential
Prevailing Grace Ministries in Newnan is celebrating two years in ministry this month and the journey has been a faith walk, according to Prevailing Grace Ministries pastor and founder, Jarmaine Elder Sr.

Elder, who is also a Newnan resident, was previously a pastor at Jones Hill UMC in Newnan before starting Prevailing Grace.
When Prevailing Grace hosted its first service in August 2019, Elder said he held meetings with the congregation to see what type of ministry they were looking for.
"I want Prevailing Grace to be a blessing to our congregation and to our community," Elder said. "The best way for me to see what the people need is to ask them."
Elder said the church hosted its services in the Howard Warner Boys and Girls Club gym on Savannah Street until earlier this year. In March 2020, Prevailing Grace was not able to host services because of COVID-19, so Elder said he had to get creative with how to host services.
"Myself and (co-pastor) Min. Jermaine Scott would still deliver a word," Elder said.
The men would set up at different places around Newnan and go live on their Facebook page.
"We could not stop delivering the word just because we were not able to use the building," Elder said. "The word must still go forth."
The church recently relocated to 16 Paul St. late this spring. Although the church has a permanent home, Elder believes a ministry occurs outside of the walls of the church.
The church often hosts Praise in the Park events at various locations and often goes into neighborhoods throughout Newnan, witnessing to others, praying and inviting others to church.
Being in the community is a huge part of Prevailing Grace's ministry, Elder said. In March 2021 when the EF-4 tornado hit Newnan, he went out into the community helping tarp houses and roofs.
"It's my passion and desire to take the word of God outside of the four walls of the church, because we are the church," said Elder. "I want to give back to the community, and there's a need for more love, word and compassion. Especially today. What I'm really trying to accomplish is to help people to come to know Jesus and to show them what we can accomplish if we just work together."
Elder said he feels it's important to listen when in ministry.
"People want to know that you care," Elder said. "It's important to equip the people with the word. That's the best thing, along with a relationship with Jesus, that I can help people reach. If you have the word for yourself, it will convict, guide you and lead you."
Elder said building a ministry takes time, dedication and a team that is all in one accord.
"I could not do this without the faithful members of Prevailing Grace and my wife, Lori, and family," Elder said. "We work together. You can get so much more done when you work together. It's not about me, them or even Prevailing Grace. It's about God using us to bring more people to him, which is what we as Christians, pastors, ministers, etc., have been called to do. We are the church. Not the building."
In addition to hosting community events in Newnan, Prevailing Grace has often traveled around Georgia helping the homeless as well.
Recently in July on his birthday, Elder and Prevailing Grace traveled to Atlanta and cooked nearly 800 wings for the homeless, feeding over 100 people. Care packages were also given out.
"We don't mind getting out in the community, working and lending a helping hand," Elder said.
Elder said ministry is about learning and growing together in Christ.
"We are a come as you are ministry," Elder said. "We are all learning and growing together in faith. At the end of the day, the word and our relationship with Jesus and all we have. Com as you are. We are working on other ministries as well that can be of service to the community."
Elder said he enjoys collaborating with other ministries.
"Anyone who has an idea to better and serve the community, I'm all ears," he said.
In addition to being a pastor, Elder is also a husband, father and business owner. He has owned his own painting business for over a decade. So, when it comes to time management, Elder said it can be difficult, but he always puts things into perspective and takes care of priorities first.
"I always make time for my family and wife," he said. "Whenever I need some peace and quiet, I'll go for a quiet ride in the car. No music. Just me and Jesus. I also enjoy fishing and hunting."
As far as the future plans for Prevailing Grace, Elder said the church will keep moving forward and serving.
A special service will be held tomorrow, at 11 a.m. at Prevailing Grace to commemorate the church's second anniversary. Dinner will also be served after the service.
The church is working on plans for its second annual bike drive during Christmas along with B's Kitchen. Bikes will be collected and donated to children in need in the community. Last near, nearly 100 bikes were distributed.
Prevailing Grace hosts services each Sunday at 11 a.m. at 16 Paul St., Newnan. Services can also be livestreamed on the church's Facebook page, Prevailing Grace Ministries. Bible study is held each Wednesday at 7 p.m. at the church.