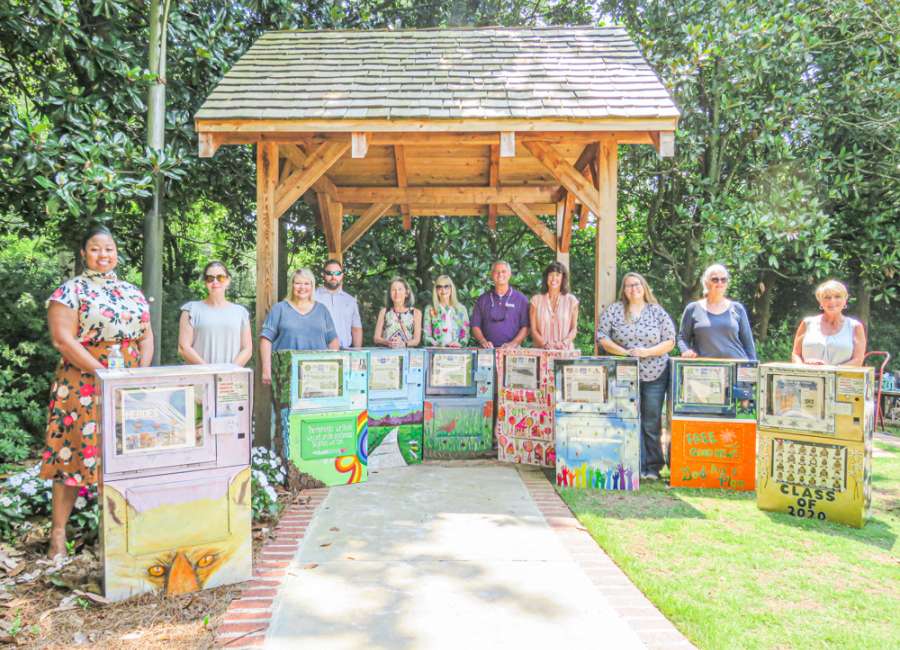 Local artists have painted beautiful designs on a selection of Times-Herald boxes that are displayed around Newnan.

The newspaper boxes have a variety of designs featuring local wildlife, celebrating the class of 2020 and showing off beautiful landscapes, among other things.
The Newnan Times-Herald boxes are fully operable and will contain free copies of the paper, provided through sponsorships that also will benefit the Children Connect Museum, in partnership with the Newnan-Coweta Art Association.
The boxes were recently unveiled at a ceremony held at the Children's Museum. With the help of Bette Hickman with the Newnan-Coweta Art Association, local artists have painted a total of eight newspaper boxes that are displayed around downtown.
Of the eight painted newspaper boxes, there are a few remaining that need a sponsor. If you, your business, or anyone you know would like to join in this project, reach out to ChildrenConnect board member John Thrasher at john.thrasher@numail.org .
Margo Merrifield, president of the Newnan-Coweta Art Association, painted her box with things one can find in Georgia, such as wildlife and nature. Her box took about 10 hours of work over the course of several weeks at the Arts Center at the Coweta County Recreation Center.
"It's fun to do," Merrifield said. "I always like doing community projects. I worked on a couple of murals downtown and in different places. DFCS has one of the murals that I designed for them."
"Down the road from here in the adolescent center they just put up, there's a mural in there that we did with the Carnegie Library as the centerpiece and worked out different markers for Newnan. I sketched in, and everyone came in and filled in. Bette (Hickman) was a big help on that one, too. She helped design some of the people in the bus that we had in there," Merrifield added.
On another side, Merrifield painted a road sign with different landmarks and their distances from Newnan.
Another interesting feature of her box is several maps visible on the newspaper box.
"I was going through cleaning out my office, and I found some maps and thought, 'I don't need these things anymore, who uses maps?' But then I thought what a cool idea it would be to incorporate into a piece of art, especially since this is kind of like the road less traveled," Merrifield said.
"I've always been fascinated by maps. Where do they go? How do they get there? What other way can I get there?" Merrifield added.
Merrifield said she thought the maps came from a map of Georgia. She had maps of other places, such as Puerto Rico, but she said she hated to cut them up.
"Maybe that will be a future piece down the road," she said.
Local artist Tammy Troyer painted her newspaper box as a tribute to the graduating class of 2020. Her daughter was a member of that class, who, due to the COVID-19 pandemic, found their graduation experience to be wildly different from the normal experience.
"It was real important for me to capture that moment and what it was all about, so it's pretty self-explanatory," Troyer said. "They are a part of world history, every graduate of that class."
Rather than walking across a stage, receiving their diploma to the cheers of their classmates, family members and well-wishers, the graduating class of 2020 instead was relegated to being recognized at home, being honored with the assistance of an internet meeting app such as Zoom.
Such a graduation was hard to swallow for many graduates, such as Troyer's daughter, but it will remain as a unique moment from the pandemic.
"I want these kids to understand they didn't get their dream graduation, but they'll be in history forever. It will never be forgotten, and I tried to tell my daughter that," Troyer said.
Troyer said rather than physically attending a graduation, they held a small get-together at their house, with her daughter in her graduation gown in the living room.
"We all tuned in on our Wi-Fi, Facebook, YouTube, so I just tried to capture that for them, because it was really unusual," Troyer said.
The front of the box resembles an online meeting, with students appearing in boxes on video, similar to a Zoom internet meeting.
Troyer also said she had hoped that members of the 2020 graduating class could come over to sign the box.
Another local artist, John Stevens, painted Georgia Red Foxes on his box. Stevens said it was his first time working with acrylic paints, and the work was somewhat different from what he was used to with oils.
"It was different," Stevens said. "It dries so fast, and orange and brown are very difficult to make. There's only one brown. I use brown, add white to it, and all the color's gone or it turns pink. So I had to figure out how to make the browns. It was difficult, but in the end, cleanup was easy."
Stevens said he made crib notes for himself to figure out how to properly create colors using acrylic paint, and compared his notes with someone who uses acrylic paints on a more regular basis.
"I was trying to think of what to do, and something different but something with Georgia. My wife said 'Why don't you do some kind of animal from here?'" Stevens said. "I looked at it, and picked out a bunch of pictures."
Stevens did the foxes in an impressionistic style, he said.
"Through that, I started to realize I can paint animals as well," Stevens said. "I enjoy it, and I have Bette to thank for getting me into acrylic. That's the only media that will work on metal, and the color will actually come back and become more vibrant when they put a clear coat on it. It creates depth."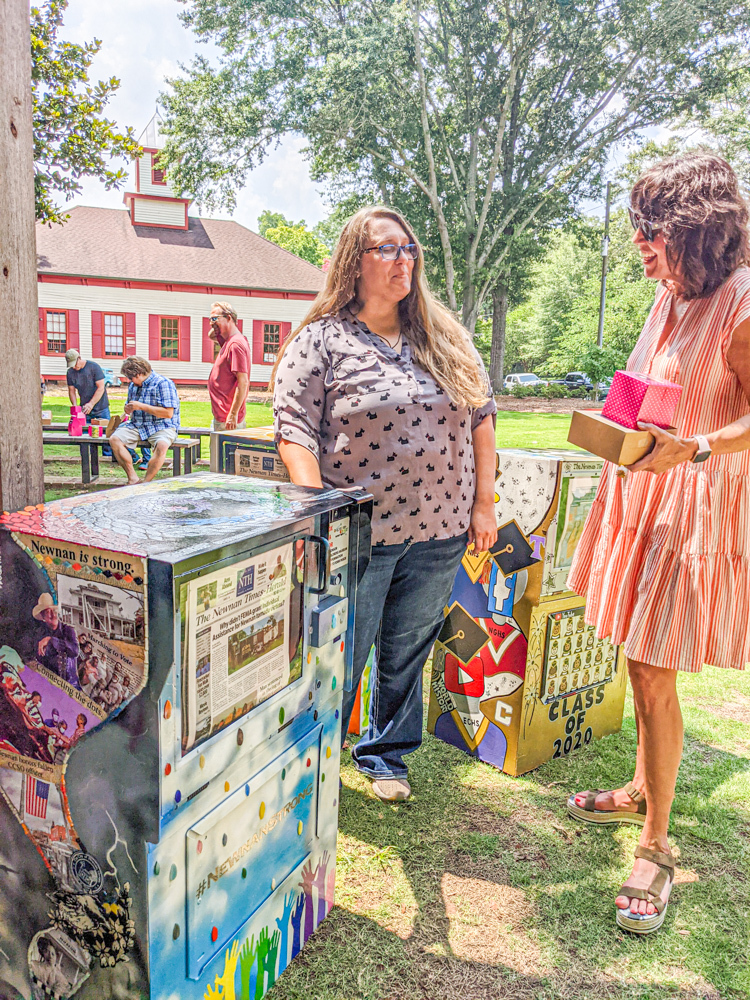 Artists Eve Graybeal Olsen and Sara Arnall talk about their projects during the recent unveiling of the newspaper boxes. Both artists' boxes will be on display in downtown Newnan.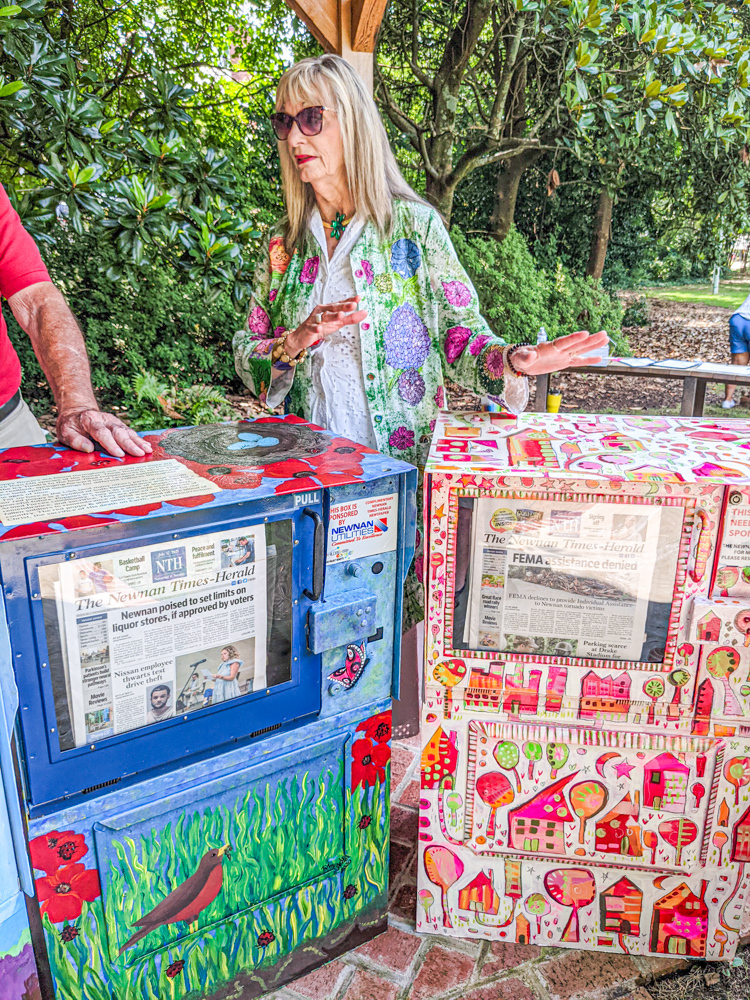 Bette Hickman with the Newnan-Coweta Art Association displays one of the painted newspaper boxes that will be featured around downtown Newnan.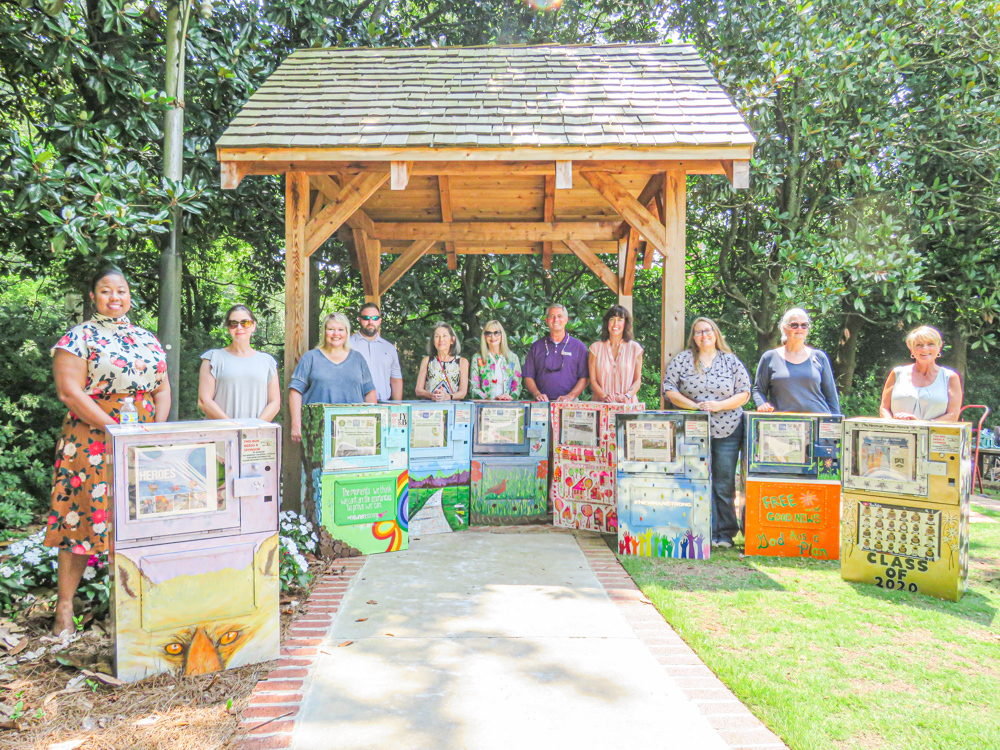 Local artists have painted beautiful designs on a selection of Times-Herald boxes that are displayed around Newnan. From left are Kim Debrow, Beth Neely, Monica Watkins, Jim Gay, Margo Merrifield, Bette Hickman, Mayor Keith Brady, Sara Arnall, Eve Graybeal Olsen, Connie Brown and Tammy Troyer.