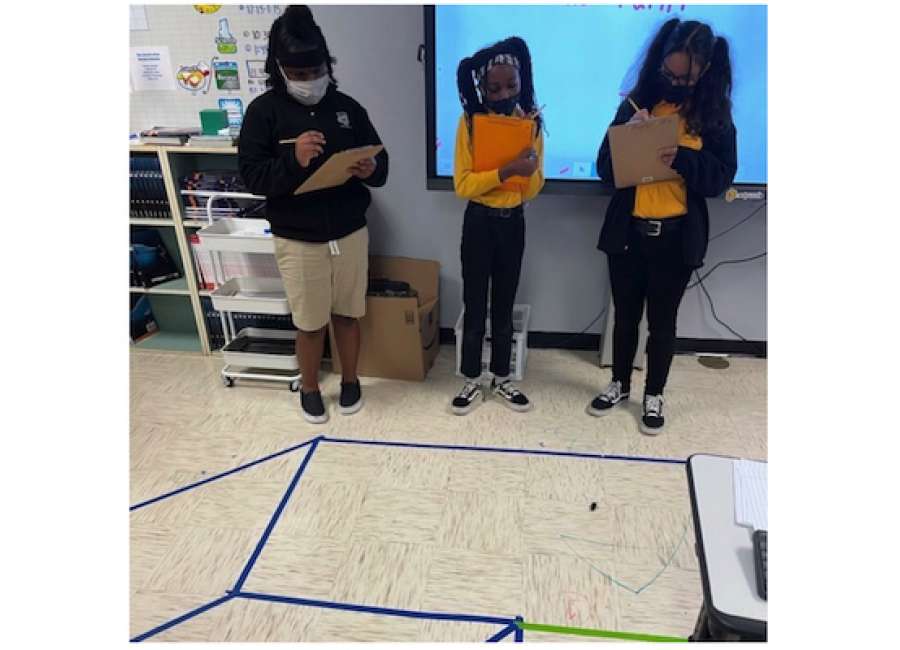 What is half of 5/8? What is the volume inside your coffee cup? What is the difference between perimeter and parameter?

On its best day, fifth grade math is no walk in the park. Teaching it also is difficult, especially in a pandemic classroom.
But students at Odyssey Charter School continued laying out angles and calculating the missing angles in fifth grade math class recently, using large visuals and discussing the missing angles by using inverse angles and reflective angles.
The students worked through a learning exercise that got them out of their desks and moving through the room. These are part of the Kagan classroom management systems utilized by teachers at Odyssey that include hands-on exercises, verbal presentation in small groups and collaboration on problem solving – all part of the learning process, according to Principal Scot Hooper.
"(Our teachers are) utilizing multiple levels of teaching and learning skills to help our scholars rise above the classroom limits we are encountering due to the COVIS-19 safety restrictions necessary to run a safe classroom," Hooper said. "We believe our scholars are doing an amazing job given the current state of health emergency in our community."
Hooper said Odyssey staff members have been working to establish a safe school environment this year. In light of the rising transmission rate and number of Georgia school districts shifting to virtual learning, the school will close Friday to allow for a three-day deep cleaning.
"We apologize for the inconvenience and we would not schedule such an event if we did not feel it was absolutely necessary to maintain the safety and well-being of our scholars, family and staff," Hooper said. "This is an unprecedented health crisis for our families and children. It will require unprecedented actions on our part to keep our families and children safe."