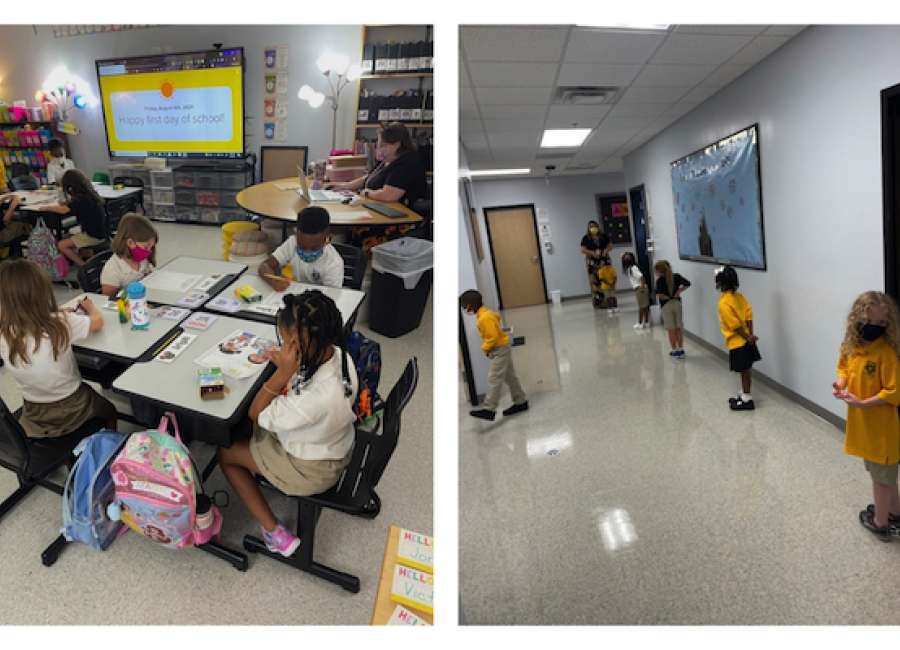 Students returned to Odyssey Charter School last week for face-to-face learning after what school officials called a long and difficult online year in 2020-21.

Amid the excitement of seeing their friends, the students also discovered new desks and upgraded classrooms in every grade.
"We were blessed to receive funding support from federal programs that supported the addition of new, clean desks, improved air filtration systems, hand sanitizing stations in every classroom, thermal cameras to take the scholars' temperatures as they enter their rooms, and many security upgrades for the overall safety and welfare of our scholars," Principal Scot Hooper said.
Masks are required for Odyssey students, teachers and all visitors. Based on recommendations from the American Pediatric Association and the Georgia Department of Public Health, Odyssey has adopted the use of face covering and medical masks as part of the dress code for the 2021-22 school year.
Masks must be worn in all rooms and halls in the school building. Students and teachers can remove their masks if they are outside and can establish a safe distance from others, or if they are behind a plexiglas shield. Shields are in the process of being installed on every student's desk.
Hallway spacing is marked and monitored, so that all who pass through the halls are keeping a safe distance from others. Students remain primarily with their cohorts and are never released into the halls for any period of time, according to Hooper.
When one class period ends, students gather their materials and move to the next class as a cohort group. They leave one room, enter the next room and begin their next class without delay. No time is ever allowed between periods for scholars to roam about, he said.
"Our scholars are exceptionally well behaved and show respect and courtesy for their classmates and teachers," Hooper said. "Moving directly to class with no down time helps keep our scholars acting like young ladies and gentlemen and makes for a better atmosphere of learning throughout the school.
"We are looking forward to an exceptional school year," Hooper added.