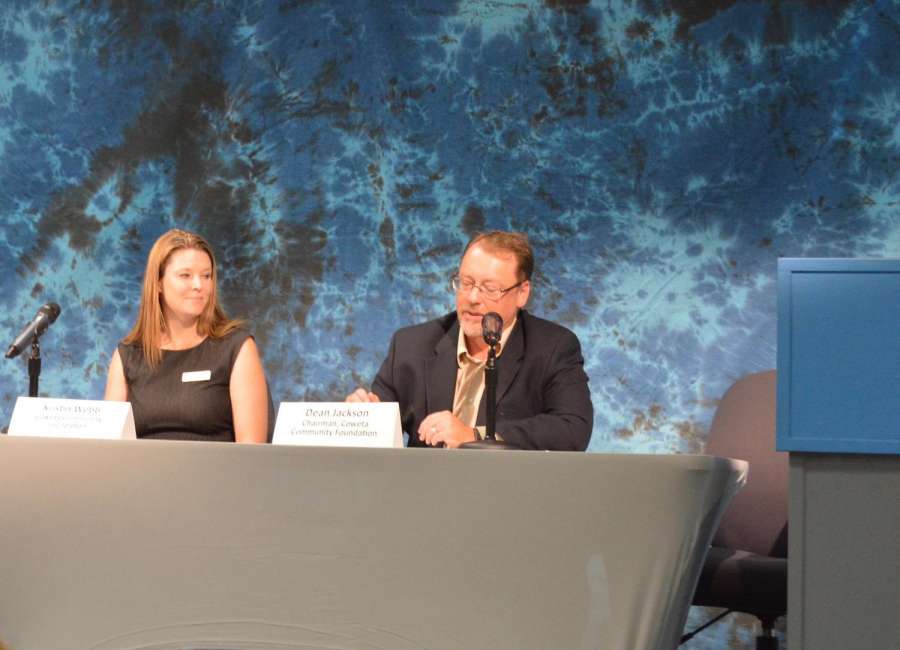 The Alan Jackson Where I Come From tornado benefit concert raised over $1.5 million, plus $500,000 worth of building materials were donated by the event's sponsor, Cornerstone Building Brands, to Habitat for Humanity.

That money will go into the community to help individuals impacted by the March 26 tornado.
There will be a process for distributing the funds, and that process starts with being in the community's case management system.
The system was explained Thursday night at the second community forum on long term recovery, hosted by the Coweta Community Foundation. The foundation has the main tornado relief fund and is managing the Alan Jackson fund.
Case management is a must
The only way to receive the funding is through the case management system, according to Kristin Webb, executive director of the foundation.
Case management begins with contacting Bridging the Gap at 770-683-9110. Case managers are also on hand at the beginning of each community forum to get things started.
"Even if you don't anticipate seeking help, if you are affected by the tornado I would strongly encourage you to start a case file, talk about your needs, talk about the things you are going through as you recover, as you rebuild, as you try to fix your home," said Dean Jackson, CCF chairman.
Having everyone impacted sign up for case management will also help the community have the best data on the impact of the storm. Because the more they know, the better able the CCF and others will be able to seek outside resources.
"Even if you don't think you are going to do anything with it – start a case file and let everybody know how you have been affected," Jackson said.
Some people only discovered the extent of their damage in the months after the tornado, particularly as Coweta experienced extensive rain events.
"There are people who come to us every day" who didn't think they would need help, said Kelli Yeager-Nelson of Bridging the Gap. Then they find out that their roof joists are warped or other underlying damage.
"Circumstances like that do happen. You will find people will be coming forward with things they are just not discovering," she said.
Matching needs with resources
The foundation and the nonprofits working with it are trying to match the resources that are available with the needs.
"We're trying to stretch things a very long way to make that go to folks who need it and go in an effective way that is going to help our community," Jackson said – and do it in a way that is going to help the community sustain long-term recovery.
"It seems like a very long time since the tornado went through. But we have a long way to go to make sure we can rebuild and rebuild effectively," he said.
Case managers will understand what a particular tornado survivor is dealing with and needs, and will protect people's privacy. And as new resources come available, the case managers will know about them and will be able to connect people with them.
"Each day we are finding new resources," Yeager-Nelson said.
IRS regulations limit how the foundation can distribute funds, and money from the tornado relief fund can only be given directly to individuals for a short period after a disaster. That money was given in the form of the Hope Has No Deductible program. Now, grants from the fund are being made to local nonprofits that are doing specific recovery work in the community.
So far, the CCF has given out 28 grants to local organizations that are helping tornado survivors, and $150,000 in direct payments. There is a rental assistance program that is ongoing for tornado survivors who have found a new rental property. That program is now being administered through One Roof.
The Alan Jackson fund is a donor-advised fund, Webb said, which means Jackson's organization has a say in how the money is distributed. That money, and some other funds, will be distributed through a process that includes a panel of experts and an "allocations table."
The case managers will meet with tornado survivors and determine what their needs are.
"Say you need a new roof, so your case manager is going to work with the city or county inspectors, they're going to help you find a builder and put you in the right direction for getting some bids," Webb said. The homeowner would have the final decision on a contractor.
The case manager would then go before the expert panel to present the case, along with several other cases. The expert panel won't know a person's name or exactly where they live, though they may see photos of damage. The panel will include local government zoning and code officials, construction experts, someone from the school system, mental health professionals, and insurance experts.
"They're going to look at everything and review everything," Webb said.
After that, the request will go to the allocations table, which will include community partners that are able to provide volunteers and other items. Newnan Coweta Habitat for Humanity will be part of the allocations table, and can request building materials from the building material donation. Most of the materials are roofing, siding and windows, Webb said. The donation of materials was made to the national Habitat organization, so hopes are to make requests from that donation quickly – before it goes to other Habitat affiliates around the country. Volunteer organizations will be on hand and even a car dealership, Webb said.
"That will probably grow as our needs grow," Webb said of the membership of the allocations table.
After funding and labor decisions are made, the case manager will continue to work with individuals through the process.
After each allocation meeting, a report will be released.
"Everyone will see how the dollars are being used, what they are going towards," Webb said. "We want to be transparent."
Case managers can help with more than just lining up home repairs. They can help with needs for mental health and emotional support, and numerous other things.
And while the financial assistance process can take a while, help with other needs can come almost immediately, Yeager-Nelson said.
"Please come and talk to the case managers," she said.
Making the biggest impact
Though $1.5 million sounds like a lot, there are so many people impacted that it won't be able to cover all the needs.
The CCF is launching a new grant program for nonprofits for projects that will impact at least 25 people. The grants are reimbursable, and the first one was awarded to River Life. A group of Mennonites will be coming to Newnan to work for 21 weeks, with a goal of putting on at least 65 roofs, and doing other repair work.
If you were to calculate the value of the volunteer labor, it would be about a half million dollars, Webb said. "We're putting these dollars to really good use to make the biggest impact and the longest impact across the board."
Webb said she gets lots of questions from people about why the foundation is doing things this way.
"We looked at best practices – what are they doing in these other communities?" What has worked, what hasn't worked? And how can we make it work for our community," Webb said.
Still many ways to help
There are plenty of ways for people to still help. There will be plenty of needs for volunteers as recovery and rebuild gets started.
There are also a large number of committees that people can serve on.
"I go to seven tornado relief meetings a week," Webb said. "If you would like to serve and have a bigger voice, give me a call and I'm happy to find a place that will be a good fit for you."
And people can, of course, still donate.
"Every dollar is going to make a difference and we are going to need every dollar," Webb said.
With donations and the concert, over $2 million in cash has been raised. But, "with roughly $20 million worth of damage we are barely touching the surface. We are going to need more dollars," Webb said.
When people donate, they can specify what type of tornado relief they want it to go to, she said.
"We can place your dollar where it is most important to you," Webb said.
When it comes to distributing funds, it's not limited by people's incomes or whether they are insured or not, Webb said. However, the foundation will be prioritizing funds for the elderly, families with children in the home, and individuals with disabilities.
Loans through the Small Business Administration will also play a big part in helping Cowetans recover. Homeowners can borrow up to $200,000 to help cover uninsured expenses in rebuilding and replacing property. Renters can borrow up to $40,000 to replace lost items, including cars. (see sidebar for more information on SBA loans).
The deadline for applying for the loans is Sept. 20.
And there may be other resources that become available. Case managers will keep people in the loop about new things that come up.
Upcoming forums are: Aug. 12, insurance; Aug. 19, home repair, building codes and avoiding scams; Aug. 26, SBA loans and Sept. 2, next steps and moving forward.
To sign up for case management contact Bridging the Gap at 770-683-9110. For more information about the Coweta Community Foundation visit cowetafoundation.org or call 770-253-1833.