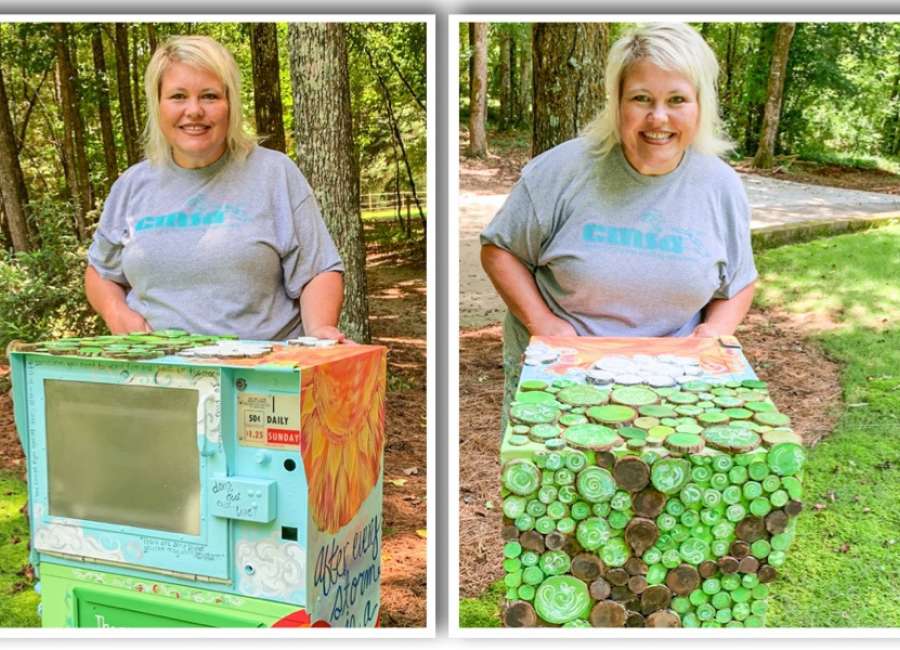 By KATHERINE FUTCH

Local artist Monica Watkins knows Coweta County like the back of her hand.
She has lived in the area her entire life. She said she feels a special connection to the community, nature and beauty of the town.
Her first art teacher was Bette Hickman. Watkins is one of the seven artists participating in the Newspaper box art exhibit. Hickman was the one who persuaded her to join in the venture. "You know, it has been really fun reconnecting with Bette," said Watkins. "She pushed me to get back into creating art. It's nice to get back and do hands-on work. It reminds you about the importance of creating art."
Watkins taught at the Coweta Charter Academy for 10 years. She also owned Newnan-Coweta Magazine for a time. Her ties run deep within the county and people of Coweta.
Watkins said she tries to focus on the importance of creating art while she's teaching. She believes that art is especially important for young children. "It's always great for the kids to think and for them to creatively think. It prepares them for their futures," said Watkins. "There isn't a job out there that they won't have to think creatively in. They push themselves."
When the tornado hit Newnan, she said she knew she wanted her box to be inspired by the community and its unity. The destruction of nature, specifically the trees, was particularly devastating to Watkins.
"I know everyone talks about it, but so much of the beauty of Newnan was destroyed," she said. "The destruction of the trees, to see the devastation of that, it is really hard to take."
Watkins wanted to create her box based on something that was once beautiful. She wanted to illustrate the beauty of the fallen trees by collecting their debris after the storm.
"We picked up some tornado wood and sliced it," Watkins described. "I have put it all over the newspaper box and have done sort of a tree affirmation."
"Everybody has a different story," said Watkins. Her goal is to illustrate the strength of the Coweta community. She said that she wants those who look at her newspaper box to be reminded of the devastation that occurred.
"This sort of made me think about everybody," said Watkins. "About everybody who was affected by the tornado. I hope it does the same for others."