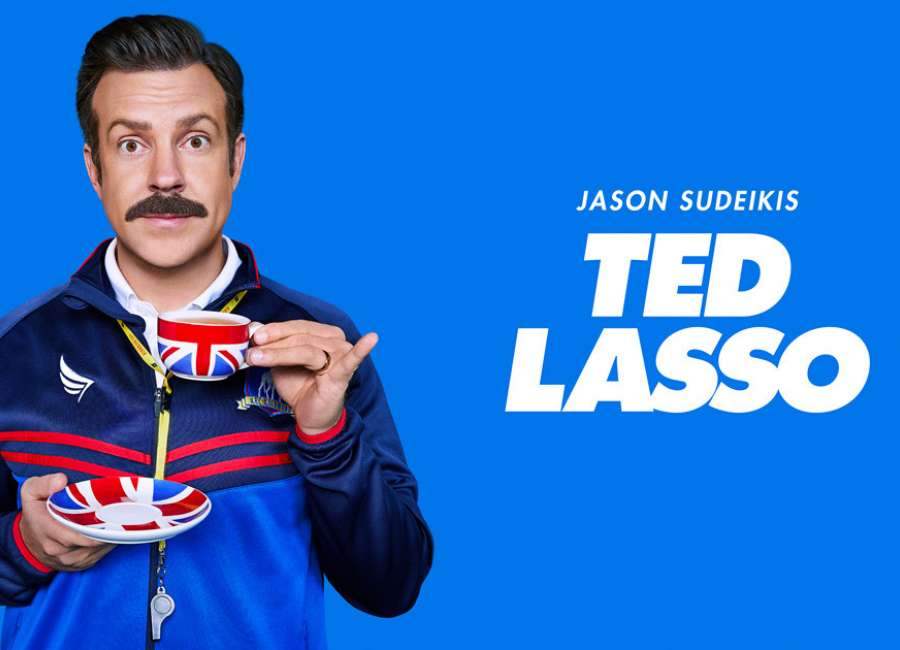 By Jonathan W. Hickman

Ted Lasso (Season 2)
Review Rating: 9/10
You gotta believe! And despite his "aww shucks" demeanor that some might mistake for insincerity, Ted Lasso (Jason Sudeikis) authentically does believe. And his positive attitude is infectious.
After netting 20 Emmy nominations for season one, the follow-up to the popular Apple TV+ series picks up where it left off, and it's as joyously profound as ever.
In season one, Ted Lasso, a successful American football coach, left the U.S. to manage a professional soccer club in London. Despite knowing little about the game, he's able to find his footing through a combination of disarming confidence and the sports acumen of his right-hand man Coach Beard (show co-creator Brendan Hunt).
The move to the U.K. took its toll on Lasso's marriage, and he finds himself alone but still hopeful. And while Lasso's instincts on the field are unparalleled, he struggles with interpersonal relationships. His boss, the team's owner Rebecca (Hannah Waddington), went through a divorce, as well, and is now out on the prowl bedding down younger men through the use of a dating app. But like Lasso, Rebecca longs for mature companionship.
Meanwhile, newly elevated coach Nathan Shelley (Nick Mohammed) is adjusting to his higher profile. He's a guy whose hidden talents have been suppressed for far too long. And where Nick needs a confidence enema, retired team star Roy Kent (Brett Goldstein) has loads of coolness to loan. His party girl, Keeley (Juno Temple), gets serious as she helps guide Roy in the next phase of his career while also acting as a de facto BFF to Rebecca.
Having seen the first six episodes of season two, I can safely say there's no sophomore letdown. Sudeikis might be the most endearing leading man alive right now, and this season expands on the stories of those around him.
"Ted Lasso" is a series that's impossible not to like, and by the sixth episode, we get a hint that there's more to it than just bighearted chuckles. A shift to more dramatic themes is on the horizon.
The Nest
Review Rating: 6/10
You have to hand it to hard-working horror director James Suttles; the resourceful technician does a lot with a little. His latest film, "The Nest," is a creepy indie that should enchant fans of the genre, especially given the presence of horror icon Dee Wallace.
In "The Nest," Beth (Sarah Navratil) and Jack (Kevin Patrick Murphy) visit a strange yard sale where their young daughter Meg (Maple Suttles) falls in love with a stuffed bear. When Meg gets time alone with the innocuous plush toy, she makes a frightful discovery. Nesting deep within its padding hides an extraterrestrial or supernatural bug. And when the nefarious insect bursts forth, anyone in its path becomes an unwilling host for the many-legged creature.
As the bug breeds and the shy Meg crawls out of her timid shell, others succumb to the pest's awful appetites. Will Beth and Jack also fall prey to this invading species?
Stick with this crafty little creeper. After a laborious buildup, the second half is unquestionably unnerving. Through skillful use of sound effects (like a bug clicking low down in an appalled host's throat) and disturbing special effects by John Lauterbach, "The Nest" is compelling and thoroughly unsettling.
Of note is newcomer Maple Suttles, the director's daughter, who turns little Meg into a frightening accomplice as she becomes the bug colony's mastermind.
Masters of the Universe: Revelation
Review Rating: 7/10
Writer/director Kevin Smith (yes, the "Clerks" auteur) reverently reimagines the 1980s animated television series based on the Mattel toys. This Netflix series has an all-star cast with Mark Hamill as the evil Skeletor (replacing the original voice talent, Alan Oppenheimer, who now in his 90s returns to the mic as Moss Man). Sarah Michelle Gellar gives voice to Teela, a character that brings this "Masters of the Universe" into the modern age. And "Game of Thrones" alum Lena Headey plays Evil-Lyn.
What surprised me was after the action-packed first episode, the show gets way more sophisticated. Sure, the names of the characters and some of the dialogue might appeal to a younger demographic; still, Smith, along with his other co-writers, subtly works in serious themes while also paying homage to the show that made this one possible.
In 1983, the series was titled "He-Man and the Masters of the Universe." It was adapted for the big screen in 1987 as "Masters of the Universe." That live-action film remains campy fun with Dolph Lundgren as the beefy He-Man and Frank Langella lending his significant acting prowess to Skeletor. There's even talk of another theatrical adaptation in the works. After the success of this limited series, look for other visits to the planet Eternia and attempts to protect the secrets of Castle Grayskull.