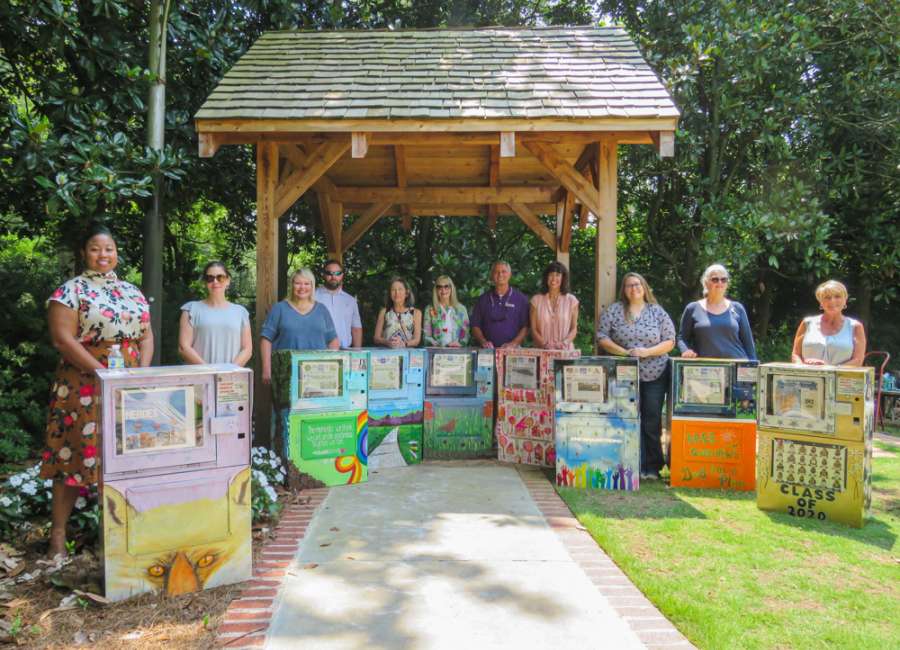 You know those days when the stars just seem to align and great things happen?
The culmination of a lot of aligned stars took place this past Sunday in the amphitheater behind the ChildenConnect Museum at the corner of Temple Avenue and College Street.
For those of you who are unaware of this up-and-coming treasure located in the heart of the College-Temple Historic Neighborhood, the ChildrenConnect Museum is a place where children and families can "engage in the joyful discovery of connecting to the world around them through meaningful play."
In other words, they make pretending to be a functional adult fun. It never hurts to start 'em young.
The ChildrenConnect Museum has already incorporated several interactive exhibits to encourage children to engage with real-life activities representing different aspects of living in our city, including a Carnegie Library exhibit, grocery store and bank.
Other planned exhibits include a green screen filming display that will give children the opportunity to create a short film or commercial and a hospital exhibit that will give children a chance to imagine themselves as a member of a medical team.
Another exhibit being planned is a newspaper office exhibit, and we're eager to show kids the value of a trusted, local news source.
Since trust in news media is at an all-time low, our goal is to provide transparency into the professional news gathering that takes place in our community.
In an era where a world of information is literally at your fingertips, we believe it's time to start educating kids on how news is gathered and why it's important to check your sources.
In addition to this interactive exhibit, we ventured out into another exciting experiment.
Another star aligned in the form of an artsy friend of mine (that's putting it mildly), Bette Hickman, who reached out to me regarding an opportunity for a fundraiser for the museum that would replace the fiberglass installations from the past few years.
I think most people enjoyed the various colorful trucks, trains, farm animals, horses and orbs that were brilliantly painted by local artists and sponsored by many generous donors.
Many still grace several public spaces, providing Newnan with yet another source of unique public art.
This year, Bette said, the Newnan-Coweta Art Association wanted to paint newspaper boxes, and the ChildrenConnect board members agreed.
These would be functional sculptures to add more vibrant, unique art downtown. That sounded like a really cool idea to me!
Then I wanted to take it a step further. This is, after all, about bringing real-world education to a broader audience.
So, with that in mind, we decided to supply complimentary newspapers for each of the boxes, making it easier than ever for a wider range of people to become informed, engaged citizens.
Each box will be stocked twice a week with several copies of the current newspaper, free for whoever wants to keep up with Coweta's news.
These sponsors are doing twice as much good with one project: By investing in the ChildrenConnect Museum and providing access to reliable local news, they're helping kids and the public at large become better citizens.
We live in a great community, so it makes sense to invest in our future by raising socially conscious kids who want to step up and help keep our little corner of paradise running smoothly.
This dovetails perfectly with the ChildrenConnect Museum's Values Statement, where they "promote the healthy development of all children so that they can fulfill their potential and contribute to the future prosperity of society."
Of the eight painted newspaper boxes, there are a few remaining that need a sponsor. If you, your business, or anyone you know would like to join in this amazing project, reach out to ChildrenConnect board member John Thrasher at john.thrasher@numail.org .
In the meantime, be on the lookout for some really cool newspaper boxes to start popping up, scan the QR codes on each box for more information about the artists and the story behind their art, and don't hesitate to grab a free NTH while you're admiring the box.
It's the best deal in town, if I do say so myself.
Beth Neely is co-publisher of The Newnan Times-Herald. She can be reached at beth@newnan.com .