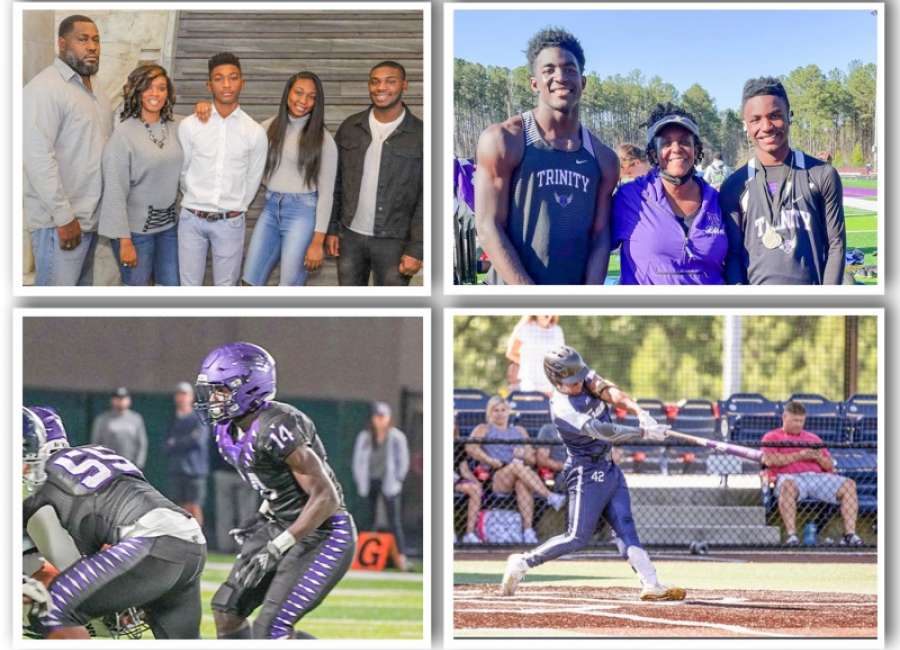 BY DERRICK TEAGLE - Special to The Newnan Times-Herald
What is the purpose of a brotherhood? They can help and lead you through life step by step. A true brotherhood also helps give you direction in life to be successful.
Jayce Blalock, Ethan McDowell and Aaron Gates are all students at Trinity Christian School in Sharpsburg. They all are part of a brotherhood and a village of supportive parents. We have all heard the old saying that it takes a village to raise a child.
The African proverb means that an entire community of people must provide for and interact positively with children for those children to experience and grow in a safe and healthy environment.
Jayce Blalock
Jayce Blalock, a class of 2022 student-athlete, is the son of Previn and Stephanie Blalock. Jayce is a Georgia Tech baseball commit. He started playing baseball at the age of 4 and picked Georgia Tech because it was the first school to believe in him as a complete player, as well as the diversity of the school and its facilities.
Stephanie said she knew Jayce was special after hitting back-to-back-to-back homers in a game. She also shared Jayce was very upset when they walked him on his fourth plate appearance.
Previn added that Jayce went from the recreation league to the travel league when he was 10 years old as a way to face better competition and get more exposure. Jayce and Aaron were part of a local league baseball team that won the State Championship in 2017.
The Village
Maxwell Gates: "Jayce is the hardest-working kid I have ever seen. It has never been easy for Jayce as he has truly put the work and time in. I hope that Jayce is always in my son Aaron's life as Jayce has this amazing quiet, calming effect about him."
LaTrina Gates: "Jayce is a hard-working, persistent, loyal, well-rounded person who you want in your kid's life."
Rosetta McDowell: "I really love his energy because he doesn't get the big head … Jayce is an All-Star student as well as athlete."
Ethan McDowell
Ethan McDowell, a class of 2023 student-athlete, is the son of Rosetta and the late Gregory McDowell.
Ethan is an outstanding track and football player for The Lions. His mother says Ethan is a very intuitive, special kid who loves his friends but pays close attention to people.
Rosetta also added Ethan has always accomplished something before she was prepared for it. including his recent football scholarship offer to Western Kentucky University.
Ethan also plays a big brother protector role to his younger brother Trevor. Jayce stated that Ethan is "the most athletic dude" he has ever seen. Ethan and Aaron both started for the Trinity Lions football team last year, which played in the state championship game.
The Village
Previn Blalock: "Ethan looks like the mannequin that you see in Dicks Sporting Goods."
Stephanie Blalock: "Ethan is a very special quiet kid who has an amazing mother, who is always smiling."
Maxwell Gates: "When you look at his appearance you are like, 'WOW' … but when you meet him you are like, 'How articulate he is, which is double WOW.' He has a motor that can go all day and will be in upper management in whatever path he chooses."
LaTrina Gates: "Ethan is a very respectful, strong, athletic great kid."
Aaron Gates
Aaron Gates, a class of 2023 student-athlete, is the son of Maxwell and LaTrina Gates. Aaron, described by his father as "super intelligent with awesome athletic gifts from God," has been offered over 20 athletic scholarships.
Maxwell stated that Aaron's introverted side keeps him humble but when you challenge him, you will see "the dog" in him.
LaTrina stated that at the age of 8 she would see Aaron do some freakish moves that made her say, "Wow."
In both sports, Aaron's speed, footwork and quick hands have created some jaw dropping moments. Jayce added that Aaron is his best friend and he makes him laugh all the time. "Everything Aaron does is 10 times more funny than anybody else," Jayce said.
The Village
Rosetta McDowell: "Aaron is the athlete of all athletes. In eighth grade, I saw Aaron compete in football, basketball and baseball. I saw that he excelled on the field as well as the classroom. I'm glad my son is connected with him."
Previn Blalock: "Aaron is my Godson and he is a hard-working kid that I am blessed to have known since birth."
Stephanie Blalock: "Aaron and Jayce are six months apart. He is another child in our family."
I could have written several articles about this brotherhood. You can truly tell, but also feel this "Village." I have seen Jayce Blalock perform on an extremely high level on the baseball diamond. I remember the monster home runs on ESPN, including the homer over the left field fence at Turner Field. Jayce was a national phenomenon at the age of 12, but you can also hear the humble spirit in his voice.
I was present when Ethan McDowell received his first scholarship offer and how he was so excited to tell his mother. I remember how he actually did a prank phone call to share the good news. I remember the joy in Maxwell Gates' voice as one of his kids, Ethan, received his offer.
I have seen Aaron Gates unleash those "wow" moments all over the baseball diamond, football field and basketball court. I was blessed with the opportunity to coach him and Jayce in the Coweta County Recreational Basketball League.
I know that each parent in this article has agape love for each student. I also know that they are all happy to be a part of the Trinity Christian School as I heard positive remarks about Chris Hanson, Kenny Dallas and the support staff throughout my interviews.
I am very thankful to write about this village but extremely happy to be a part of this village. I can easily predict that all of these young men will be leaders in their communities.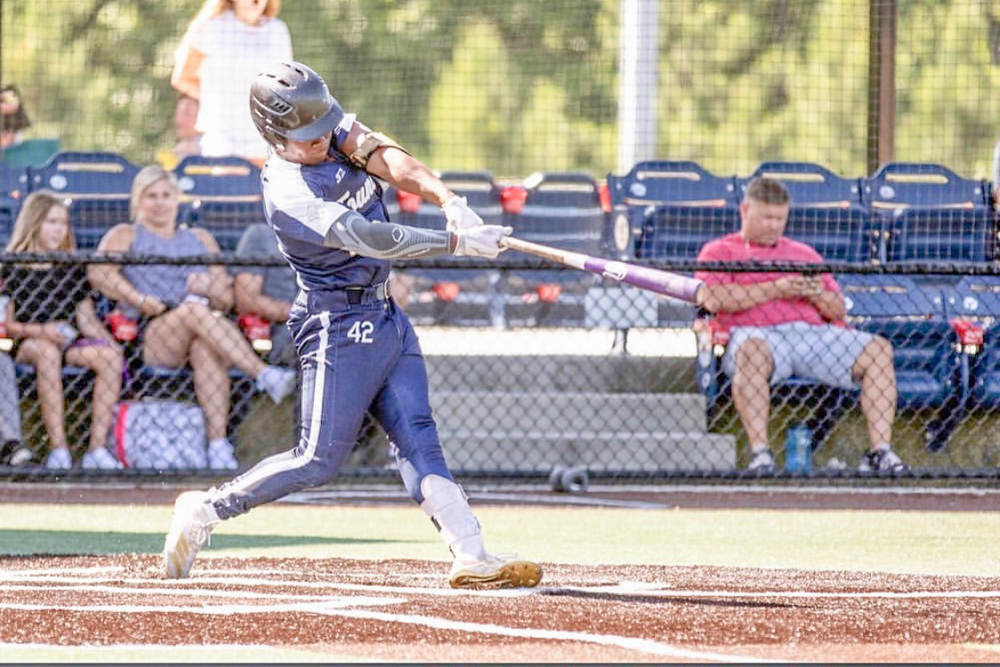 Jayce Blalock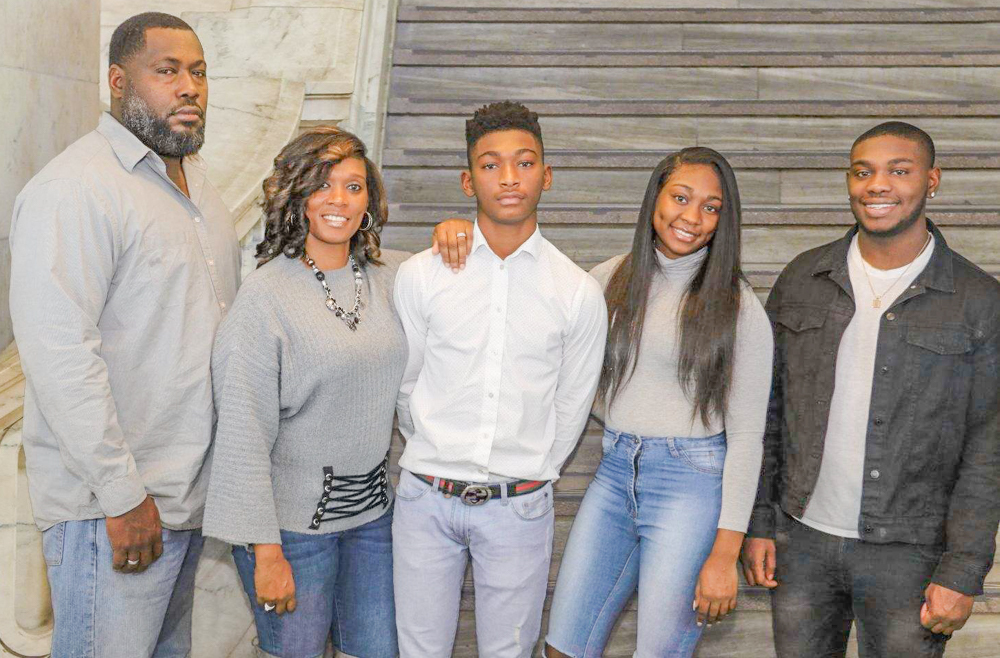 The Gates family help make up a village of supportive parents. From left are Maxwell Gates, LaTrina Gates, Aaron Gates, Maxy Gates and Trae Gates.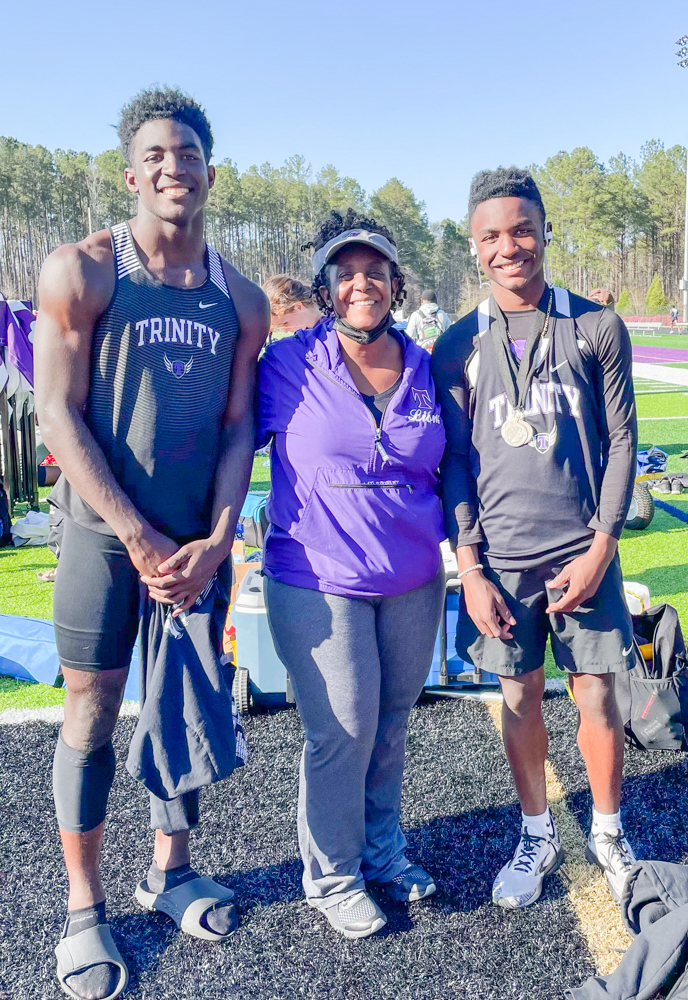 Ethan McDowell, Rosetta McDowell, and Trevor McDowell at a recent track meet.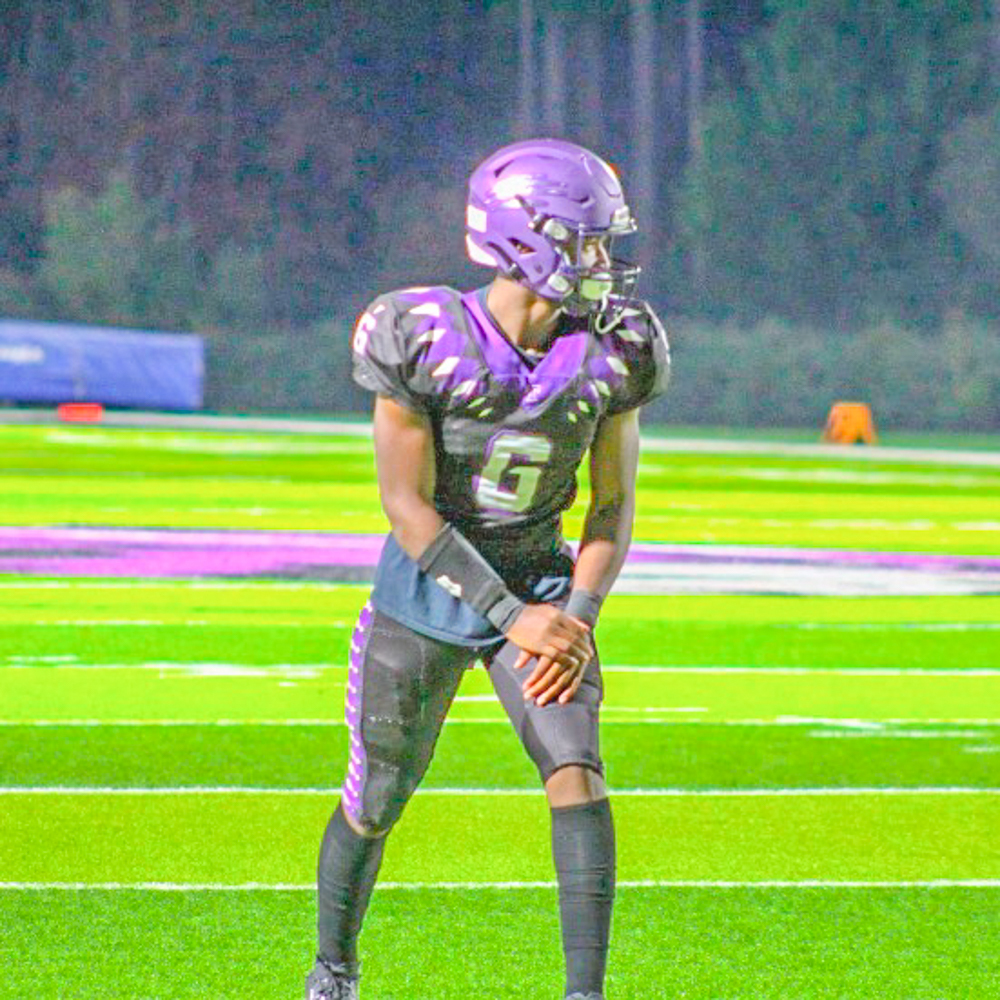 Aaron Gates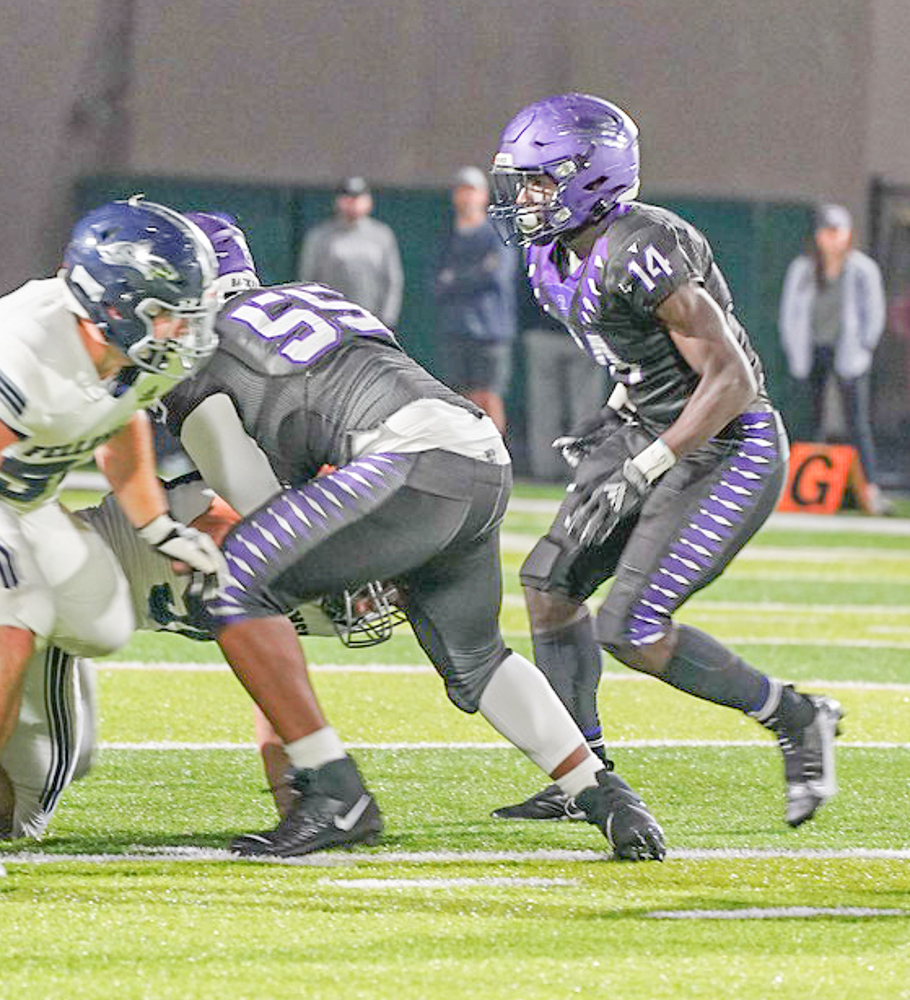 Ethan McDowell