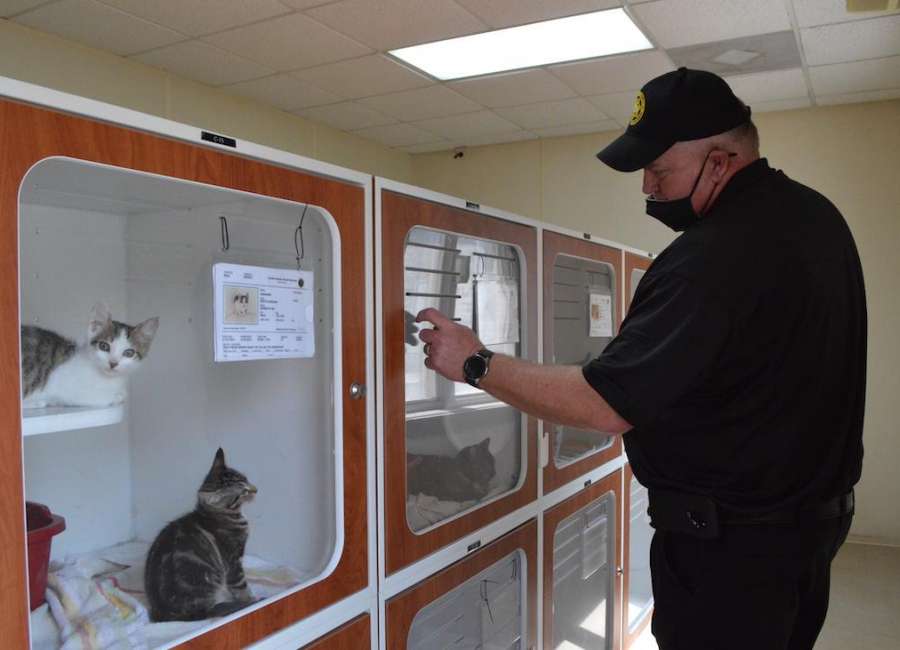 As numbers of animals in the shelter rise, Coweta County Animal Services is reducing the adoption fee for all animals at the shelter to a flat $25.
Adoptions are always free for veterans, those over 65, and Coweta County employees.
The adoption fee includes spay or neuter surgery, a microchip to identify the pet and vaccines. Depending on a pet's age and how long it has been at the shelter, a second round of vaccines may be needed after adoption.
For the adoption special, it's truly a flat rate adoption. The shelter typically adds an additional charge for medications or other services that a particular pet may have needed. That charge is being waived.
Those adopting from the shelter are getting an animal that has been checked out by a vet and has received needed medications, according to Warden Larry Clifton, director of Coweta Animal Services.
Sometimes people worry about what they are getting when they adopt an animal from a shelter. Clifton wants people to understand how much effort the shelter puts into making sure animals are healthy.
"That doesn't mean health problems might not pop up later, of course, but we are doing all we can do," he said.
The shelter is seeing lots of pregnant cats and kittens coming in. With dogs, the shelter is seeing a lot of strays.
The shelter doesn't allow owners to surrender their animals, but suspect some people turning in a stray may be turning in pets that they no longer want.
The rising shelter population, and rise in strays, isn't a situation limited to Coweta or Georgia.
"It's becoming a problem all over the country," said Gail Lustig of Hearts 'n Homes Rescue. "I haven't seen anything like this in years. This is a nationwide crisis."
Hearts 'n Homes primarily works with the shelter to take dogs and then transport them up north, where there is typically a shortage of adoptable dogs.
But right now, even shelters and humane societies up north have more cats and dogs than they can find homes for.
Lustig said that an organization in Vermont that can usually take dogs is currently full with local dogs that owners are surrendering.
Because Coweta doesn't take owner turn-ins, dog owners are turning to local rescue organizations.
"People are just giving up their dogs in droves," Lustig said.
Some of that is likely related to the COVID-19 pandemic. People adopted large numbers of dogs last year. Now, people are going back to work. People want to go on vacation – without a dog.
"Nobody wants to foster, nobody wants to adopt," Lustig said. "Nationwide, adoptions are down and intake is up."
It doesn't help that, during 2020, it could be hard to get an appointment for spay and neuter surgery, so unplanned litters were born.
Lustig says people are putting out their dogs to be picked up as strays because they can't find anyone to take them.
Hearts 'n Homes can work with people who need to find a new home for their dogs. But ideally, they can work with people to help provide them the resources they need to keep their pets.
"We do everything possible," Lustig said. "If someone tells me they have to give their dog up, I ask why."
Sometimes people can't take care of the dog, but humane and rescue organizations can help with pet food, vaccines and other needs.
Lustig said they even built a fence for an elderly woman who could no longer walk her dog, so that the dog had a fenced area to play and use the bathroom in.
"We would much rather try to help them keep their pets than place them somewhere else," she said. "There's a whole range of things to help. But most of them still say, 'No, that won't work, I can't keep the dog.'"
People often get angry when the rescuers say they can't take the dog.
Rescue organizations rely on volunteer foster families for pets. While more fosters are always needed by most organizations, finding them is getting harder. "We beg and beg and beg for new fosters," Lustig said. "People don't want to be tied down by a dog."
With cats, it's a bit easier, because cats are more self-sufficient, but dogs take a lot of time, effort and care.
"We are in a pandemic of strays," Lustig said.