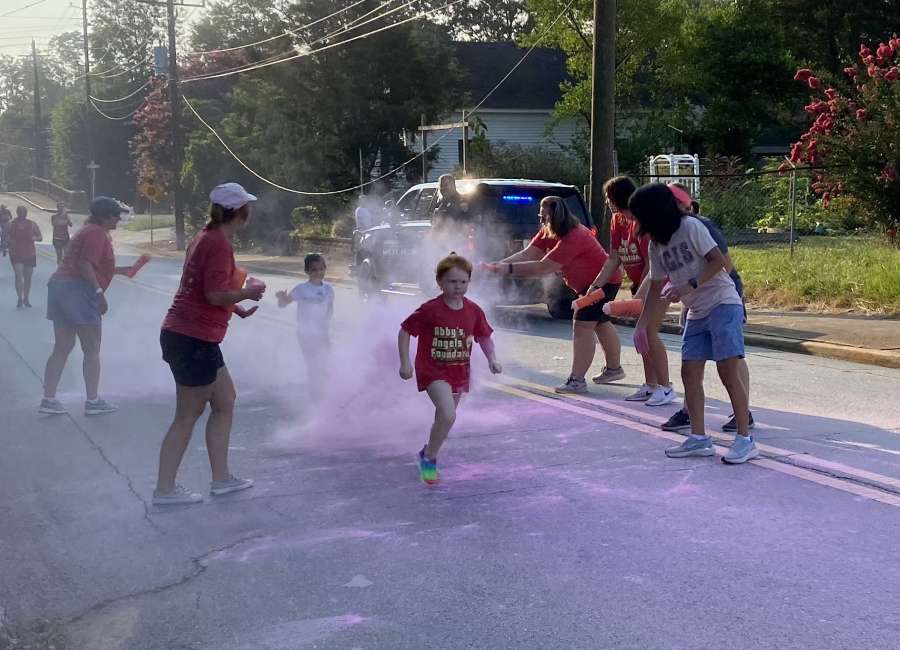 Colorful runners ran through the streets in downtown Newnan on July 24 as they participated in Abby's Angels Foundation's Rainbow Run.
Natalie Bacho, president of AAF, said approximately 800 runners registered for the race, and more than $40,000 were raised for the various projects funded by AAF.
The money will be used to keep the Abby's Closets stocked in various Coweta County schools, fund safe driving courses for teens and support five $1,000 scholarships given out by AAF.
According to Bacho, this year was the seventh run held by AAF.
AAF's Rainbow Run saw a few changes this year. Usually, the run is held at the Coweta County Fairgrounds in the spring, but the site was being used for COVID-19 testing and vaccinations, so the location of the run was moved to downtown Newnan.
The date of the run was moved to the summer because of the March 26 EF-4 tornado.
The date change of the run allowed it to line up closely with what would have been Abby Bacho's 18th birthday, said Bacho.
"We wanted it to be a celebration of our resilient community and how they pulled together," Bacho said.
Bacho said the run is scheduled for April 23 next year, where it will once again be at the Coweta County Fairgrounds.
"Abby loved nothing more than to bring people together and to be with people and to make special happy memories. She loved to laugh and share her smile," Bacho said. "So to see that come to fruition over the past year and to see the families and people of all ages doing that, we can never convey what that means to our family and the foundation."