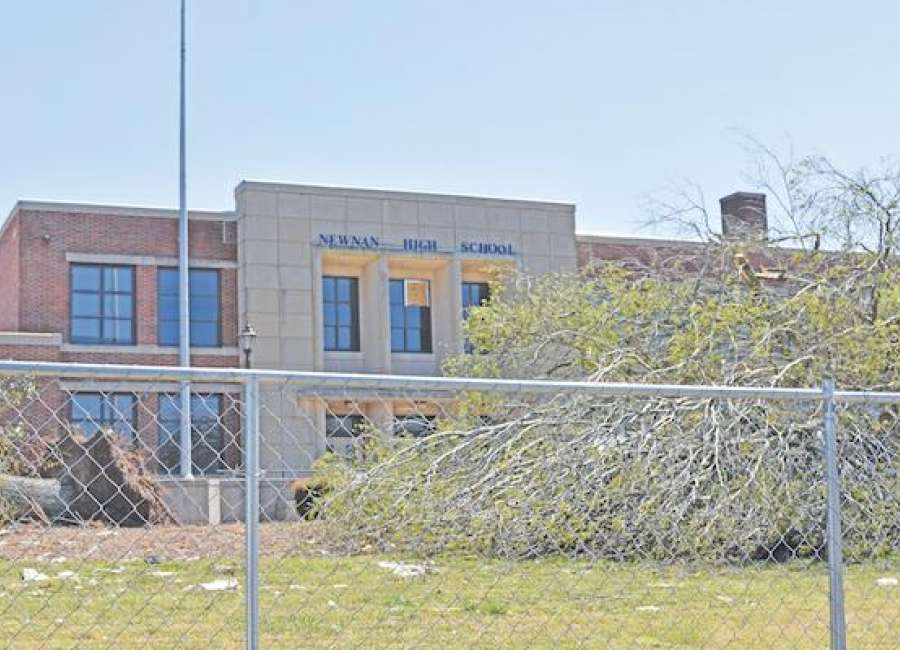 In August – less than five months after an EF4 tornado catastrophically damaged Newnan High School – approximately 1,600 students in grades 10-12 will be able to return to the NHS campus for classes.

The Coweta County School System has worked with engineers and construction crews to make necessary repairs to the ninth grade building along with the 700 and 900 building and to erect approximately 30 portable classrooms to provide space for the students to attend class. The three permanent buildings, all located near the center of the city block-sized campus, sustained mostly minor damage during the storm.
"We felt like (these three buildings) would give us the best possibility for in-person instruction," Superintendent Evan Horton said in May.
Combined with the portable units, the 60 or so classrooms in the three buildings will provide adequate instructional space for the high school's upperclassmen. The buildings have required roofing, HVAC and interior repair work, but otherwise are in "fairly good shape," said Horton, who worked with teams throughout the school system to determine the best way to move forward for the 2021-22 school year.
"Over the course of the first month (after the storm), it became clear that these three buildings seemed to fare better than some of the others," he said. "Seeing the condition ... it started to seem like we had a pretty good chance of getting those buildings ready for in-person instruction to start the next school year."
The portable classrooms are being set up in two parking lots adjacent to the usable buildings, along with a temporary cafeteria and kitchen.
Around 450 rising freshmen will attend the Central Educational Center, where classes will be held in a mix of existing classrooms and approximately 20 portable structures. Temporary kitchen and cafeteria facilities, which will be located in the CEC parking lot, also will be utilized.
Regular CEC classes, programs and schedules will not be impacted by the move, partly because the Coweta County School System has some experience with similar situations, Horton said.
Years before CEC became the county's charter College and Career Academy, it was Central High School, and Newnan High freshman attended classes there before moving on to the main LaGrange Street campus as sophomores. Earlier this month, the Coweta County Board of Education approved the addition of a second school resource officer at CEC to ensure adequate coverage, Horton said.
As of the Coweta County Board of Education meeting on July 13 the following update was provided for Newnan High School repair work:
• Reroofing on building 900 is complete.
• Reroofing has begun on building 700.
• Roofing and trim work on the ninth grade building is underway.
• Reroofing on the main gym is complete.
• Work on parapet walls on building 700 is underway.
• Installation of the new court floor and painting of the ceiling structure in the main gym are underway.
• Ceiling replacement in building 700, 900 and the new gym is proceeding.
• Modular classrooms have been delivered to the NHS campus and assembly is complete.
• Utility connections to modular classrooms is underway.
• Modular classrooms for ninth grade students have been delivered to CEC and assembly should be completed by July 24.
• Insurance company structural engineers have submitted their supplemental report of damages for all buildings at Newnan High School.
• Southern A&E has reviewed these reports and met with City of Newnan building officials. The determination has been made that areas of the building requiring substantial repair will have to be brought up to the current building code.
Atkinson Elementary School
Atkinson Elementary School, also severely damaged in the March 26 tornado, will resume normal operations Aug. 5 after completing the year at West Georgia Technical College's Newnan Campus.
The school, which houses approximately 380 students and 65 employees, has a brand-new roof. Moisture mitigation is complete, damaged ceiling tiles have been replaced and damaged sheetrock has been repaired and painted.
Walkway canopies are expected to be repaired or replaced by the start of school, and cleanup of downed trees and other debris is underway.
The school system's transportation center on Smokey Road also took a hit from the tornado, and insurance adjusters are assessing damage to rooftop fan units, fencing and vehicles. School officials say they do not expect student transportation to be affected.