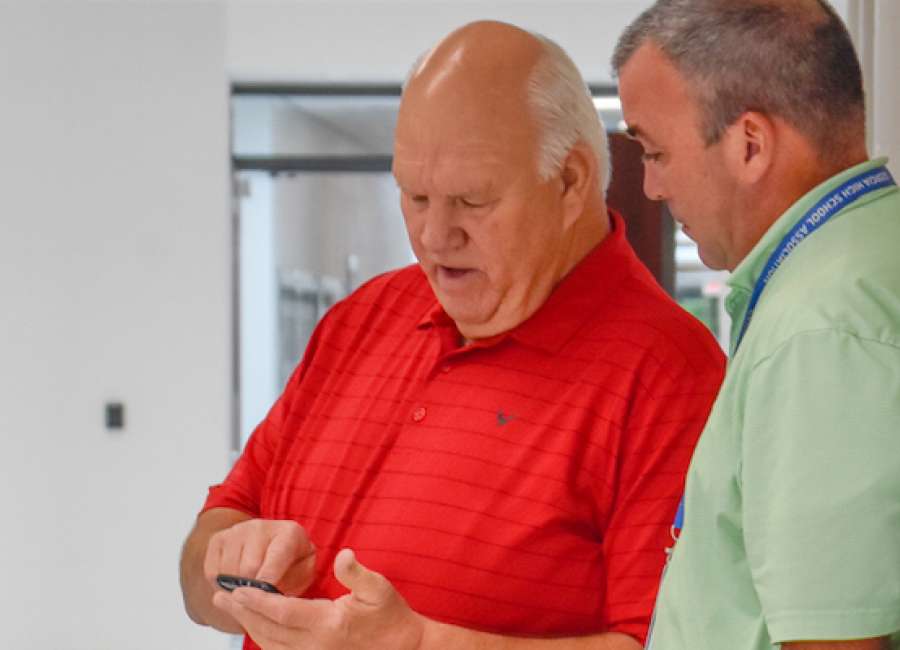 Coweta County's newest school is named after the only native Cowetan to serve as superintendent since the city and county school systems merged in 1969.
Blake Bass served as superintendent from 2004-11, and the new middle school on Shaw Road – which opens next month – bears the name of the 35-year educator.
The Coweta County Board of Education unanimously voted to name the school for Bass last October. Dr. Steve Barker, who retired in 2020 after serving nine years as successor to Bass, said Bass is more than deserving of the honor.
"Newnan and Coweta County without a doubt mean more to Blake Bass than anyone that I know – both the community itself and the people who make up Coweta County and Newnan," Barker said at the time. "He led from that mindset, and I believe that has a lot to do with his great success. The school system is better as a result of the time he spent there."
Bass grew up in Coweta County and graduated from Coweta County Schools. He holds a bachelor's degree in history, a master's degree in administration and supervision, and an education specialist degree in administration and supervision, all from what is now the University of West Georgia.
His teaching career began in 1976 at Heard County High School and then Villa Rica High School, where he taught history and coached football. While at Villa Rica, Bass met his wife, Lila Miller Bass. The couple has two sons, Chris and Stephen, and two grandchildren.
Bass returned to Coweta County to teach at Evans Middle School, and he was defensive coordinator under legendary Newnan High School football coach Max Bass from 1978-1990.
In 1990, Bass became assistant principal at East Coweta High School before moving into the principal position at Central Middle School. In 1997, he became director of human resources for the Coweta County School System, and he served as executive director for administrative services from 1998-2000. From 2000-2004, he was assistant and then associate superintendent.
Bass was appointed superintendent in late 2004, replacing embattled superintendent Peggy Connell.
During his tenure, Coweta students' SAT scores rose above the national average for the first time. In 2010, Coweta was one of only two large districts in the state in which every school achieved Adequate Yearly Progress as outlined by the No Child Left Behind Act, and it was the fourth school system in Georgia to achieve district-wide SACS accreditation.
Bass helped Coweta Schools make significant financial strides that included retiring all bond debt and growing the system's reserves without increasing the property tax rate. He also oversaw the construction of ninth grade campuses at all three high schools and the central office complex on Werz Industrial Boulevard, as well as additions and major renovations at several schools.
"His motivation was to do everything in his power to make Coweta County and Newnan the very best it could be," Barker said. "When you lead with that as your fundamental purpose, it helps you do a good job for the right reasons."
In 2011, Bass was named Coweta County Citizen of the Year and was the recipient of the Richard Brooks Visionary Award. He is active in the local civic community as a member of the Newnan Kiwanis Club, Immediate Past Lieutenant Governor for Division 3 of Georgia Kiwanis, the University of West Georgia Athletic Foundation Board, the Board of Directors of the Coweta Sports Hall of Fame, former member of the Executive Board of the Coweta Citizen of The Year and former member of the Board of Directors for the Coweta Community Foundation.
"Everything he does is anchored in his love for this community," Barker said. "If you look at where he spends his time now giving back, it proves the point."
Bass joined the University of West Georgia-Newnan as an educational consultant in 2015, and he currently serves as director of the UWG Educational Collaborative.
The decision follows a longstanding tradition of naming schools and facilities after prominent education leaders.
"I'm honored to be recognized along with people like O.P. Evans, Homer Drake, Bobby Welch, Robert Lee and Richard Brooks," said Bass, who toured the school site with school officials Friday. "Having a school named after me is a great honor."
The city and county school systems merged in 1969, and Dr. Robert Lee, a former Cobb County administrator, served as the first superintendent of the combined system. Lee Middle School is named for him. Bobby Welch and Richard Brooks – both native Alabamians – succeeded Lee, and Coweta elementary schools are named for each.
Blake Bass Middle School will be the first new school in the Coweta County School System since Brooks Elementary School opened in 2009.