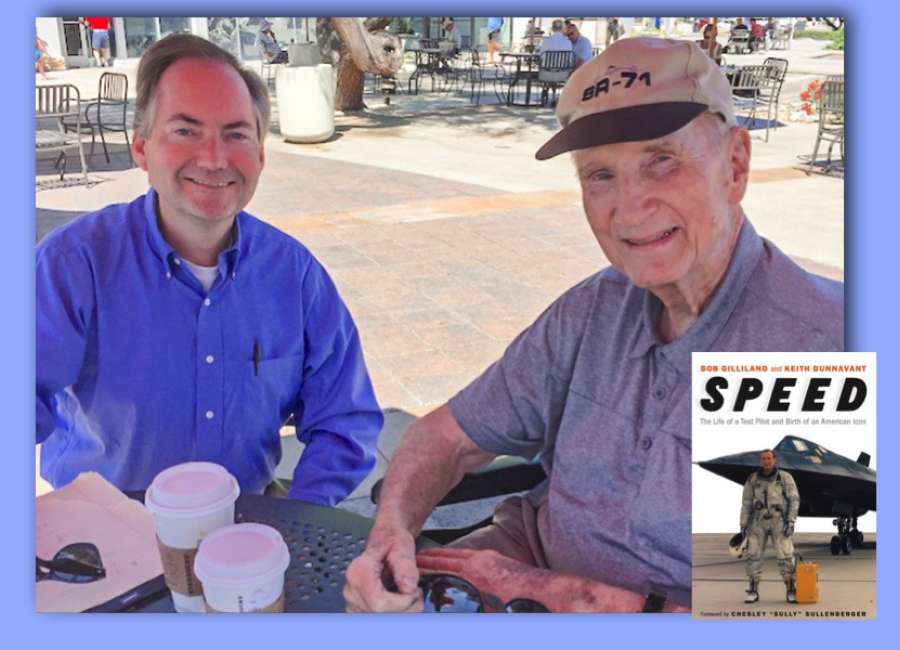 In his latest book, local author Keith Dunnavant continues his journey into the wild blue yonder.

"Speed" explores the life of legendary test pilot Bob Gilliland, known best for his pioneering work with the iconic SR-71 Blackbird. Gilliland still holds the world record for the most experimental supersonic flight test time above Mach 2 and Mach 3 speeds.

The genesis of the book came about while Dunnavant was working on his previous work, "Spy Pilot: Francis Gary Powers, the U-2 Incident, and a Controversial Cold War Legacy."
Dunnavant was recommended by Gary Powers to the Gilliland family who were also looking for someone to help write Bob's story.
After a couple of days of talking through the possibilities, Dunnavant and Gilliland decided it was a good match.
"I was already in the early stages of the Gary Powers book when I took this on," Dunnavant said. "I'm always juggling projects and enjoy doing several things at the same time."
A child of the Cold War era, Dunnavant cited his interest in the story of the Blackbird but with little knowledge of the field of aviation, tackling such a dense subject was a challenge he gladly accepted.
In "Speed," Dunnavant successfully translates the complicated field to the layman reader.
"I jumped in with two feet," Dunnavant said. "When I start a book, I feel like I get to go to school about something I know little about. When I'm done, I have a graduate degree."
For "Speed," Dunnavant spent an extensive amount of time interviewing Gilliland at his Rancho Mirage home in California. Spending several hours a day with the pilot, Dunnavant was grateful for Gilliland's extensive memory and willingness to share his life's work in aviation.
"He's one of the smartest guys I've ever known," Dunnavant said. "Even into his 90s, he was very engaging, detail oriented and possessed a fantastic memory. When you're writing a biography, you're blessed if you have subjects, peers who have great memories."

"I try to write books that have the feel of a novel," he continued. "So I wouldn't be able to set scenes unless those people have great memories and thorough dialogues."
So when it came down to pairing down the life of a subject like Gilliand, Dunnavant required a substantial amount of those memories to accurately set the tone for "Speed."
"I'd say 95 percent of what I learn about a subject, I don't use in a book, but you have to learn as much as possible to determine what the story is or isn't," Dunnavant said.
"Like a painter, there's no specific way to paint a scene, and that's the same with a biography," he continued. "It's ultimately my decision what the story is, so you have to aggressively determine what the story is and to stay focused and disciplined on that."
The subject of 'Speed'
With previous works highlighting the stories of Americans like Joe Montanna, Bart Starr and Bear Bryant, Dunnavant said the journey from football into the realm of aerospace wasn't necessarily a major stretch.
"I love to learn about a variety of subjects. This is truly one of the great things about my job," Dunnavant said. "But the most fulfilling part of the process is when I start applying that accumulated knowledge: Solving the riddle of someone's life and meticulously creating an authentic portrait full of scene-setting, dialogue, analysis and context."
In "Speed," Dunnavant provides the reader with an extensive background on the pilot, ranging from his Tennessee roots, through his days testing with pilots like Chuck Yeager and into the 60s with the advent of the Blackbird, a plane designed to be ahead of its time.
An aggressive progression from the U-2, the Blackbird was designed to be a spy plane that could confound radar systems and would be impossible to shoot down.
Like his previous books, Dunnavant gives the backdrop of an era equal billing to the subject itself. Capturing the urgency of the period at Skunk Works and Edwards Air Force Base, the reader is immersed in the mid-century ecosystem that ultimately led to the advent of the Blackbird.

"Like my Bart Starr book, it's not just about the quarterback, but it's set against the backdrop of the time he played and the rise of the NFL," Dunnavant said. "In this case, the context was the Cold War, but the reader needs to smell and feel it in order to really appreciate Bob Gilliland and where he ranks on the test pilot hierarchy, from Chuck Yeager forward."
Indeed, "Speed" echoes some of those early moments from "The Right Stuff" where pilots like Gilliland and Yeager risked their lives breaking new barriers and "chasing demons."

While Tom Wolfe's book eventually gravitates towards the space race, "Speed" continues the story of the important work being done at Area 51 and Skunk Works' testing area near Burbank, California.

"I'm a big fan of Wolfe and of all those guys who went up in rickety, unproven craft, looking for the future," Dunnavant said. "What they represent about the country is that we're risk takers and we love those who take them. People like Bob that went up looking for the future are heroes to me."
Unfortunately, Gilliland passed away on July 4, 2019, prior to the completion of the book but not before Dunnavant was able to successfully conclude his interview process with the legendary pilot.
And while "Speed" tells the story of a specific period of American history, Dunnavant believes the tale of personal courage and determination against all odds is something any reader can appreciate.
"We know people who take risks, but will never be rich and famous, but they're fulfilled because they push against the boundaries of their own life," he continued. "There's a message that connects all of us to people like Bob, and that's what makes this story resonate.
"We're all connected to Bob and people like him because you don't have to be a test pilot, hurtling through the stratosphere at Mach 3 to push the limits on your own life."
A book launch for "Speed" will be held this Friday, July 9, at The Boyd Gallery from 6 to 8 p.m. where Dunnavant will host a Q&A and signing.