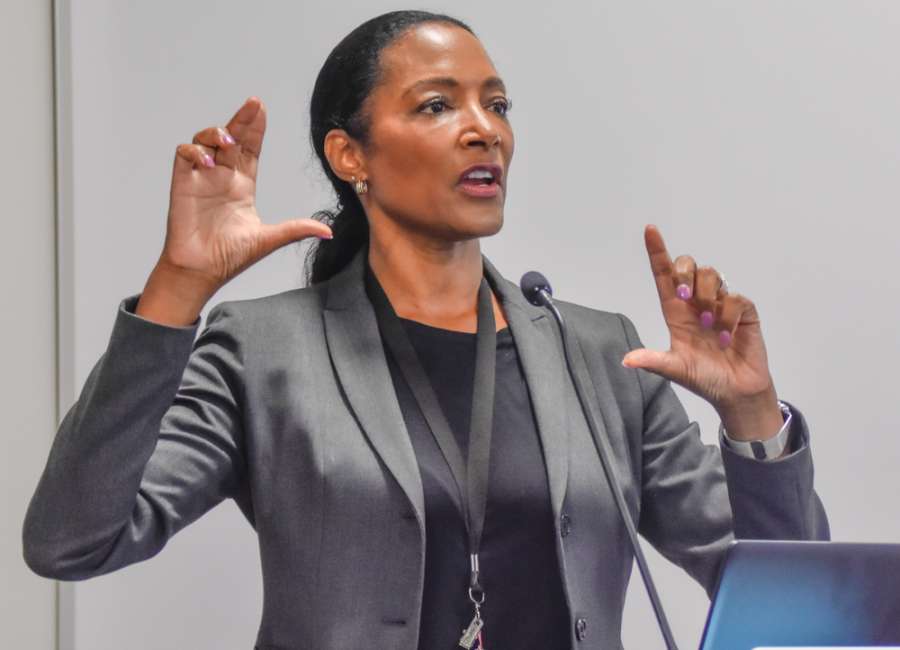 The spread of misinformation has impacted the state of Georgia and Coweta County's efforts to vaccinate the people from COVID-19.

Dr. Jayne Morgan, executive director of Piedmont Healthcare's COVID Taskforce, says misinformation has driven fear of receiving the vaccines that are currently available.
"People are not getting their information from true scientific sources," Morgan said. "They're getting it from friends, their neighbors, their Aunt Betty, their college roommate, so we need to shift the thought that people need to start having conversations with physicians."
Morgan said there is a direct line between misinformation and a lack of a vaccine uptake and the development of COVID mutations and variants, such as the Delta variant of COVID-19, which has sent infection rates increasing this month.
"The concern is that in unvaccinated communities and unmasked communities, variants have the opportunity to develop and change," Morgan said. "We could face a variant that could overcome the vaccination status of those immunized. Mutations learn and adapt. That is the concern to get people immunized while this formulation is effective."
Consequently, Morgan and other medical professionals have worked to address this misinformation as much as possible. She suggested that fear drives a lot of this misinformation.
The risks for those that decline the COVID-19 vaccine are "exceptionally greater" than those that do get the jab, Morgan said.
"People hospitalized in the nation, not just in Georgia and not just in Coweta County are all unvaccinated," Morgan said. "Almost every single death we have from COVID is preventable."
Morgan asked that people "please get their information from reputable sources."
"Steer away from things being posted and reposted that may seem sensational," Morgan said. "Verify information from a scientific source, a physician and their staff, the CDC, the National Institutes of Health, the Department of Public Health, go to their websites and seek information that is peer-reviewed scientific data."
How does the FDA approve a COVID-19 vaccine?
Morgan said that people have had many reasons for not getting a COVID vaccine, including a desire to wait for a full approval from the Food and Drug Administration.
Currently, the FDA has an Emergency Use Authorization for three vaccines: The Pfizer-BioNTech vaccine, the Moderna vaccine and the Janssen/Johnson & Johnson vaccine.
According to the FDA's website, an Emergency Use Authorization "is a mechanism to facilitate the availability and use of medical countermeasures, including vaccines, during public health emergencies, such as the current COVID-19 pandemic."
The FDA states that under an EUA, the FDA "may allow the use of unapproved medical products, or unapproved uses of approved medical products in an emergency to diagnose, treat or prevent serious or life-threatening diseases or conditions when certain statutory criteria have been met."
Morgan said the process for obtaining an EUA, compared to full FDA approval, is similar. The difference, she said, is there is "no immunity data" and no information on how long the vaccines will work.
According to the FDA, COVID-19 vaccines are rigorously tested in three phases.
The first phase involves testing the vaccine among a small number of generally healthy people to assess safety at increasing doses; the second phase includes more individuals of varying levels of health and different demographic groups, to assess information on short-term side effects and risks, the immune response and the effectiveness; and the third phase administers the vaccine to thousands of people in randomized controlled studies, generating information on effectiveness and additional safety data.
"Clinical trials are evaluating investigational COVID-19 vaccines in tens of thousands of study participants to generate the scientific data and other information needed by the FDA to determine safety and effectiveness," the FDA's website states. "These clinical trials are being conducted according to the rigorous standards set forth by the FDA."
The FDA also states that for an EUA to be issued to a vaccine, the FDA "must determine that the known and potential benefits outweigh the known and potential risks of the vaccine," must include safety data from the first two phases of the vaccine. In addition, the FDA evaluates the chemistry, manufacturing and controls information about the vaccine.
This evaluation includes records reviews, site visits and previous compliance history "to assess compliance with current good manufacturing practices."
Others not getting the vaccine have opted out because of other reasons. One of those groups, Morgan suggested, are different minority populations.
"They have a lot of suspicion of health systems and research," Morgan said. "They're not certain vaccines are in good faith, so they would rather opt out because opting out may seem safer for self-preservation."
Others include beneficiaries of DACA, concerned that receiving an immunization may trigger a deportation process.
Others follow certain ideologies, including the "anti-vaxxer" movement which rejects the concept of taking a vaccine of any kind due to the widely discredited theory that vaccines cause autism.
Coweta lags behind Georgia, U.S. in vaccination numbers
Currently, the vaccination rate in Coweta lags behind that of Georgia and the nation. Only 38 percent of Coweta County residents have received at least one dose, while 34 percent are fully vaccinated.
Across Georgia, 44 percent of residents have received at least one dose while 40 percent are fully vaccinated.
Nationally, 56 percent of Americans have received at least one dose of a COVID-19 vaccine, while 49 percent are fully vaccinated.
According to the CDC, "fully vaccinated" is defined as people who are two weeks past their second dose of a two-dose series of vaccine, such as the Pfizer and Moderna vaccines, or two weeks after a single-dose vaccine, such as the Johnson & Johnson/Janssen vaccine.
According to Hayla Folden, media relations specialist for District 4 Public Health, DPH and CORE will be at the Newnan Housing Authority July 24 from noon to 2 p.m. to help bring vaccinations to people.
The Newnan Housing Authority's office is located at 48 Ball St. in Newnan.
Folden said she did not know of any obvious reasons for Coweta's vaccination numbers to be lagging behind that of the state and the nation.
In addition, the Coweta County Health Department, located at 70 Hospital Road in Newnan, conducts COVID-19 vaccinations every Monday. COVID-19 vaccines are free to all who receive them.
People who have not received a COVID-19 vaccine or been fully vaccinated run a higher risk than those who have been vaccinated, Folden said.
"We could see an increase in COVID-19 infections among people who are unvaccinated or people who have not completed their vaccine series," Folden said. "As people travel, vacation and gather for events, there is an increased risk of them being exposed to COVID-19 and spreading it to other individuals before realizing that is why they are sick and isolating themselves."