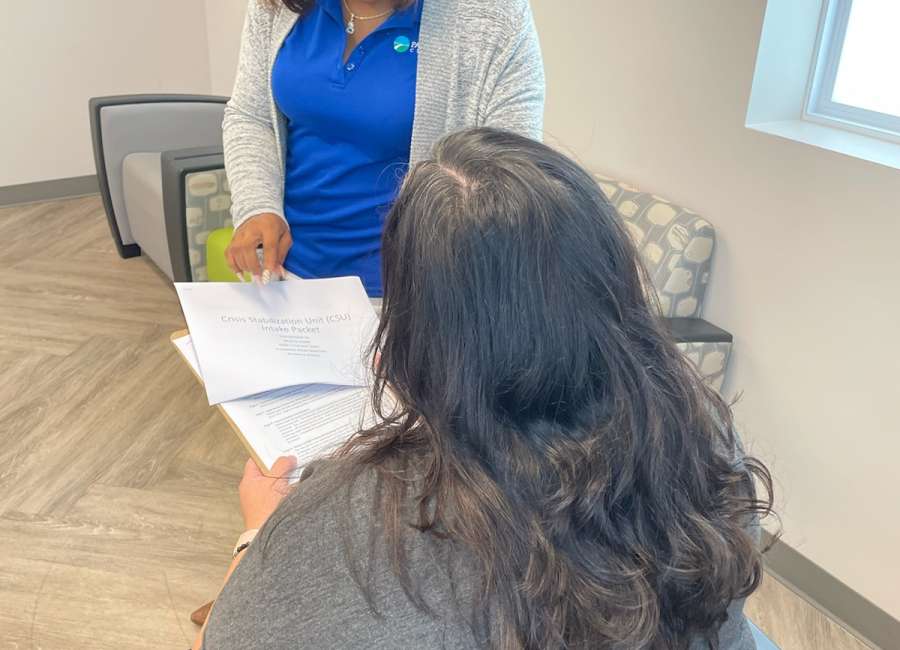 Navigating recovery for mental health can be difficult, but certified peer specialists can help patients understand the ins and outs of the recovery process.
"A lot of times individuals enter the mental health system, and they don't know where to go. They're not oriented to what's happening," Maria Winters, a CPS-mental health at Pathways Crisis Stabilization Unit said. "Our job is to advocate for them and teach them to stand up for themselves in the future and also while they're here."
The CPSs serve as guides for patients by helping them understand what their recovery process will look like and helping them build the skills they need for when they reenter the community.
"Just imagine going to any new place, and you don't really know anything," Nixon-Whitfield said. "I've been to a lot of places where I don't get the full experience because there was nobody to tell me what was there, so just imagine somebody greeting you at the front door saying, 'I know all the good stuff.'"
Not anyone can become a CPS, said Abigail Alvarez, client events coordinator at Pathways.
The role requires personal experience similar to the clients they will be helping.
Because of that requirement, Alvarez said some people have applied for different jobs at Pathways and were hired for CPS positions after getting to know the applicants during interviews.
"We couldn't just post the job for anyone to apply. Someone has to experience it in their own life," she said. "They're using their past experience to help someone else."
Winters said her history of self-harm and substance abuse helps her empathize and interact as a peer with patients.
In her position, she works with mental health patients at PCSU by helping them identify the methods and skills they need to improve their mental health.
"I like to help people. I want people to feel safe," she said. "I didn't really get as far as I did on my own — I needed a lot of help and a lot of support."
Priscila Nixon-Whitfield, a CPS-parent at Pathways CSU, works with parents whose children are patients at PCSU.
By being a guardian for her metally challenged brother, Nixon-Whitfield said she had the experience needed for the position.
She said she helps the parents understand the treatment their child is receiving, makes sure they understand the process of their child's recovery and provides them with any resources they might need.
"I try to let (clients) know the flow of the facility and what will happen," she said. "I keep them updated and make sure they stay connected, and make sure the parents' questions and concerns are answered and they're forwarded to the right provider or professional."
According to Timothy McGruder, operations manager at PCSU, there are also CPSs for the youth patients.
"The youth work directly with the kids and have one-on-one conversations with them and empower them to ask questions and think of things to develop skills they didn't have before they came to us," he said.
Alvarez said for the CPS-youth position, the person would need to have had a mental health diagnosis as a teen or youth.
When the youth patients see someone similar to them succeeding and working, it sets off a lightbulb in their head that caring for mental health is just as important as physical health, according to Alvarez.
CPSs help the clients identify their needs, McGruder said so the patients can drive their own recovery, rather than be told what to do.
"We're empowering them to tell us what they want," he said. "We got an idea of what we want their treatment to look like. If we give what we want for them, they'll keep coming back. We want to empower them to identify what they need, so we can deliver."