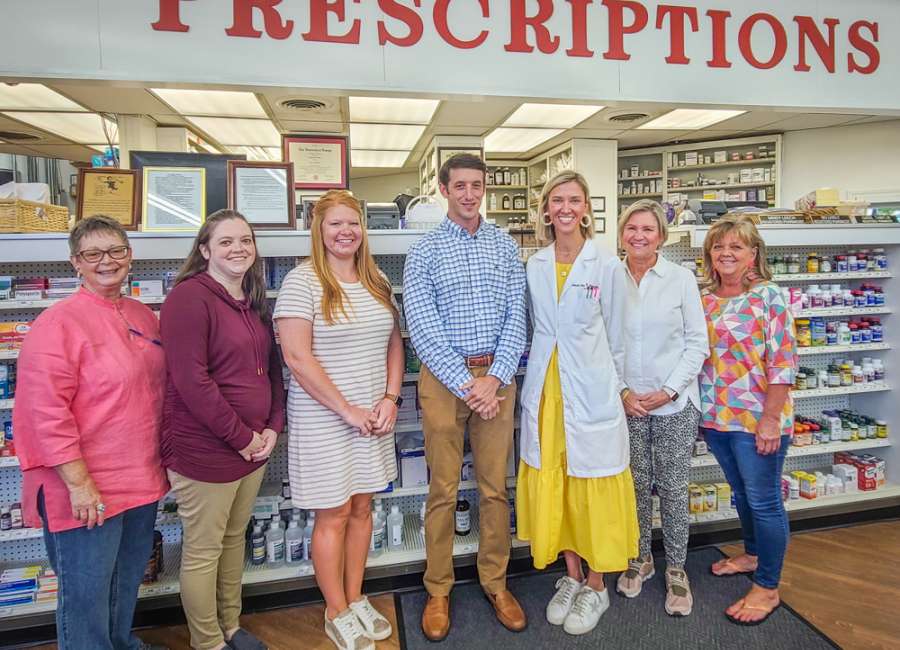 By Jill Whitley

As Newnan continues to rapidly grow and develop, the 'corner drugstore' concept couldn't be more apt.
Cowetans can find a chain pharmacy at nearly every intersection, in their local grocery store, and even in big-box and warehouse stores. With features like drive-through pickup and automatic refills, it feels like purchasing prescription drugs couldn't be more convenient.
However, according to Mindy Leech, owner of Lee-King Pharmacy on Cavender Street, most corporate pharmacy customers have no idea that switching to a local, independently-owned pharmacy is a seamless process that could save them both time and money.
"Customers assume that because their pharmacy is a chain, it's faster, more convenient, or less expensive to use when really, studies have shown that it's just not."
In fact, a 2019 Consumer Reports study found that nearly half of corporately-owned chain pharmacy customers were dissatisfied with the service they received.
Patients cited long wait times both in person and on the phone, a lack of knowledge about their personal health history or potential drug interactions, and increasingly rare access to a pharmacist as chains increase their reliance on pharmacy technicians to handle customer interaction.
Leech continued, "So many patients are unhappy with their corporate pharmacy for many reasons. They can't get a person on the phone, the lines are too long, and no one there knows them or their health history. The customer service isn't personal, warm, or friendly. They would be much happier with the personal relationships and convenient services that only a local independent pharmacy can provide."
In fact, in addition to similar hours and identical convenience features as corporately-owned outlets, like a drive-through window, automatic refills, electronic prescription transmission, and daily pill packs, Lee-King also goes above and beyond to provide free same-day delivery in the Newnan city limits.
The small, family-owned pharmacy also offers immunization services -- including employer-sponsored, on-site flu clinics and in-home COVID vaccination for homebound individuals.
"Many of our sickest and most elderly patients are unable to leave their homes, but we can get into those neighborhoods within hours of the order being placed with courteous service and a smile," Leech said. "Now, we don't deliver to just them; if you're stuck at home with a sick kid and need some Tylenol, we'll bring it to you. If you work in our delivery area, we can bring your prescriptions to your office. Nobody really likes having to take medication, but we do our best to make the process as easy as possible."
Leech went on to explain, "Medication compliance can be a real problem for several reasons that, as a small, independent pharmacy, we can help patients avoid. If you need a refill, we have great relationships with most of the practices in town and can reach out to your doctor to get a new prescription before you run out. If a doctor calls in a medication that is more expensive than you expected, we can call them just as quickly and consult with them about substituting a comparable, more affordable drug. All of these factors help you stay on your medication, which keeps you healthier and keeps your doctor and insurance company happy."
Lee-King accepts the vast majority of insurance plans, including all Medicaid plans, Leech says, but she cites the concept of insurance steering as the number one factor keeping unhappy customers going back to chain pharmacies.
"Many prescription coverage companies own or have financially beneficial relationships with corporate pharmacies, and will send strongly worded letters to patients that lead them to believe they have to use a certain pharmacy chain," she said. "However, that's just not true. We can process nearly any insurance, and on the rare occasion we can't, we can often beat them with a cash price. You're not going to pay more here just because we provide better service."
Another reason patients are reluctant to take their business to an independent local pharmacy like Lee-King, Leech said, is the belief that transferring prescriptions is difficult or complicated.
"Unfortunately, although they acknowledge that our prices are competitive and the service is faster and friendlier, people feel stuck with their pharmacy chain," Leech said. "They think moving their prescription is going to require an awkward 'break-up' with their current pharmacy. All you have to do is call me with your name, birth date, and phone number, and we take care of it from there. We'll do the work for you."
Leech continued, "Lee-King has been providing personalized service to Coweta County for over 100 years, and we've lived in the area our whole lives. When you get your prescriptions from us, that money stays local, where we can pour it back into the community, instead of disappearing into some corporate office that just sees their patients as numbers, not people."
"Yes, we pride ourselves on our short wait times and accessibility, but we take the time to get to know our customers and care not only about their health, but about making their lives easier and their day just a little bit better."
Lee-King Pharmacy is located at 18 Cavender Street in Newnan. For more information or to transfer your prescriptions, call 770-253-1622, or visit
https://www.leekingpharmacy.com