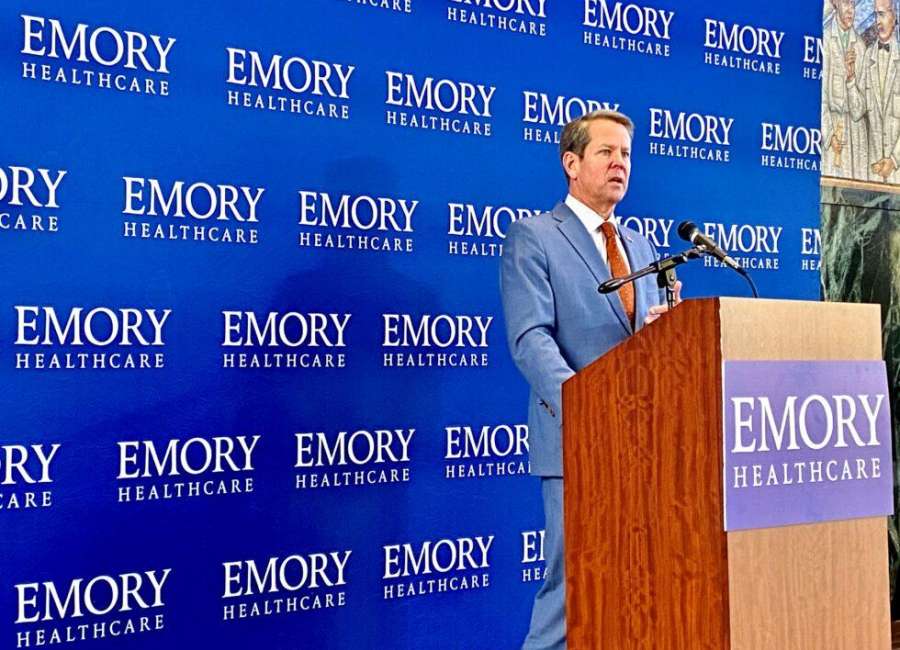 ATLANTA – Gov. Brian Kemp is sitting on a record campaign war chest for this early stage of his reelection bid with no declared Democratic challenger and a Republican primary opponent considered a heavy underdog.
Kemp had raised $11.9 million through the end of last month, including $3.9 million during the three months since this year's General Assembly session ended, according to a report filed Thursday with the Georgia Government Transparency & Campaign Finance Commission.
The Republican governor's Democratic opponent in 2018, Stacey Abrams, has not entered what would be a rematch between the two, although she is considered likely to declare her candidacy.
Former state Rep. Vernon Jones is mounting a GOP primary challenge to Kemp as a loyalist of former President Donald Trump. His campaign had not filed a report on the commission's website as of Friday morning,
Kemp's report was among a flurry that landed at the commission on the deadline for candidates for state office to submit campaign fund-raising totals covering February through June. While the data showed many statewide Republican incumbents getting off to strong starts, some of their GOP primary challengers and potential Democratic opponents were also active.
In the race for attorney general, incumbent Republican Chris Carr had amassed $1.6 million through June 30. Democratic state Sen. Jen Jordan, however, had a strong second quarter, outraising Carr in April, May and June $673,761 to $564,762.
Another Democratic hopeful, Charlie Bailey, who lost to Carr in 2018, had raised $573,168 through the end of June, including $294,194 during the second quarter.
One of the Republicans seeking to oust GOP Secretary of State Brad Raffensperger in next year's primary is giving him a run in the battle for bucks.
U.S. Rep. Jody Hice, R-Greensboro, has raised $575,771 since entering the race in March. That bested the $497,468 Raffensperger raised during the second quarter, but the incumbent's campaign has brought in a total of $746,761 including fund-raising prior to the April-June reporting period.
Like Kemp, Raffensperger is being targeted by Trump allies in Georgia because he refused to go along with efforts to reverse the results of last year's presidential election in Georgia amid allegations of widespread voter fraud that were subsequently dismissed in a series of court challenges.
Another Republican challenger attacking Raffensperger over the 2020 election, former Alpharetta Mayor David Belle Isle, had raised $164,308 through June 30.
On the Democratic side, state Rep. Bee Nguyen raised $386,713 during the second quarter. The other Democrat in the race, Manswell Peterson, is being investigated by the commission for questionable disclosures on his campaign finance report.
State Senate President Pro Tempore Butch Miller, R-Gainesville, reported earlier this week that he has raised more than $2 million in his bid for lieutenant governor. The seat became vacant when incumbent Geoff Duncan announced in May he would not seek reelection.
The other Republican in the race, Savannah activist Jeanne Seaver, and two Democrats running for lieutenant governor – Erick Allen of Smyrna and Derrick Jackson of Tyrone – had not posted campaign reports with the commission as of Friday morning.