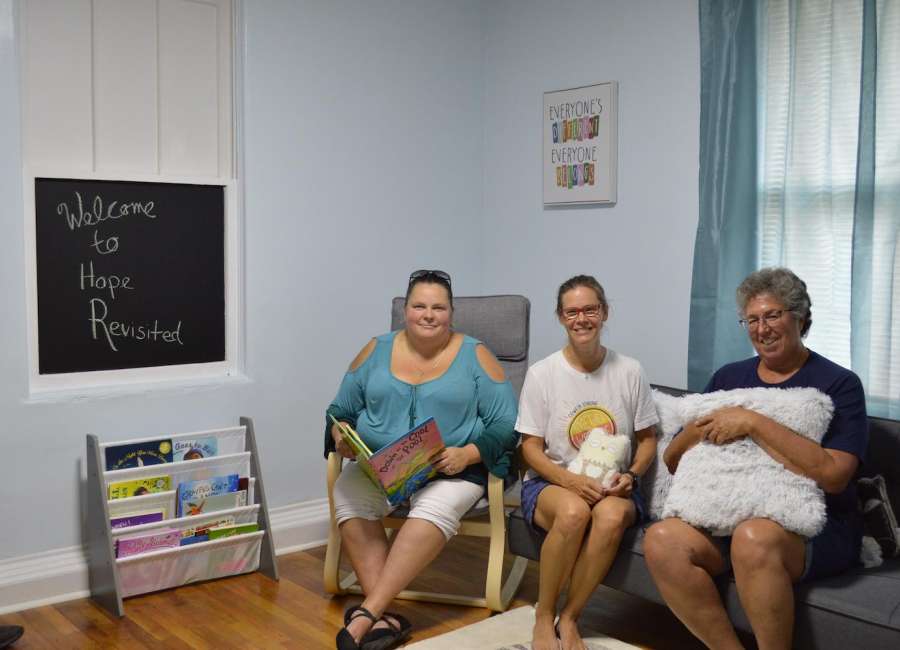 Coweta's first visitation center for foster children and their parents is almost ready, and an open house event will be held Saturday.
Hope Revisited is a new organization working to help foster children and their biological parents, and the major way it is doing that is through opening the visitation center.
The center has freshly painted, well-appointed rooms designed for babies, toddlers, tweens and teens to meet with their biological parents in a safe, stable and pleasant environment.
Usually, for supervised visits, parents and children have to meet at a park or a crowded indoor restaurant playground, or drive to the northside of Atlanta for a visitation center. None of which are particularly conducive to meaningful visits and restoring bonds.
Hope Revisited's new center is located at 125 Jefferson St., across from Pizza Hut. The open house will be from 11 a.m. to 2 p.m. Refreshments will be served.
"We encourage the community to come out and take a look at what we are," said Jennifer Nolder, board president of Hope Revisited. Board members will be on hand to talk about the organization and future programming. "People can come and ask questions and find out how they can get involved," she said.
Volunteers have spent the last two months taking an old building and freshening it up. Colors and decor were chosen to be calming and soothing as well as fresh and welcoming.
"We want people to feel warm and at home," Nolder said.
In addition to the visiting rooms, there is a kitchen for quick meals, with an air fryer oven, microwave and stocked refrigerator, and a dining room that families can use.
There is also a classroom for future classes for families, and a "flex room" which can be used for many things, including a meeting room for family counseling. Currently, most family counseling providers are only offering services through Zoom or other virtual platforms, said Nolder.
If a counselor is willing to meet in person, the room can be used. Eventually, hopes are to have a computer that parents can use to look for jobs, sign up for benefits and do other tasks they need a computer with Internet access to do.
Classes will come later, and there are plans for financial classes for families, and classes on cooking on a budget and couponing. But the most important classes will be those on coping with stress and other coping skills.
"One of the number one reasons that children come back into care (after going back to their families) is because parents revert to the reasons that their children went into foster care," Nolder said. "If we can teach them coping skills and the children are returned, they are in a much better position," she said.
Hopes are to begin making appointments for visitations starting next week, Nolder said.
Back on track
With a home-like visitation center like Hope Revisited, families will be able to hopefully repair the bonds with their children and begin the healing process.
Parents can also have more of an opportunity to function as parents by cooking a simple meal, reading to their kids and helping with homework. With additional support offered by the organization, the goal is that kids will be able to go home and stay home.
Research has shown that children in foster care who are able to go back to their birth families end up leading much more successful lives into adulthood, than those who are in foster care until they become adults and are on their own, Nolder said.
Local families are excited about the center opening. One family, whose children used to be in foster care, recently toured the center. "The mother said having a place like Hope Revisited would have made the difference in getting her kids back a year sooner," Nolder said.
Another local mother with an infant in foster care was driving to Marietta three times a week to visit with her child. They'll start visiting at Hope Revisited as soon as the facility opens, Nolder said.
In addition to those actively involved with Hope Revisited, there has been an outpouring of community support from volunteers helping to get the facility ready for children.
Some of those volunteers were either adopted or were once foster children. "They are excited when they see what we are doing," said Board member Mindy Smith.
"It's just been phenomenal the amount of community support we have gotten – not just from other nonprofits, but from the churches, from individuals. It's such a diverse group that has really helped to open these doors," Smith said.
Every time there has been a need, someone has stepped up to fill it, said Nolder. "Every step of the way, we have had community support," she said.
While the organization has had to buy materials for the remodeling, all the labor has been donated.
"We could not have done this without the support of the community," Nolder said. One man spent at least 150 hours working on the building, she said.
"It's a labor of love," Smith added.
The community has also stepped up with funds. Community financial support will be needed to keep the organization running, especially for the first two years.
After that, hopes are to be able to obtain some grant funding. But most agencies that award grants want to see a year or two of operation first, she said. Even with grants, community support will always be important.
The organization will have a motorcycle ride fundraiser Aug. 7 and is working on other fundraisers. "But we're still going to need that community support," Nolder said.
The organization also has an Amazon wish list for items for the house.
For more information about Hope Revisited, visit HopeRevisited.org or the Hope Revisited page on Facebook.