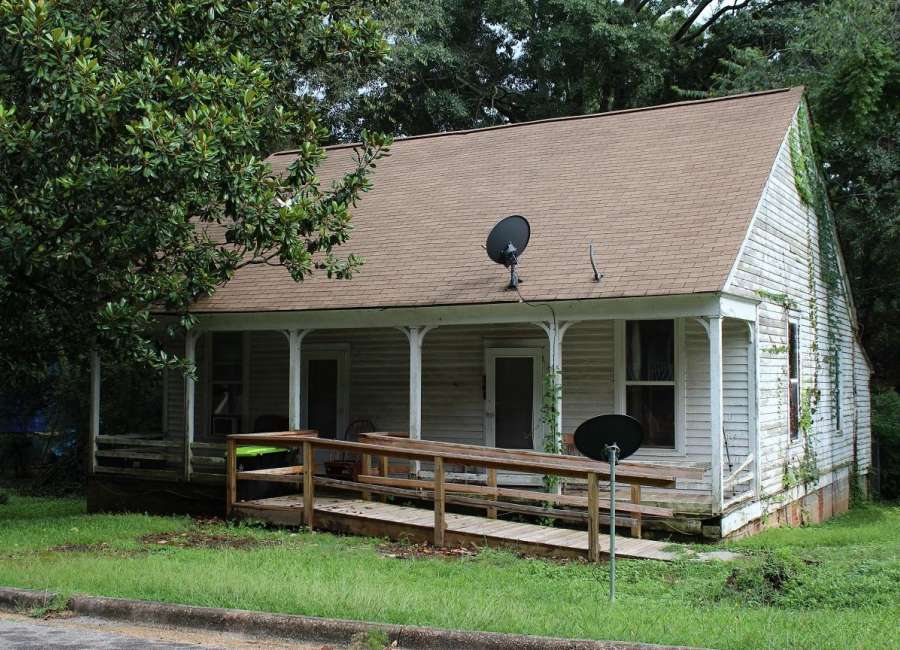 Who do you call when there's no one able to help?
Michael Settle, a Newnan resident, found a faucet in his home leaking and a sinkhole forming in his backyard.
Settle is confined to a wheelchair, and his wife is legally blind.
Because of the amount of money they receive from Social Security, they are unable to afford a plumber to make the repairs in their home, and they have had difficulty managing the sinkhole.
"I've contacted every plumbing company I can think of. We're on a limited income due to being disabled," he said. "We just need some help. We don't know where to turn."
Because of a manhole cover in his backyard, Settle said he initially believed the sinkhole was caused by sewer pipes. He said he contacted Newnan Utilities about the problem, but was told the problem was not the responsibility of the utility company.
After inquiries for this article, Newnan Utilities responded to Settle's residence and found the pipes were in good condition. Brandon Lovett, Director of Water & Wastewater Operations at Newnan Utilities, said the sinkhole was the result of stormwater runoff from the street.
"We rarely have sewer in a backyard," Lovett said. "The customer service representative probably took that to mean that it was on him rather than us. We made a mistake."
As a courtesy to Settle, Lovett and an NU crew filled in the sinkhole, though Lovett did say he didn't think it would last, since NU had already filled in an earlier sinkhole on the property.
Lovett said NU is willing to assist in cases such as this one, when there is a health hazard or someone needs help. After filling in the sinkhole, Lovett provided Settle with suggestions for managing the storm water, such as digging a ditch to help improve the drainage or building a berm.
Gaps in the system
The sinkhole is only one of Settle's problems. A leak from a faucet is driving up his water bill.
According to Settle, he's reached out to various nonprofits in the area, but so far they have been unable to help him.
Settle said he looked into requesting a repair from the Newnan-Coweta Habitat for Humanity, but he needed a minimum income of $20,000 to qualify – an amount that he cannot meet.
"My wife and I only get about $1,200 a month," Settle said.
According to Eric Miller, executive director of Newnan-Coweta Habitat for Humanity, the income minimum is to make sure the nonprofit's clients are capable of paying for the repair.
"We don't want to put anyone in a situation where the overhead is going to push them over 30 percent of their monthly income," he said.
Miller said by being a 501(c)(3), NCHH – and organizations like it – must operate within specific parameters.
Because of that, there are some people who fall through the cracks that are not filled by nonprofits.
"Occasionally within the system there become gaps, and it becomes up to private entities, nonprofits or government entities to fill those gaps," Miller said. "It's a complex and nuanced problem. There are a lot of people out there trying to help … and invariably there are some gaps in the system."
RiverLife, a local nonprofit, was also unable to help Settle because he was outside of their scope of work. The nonprofit helps Coweta residents by connecting them with skilled volunteers.
According to Melanie Reeves, executive director of RiverLife, Settle is an ongoing client, but the organization doesn't have any connections with someone who could help him with his plumbing problem.
"We don't do things that you have to have a license to do … unless there is a volunteer that has that skill set to do that, especially in the city limits, if you have permits and things like that," Reeves said. "We don't have any plumbers that we work with or have that skill set."
Reeves said she will look for connections to help Settle by reaching out to other nonprofits in the area.
"Unfortunately, I don't know how to help Mr. Michael with this situation, but we have a note about this and my hope is that I will have a connection for him that can help do whatever it is you do for a water line," she said.
Amanda Camp, chairperson for the Coweta County Family Connection – a networking group of community organizations – said CCFC is connected with several nonprofits in the area and believes she can help find some assistance for Settle.
"I'm going to put it out to our group because we are a collaboration of nonprofits and service providers in the community," she said. "We're going to try to get some assistance for this family."
The CCFC has a resource guide available at www.coweta.gafcp.org/resources/ for Coweta residents in need to find nonprofits that can provide assistance.
According to Camp, CCFC is currently in the process of updating the resource guide.