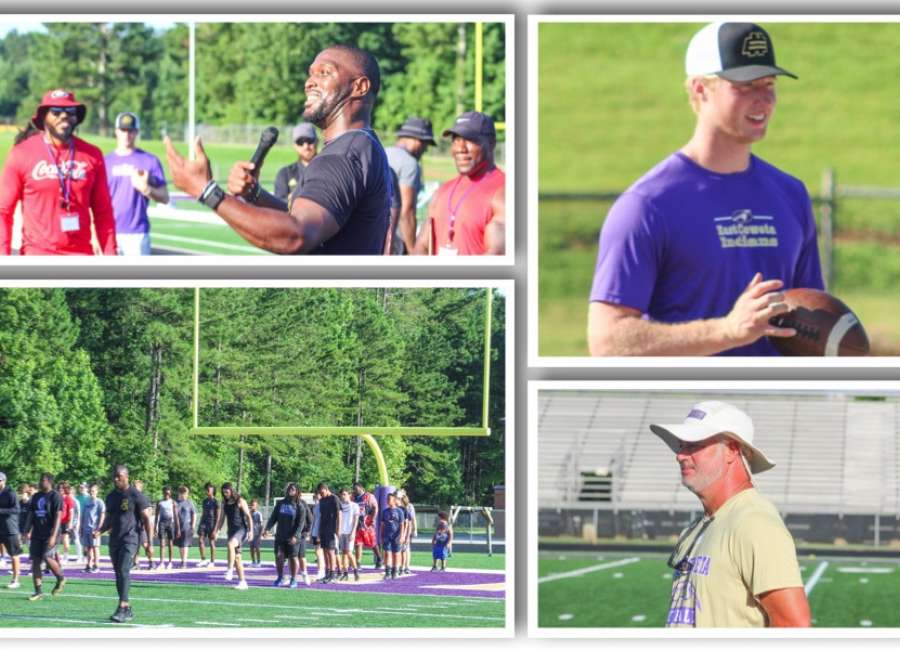 Head Coach John Small and the East Coweta Indians football program hosted the Game Changers Foundation All-Star Youth Football Camp on Saturday at Garland Shoemake Memorial Stadium.

The camp was led by several former University of Georgia football players and featured some current Indians.
The Game Changers Foundation was founded by former Georgia Bulldog and NFL player Rennie Curran, and its mission is to foster direct mentorship relationships between seasoned athletes and today's youth. Their goal is to develop tomorrow's leaders one at a time.
Curran graduated from Brookwood High School in 2006. As a senior, his team defeated South Gwinnett, which was under the leadership of then first-year Head Coach Small. That fact came up in some pre-camp banter among the coaching staff.
After his career with the Bulldogs, Curran was drafted in the third round by the Tennessee Titans. He spent two seasons there, a season with Tampa Bay and three years in the Canadian Football League.
The seeds of Curran's ministry were sown in his childhood. He shared, "So the ministry is just a replication of my experience. My parents knew absolutely nothing about football, being that they were immigrants who came here with nothing and built something. So I was literally a product of the village and the environment I was in."
Curran and his team look to provide community and mentorship through camps and one-on-one relationships. He continued, "We always had former athletes who came in and spoke to us during my time. And so that part of the ministry is having former athletes go to different teams around the community and speak or have camps like this."
Other leaders at the camp included Orson Charles, a former Georgia tight end and an eight-year NFL veteran, Caleb King, who rushed for over 1,200 yards in Georgia; Brandon Wood, a former Bulldog and now an official in the ACC. Also leading were Darius Dewberry, Ken Veal, Steve Van Mifflin, and Kalvin Daniels, all former Bulldog graduates.
Also on hand was current East Coweta senior quarterback Danny Shoch, who coached up the quarterbacks.
While the camp centered around football drills and coaching, it also focused on leadership. Curran concluded, "We invest in giving them life skills, like goal setting, and financial literacy and even mental health. Just things that will really help them off the field."
With high school football season on the horizon, it is always a good time to remember that the young men who play under those Friday night lights will provide future leadership to our community and our country.
Curran and Coach Small believe in investing their lives to develop those future leaders.

Photos by Rob Grubbs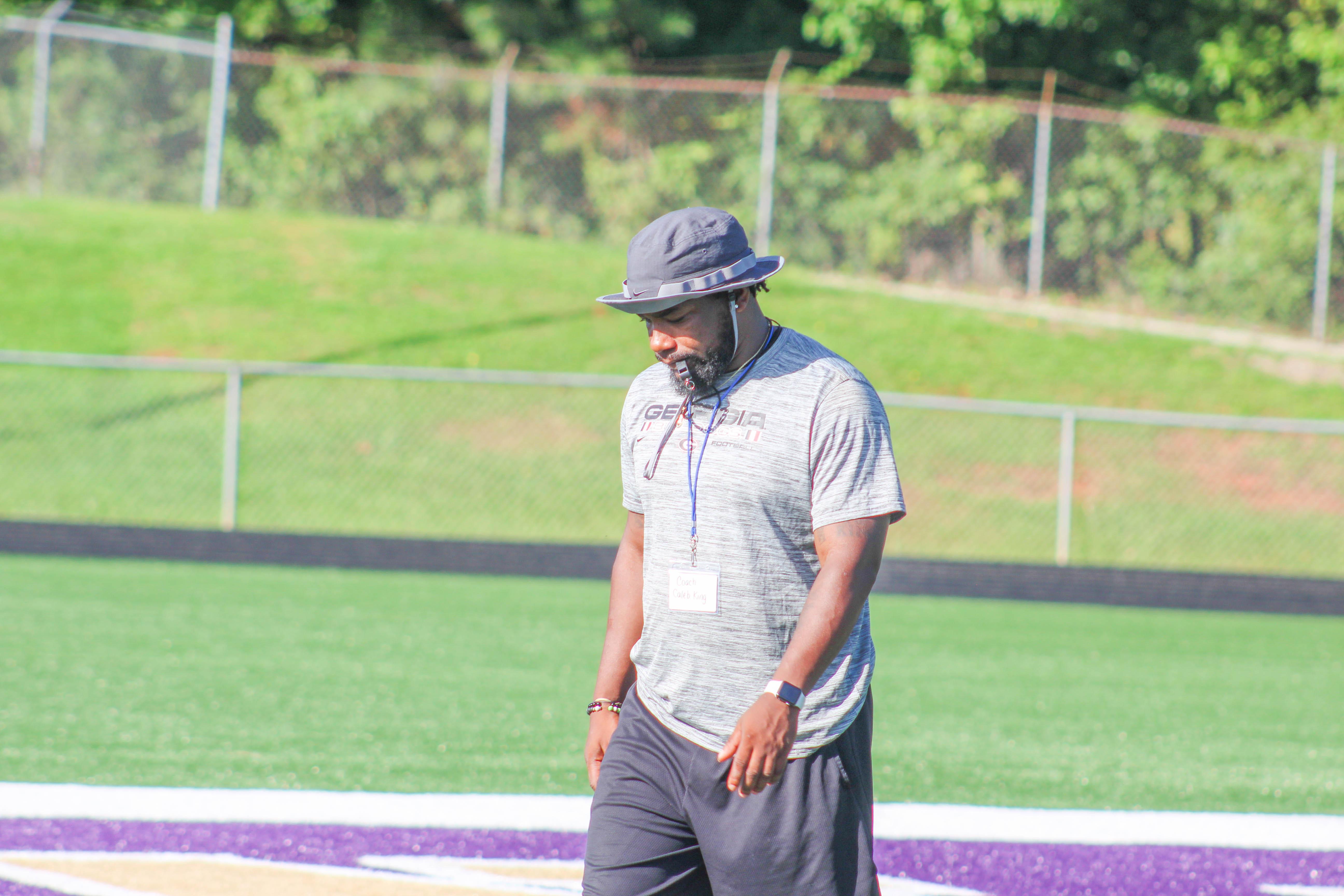 Former Bulldog and Minnesota Viking running back Caleb King worked with the running backs.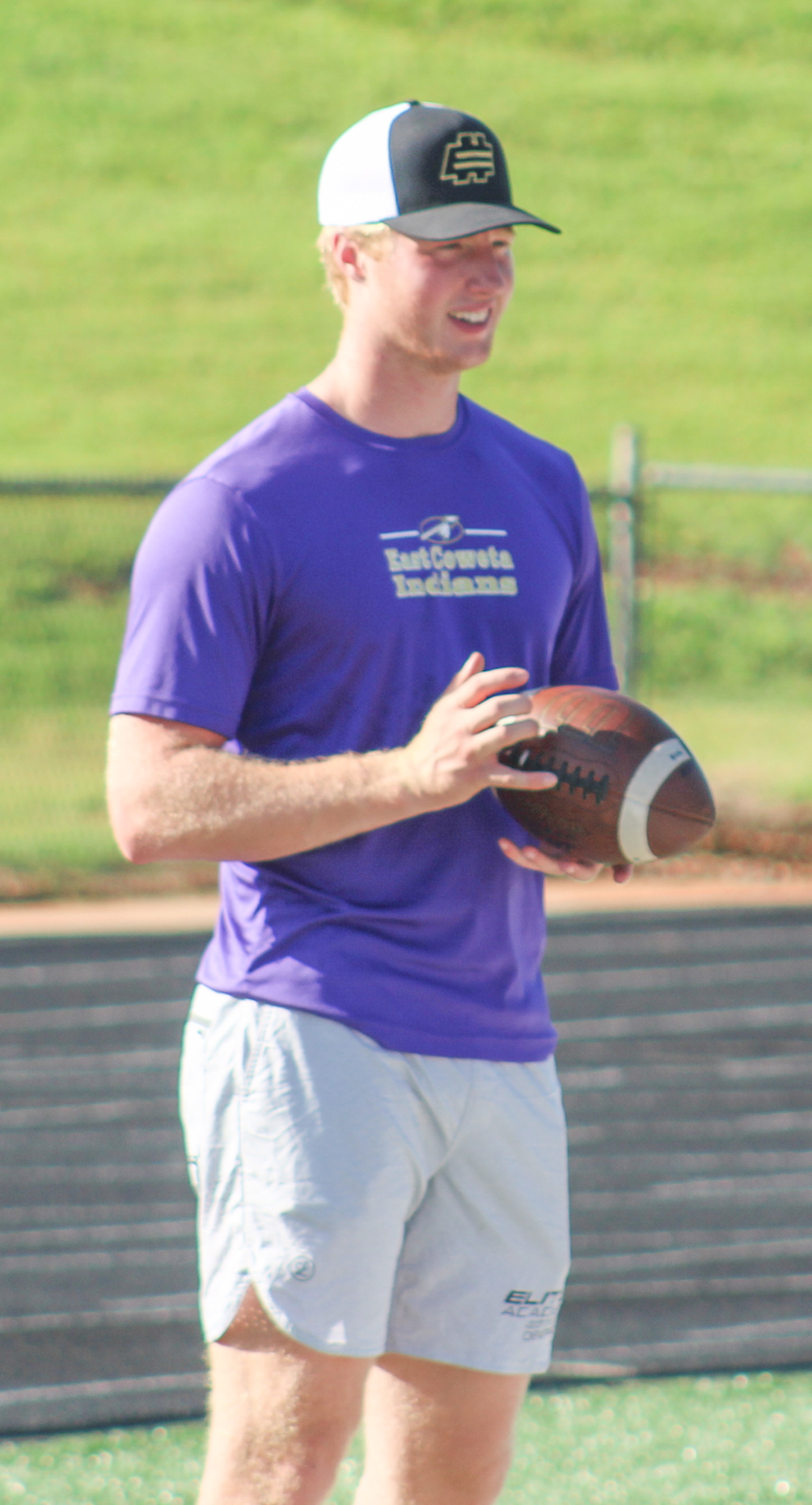 East Coweta starting quarterback Danny Shoch mentored the quarterbacks at the All-Star youth camp Saturday.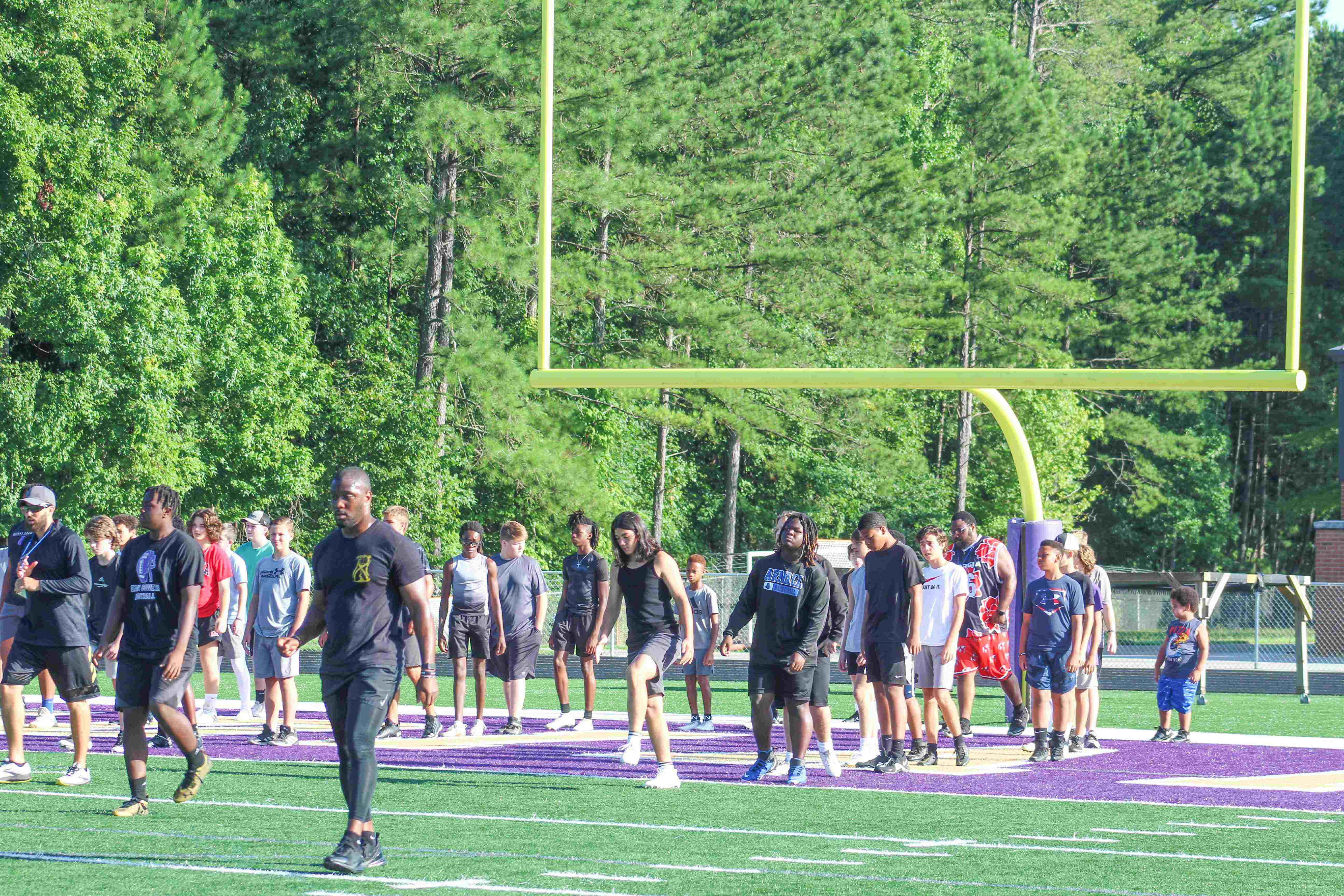 The players warmup prior to breakout seasons by position.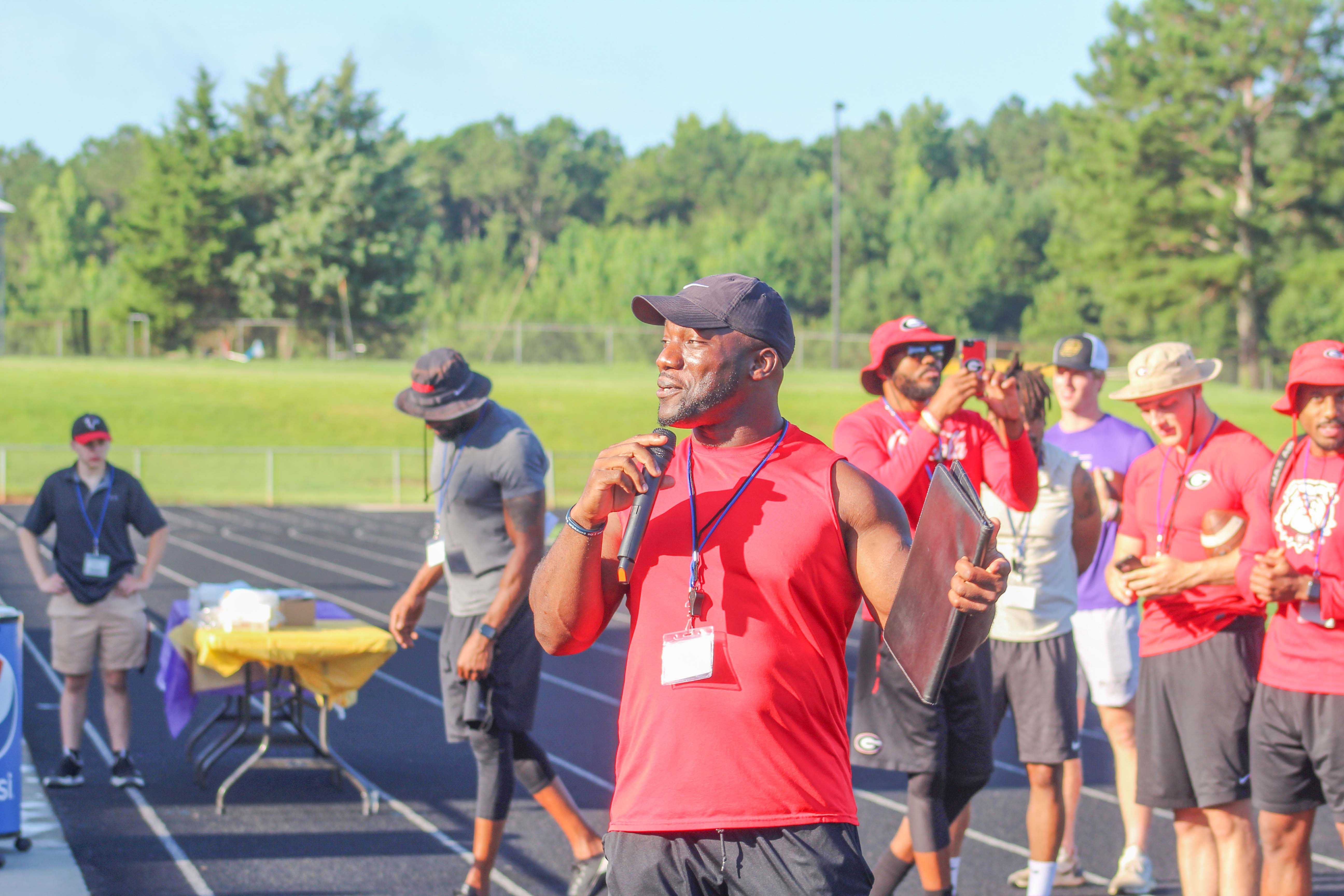 Rennie Curran founded the Game Changers Foundation to promote community, mentorship and leadership among young athletes. .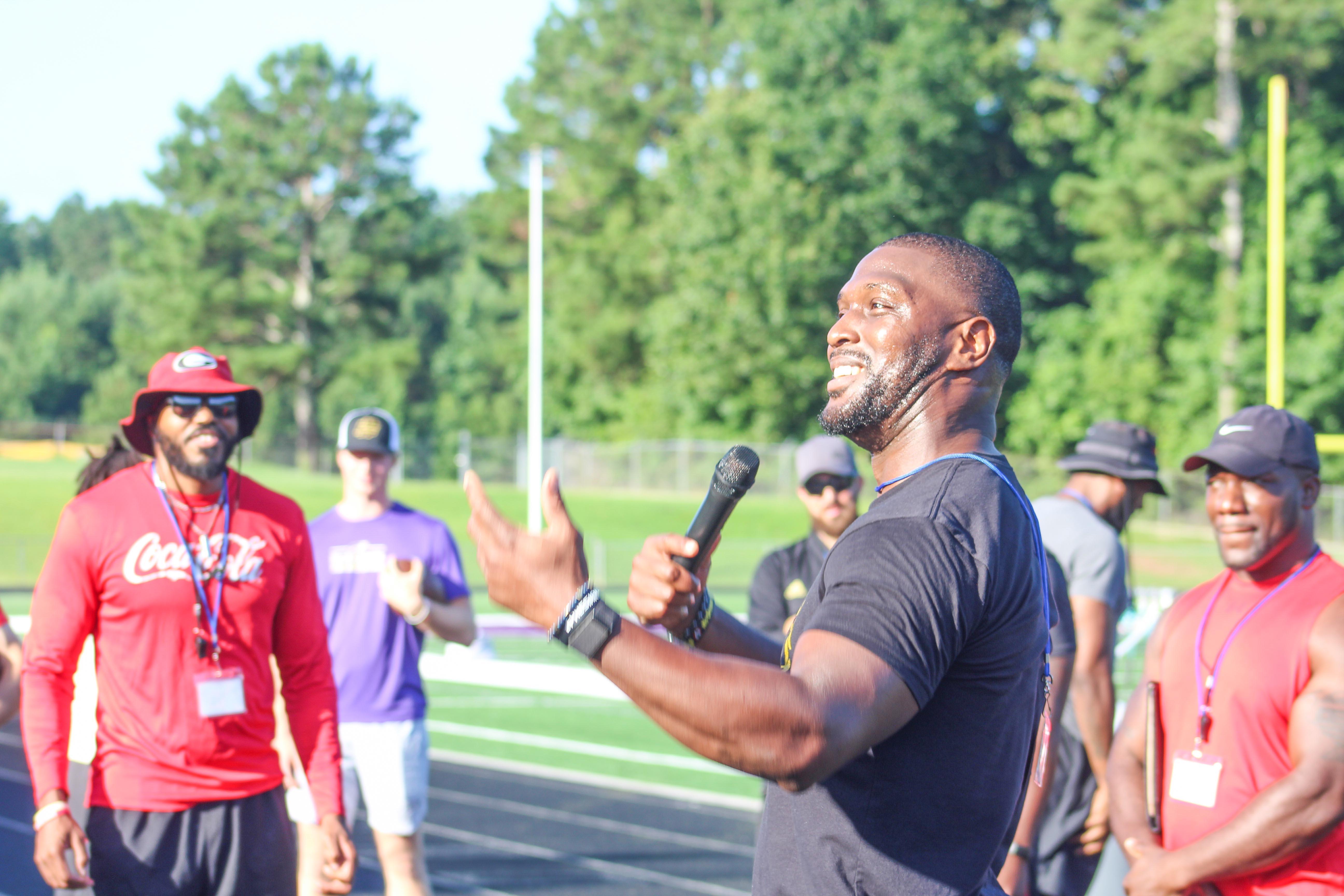 Orson Charles plays tight end for the Bulldogs and eight seasons in the NFL.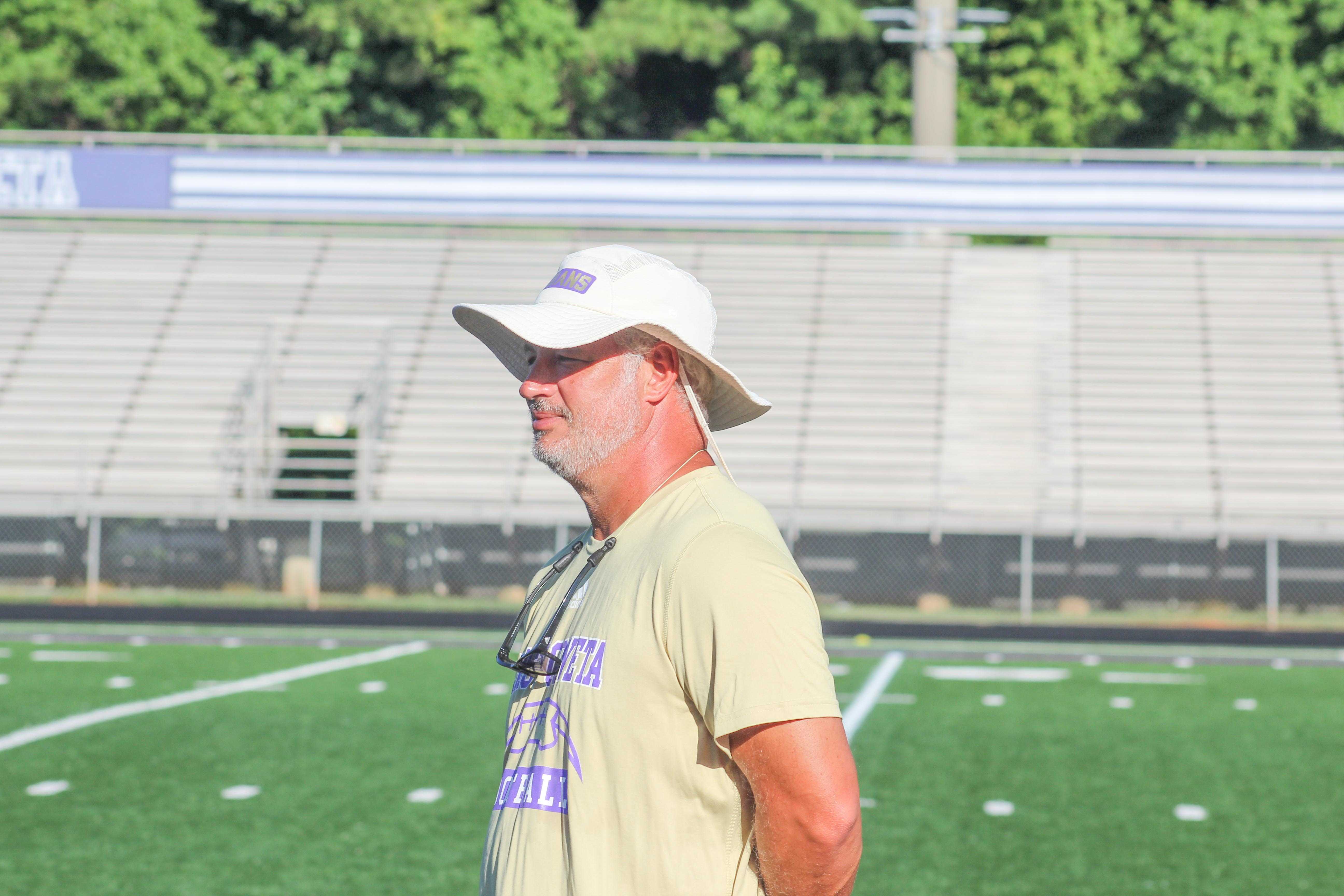 East Coweta Head Coach John Small coached against Curran in 2005 when Coach Small was at South Gwinnett.