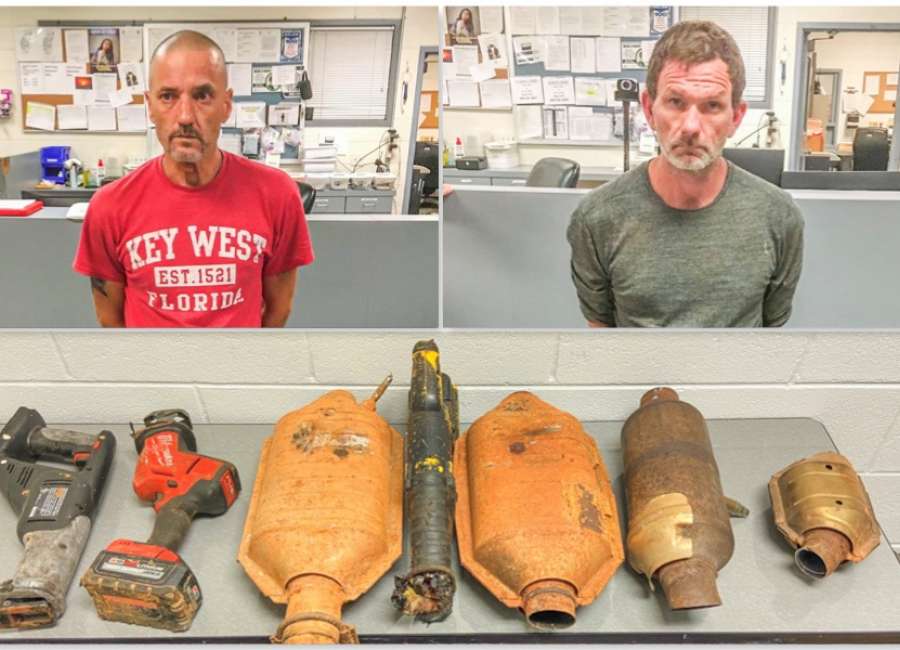 Two LaGrange men suspected of stealing catalytic converters were taken to jail after a traffic stop.

Lewis Duncan, 53, and Randall James Douglas, 42, are charged with theft by taking, possession of tools for a crime and criminal damage. Additional charges are pending, authorities said.
The incident took place Friday morning when a deputy with the Coweta County Sheriff's Office performed a stop on the vehicle for a traffic violation on Interstate 85.
During the course of the traffic stop, numerous catalytic converters were reportedly found inside the vehicle along with power tools. It was determined by investigators that the catalytic converters were stolen from vehicles in Troup County.
Both Duncan and Douglas were transported to Troup County Sheriff's Office.
Law enforcement is encouraging businesses and churches, or anyone with a vehicle that doesn't get cranked often, to park their vehicle close to surveillance cameras they may have on the property.
Catalytic converters are made of three different metals that hold a pretty steep price tag. Two of the metals, palladium and rhodium, are worth more per ounce than the price of gold.
A catalytic converter can be removed in as little as two minutes with a saw, and the cost to repair the part can range between $945 and $2,475, with up to $2,250 being the cost of the part itself, according to the CarBrain website.
The Environmental Protection Agency made selling used catalytic converters illegal in 1990, unless they were tested and certified by the EPA.
Georgia is the number 10 hot spot for catalytic converter thefts in 2021. The state saw increases of 185.7 percent in 2020, and thefts are already up 156.9 percent from the record numbers last year in just five months.
BeenVerified , a background check company that provides consumer initiated criminal background and people search services, estimates that in the first five months of the year, there were nearly 26,000 catalytic converter thefts, an 80 percent increase from all thefts reported last year.
There were an estimated 25,969 thefts from January through May, an 80 percent increase from the 14,433 reported stolen in 2020. By comparison, only 3,389 thefts were reported in 2019, according to the National Insurance Crime Bureau.
The most popular cars by make and model targeted by catalytic converter thieves in 2020 were the Toyota Prius, Honda Element, Toyota 4Runner, Toyota Tacoma and Honda Accord.
If current trends hold, the projected top states for theft this year are California (estimated 8,031 thefts), Texas (2,832), Washington (1,752), Minnesota (1,375) and Colorado (896).
Park your car in a garage when possible
Install motion-sensing lights along your driveway
Install either a protective plate that covers your catalytic converter or a protection device
Etch your vehicle's VIN or license plate number on the catalytic converter so that if it is stolen, it can be returned. It can also help police track and identify thieves.
Park in a busy or well-lit area if you don't have a garage