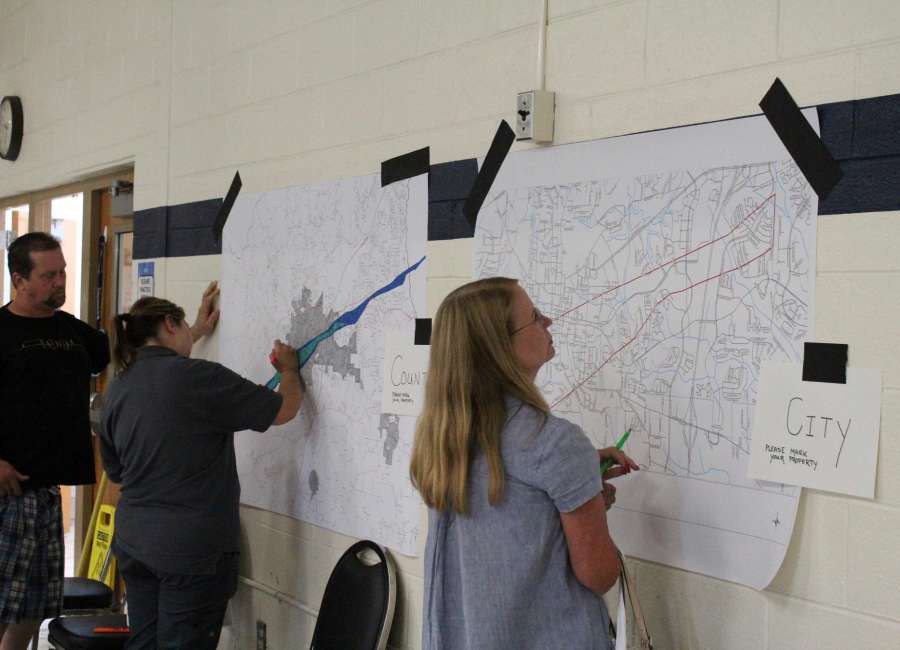 The first in a series of forums on tornado recovery hosted by the Coweta Community Foundation was held Thursday night at the Central Educational Center.
A panel made up of Melanie Reeves, executive director of RiverLife; Ryan Smith, owner of Monster Tree Service of Peachtree City; Tod Handley, Coweta County's public works director; Ray Norton, the city of Newnan's public works director; and Dean Jackson, chairman for CCF, spoke on debris removal in the wake of the March 26 EF-4 tornado.
Debris removal
According to Norton, the city of Newnan removed 380,000 cubic yards of vegetative debris.
He said that's enough to fill 120 Olympic swimming pools or enough to be spread one-foot deep for 80 acres.
"All of that debris has been hauled and reduced to mulch," he said. "It's burned for fuel. It's going for something good instead of in the landfill being wasted."
Norton said the 5,000 tons of construction and demolition debris, material that used to be homes, was removed, too.
He said that would be like hauling 25 747 jets.
Also, 788 tree limbs hanging over the right-of-way were removed, and 20 stumps just off the right-of-way were removed, according to Norton.
Meanwhile, Handley said Coweta County removed 68 million pounds of tree debris, as of the end of last week.
Like the debris from Newnan, the debris hauled by Coweta County is being put to good use.
"Some of it was taken to a facility that burns it to produce electricity, others were dyed for landscape use, and some of the other material was taken to paper mills where it was processed for paper," Handley said.
According to Handley, a contractor removed the construction and demolition debris from the county.
Handley said the Coweta Board of Commissioners voted to waive the fees for Coweta residents who are disposing of debris at the county landfill, if they can provide documentation that they live in the county.
"There's people that would take advantage of that opportunity, so we want to document that what we're doing, we're doing for the right people," he said.
When asked if it is illegal to dig a hole and bury debris, Handley said it likely depends on how big the hole will be and how much is buried.
"I believe Coweta County has an ordinance … that you're supposed to have the location surveyed and added to the plat of your property so when that area sinks and settles in the future, a future property owner can figure out what's going on," he said.
According to Norton, the city of Newnan has applied for Private Property Debris Removal, a FEMA program that will help with debris removal for homeowners, but not any type of commercial property, not covered by insurance.
Norton said he did not know if the proposal was accepted or denied yet.
"We're gonna help the residents and keep our fingers crossed that the government comes through for us," he said.
Selecting the right contractor
Smith warned the audience to beware of scams when they hire contractors for debris removal.
He advised people to use local tree services, rather than services that are not in the area.
"With someone from out of town, there's a much higher probability that the job is not going to get done the way they say it's going to get done," he said. "Talk to the contractor about how they plan on doing the job … make sure they explain to you how they plan on getting this tree and how they're going to get it out, and make sure it makes sense."
Another thing to watch out for, Smith said, is companies seeking deposits. He said his service rarely requires a deposit, and usually only asks for 10 percent.
"There's really no reason to pay a deposit on a tree job," he said.
Two forms of insurance, according to Smith, that will protect homeowners during tree removal are a worker's compensation policy and general liability insurance.
Smith said when he does work, he immediately gives his client's information to his insurance company, and he is given a certificate of liability insurance. The form will list the name of carriers and policy limits.
"Keep that in mind when you're selecting a contractor," he said. "It'll help you avoid the guys that aren't playing by the rules."
Volunteers
According to Reeves, approximately 2,000 volunteers have been coordinated to assist with debris removal from the tornado.
Reeves said RiverLife is working with various churches to create and send out volunteer teams to assist in the community.
But churches aren't the only ones contributing to the debris removal. Scout groups and other civic groups are also helping, she said.
"We had a board of realtors and a football team go out to help with projects," she said.
According to Reeves, the projects that need to be completed now require heavy equipment like tractors and skid steers.
When a project requires more than just a team with chainsaws and equipment, Reeves said she will refer it to churches that have grants or funding that can help get the professional services required.
Volunteer groups are scheduled to help throughout the fall, Reeves said, and there are plenty of opportunities to volunteer.
"We're working together to prioritize these projects. We want to make sure your home is accessible and safe and there aren't trees threatening your property," she said. "We know this is a marathon, not a sprint. It's a long process."
Reeves said if you need debris removed, you can sign up for debris removal at www.servecoweta.com .
Future meetings
Five more meetings on tornado recovery will be held at CEC from 5:30-7 p.m.
The July 29 meeting will focus on the process for financial assistance and how disaster funds are directed for those efforts.
On Aug. 12 a panel will discuss working through the insurance process and negotiating insurance claims.
The Aug. 19 meeting will be on the topic of home repairs and meeting local codes.
The Aug. 26 will look at the process for small business administration loans.
Finally, the Sept. 2 meeting will focus on what the next steps are in long-term recovery and the community will move forward.