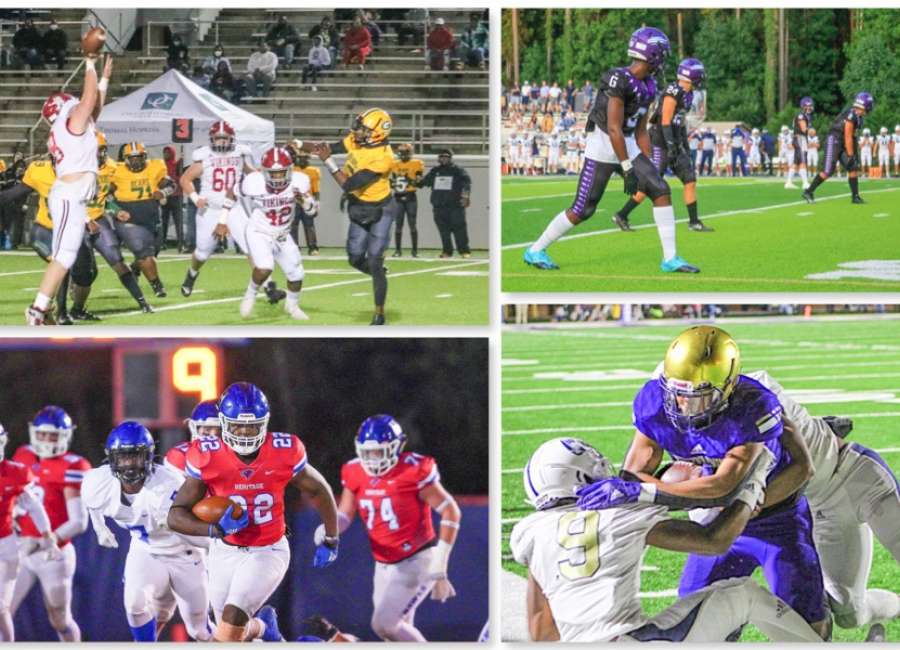 With fall football practice on the horizon, it is not too early to look at some of the big high school football games on the calendar for the fall.
Rivalries will be renewed; new foes will be welcomed, and a full season of high school football pageantry awaits Coweta County. An early glance shows a full menu for the local sports fans.

Opening Weekend – August 20 & 21
Things start big. Trinity Christian will begin their climb to return to the state championship when they travel to Athens to face one of the teams they lost to last year, the Athens Academy Spartans. A great test for the 2020 Region 4-A Champion Lions
Meanwhile, in Fayetteville, the Coweta/Fayette Classic will host a tripleheader including Northgate vs. Sandy Creek, East Coweta vs Whitewater, and Newnan vs Starr's Mill.
First-Timers
Several first-time opponents are traveling to the area. The Norcross Blue Devils will travel to Sharpsburg to face East Coweta on September 3. It will be an opportunity for the Indians to avenge one of their two losses last year. Meadowcreek, another Gwinnett County school, will make its initial visit to Garland Shoemake Stadium on September 10.
Mary Persons, a legendary program from Forsyth, Georgia, will visit Drake Stadium for the first time to face Newnan on September 10. One other time, Mary Persons played in Coweta County, a 30-20 victory over East Coweta in 1991.
Another long-standing program from the Midstate, the Claxton Tigers, will play Trinity Christian a visit on September 10.
Head Coach Jake Copeland's Heritage Hawks will travel to Cusseta, Georgia, to play the Chattahoochee County Panthers on September 3. They replace last year's opponent, King's Ridge, on the Hawks schedule.
Redemption Opportunities
Last year's loss to Greenville by the Heritage Hawks was a tough one to swallow. Heritage twice held 16-point leads only to see their opponent pull the game out late. The Hawks have a chance to repay the score when Greenville visits Heritage on August 20.
Northgate lost a heartbreaker at home to Starr's Mill last year 10-0. They will travel to the Fayetteville school for a rematch on October 1.
Big-Time Games
Not including the rivalries, the big-time games for the upcoming year include the rematch of last year's classic Collins Hill/East Coweta matchup. The Indians defeated Collins Hill on a rainy night in Sharpsburg in Overtime last fall. While East Coweta won their region, Collins Hill made it to the state championship game against Grayson.
Newnan will travel to Carrollton on August 27 to play a Trojan team that made it to the third round of the state playoffs last year. Carrollton also has a new head coach for this season, Joey King, who won two state championships with Cartersville. Between him and Newnan Coach Chip Walker, there will be five state championships prowling the sidelines.
Trinity Christian travels to McDonough on October 1 in one of the top games in Georgia for Class-A Private when they face their nemesis, Eagles Landing Christian. Head Coach Kenny Dallas' team lost the battle to ELCA last year but won the war when they advanced to the state championship game while ELCA fell in the third round.
Also on Trinity's schedule is a home game on September 3 against Fellowship Christian. That will be a rematch of last year's third-round playoff game where the Lions prevailed 41-27.
Rivalries
Last season's East Coweta victory over Newnan was epic, a one-point affair that came down to a blocked extra point. This year's game for bragging rights and the Brantley-Knott Jug moves to Drake Stadium on November 5.
East Coweta will also host county rival Northgate on September 17.
The rivalry game that skipped a year because of COVID, Heritage vs. Trinity, returns on November 13. It will be their first match-up since 2017 and their first-ever as members of the Georgia High School Athletic Association (GHSA).
With a full plate of games and another year to add history to the record books, the Coweta County fans will be the biggest winners. Let the bragging and the stories begin.